The Fall 2017 TV season will soon be under way! Recently we brought you A Geek's Guide to Returning TV Shows in Fall 2017 so you could keep track of when your favorite geeky TV shows are returning. Now, we bring you a guide to when the geeky new TV shows are premiering this Fall, which includes trailers you can watch to see if you might be interested in these shows!
Saturday, September 9 – Con Man at 10/9c on SYFY
Okay, so this one's not exactly new, as Season 1 was available on Vimeo back when the series was crowdfunded by Alan Tudyk and Nathan Fillion in 2015, and then both Seasons 1 and 2 were available on Comic-Con HQ. But it is the first time the web series will premiere on a TV network. Con Man follows the journey of Wray Nerely, a washed-up, former sci-fi celebrity who revisits his glory days on the convention circuit.
Sunday, September 10 – The Orville at 8/7c on FOX
The Orville is a live-action, one-hour space adventure series set 400 years in the future that follows The Orville, a mid-level exploratory spaceship. Its crew, both human and alien, face the wonders and dangers of outer space, while also dealing with the familiar, often humorous problems of everyday life.
Sunday, September 24 – Star Trek: Discovery at 8:30/7:30c on CBS
Star Trek, one of the most iconic and influential global television franchises, returns 50 years after it first premiered, with Star Trek: Discovery. The series will feature a new ship, new characters and new missions, while embracing the same ideology and hope for the future that inspired a generation of dreamers and doers. Note: Subsequent episodes only available via CBS All Access.
Monday, September 25 – Young Sheldon at 8:30/7:30c on CBS
For 10 years on The Big Bang Theory, audiences have come to know the iconic, eccentric and extraordinary Sheldon Cooper. This single-camera, half-hour comedy gives us the chance to meet him in childhood, as he embarks on his innocent, awkward and hopeful journey toward the man he will become.
Friday, September 29 – Marvel's Inhumans at 8/7c on ABC
Marvel's Inhumans explores the never-before-told epic adventure of the royal family including Black Bolt, the enigmatic, commanding King of the Inhumans, with a voice so powerful that the slightest whisper can destroy a city. After the Royal Family of Inhumans is splintered by a military coup, they barely escape to Hawaii where they are greeted with surprising interactions with the lush world and humanity around them. Now they must find a way to reunite with each other and return to their home before their way of life is destroyed forever.
Sunday, October 1  – Ghosted at 8:30/7:30c on FOX
A cynical skeptic (Craig Robinson), and a genius "true believer" in the paranormal (Adam Scott), are recruited by a secret government agency to look into the rampant "unexplained" activity in Los Angeles — all while uncovering a larger mystery that could threaten the existence of the human race.
Sunday, October 1  – Wisdom of the Crowd at 8:30/7:30c on CBS
Wisdom Of The Crowd is a drama about a visionary tech innovator who creates a cutting-edge crowdsourcing app to solve his daughter's murder, and revolutionize crime-solving in the process.
Monday, October 2  – The Gifted at 9/8c on FOX
Family adventure series The Gifted, from 20th Century Fox Television in association with Marvel Television, tells the story of a suburban couple whose ordinary lives are rocked by the sudden discovery that their children possess mutant powers. Forced to go on the run from a hostile government, the family joins up with an underground network of mutants and must fight to survive.
Kevin Finn (Jason Ritter) is not a good person. He's not terrible, but he's selfish, and clueless, and values material wealth and status over all else. And he's beginning to realize that those things aren't making him happy — in fact, he's fairly miserable. Just when things seem to be at their worst, he finds himself tasked with an unbelievable mission… saving the world. Kevin (Probably) Saves the World is a unique one-hour drama, filled with hope, heart and a good dose of irreverent humor.
Thursday, October 5  – Ghost Wars at 10/9c on SYFY
Set in a remote Alaskan town that has been overrun by paranormal forces, the series focuses on local outcast Roman Mercer who must overcome the town's prejudices and his own personal demons if he's to harness his repressed psychic powers and save everyone from the mass haunting that's threatening to destroy them all.
Friday, October 20  – Superstition at 10/9c on SYFY
Superstition will follow the Hastings, a family who's owned the only funeral home and graveyard in the town of La Rochelle for as long as anyone can recall. In addition to providing services for all faiths, the family specialty is handling "afterlife care" for the unexplained deaths of folks at the hands of demonic entities, and other unworldly phenomena that have long haunted the town. The Hastings use arcane weaponry, incredible strength, mystical alchemy skills, and a deep knowledge of the occult and ancient lore from around the world to quell the evil within the shadows of the town. No trailer available yet, but here's a photo: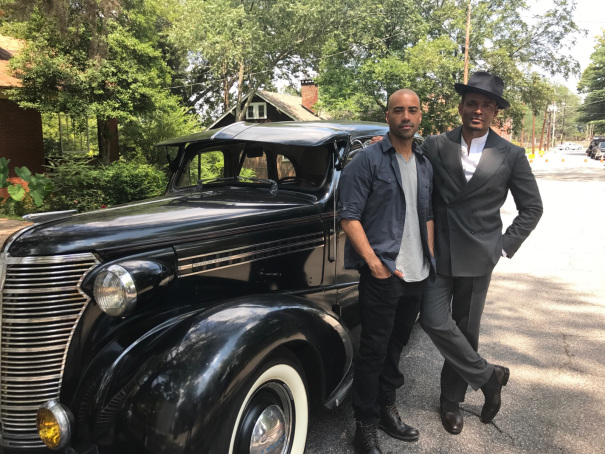 Tuesday, November 14 – Future Man on HULU
Future Man stars Josh Hutcherson as "Josh Futturman," a janitor by day/gamer by night who is recruited by mysterious visitors to travel through time in order to prevent the extinction of humanity.
Marvel's Runaways is the story of six diverse teenagers who can barely stand each other but who must unite against a common foe – their parents. No trailer for this yet either, but here is the first cast photo: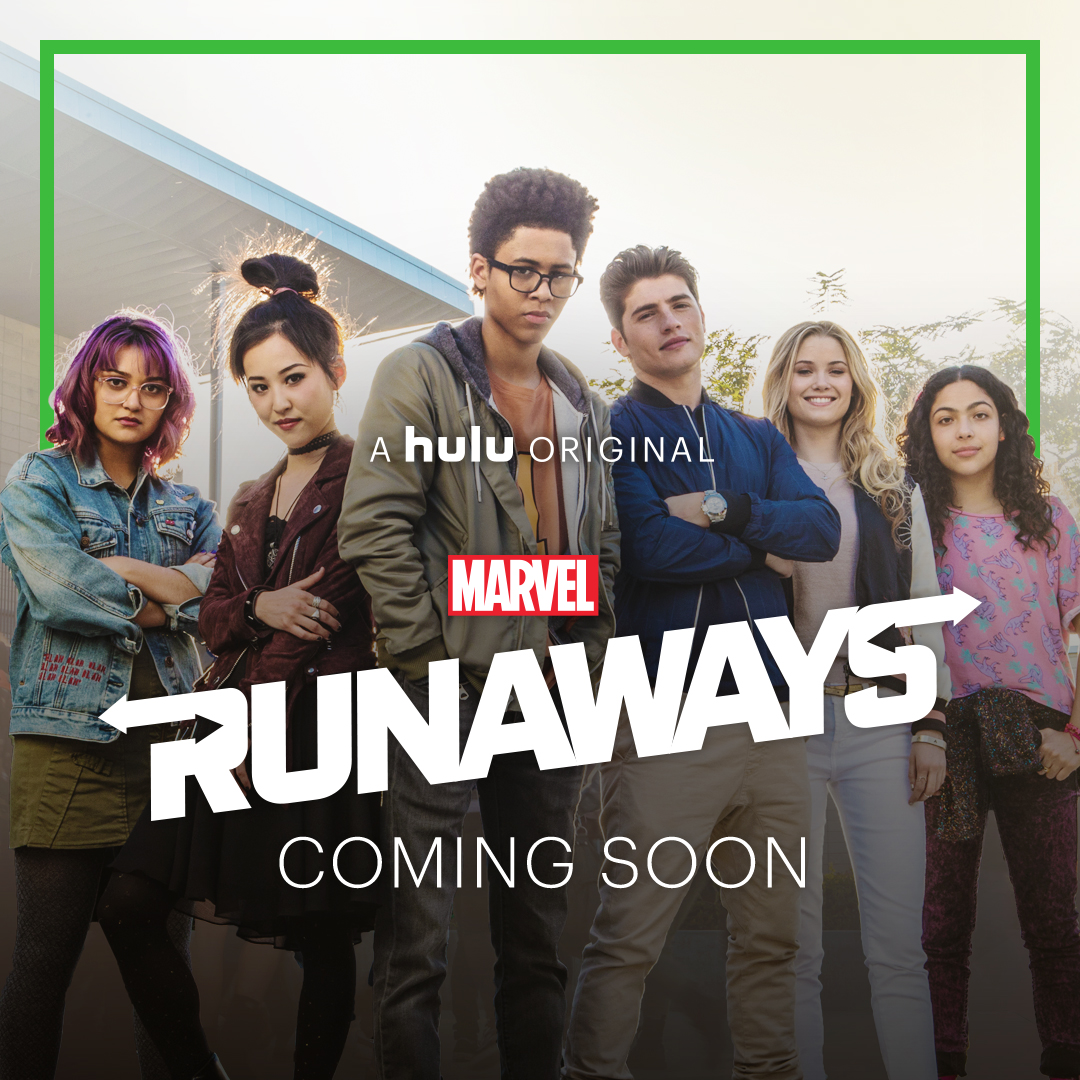 Wednesday, November 29 – Happy! at 10/9c on SYFY
Happy! is based on New York Times best-selling author Grant Morrison and Darick Robertson's graphic novel of the same name. The series follows Nick Sax (Christopher Meloni, Law & Order: SVU) – an intoxicated, corrupt ex-cop turned hit man – who is adrift in a world of casual murder, soulless sex and betrayal. After a hit gone wrong, his inebriated life is forever changed by a tiny, relentlessly positive, imaginary blue winged horse named Happy (Patton Oswalt).
A former Marine out to punish the criminals responsible for his family's murder finds himself ensnared in a military conspiracy.
Which of these geeky new TV shows will you be watching this Fall? Let us know in the comments below! Click here for our article on returning TV shows in Fall 2017!