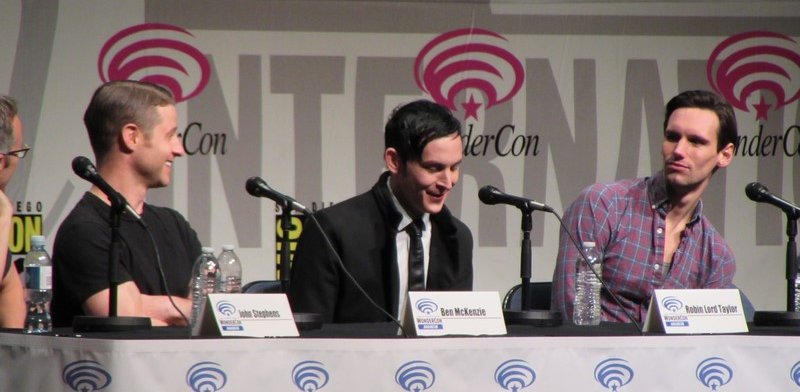 Josh wraps up our coverage of Saturday at WonderCon with his recap of the Gotham panel! Read on to find out all the details and to see our photos!
Click here for our Friday Report!
Click here to go to the beginning of our Saturday Report!
Gotham Special Video Presentation and Q&A, Arena, 3:45pm-4:45pm
Back in the arena again, Violet and I attended the Gotham panel. The panel opened up with a big recap of the first season of the show up until now. Then the clip moved into playing the first seven minutes of the next episode. The clip revolves primarily around Fish Mooney, in her new residence with Dollemacher. She seems to be working for a way out of her confinements, and may not have turned on her first buddy she made there. He is still alive, and she tells him with his help, she will be able to get them both off the island.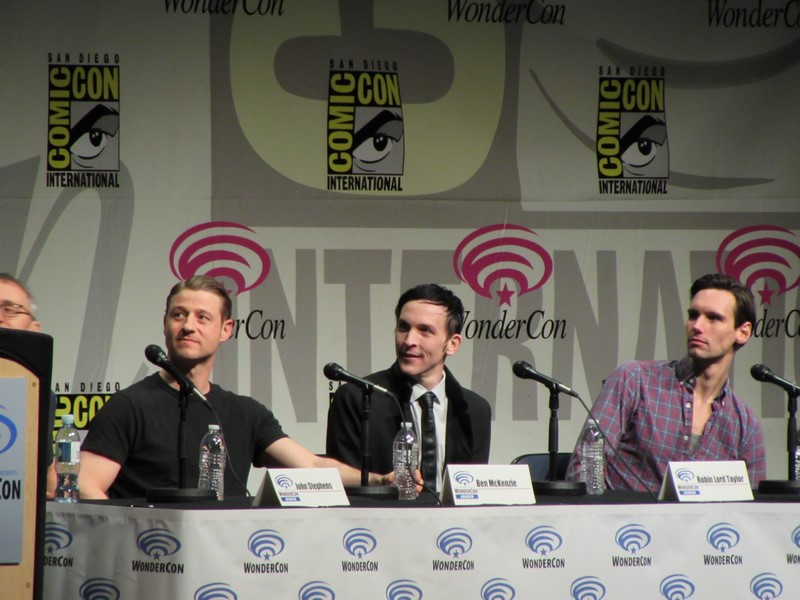 We also see a little bit of Jim, who is approached with a new case from a uniformed officer. It looks like Gordon might be making some a difference, with this officer telling Jim that they are seeing what he is trying to do for Gotham. We also see Jim talk to Bruce about Alfred's attacker, and Jim assumes that Bruce is covering for Alfred so that Alfred can get the attacker himself.
After the clip, Damien Holbrook, who writes for TV Guide magazine, came out to moderate the panel. He introduced the panelists, Executive Producer and Writer for Gotham, John Stephens, and actors Ben McKenzie (James Gordon), Robin Lord Taylor (Oswald Cobblepot/Penguin) and Cory Michael Smith (Edward Nygma/Riddler).
This turns out to be the first dedicated Gotham panel on the West Coast. Both Robin Lord Taylor and Ben McKenzie talk about being recognized for their roles on Gotham, but oddly Cory Michael Smith isn't having that happen.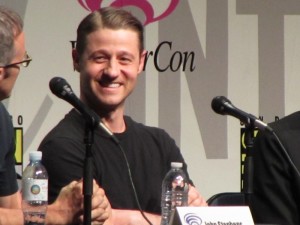 Damien Holbrook asks about the conception of Gotham, and Ben McKenzie signed on right away, and interestingly enough, series creator Bruno Heller actually wrote the part of Jim Gordon with Ben McKenzie in mind. Ben also talks about how interesting it is to see the development of all of the Batman characters.
Talking about getting the parts, both Robin and Cory talk about reading their parts. They read scenes not actually part of the show, but Cory started with talking to the assistant casting director, and how he played a character named "Ned" in his audition, and described the audition as a crossover between a medical drama and The Office. Robin talked about not knowing what exactly the part was until the day before his audition.
They all talked more about playing their parts, and a big part of the conversation was that while they are trying to portray characters we all know, all of the actors had to make the character their own. Ben McKenzie talked about Jim being put in charge of the Waynes' murder, and how his past is not as defined as other characters, and as Damien Holbrook says, this allowed for "new material" for Gotham. Damien then asked Robin Lord Taylor who his character is based on, and Robin was taken aback by the question. Robin did finally say that there are parts of Cobblepot that are in himself, just not as drastic as Cobblepot would take it.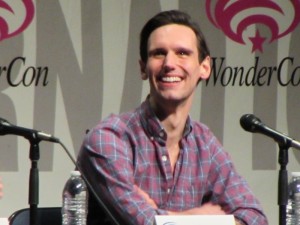 Then we got some juicy news about the show, which was that Edward Nygma might be going more towards the character we know. Cory Michael said that Nygma will get to react to a crisis, which sounds like it will be pivotal to his character development.
The panelists did have a funny aside about how they are hooked up with DC Comics, given their affiliation with DC. I found that quite funny. Also, Damien Holbrook showed Ben McKenzie his "future," pulling out a collectible James Gordon action figure. Ben McKenzie seemed to look forward to the iconic mustache that older James Gordon sports.
Holbrook also asked Robin and Cory about their scene together, which was a pretty funny exchange.
They continued talking about various things such as various places in New York used for filming, and also talked about Jada Pinkett Smith. The actors all seem to respect her, and had a good time working with her. John Stephens seemed to indicate we will be seeing Fish leave the island, so it sounds like we will be seeing her back with the main cast again. From the rumors I have heard before WonderCon, Jada will not be back for season two of Gotham, so we can probably anticipate her going out with a bang. The panel continued talking about her, and John Stephens says she is willing to go the extra mile no matter what the scene is, including plucking her own eye out and stepping on it.
John Stephens then talked about Season 2, and bringing in other characters like Victor Freeze. He also said that characters will hit "signs" to move their characters more towards what we know them as today.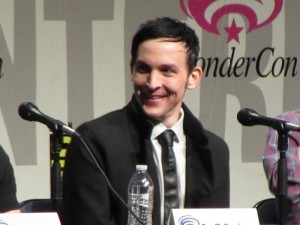 The panel then moved on to audience questions. Some of the better ones that reveal some tidbits about Gotham were asking if we will see the Riddler costume, which sounds possible, but not anytime soon. Another good one is asking if we will see Bruce Wayne become Batman. Jeff Stephens says that no, we will never see Bruce Wayne put on the cape/cowl, but we will see elements of Batman show up. Also, Stephens said that we will start seeing the duality of Bruce Wayne/Batman's personalities in Season 2. Stephens also talked about bringing more B villains in the show, and even confirmed that Clayface and Mad Hatter will be villains seen on the show. This got the fans excited, cheering and clapping. John Stephens also confirmed that we will not be seeing villains from other character's universes, such as Superman or The Flash or anything like that. That was pretty apparent, I thought, but it was good to hear. I do have a feeling we will see more original villains in the show though. John Stephens discussed bringing in the Court of Owls, and seemed hazy about it, but did seem to hint that the "group of shadowy individuals" has a possibility of being them, but would not confirm or deny it.
Possibly my favorite question asked, though, was where Penguin is hiding the bodies of all of his victims. Turns out the answer is obvious–dumping them in the river. Another funny question was asking what Gordon would do if he was in The O.C. It wasn't really answered, but it was a funny one to hear.
There wasn't a lot of news coming from the panel, but it was great having a bunch of like minded people in the same room. The Arena was nearly full of Gotham fans, which was a bit surprising to me. I have been a little critical of Gotham lately, but I am glad that it has a following that will keep the show going for at least a few seasons.
Gotham has been on break for a few weeks, but it will be returning April 13th. Here is a trailer for the next episode, titled Beasts of Prey:

Click here for for our Sunday Report, featuring the Nerdist, Powers, and The Flash panels!