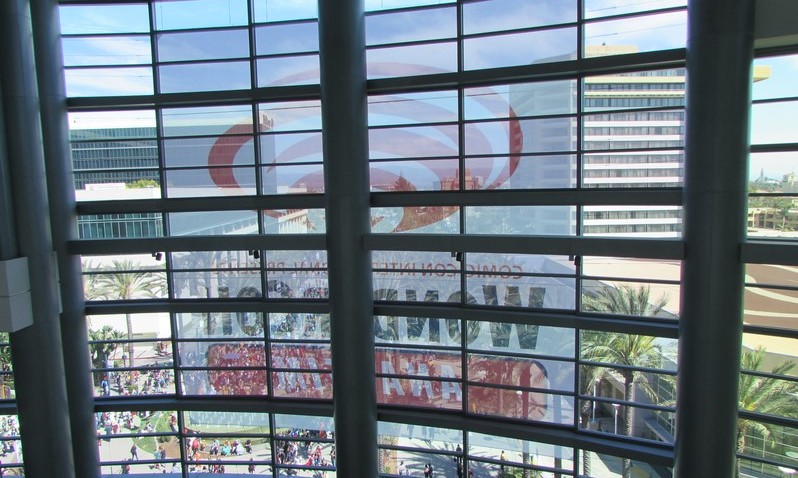 Josh and Violet continue discussing their experience on Saturday, April 4 at WonderCon Anaheim 2015! In this article, Josh starts out talking about the Warner Bros. Presentation panel, which featured Mad Max: Fury Road and San Andreas, then Violet picks up and talks about The Messengers and American Odyssey panels. Read on for all the details and to see our photos!
If you missed our Friday Report of WonderCon Anaheim 2015, click here!
If you missed Part 1 of our Saturday Report, click here!
Warner Bros. Presentation, Arena, 1:00pm-1:30pm
Warner Bros. was the only big movie studio bringing movie news to WonderCon this year. After the Felicia Day panel let out at 12:30pm, we took a quick bathroom break, then headed over to the Arena for the Warner Bros. Presentation panel, which was scheduled to start at 1pm. The room was pretty full, but we were able to find seating on the second balcony. Being up high was kind of nice. No worries about people's heads being in the way. This panel focused on Mad Max: Fury Road and San Andreas. Up first was some footage for Mad Max: Fury Road.
Mad Max: Fury Road
Drew McWeeny from HitFix.com was the moderator for the Warner Bros. panel, and he would be introducing the Mad Max: Fury Road footage Warner Bros. brought for WonderCon. Drew McWeeny said that Fury Road was his most anticipated movie of the summer, and seemed really excited to present the footage. Then the first clip ran!
So, this first clip was amazing. There was hardly any dialogue in it, but the tension between the characters was palpable. The scene opens with Max (Tom Hardy) waking up from what appears to be a car wreck, which was probably the result of some crazy car chase earlier in the movie. He is chained, by the face, to one of the deranged "tribal"-like people who is currently unconscious, as we have seen in the trailers. What I hadn't noticed before was that Max has what looks like a tube filled with blood running through the chain. We see Max pull a needle out of his neck, and then struggling to get the chain off his face mask. He first tries to pull it off in vain. Then he decides to go to more gruesome measures. He finds a shot gun, and attempts to blow off the arm of the unconscious guy he is chained to. Unfortunately, the gun misfires. He then contemplates biting off the thumb of the guy, but ultimate decides against that.
He does see some people off in the distance, and opts to carry his unconscious captor to them. Using his useless shotgun, he points it at a group of women who also seem to be escapees from this tribal group. Some of them are pregnant, and they are washing themselves in the water from the tank of a truck they happen to be next to.
Max demands the water, and he begins drinking from it, apparently dehydrated. He then motions for one of the women to use the bolt cutters they have to cut his chain. The woman doesn't seem strong enough though. Then Charlize Theron's character attacks Max and steals the gun. She aims, and pulls the trigger, and finds that it is worthless. They get into a all out brawl, fighting each other. As they fight, the unconscious captor awakens, and the fight turns into a weird three-way battle. Theron's character then goes for a gun that she knows is hidden on the truck, and that gun winds up being taken by the three fighters several times, and the ammo magazine is removed, and there is some intensity about who is going to get the gun, load it, and get the upper hand. Eventually, we see that it is Max, who fires the gun several times next to Theron's head, but does not shoot her. That is where this clip ends.
But that isn't all we get to see. Another clip which shows some stuff we have seen from the trailer is shown, but we see a lot more as well. We see that Charlize Theron's character lives in some sort of society, or was contracted to do some work for that society, but winds up being followed by what appears to be more members of this weird tribal group, and things hit the fan. Mad Max also narrates the clip, and discusses the state of his world, which he says is "reduced to a single instinct: survive." We see several scenes what look to be insane action in the desert waste land that is Mad Max's world.
These clips raised my anticipation for this movie to a whole new level. The scene between Charlize Theron and Tom Hardy was a lot of fun, and I really like both of those performers a lot.
Mad Max: Fury Road is set to hit theaters May 15th, 2015. While the WonderCon footage of Mad Max is kept under wraps, if you haven't seen anything about the movie, I would suggest taking a look at the most recent trailer. I think it will get most people excited:

San Andreas
For those who are unfamiliar with this movie, San Andreas is a disaster film about the San Andreas fault line having a massive earthquake, which in turn causes a chain reaction among other various fault lines in California, causing massive earthquakes across the state. Basically, it is a movie about California's worst nightmare. The film stars Dwayne Johnson as Ray, a rescue chopper pilot who has to navigate the aftermath of this massive catastrophe, and search for his daughter. The film is directed by Brad Peyton, and also stars Paul Giammatti, Alexandra Daddario, and Carla Gugino.
The panel opened up with Drew McWeeny showing us some footage of the movie, which was basically one big earthquake, and the Rock trying to rescue his family. It also provides a little back story on The Rock's character as a rescue chopper pilot and his family problems. But back to the earthquakes, it certainly makes California feel like a scary place to live. Paul Giamatti, who seems to be playing a scientist in the film, provides the grim outlook for California, which sounds like it might wind up in the Pacific Ocean like we have heard for years, and describes the catastrophe as a global event. That's enough to make anyone shudder.
Then the panelists came out, which were director Brad Peyton, and actors Carla Gugino, who plays the ex-wife of the Rock's character, and Alexandra Daddario, who plays the daughter.
The first topic of the panel was the special effects, and Brad Peyton said the motto of the film was, "Let's build a ride and put the actors on it." He also talked about working out the special effects issues, and how making it real makes it more, "real" and "raw."
Carla Gugino talked about the characters in the film, and said there is a lot of emotion in the film. She also spoke also about the various stunts, and that since there weren't any green screens, they got to react to the scene better. She also talked about their fictional family being under attack by a natural disaster. Brad Peyton also talked about Paul Giamatti thinking this would be primarily filmed on green screen, and was surprised to find out it isn't.
Drew McWeeny asked the panelists about working with the Rock, and since Brad Peyton worked with the Rock before, they had a sense of trust between the two of them, he thought. He described a specific moment in the movie where the Rock was going to say a "prayer," and Brad told the Rock that he himself was going to be coming up with that prayer and just say it, without telling Brad what it was beforehand.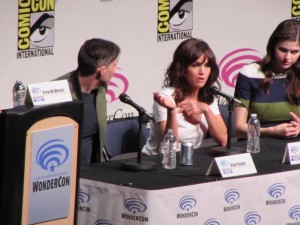 Up next, Brad talked about the science of the film, and how they had talked to various scientists. He asked them about how plausible the scenario for the film's premise is, and Brad says that scientifically, while improbable, could be possible if all of the fault lines act as the way the movie portrays. Brad Peyton brings up the largest earthquake in the world, which took place in Chile, and caused a tsunami in Hawaii, 8,000 miles away. He did admit there are some liberties taken, but he tried to keep it as grounded as possible.
The two actors talked about the stunts some more, and Alexandra Daddario talked about how she constantly worked in one of the biggest water tanks in the world used for filming movies, and how fun it was, but tiring. Carla Gugino talked about a scene where she falls 4 stories, and she actually was the person who was on the wires, creating the scene, rather than using a stunt double.
San Andreas harkens back to the 90s disaster films which were a lot of fun. Being set in California, I think this film really will hit home for me and other Californians.
San Andreas is set to hit theaters May 29th! Again, the WonderCon footage is for WonderCon only, but if you haven't seen the trailer for the film, I would suggest checking it out:

That about sums up the Warner Bros. panel. Two great looking movies coming out this year, and it was exciting to see some extended footage from both. It certainly helped ramp up my excitement for both Mad Max: Fury Road and San Andreas!
Up next, Violet will be talking about catching the end of The Messengers panel, and the full length premiere episode of American Odyssey we got to see in Room 300DE.
LUNCH! followed by The Messengers, Room 300DE, 1:30pm-2:30pm
It's Violet taking over again! Okay, so I thought about trying to hurry up and try to get to The Messengers panel right after the Warner Bros. panel, but ultimately decided it against it. That's because the panel started at the same time the Warner Bros. panel ended, and it would take a little bit of time to get through the crowd leaving the Arena and then make our way back into the convention center and upstairs to Room 300DE. I knew that the episode would be screening first, followed by the Q&A, and I didn't want to miss any of the episode, since I would be lost coming in on the middle of it.
Anyway, so we decided to use the time to go get some lunch. It took a good amount of time to even make it over to the food trucks, because they make you exit the Arena outside, rather than back into the convention center. Then with so many people exiting at the same time, and all trying to go the same way to get back in, then on top of that the barrier checkpoints where you have to show your WonderCon badge to get through, it was slow-going. When we got over to the food trucks about 15 minutes later, the line for every food truck was devastatingly long. Which makes sense, considering it was lunch time. We thought about going into one of the food court areas on the Exhibit Hall floor, but thought those might be crowded too. Instead, we went back into the holding room area of the Arena to the Arena Grill, where there were no lines whatsoever. We walked right up, and immediately each got a cheeseburger. They were $8 each, and not very good, but it was better than starving and standing in line in the hot sun forever. Then we stayed inside the holding room, sat down against the wall, and ate.
After we finished eating, we went ahead and headed up to Room 300DE. When we got there, The Messengers pilot was still on, so we waited outside the room for about 5 minutes for the episode to be over, because we did plan to catch the premiere episode when it aired, and didn't want anything spoiled for us. After that, we walked in, and were able to find seats fairly close to the front on the right side of the room.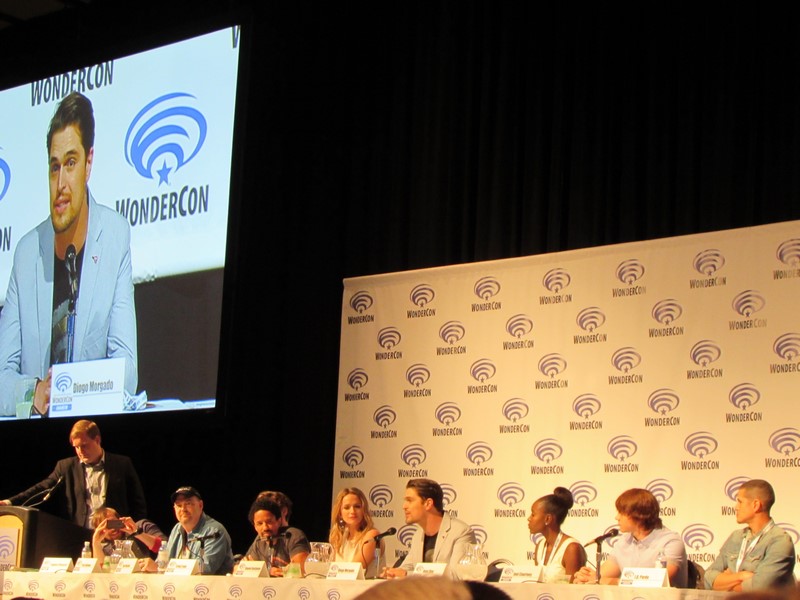 Panelists included Executive Producer Trey Callaway, Co-Executive Producer/Creator Eoghan O'Donnell, and cast members  Shantel VanSanten, Jon Fletcher, J.D. Pardo, Joel Courtney, Diogo Morgado, Anna Diop, and Craig Frank. Not having watched the episode, I didn't really follow everything that the panelists talked about, but it sounds like a show where there's some sort of event which causes some people to gain unique powers. One of the Executive Producers said that it is an apocalypse show based on the Christian Book of Revelations, and that a main theme of the show is faith, though not religious faith, but faith in people and faith in each other. Apparently, Diogo plays "the Devil," though the actor didn't seem to think of his character as the Devil. The cast members discussed their powers, and what power of another character they would like to have. Joel commented that he liked J.D.'s power, which is the power to hear other people's negative thoughts. That comment got a little laughter, because it doesn't seem pleasant to only hear negative thoughts! There was a lot of teasing of things to come and to look forward to in Episode 2 and beyond. It was a very short Q&A with the panelists, since the panel was only 1 hour long, and the episode had taken up about 45 minutes, so this portion of the panel was over very quickly.
The Messengers premieres on CW on Friday, April 17 at 9/8c.
American Odyssey, Room 300DE, 2:30pm-3:45pm
We hadn't ever heard of this show before WonderCon, so we decided to check out this panel so see what it was all about. Being a reality based political thriller, it seemed a little out of place at WonderCon, which usually features sci-fi and comic book related panels, but we decided to try it out anyway.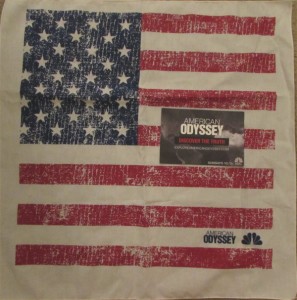 It turns out that we only saw the episode one day early, as it was to premiere on NBC the next night. So you can already watch it on whatever On Demand source you use. Therefore, I won't go into detail about the episode like I did for Wayward Pines, and instead will give a short summary, though a bit spoilery. Oh, while the episode was playing, they handed out some swag, which was a postcard advertising the series, and an American flag bandana, which you can see to the left.
Odelle Ballard (played by Anna Friel) is in North Africa on a special task force, like Navy Seal Team 6, to kill a certain Al Queda enemy. When the team succeeds, a private military group comes in and destroys all evidence, by orders from up high, then leaves. However, Odelle was able to save evidence on a flash drive, which includes evidence of an American company sending money to the enemy. The task force is later bombed by the private military group, and Odelle is the only survivor. However, she is captured by some locals. Back in the U.S., it is reported that the entire task force is dead. Odelle tries in vain to reach her superiors to let them know she is alive. The private military group figures out her whereabouts and tries to kill her off, but a young Muslim boy helps her escape. He posts a picture of her that goes viral.
Meanwhile, back in the U.S., Peter Facinelli's character, Peter Decker, has recently started a new job, and starts to uncover a conspiracy involving a solider being ordered to fire upon fellow U.S. soldiers, and subsequently receiving a payoff, which he refused to accept. A hacker who believes there is a conspiracy finds evidence that Odelle is still alive, but he mysteriously goes missing.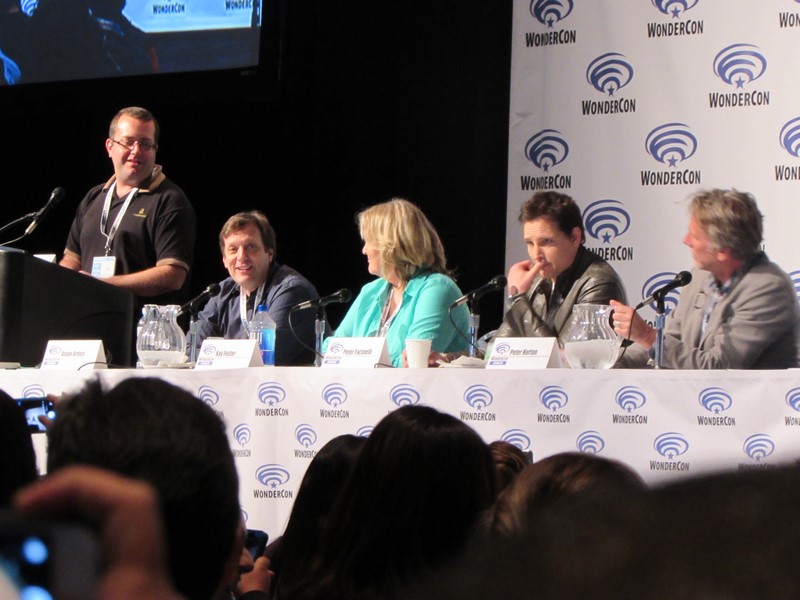 Neither Josh nor I particularly liked the show. In all fairness, though, we're not really into political or military shows in general. The one exception is Homeland, which we love, and which American Odyssey sort of reminded us of, but we doubt we'll continue to watch the show. It seems like the remainder of the season will be about Odelle trying to get home, and Peter continuing to uncover the conspiracy.
The episode was actually longer than we thought it would be, not ending until about 3:25pm, at which time the panelists were brought out. The panel consisted of Executive Producers/Writers Peter Horton, Adam Armus, and Kay Foster, and actor Peter Facinelli (Twihards know him better as Carlisle Cullen on Twilight). However, we only had time to snap a few pictures, as we had to head back down to the Arena for the Gotham panel which was starting at 3:45pm. We thought the episode would be over around 3:15pm, allowing us to stay for 15 minutes for the Q&A, but no such luck.
American Odyssey premiered on Sunday, April 5 on NBC at 10/9c.
Click here to continue to Part 3 of our Saturday Report of WonderCon Anaheim 2015 for our coverage of the Gotham panel!