WonderCon Anaheim 2014 took place at the Anaheim Convention Center Friday, April 18 through Sunday, April 20, and both Violet and Josh were able to attend! Saturday was a day packed with HUGE panels in the Arena, so we decided to split up our Saturday Report into different posts. In this post, Violet gives a full report of the Warner Bros. Presentation panel, which featured upcoming films Edge of Tomorrow, Into the Storm, and Godzilla! Read on for all the details…
If you missed our WonderCon Friday Report, which featured panels for Salem, Revolution, and Geek & Sundry, click here!
WonderCon Anaheim 2014: The Saturday Report, Part 1 – Warner Bros. Presentation
If you want to jump ahead to a particular topic, just click on the corresponding link!
The Saturday Morning Arena Line
Knowing that Warner Bros. and Twentieth Century Fox were bringing some very popular films and big stars to the Arena on Saturday at WonderCon, and being veterans of San Diego Comic-Con, we knew we would need to get in line early to make sure that we got into the Arena to see all of the awesomeness. The first panel, Warner Bros. Presentation, was scheduled to start at 11:00am. Considering that 3-Day and Saturday badges had sold out almost a month before, it was sure to be a crowded day.  We ended up waking up at 6:00am, left our house at 6:40am, parked in the Anaheim Convention Center parking lot with no problems, and were able to get in line by 7:00am. Below is what the line looked like at that point. Imagine about 30-40 additional people to the left of the photo, leading up to the entrance doors of the Arena (the doors you see on the right are actually the exit doors). So, pretty tame by SDCC standards.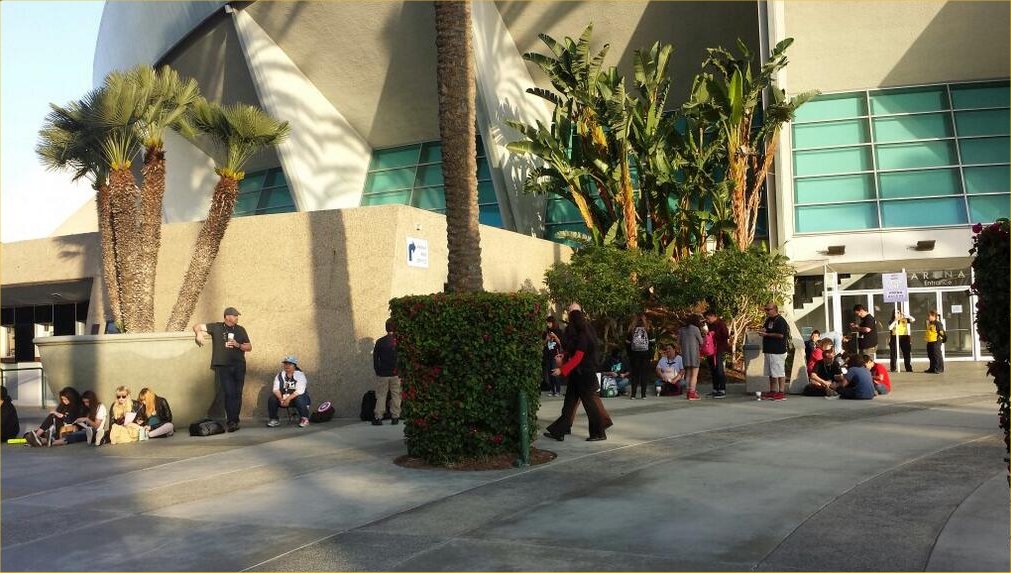 About 45 minutes later, they moved us inside to a holding area, at which point we estimated there to be about 250 people in line. We estimated ourselves to be a little over 100th in line.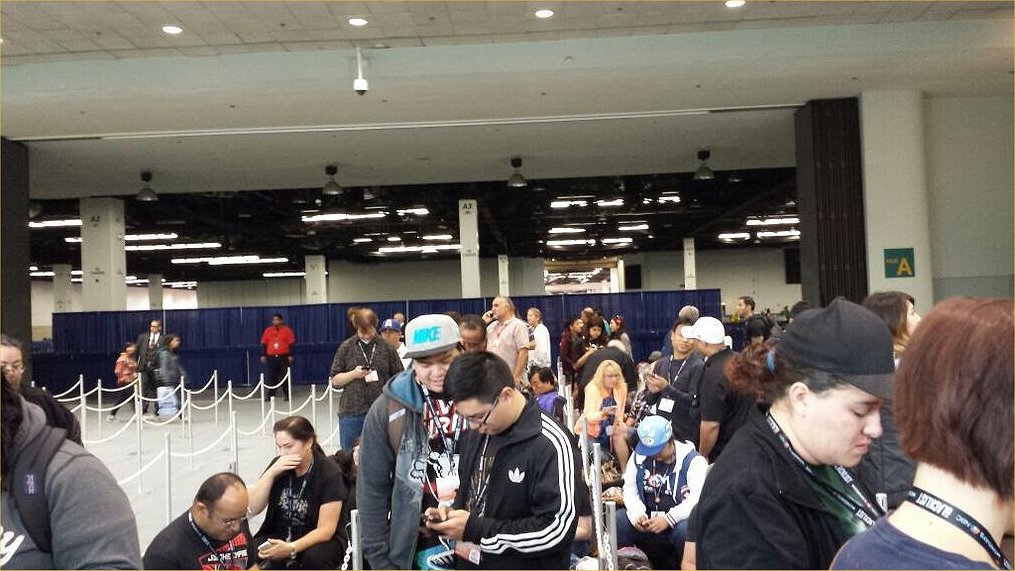 Then at 7:50am, WonderCon tweeted that passes for all days had sold out (meaning that Sunday had sold out, since Saturday had already been sold out for awhile), making WonderCon Anaheim 2014 a complete sell out! Although, Friday badges did not sell out until late Friday afternoon, or at least WonderCon did not tweet about Friday selling out until 4:46pm on Friday. In any case, glad we bought our 3-Day badges back when they went on sale on February 14!
They started letting us into the Arena at 10:00am, an hour before the first panel was scheduled to start. Of course, by that time the holding area was full, and the line must have stretched to outside. We ended up getting seats in the 8th row of the right middle section, just behind 3 rows of reserved seats, which were never completely full.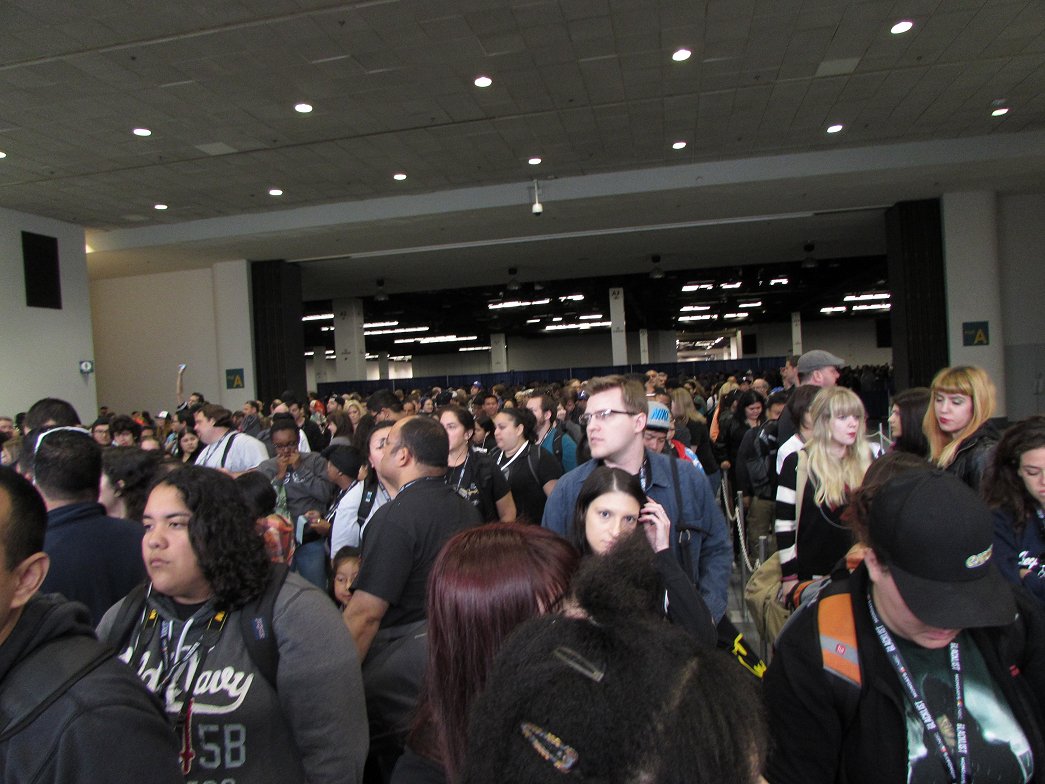 Edge of Tomorrow
Drew McWeeny from Hitfix.com was the moderator for the Warner Bros. Presentation panel. First up was the sci-fi film Edge of Tomorrow, starring Tom Cruise and Emily Blunt. If you're not familiar with the film, Tom Cruise plays an inexperienced soldier that lives the same day over and over again fighting against aliens who have invaded Earth. After we watched a trailer from the Groundhog Day-like film, Bill Paxton made an appearance, coming out on the stage exclaiming, "They know we're coming!"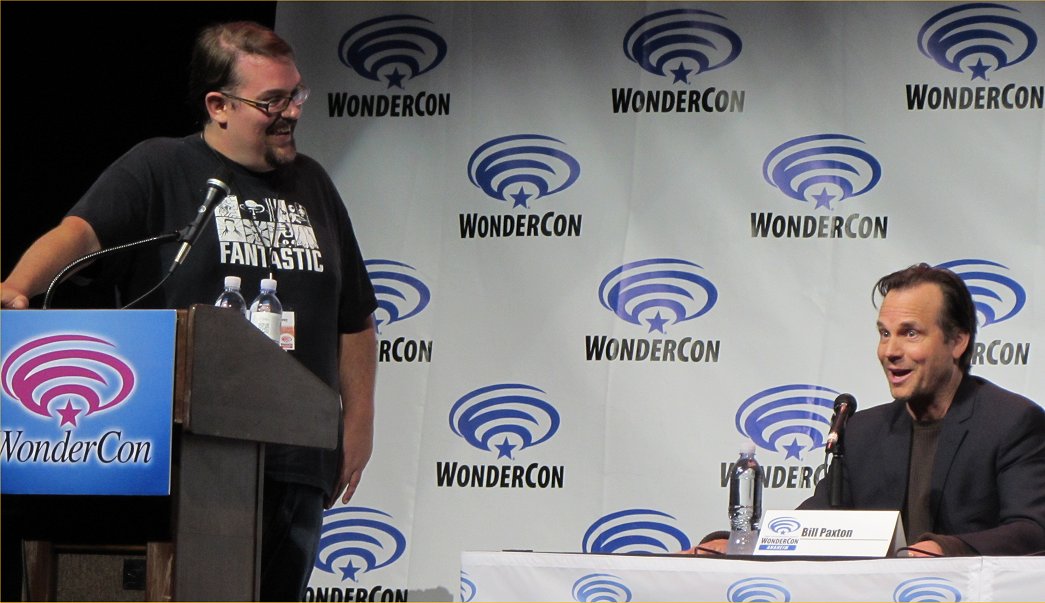 Paxton revealed that Edge of Tomorrow was originally titled All You Need is Kill, and said that upon reading the script, he thought it was "Ancient Rome meets Cecil B. Demille" and "it's got its DNA in Aliens." He then joked that Warner Bros. needed someone to say "Game over, man!" (quoting his character in Aliens), which garnered huge applause from the audience.
Paxton told us that his character in Edge of Tomorrow is a country boy platoon sergeant that is in a charge of a squad called J-Squad, and he is sent Tom Cruise's character on the eve of a massive counterattack. He is told that Tom's character is a deserter who has been impersonating an officer, and instead of being down on him, Paxton tells him, "Oh son, you're gonna be born again in combat, or you're gonna have your nuts blown off!" They call the aliens "mimics" because they seem to anticipate everything they're going to do, and are always one step ahead. He commented that the film has a "dark, sardonic sense of humor" and that this tone is set early on.
Paxton spoke about how the film was shot in England at Leavesden, the Harry Potter Studio. When he first arrived on set, he was greeted by Tom Cruise, trying on the protype exosuit, saying, "Paxton, you been working out? This thing weighs 75 pounds!" At that point, Tom had been working out for 3 months. The suits were so heavy that between takes they would hang the actors by chains to take the weight off their shoulders. Paxton commented that Emily Blunt said she got into the best shape of her life while filming this movie, as she was in combat right along with them. Paxton explained that this isn't just a guys action movie, it's a gals action movie too.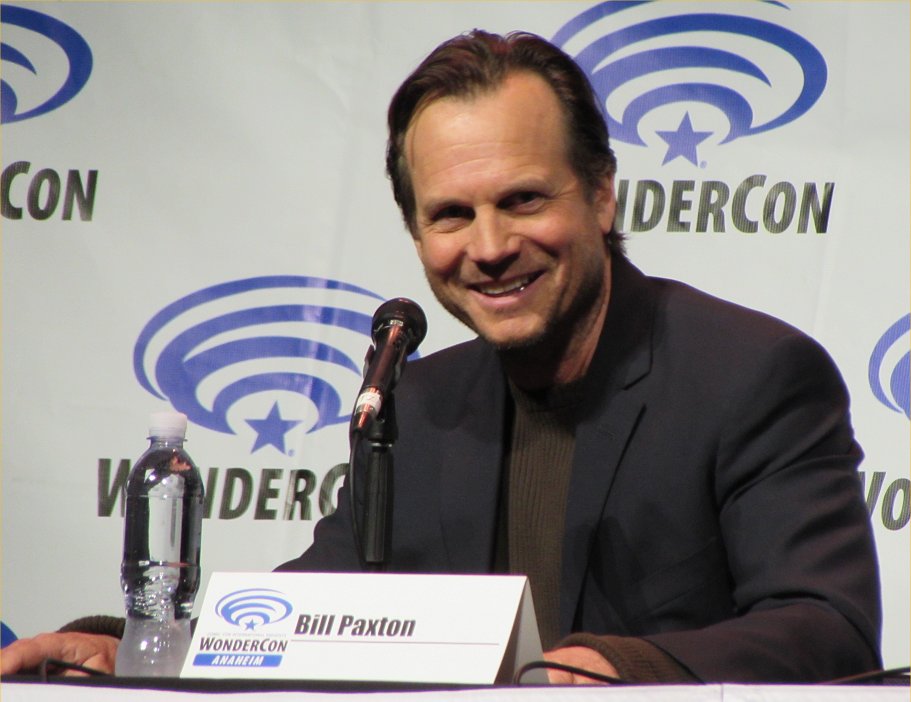 McWeeny brought up Paxton's recent appearances in Agents of SHIELD, and Paxton said "Hail Hydra!" Then he said that he felt "all warm and fuzzy" when the HYDRA logo replaced the SHIELD logo.
It was then opened to audience questions. The first question was whether he had any plans to direct again, and he revealed that he is currently working on a project called The Bottoms, a gothic thriller. The next audience member asked him if he remembered playing a transvestite in a 1978 film called Safety First, and he said he did remember, and thanked the man for the memory, because he's lucky if he can remember what he had for breakfast! When asked what attracts him to roles, Paxton replied that he looks at the director for a passion and an understanding for the language of film, but that he doesn't care about the genre of the film. In the fall, he will have a small supporting role in a film called Nightcrawler, written and directed by Dan Gilroy, and starring Jake Gyllenhaal and Rene Russo. He said he's not worried about having to play the lead anymore, that he has become "the guy that supports the guy," and that he is enjoying playing the supporting roles. "Let some other schmuck have to show up every day!"
The final question was what role he gets asked about the most, and which was his favorite. Paxton answered that Tombstone is one that people really like, and that it's hard to live down his role in True Lies. He also brought up his role in Titanic, and McWeeny mused that if James Cameron is making three Avatar sequels, there must be something coming up for Titanic. Paxton described when James Cameron calls him as the Bat phone ringing. "Yes, Commissioner Gordon. What do you want me to do, set myself on fire? I'm there! I'm in! Fall off a building, sure. Tell people I have a little dick? I'm in, Jim! I'm in!" With that, the Edge of Tomorrow panel wrapped up, and Bill Paxton left the stage saying, "They know we're coming!"
Edge of Tomorrow will hit theaters June 6, 2014.

Into the Storm
Next up was the natural disaster flick Into the Storm. Director Steven Quale came out first and introduced the movie to the audience, telling us that Into the Storm is about what it's like to be in a small town being ravaged by an unprecedented number of tornadoes, and explained that the movie takes you right into the eye of the storm. We were then treated to a special clip from the movie where we see a tornado coming near a film crew, which causes Sarah Wayne Callies' character to be hanging on for dear life to a car door, and where we later see a fire tornado, cars being lifted in the sky, and even a full-sized passenger plane being lifted off the ground by a tornado.



After the clip, actors Richard Armitage, Max Deacon, Jeremy Sumpter, and Arlen Escarpeta joined the stage. The movie takes place in a fictitious town called Silverton, but they filmed it in Detroit. Quale said that he used a "first person narrative approach" when filming the movie, where the camera is slightly hand-held, which makes it feel organic, but still puts you into the world that you're watching.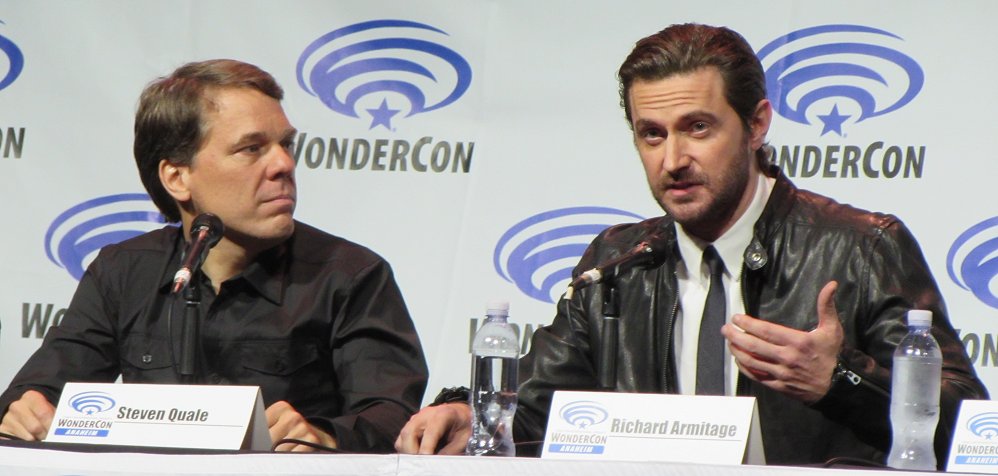 As Richard Armitage began answering a question from McWeeny regarding the physical demands of the movie, there were several squeals, cheers, and giggles from the female audience members. Armitage talked about being on wires and being exposed to 100 mph wind machines and rain machines. Sumpter commented that the rain coming at them "felt like little daggers." Quale said that he told the special effects guys that they needed to heat the water, but he didn't know they didn't heat it overnight, so the next morning, ice cold water was hitting all the actors, and he heard a chorus of screams from them. "We sobered up pretty quickly every morning," Armitage said.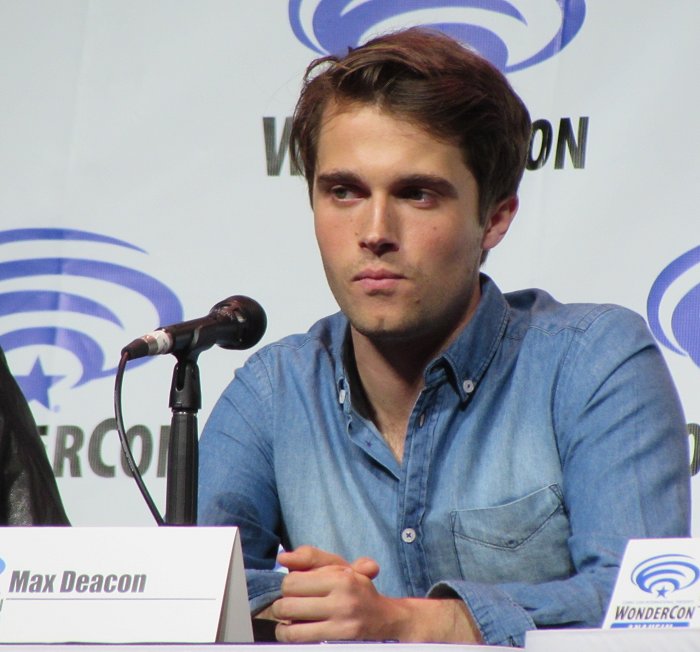 McWeeny then asked the panelists what was the most memorable or difficult thing physically each of them were asked to do while filming. Deacon said that he and co-star Alycia Debnam Carey had a few night shoots where they were completely submerged in water, with long takes of them basically drowning. Escarpeta said that he and Sumpter play cameramen in the film, and it was hard for him to look and move like a real cameraman. Quale also revealed that every actor who played a cameraperson in the movie each had a shot that actually ended up in the movie. Sumpter commented that the worst part for him was the wind machines, and having dirt, leaves, and branches flying at him at 100 mph.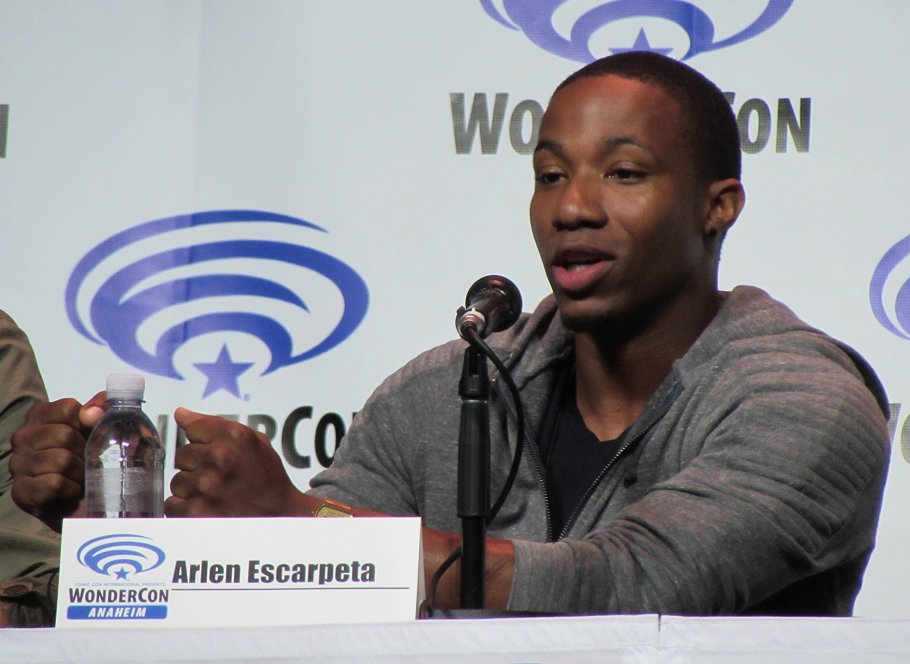 When questioned about the fire tornado that we saw during the clip, Armitage commented that he was skeptical about the fire tornado at first, but then they watched footage on YouTube of a fire tornado in Australia. McWeeny took the opportunity to ask Armitage about what it was like to play an ordinary man after playing a superhero in The Hobbit. Armitage then spoke about his character, who despite being an ordinary man, a schoolteacher, he is called upon to become a hero, and displays courage and bravery when he has to find his lost son.
After Quale gave a shout out to Sarah Wayne Callies, who plays a storm chaser in Into the Storm, for her amazing performance in the movie, McWeeny opened the floor to audience questions. The first audience member asked Armitage what his favorite genre is, but he said he doesn't have one, although he does like working from literature. He also always wanted to play someone that was based on a real person.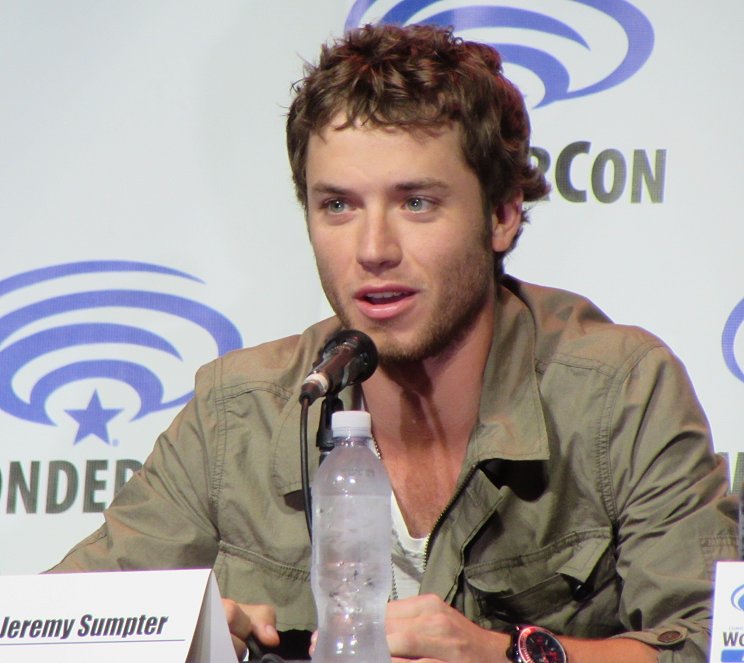 Quale gushed about how he screened the movie for James Cameron, who he has worked with for many years, and Cameron had nothing but good things to say about the film. He also mentioned that Cameron suggested a prop to insert near the end of the film that we will recognize when we see it. Quale also talked about how he had a hand in changing the end of Titanic to have Rose drop the diamond by herself, which he brought up because Bill Paxton was originally in that scene, "So all things lead to Bill Paxton!" Sumpter and Deacon chimed in that they had each played Bill Paxton's son in Frailty and Hatfields & McCoys, respectively.
Back to audience questions, when asked if he saw himself as a certain character while reading Tolkien's books as a child, Armitage answered that he was always fascinated with Golem, and would try to do the voice himself. In a stage production, he played an elf, but was covetous of the guy playing Golem. A fan yelled out a request for him to do the voice, but Armitage declined, saying, "Andy Serkis is in the building, I couldn't possibly." Another audience member asked what it was like to be on the set when it looked like a disaster scene, and Sumpter reminisced about playing around in the flipped cars "like a child in a candy store." Deacon recalled a woman driving by and exclaiming, "Oh my God, what happened here?!" He never answered her, "so she could be in a bunker somewhere."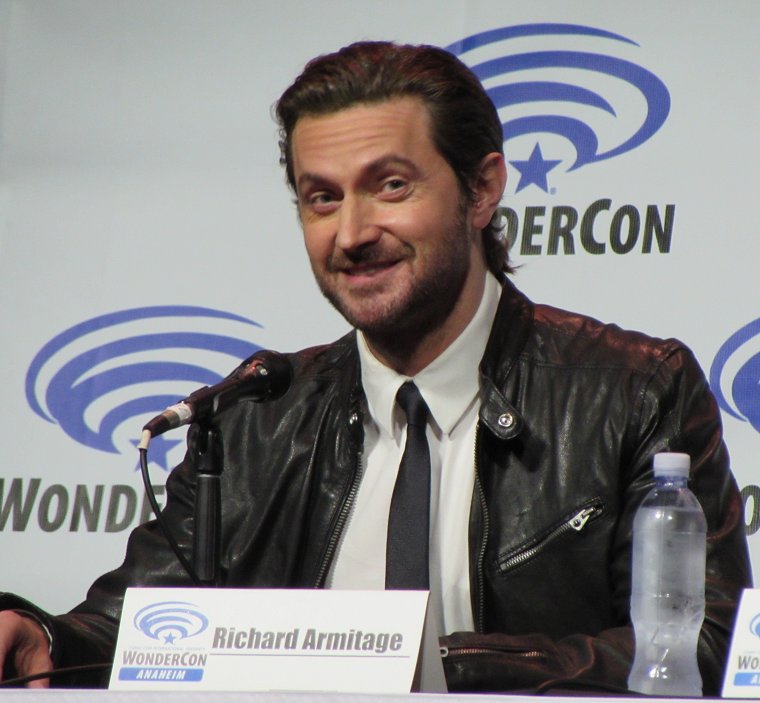 The final audience question was from a woman wearing a shirt with Armitage's character from The Hobbit on it, and the audience cheered in delight upon seeing the shirt. She asked whether Armitage wrote a back story for his character in the movie, like he has done for other roles, and he said he did in fact write a back story, where he is a father with two boys whose mother died, so they are holding the family together. He also met with an American high school teacher so that he would have someone real in which to root his character.
Into the Storm will be released in theaters August 8, 2014.
Godzilla
The final movie featured in the Warner Bros. Presentation panel was Godzilla, which director Gareth Edwards showed up to tell us about. As he took the stage, an audience member shouted to him, "Thank you!" but Edwards waved him off, saying, "No, no, no, you haven't seen the movie yet!" They started out by showing us the trailer, which wasn't anything new, but fun to watch with a full audience.
Afterwards, an excited McWeeny confirmed with Edwards that Toho [the Japanese film company that made the original 1954 Godzilla and several subsequent Godzilla films] was involved with the making of the film, and Edwards talked about how you think that designing Godzilla is the easiest aspect of the filmmaking process, but "it's actually the hardest thing because everyone has an opinion on what Godzilla looks like." He thought it would only be a few days work, but it turned into more like a year. Edwards commented that the way he feels about Godzilla as a character now is different than how he felt a year ago, saying, "You don't really choose who Godzilla is, Godzilla sort of tells you who he is."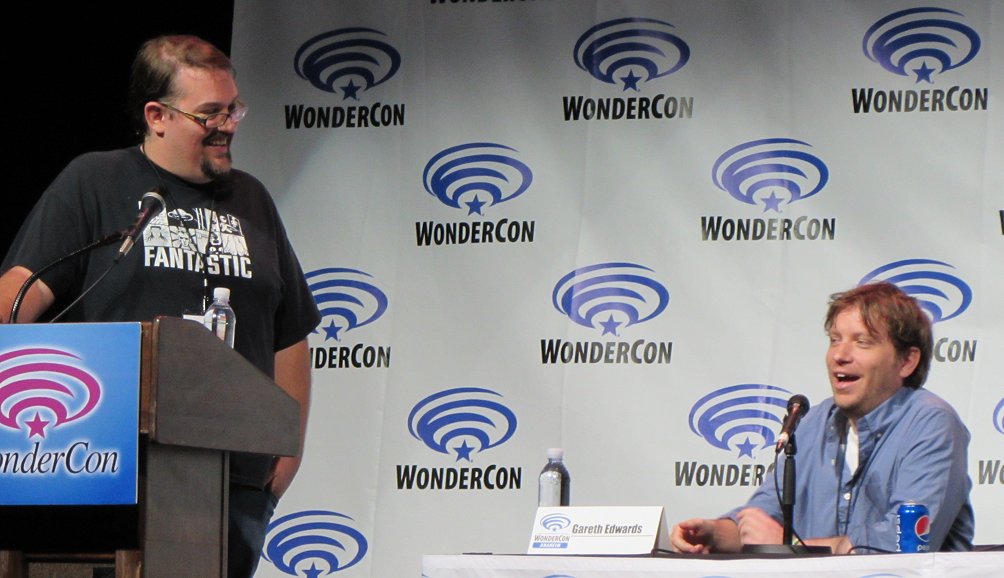 McWeeny commented that the recent trend of movie marketing is to show us everything beforehand, and that he loves that they've done the opposite with Godzilla. Edwards refused to take credit for it, though he did say that they discussed how "quiet is the new loud." McWeeny went on to compliment the casting for the movie, and Edwards said that the told the actors, who often flip back and forth between personal and commercial films, that they had to view this as their personal film. He wanted them to take it seriously, because if something like this really happened, it would be life-changing and world-changing. However, he did point out that there is humor in the film, though more from the situation than the characters themselves.
Edwards said that a common theme in the movie is "Man vs. Nature," and that deep down man has always been afraid of the animal coming and destroying everything, so Godzilla taps into this primal instinct. McWeeny asked if Toho pressured him use any of the other characters in the Toho library, and Edwards said that he didn't want to ruin it, but there is one other thing in the movie that "is very much related to the life cycle of Godzilla," as they had to come up with something that was Godzilla's motivation. He then talked about the transition from his indie film Monsters to this big budget film, saying it was a "flukey" thing that allowed him this opportunity, and he felt lucky to have been given such creative freedom.
The audience was then treated to a 6 minute clip. In the clip, we see Aaron-Taylor Johnson riding on a monorail, and the lights go out. Meanwhile, on the other side of Hawaii, people at a luau start running away from the beach and down the street, as a tidal wave comes rushing after them. A family ducks into a building and closes the doors as the water rushes by. Flares are set off from the top of the building, and Godzilla appears, and gets pummeled by bullets, which have no effect on him. Back to the monorail, the lights come back on. However, a large moth-like creature shows up and bites into the monorail car, which causes everyone riding in it to go sliding toward his mouth. Aaron Johnson's character is able to grab the kid who was sitting next to him. There are explosions at the airport, including a plane, as helicopters try to fight off the creature. Just then, Godzilla shows up to face the creature, and we get a full view of Godzilla starting from his feet and ending with his face.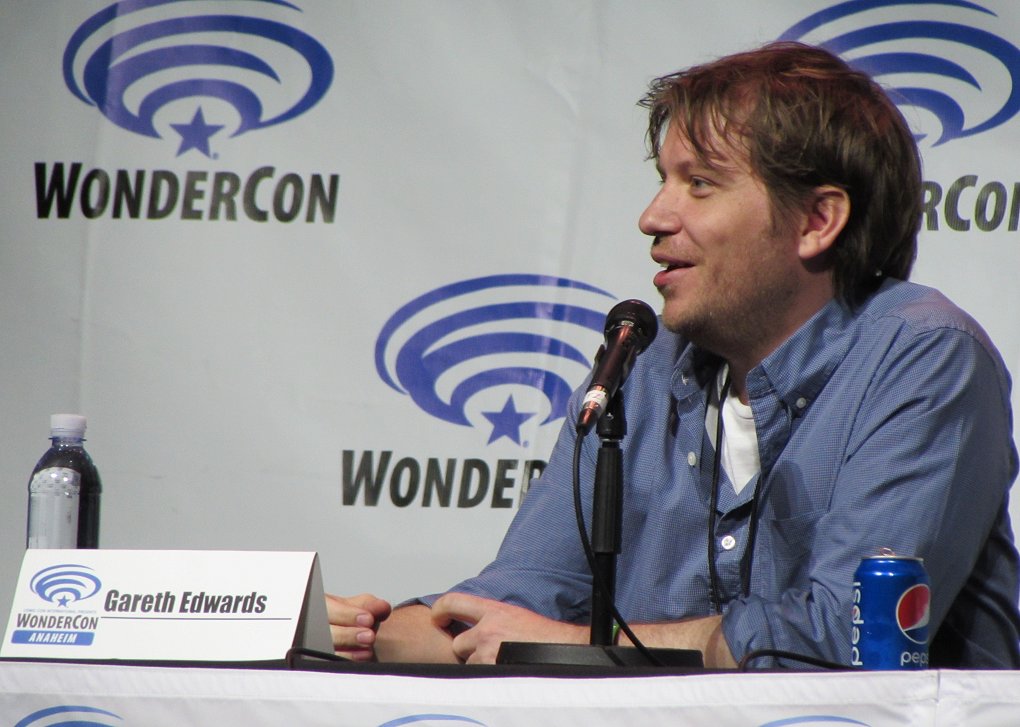 The audience went nuts. "And that's why we make movies," commented Edwards. McWeeny asked about Godzilla's roar. Edwards explained that the original roar was created by putting resin on a leather glove and scraping it against a double bass, so they tried it, but they were never able to recreate it. Eric Aadahl, the sound designer on the film, would not reveal even to Edwards how he was able to create the roar in this film, until the last day. Edwards would not give away the secret, but said it was something as crazy as how the original roar was made. He did reveal that several of the sounds on the film were achieved by using high speed "scientific microphones" that are able to slow sounds down to super slow motion.
It was then opened to audience questions, the first of which was how the studio helped Edwards transition to blockbuster films. Edwards answered that they surrounded him with "the best of the best." He made a list of everyone he wanted to work with, and pretty much everyone on that list worked with him on the film. The next audience member asked about the MUTOs, the monsters that Godzilla would be fighting, and wanted to know which monsters from Toho that the filmmakers had looked at. Edwards said that they wanted a winged animal, but wouldn't say much more, because he didn't want to ruin it for us.
Another audience member asked about the comparison between this version and the "first" Godzilla movie, directed by Roland Emmerich. Edwards made sure to set the questioner straight, making it clear that the 1954 Ishiro Hondo film was the first Godzilla film, and that was their inspiration. The final audience question was from a Bryan Cranston fan: Who would Edwards rather see try to survive a Godzilla attack, Walter White or Hal from Malcolm in the Middle? Edwards said there was so much more comedy value in the second option, and confessed that he always thought that Hal was an in the closet gay father. When he brought this up to Bryan Cranston, Cranston said, "No, he wasn't," and explained that the mother was such an aggressive, dominating character that he just played it the opposite way. Edwards was embarrassed that he had always explained the show to people that the father was gay, and as he told Cranston this, he was just looking at him like "You idiot."
Godzilla will be in theaters May 16, 2014.