by Violet


WonderCon Anaheim 2014 took place at the Anaheim Convention Center Friday, April 18 through Sunday, April 20, and both Violet and Josh were able to attend! In this post, Violet gives her full report of Friday at WonderCon, which included panels for WGN America's new show Salem, NBC's Revolution, and Geek & Sundry! Read on for all the details…
WonderCon Anaheim 2014
If you want to jump ahead to a particular panel I attended, just click on the corresponding link!
I already had a half day off of work for Good Friday, so I took the other half off in order to have the whole day off to go to Friday of WonderCon. Josh had to work, but was able to switch shifts with someone so he could get off of work at 2:30pm. The first panel on my agenda was Salem, which would be starting at noon. We live just a few miles up the street from the Anaheim Convention Center, so I was able to take the bus down Harbor Blvd. I meant to get an earlier start, but I ended up not leaving my house until about 11am. I caught the bus at 11:15am, and made it to Harbor and Katella around 11:40am, despite heavy traffic around Disneyland. I walked over to the convention center and was able to cruise through badge pickup (or "Barcode Scanning" as they were calling it) and make it up to Room 300AB by noon.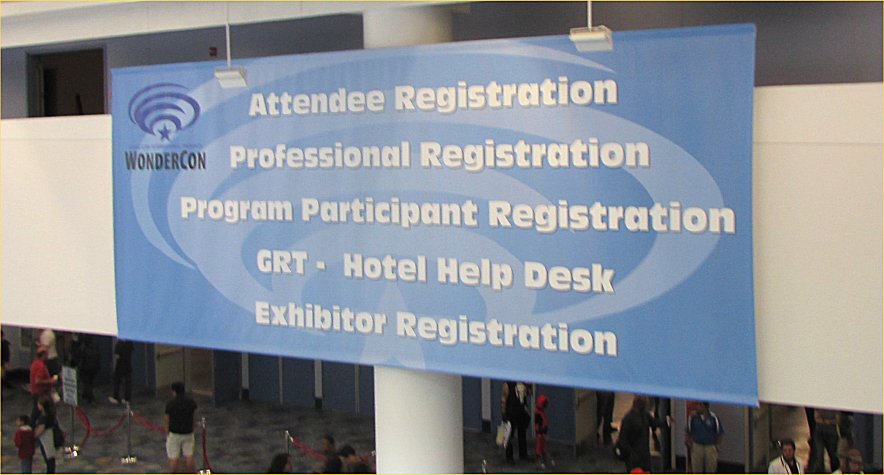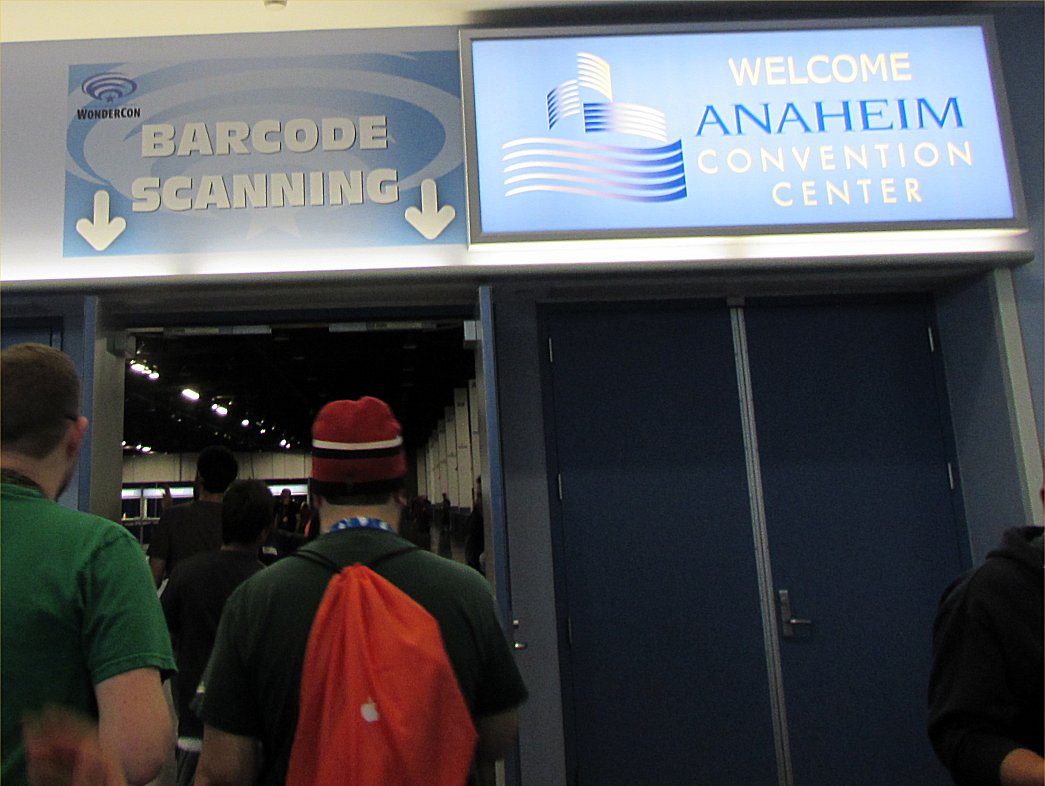 12:00pm-1:00pm Salem, Room 300AB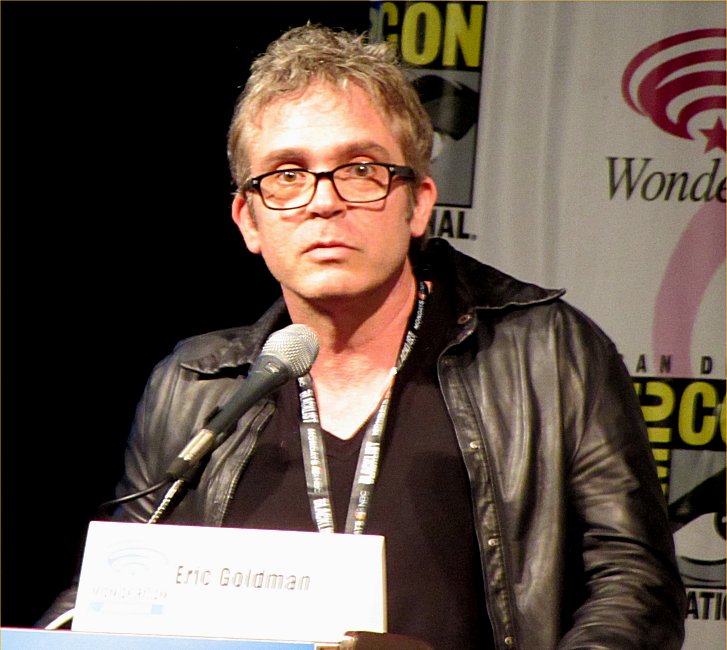 There was no line when I arrived, and the room was only about 2/3 full. Upon entering, each person was given a raffle ticket. Executive producer/showrunner Brannon Braga came out and introduced the show, telling us that we would get to see about 25 minutes of the pilot episode, but that there would be a couple scenes blacked out because they were too graphic.
Here's a short recap: Shane West plays John Alden, a soldier that gets sent off to war, leaving his sweetheart, Mary, behind. Little does he know that she's pregnant. However, due to the treatment that fornicators get when they're caught, Mary's friend uses witchcraft to help her get rid of the baby. Seven years later, John returns to Salem to find that Mary has married the richest man in town, who is now an invalid, and that the town is paranoid about witches among them. Unbeknownst to John, Mary is a witch and has used her witchcraft to put her husband in his current condition.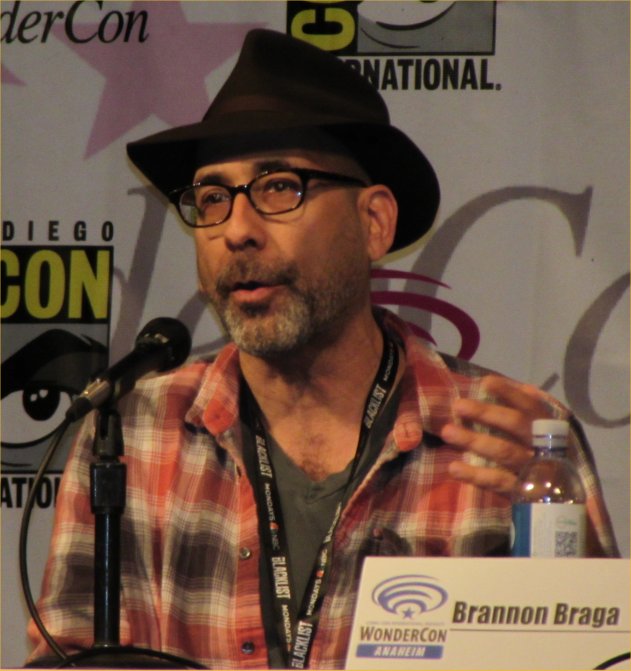 The pilot had an American Horror Story feel to it, and seemed like it was trying to use shock value. There were several instances where the show was definitely trying to make you jump. If you like the horror genre, then you might like Salem.
Following the screening, Brannon Braga came back out, along with co-creator/executive producer Adam Simon, and actor Shane West, who plays John Alden. The moderator, Eric Goldman, started out by asking what was the inspiration for this television series, and Simon talked about how he read about Salem when he was a kid, and Braga commented about how this subject is relatively uncharted territory to explore. However, Simon made sure to clarify that they're not saying that the innocent people accused were actually witches, but that this is a different take on who put them in the firing range. He also emphasized the fact that back then everyone truly believed in witches and demons, so they wanted to do this show from the perspective of those people and how they perceived the world. However, Shane West's character, John, is a non-believer. West commented that his character's reaction to all the changes upon his return is a lot more aggressive in the second episode.



The moderator pointed out that John Alden was a real person, and that several of the characters on the show were real people. Braga said they were inspired by real people and real events, but that most of it is fictional, and that this is an alternate reality. The moderator also brought up the show's content, and the fact that the show would be airing on WGN America, to which Braga joked, "We're a little worried that the folks watching Matlock are going to have heart attacks." However, he commented that although this is basic cable, they have been encouraged to push the limits, but they haven't found any yet.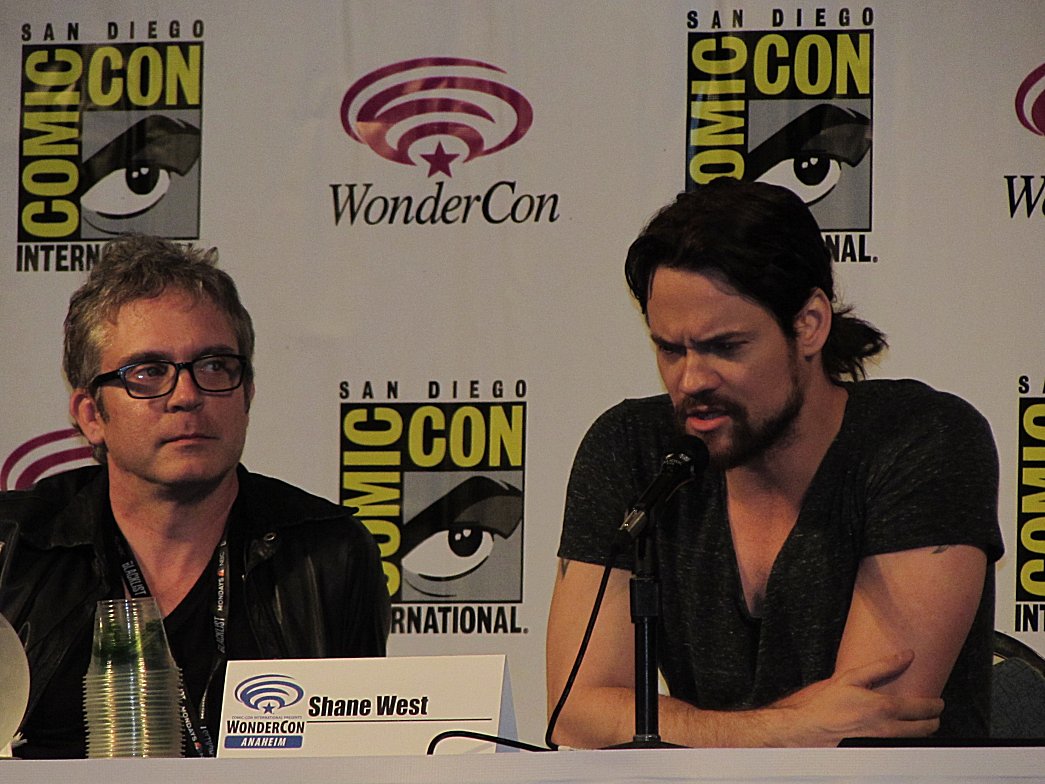 Audience members were invited to ask questions. The first person asked about whether Mary's baby would come into play later on, but they said they didn't want to give anything away. However, West revealed it would "definitely be discussed." Another audience member asked if John would be accused of being a witch on the show, since that happened in real life, but all Braga would say is "that's a great idea," that they had discussed it, and to "keep watching." A question regarding whether more witches than Mary would be revealed prompted a response that there were already more witches revealed in the first episode, and that more would be revealed. It also elicited an explanation that the show is postulating that the witches came here as immigrants, and that these are the Essex witches. The final question was about Isaac the Fornicator, and the panelists described him as representing the pain and suffering the people of the town have endured, and we learned that Mary really cares for him, and he is the one person in town Mary connects to before John returns.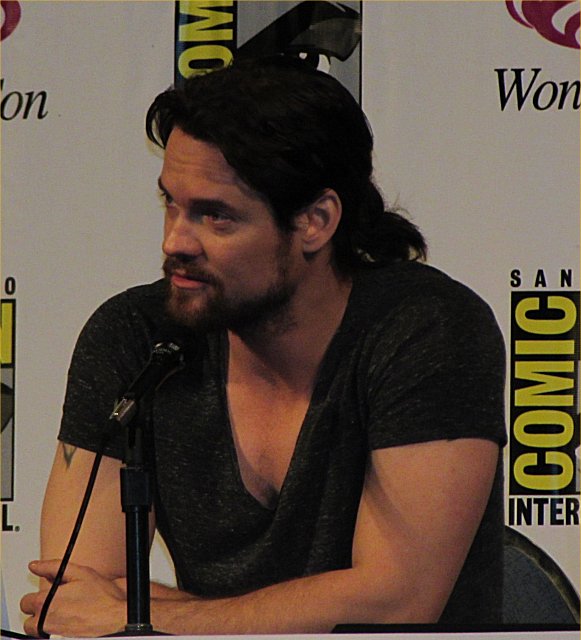 The panel ended with a raffle drawing for an all-expense-paid trip to the set of Salem in Shreveport, Louisiana, for a walk-on role on the show. Braga joked that the winner would be staying at Shane's place, which caused several females to squeal in delight. He also clarified that the winner must be 18 years or older. The number was called, and unfortunately, I did not win. The Q&A portion of the panel with the panelists only lasted about 15 minutes.
Salem premiered Sunday, April 20 on WGN America at 10/9c.
Exhibit Hall and Denny's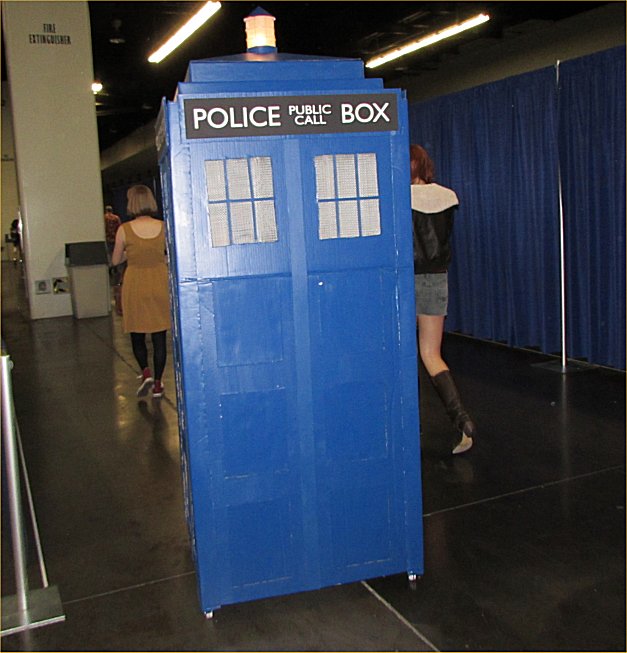 There weren't any other panels I was really interested in until the Revolution panel, which was at 5pm, so I just walked around the exhibit hall for awhile. Then a little before 3pm I started heading over to Denny's to meet up with Josh, as well as our friend Davey, plus some of our Twitter friends, @thenerdygirlie, @yourfriendelle, and @brooke_nado.  Our party got even bigger when @yourfriendelle invited a couple more people, who turned out to be Sherlock and Poison Ivy cosplayers. It was fun meeting up with fellow nerds! However, the service at Denny's was dreadfully slow, and they didn't even take our order until 4. We had to eat fast because Josh had come straight to Denny's from work, and we still had to get a parking space for the convention center. We weren't able to get out of Denny's until shortly after 4:30pm. Unfortunately, at this point, the convention center and Disneyland Toy Story parking lots were full, so we had drive down to Gardenwalk, which is a bit of a walk from the convention center. Also, Josh still had to pick up his badge, but there were very few people still picking up their badge at that point. We got stuck behind a slow moving TARDIS, but they graciously told us to go around them. We raced outside to get to the Arena entrance, and were able to make it in as they were airing the Revolution sizzle reel.

5:00pm-6:00pm Revolution, Arena
It was dark and there were ushers with small flashlights directing us where to go. The chairs on the floor area were mostly full, so we were directed into the first level of the stadium seating. Luckily, the part of the sizzle reel that we missed was only a recap of what has already happened on the season so far, and we were able to catch all of the upcoming scenes from the remainder of the season — and it looks like a train plays a big part in that!
Following the trailer, the panelists were introduced, which included Elizabeth Mitchell (who plays Rachel), Stephen Collins (who plays Gene), and executive producer Rockne S. O'Bannon. I was a little disappointed at how small the panel was, compared to the large amount of Revolution actors who were on the WonderCon panel last year. Also, David Lyons (who plays Monroe) had been listed on the schedule, but I guess he had to cancel.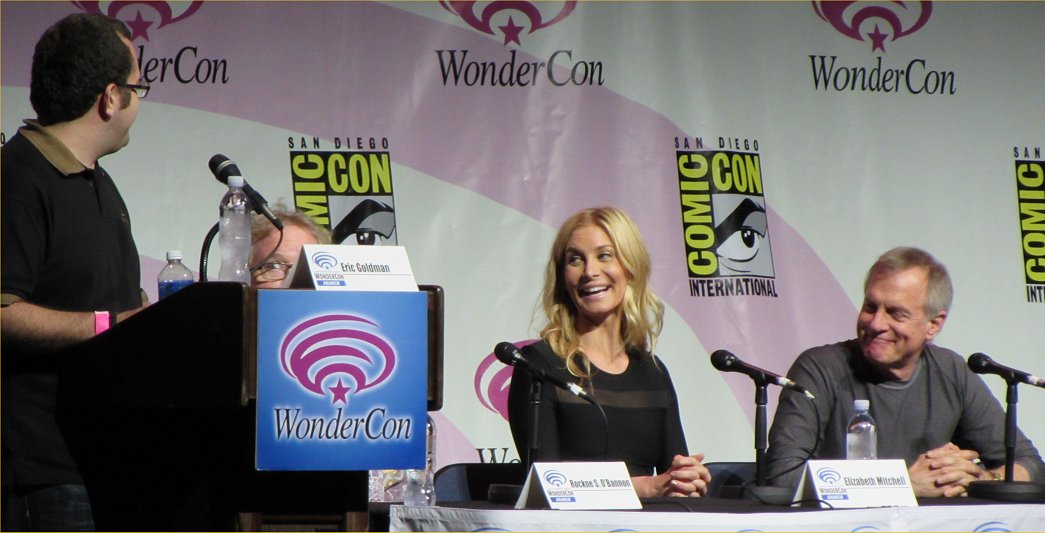 When the moderator, Eric Goldman again, asked if Stephen knew it was coming that Gene had been working for the Patriots, he said he didn't know, and that if he had, then he probably would have played it differently. However, then he realized that how he played it was exactly how he would have played it if Gene was that good of a liar. Stephen and Elizabeth talked about the relationship between Rachel and Gene, and joked about when Rachel was trying to kill Gene.
Stephen talked about how he likes to watch the show as an audience member and said that it makes him happy every time he hears Billy Burke, who plays Miles, say "What a dick" because he has so many different ways to say it! Rockne then discussed the use of pop culture references in the show. Stephen clarified that there is very little ad libbing on the show, but gave us an example of one of the rare instances of ad libbing, which was in the recent episode where Miles and Gene go into Willoughby to meet up with Miriam, and we find out that she and Gene had previously been in a relationship. When it comes out that they had been together, Miles's line was supposed to be, "You mean together together? Oh great, now I have that image in my head." However, because Billy thought the actress was attractive, he ad libbed it as "You mean together together? Good for you, Gene!" and they decided to keep it.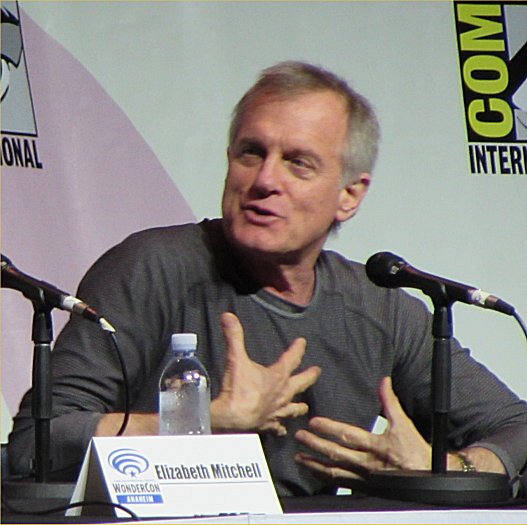 Stephen said that whenever he plays a part, he builds a backstory for himself, but then the writers give them things about their backstory that they didn't know about. The panelists also talked about how the characters don't get a choice between a good choice and a bad choice, they get a choice between a really bad choice and an even more horrible choice, a Sophie's choice. In that way, Stephen defended the actions of his character, Gene.
Rockne mentioned that these last 4 episodes of the season are more of a 4-hour event, which ties all of the characters together, and the nanos become more involved. He also said that Rachel is the lightning rod that connects the different stories. Elizabeth commented that she misses Zak Orth, who plays Aaron, and that it's fun to be both in a world battling the Patriots and also in Aaron's world.
Stephen discussed how doing the show is a little like being in that world, since they're working on in 104 degree heat, and that because of their characters' condition in the show, Stephen pointed out that they can look as beat up as they feel, "which is great." He also told us how the last makeup step before going on set is a "dirt bag" — if they don't look dirty enough, they'll get dirt thrown on them!
The moderator asked when we would get to California and Governor Affleck, to which Rockne replied that they are "desperate to get there," and Elizabeth revealed that you'll see tiny things about California in upcoming episodes if you look closely.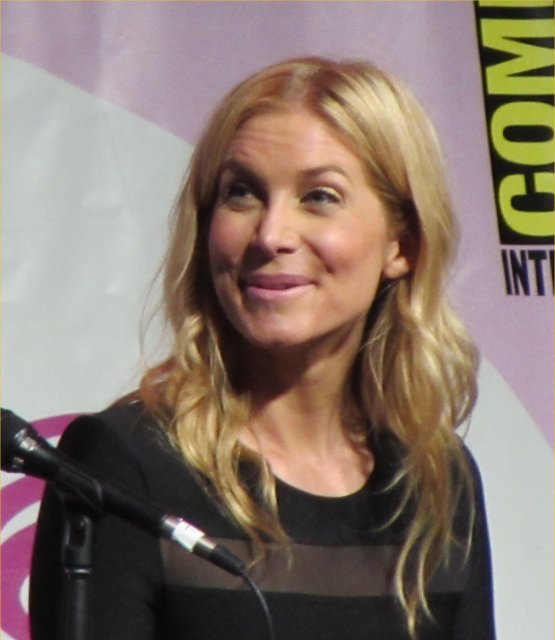 The audience was given a chance to ask questions, and the first question was about how much of the show is planned in advance. Rockne answered that they let a lot evolve, and that it's about 30-40% planned. Another audience member asked about possibilities for a 3rd season, and Rockne revealed that Eric is actually currently pitching Season 3 to the network. Rockne went on to talk about the Patriots and the nanos coming together in these last 4 episodes, but that by the end, other things explode apart.  We also learned that in the very last 5 minutes of the season, something is whispered into Rachel's ear as to what's behind the blackout.
Next, an audience member questioned the change from the 10/9c timeslot last season to a 8/7c timeslot this season, considering its increasingly darker tone. Rockne replied by saying it's a family adventure show that's able to exist during that time. Then someone asked about whether the nanotech might take on the appearance of Danny. We didn't get a straight answer, but Rockne did acknowledge that they talk about Danny a lot. When asked about flashbacks, Rockne commented how they didn't necessarily want to use flashbacks every show, only if it immediately pertains to what's going on in the episode. An audience member asked if Miles and Rachel were ever going to get together, and Elizabeth revealed that they have a "fun scene coming up."
Someone else asked whether we would ever get to see how Miles and Monroe conquered the world, and Rockne confirmed that now that the issue has come up with Monroe and his son trying to re-establish the Monroe Republic, they now have the perfect opportunity to show us how it happened the first time around. Next, an audience member asked if Rachel could ever forgive Bass, and Elizabeth answered that if so, it would be based on Rachel's love for Miles.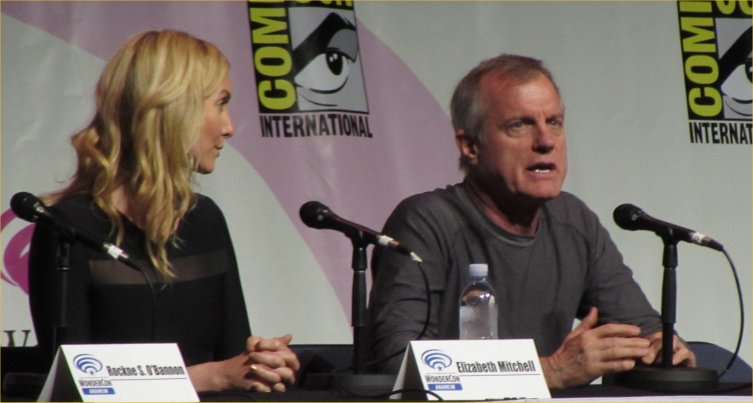 The panelists also talked about how production switched to Texas for Season 2, which is Elizabeth's home state, and it was very hot. They use a small town named Bartlett for Willoughby, which is about 54 miles outside of Austin. Being used to Southern California traffic, Stephen thought it would take about 3 hours to get there, so he was surprised when it took less than an hour to get there from Austin. Stephen also talked about how there are so many little towns in that area that aren't very modernized, so it's easy to make it look like the lights went out several years ago.
In response to the final audience question, Rockne explained that they have a good template for Season 3. Unfortunately, the last 10 minutes of the panel were very difficult for us to hear, because the people around us, who must have gotten bored waiting for the next panel, Son of Batman, were carrying on a conversation, which was really annoying.  Revolution returns which all new episodes April 30.
After that, we walked around the Exhibit Hall for a bit, which was Josh's first chance to see the floor. By this time, most of the crowds had dispersed, and it was much easier to navigate through the aisles. Also, the Graphitti line, which was extremely long earlier in the day when I had been walking the floor, was virtually non-existent, so we were able to buy our WonderCon T-shirts. Then we decided to go get in line for the next panel a little after 6:30pm.

7:00pm-8:30pm Geek & Sundry, Room 300AB
There was actually a good amount of people already in line for the Geek & Sundry panel in the holding room between Room 300AB and Room 300DE. The right side of the room had just filled up, so we were lined up on the left side of the holding area. When we got into the panel room, the room mostly filled up, but I don't think it was quite to capacity.
Felicia Day and Wil Wheaton with Audience Q&A
The panel started off with a trailer showcasing Geek & Sundry shows, then Felicia Day and Wil Wheaton came out, and bantered about Felcia's belief that the 110, which she took to WonderCon, was a new freeway (it's not). Wil showed off his new tattoo, an octopus, which is not colored in yet. Felicia admitted that she doesn't have any tattoos, because she doesn't feel like she has an identity yet. They thanked everyone who contributed to Tabletop Season 3, and Wil had those people hold up their hand so he could give them an air high five. Felicia then talked about their Tabletop Day event in Los Angeles, and how in awe she was about the venue, which was apparently very fancy looking, and had chandeliers.



Wil talked about how he hates the song "Life is a Highway," and the Eagles, and Felicia confessed that she hates "Boys of Summer." Felicia went on to tell us how she used to have a pool shark boyfriend back when she lived in San Antonio, and how he gave her a pool cue for Christmas.
They quickly launched into audience questions, the first of which was about the props in the background of the Tabletop set, and Wil gave full credit to their Production Designer, Nick Carmichael. He also revealed that one time he asked Nick to encode a message in the background, but he couldn't remember what episode. The next audience question was about Co-Optitude, and Felicia said they fly her brother out every 8 weeks to shoot 8 episodes in a row, but that they took a hiatus last week because their editor was out of town. However, she said it would be back on Monday with a really funny episode involving Barbie and Mary-Kate and Ashley Olsen. She also talked about how she never realized how funny her brother was. Then she told us how she tried to strangle her brother with a phone cord when she was 10 and he was 8 because they were fighting over the TV.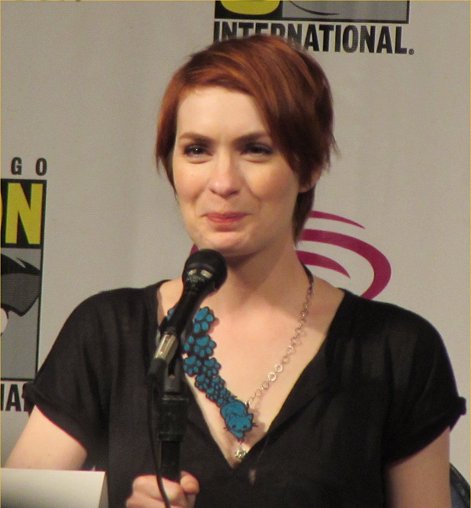 Another audience member asked Wil if Aeofell was ever coming back, but Wil said no, because he doesn't have the time. However, he did say that if the Tabletop crowdfunding got to $1 million, they would be able to also do a spin-off RPG show made up of about 20 episodes. Then an audience member asked Felicia about the future of The Guild, and Felicia said that when she ended the show, she didn't know where to take the characters from there. However, she said that if she ever came up with a cool story for The Guild, then she would come back to it, but right now she is working on really cool stories in other worlds.
The next audience member asked about the most unique board game they've ever played, and Felicia talked about an anime game called Tanto Cuore that involves hiring maids and storing them in a chamber to get points. In response to an audience question about what superpower they would want, Felicia said she would want to speak every language, while Wil said he would want to fly. Another audience member asked Wil for advice on how to cope with losing board games, Wil offered these sage words, which he tells his children: "You should never sacrifice the joy of playing with the pursuit of winning," and that "the outcome of the game doesn't matter, the fact that you got to play with someone you like does."
When an audience member asked if there were any moments they were unable to put into the show because of its PG rating, Wil talked about how in the beginning he was against censoring the show, but now he's glad they did, so that the show could become more accessible to all audiences. However, he revealed that in Season 3 they plan to do an episode called Tabletop After Dark, where they play dirty Cards Against Humanity, which possibly may include a friend from the adult film industry. He also said they would do an episode of all kids games played by kids.


When asked if they could play board games with anyone living, dead, or imaginary, here were there answers: Living – Wil: Neil Degrasse Tyson, Felicia: Simon Pegg; Dead – Wil: John Belushi, Felicia: Cary Grant; and Imaginary – Felicia stole Wil's answer of Harry Potter, and Wil told us how he and he wife had  just recently started reading Harry Potter for the first time.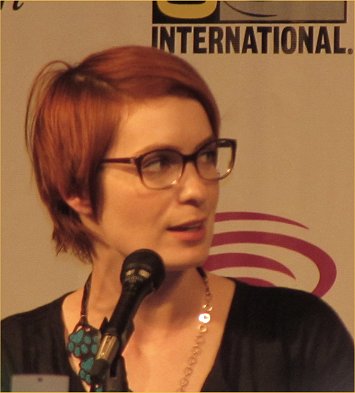 As for recommendations for kids games, Wil recommended Catan Jr. and Happy Birthday Robot. Wil then answered a question in which he explained how they get guests and categorize games. Wil also explained that Felicia is always on set and is in charge of the behind the scenes aspect of Tabletop, and that when they edit, she is watching as a storyteller and producer, while he watches as a gamer. Regarding a question about what game he would design, Wil admitted that he can never get past a blank page because everything that he can think of already exists. Wil then broke some news about a print-and-play meta card game that you play while playing a different board game, and the cards consist all of people who have been on Tabletop.  This would be available to everyone who has donated to the Tabletop crowdfunding campaign when it reaches the $750,000 mark.
A young child asked Felicia and Wil what their favorite superheroes are, and Felicia answered Nightwing, while Wil said his current favorite superhero in comics is Hawkeye, but his overall favorite is Barry Allen/Flash. The final audience question was from someone who has never watched Tabletop, and she wanted a suggestion of what point she should start watching the show from. Wil answered that the beauty of the show is that you can start anywhere, but to look at the descriptions and find a player that you think is cool.
At that point, an hour had passed, and Wil had to leave, but he announced that his new Syfy show, The Wil Wheaton Project, will air on May 27th, and he described the show as "Talk Soup for nerds."
Felicia Day and Spooked
Felicia then showed the world premiere trailer of Spooked, the new show she is producing, then brought out the cast and crew, including the director Richard Martin, and actors Julian Curtis, Ashley Johnson, Derek Mio, and Shyloh Oostwald. Richard described the show as a team of misfits who come together to become ghost hunters, "who may not be the best, but you can afford them!" Julian plays Connor, who assembled the team because of his sister Piper, who can talk to ghosts. Ashley's character, Morgan, is the Wiccan of the group. Derek plays Elliott, Connor's best friend, and is the comic relief of the show. Shyloh's character, Piper, can see and communicate with ghosts. Richard revealed that there were several great guests stars in the show, including Tom Lenk (Buffy), Dichen Lachman (Dollhouse), and Alison Haislip (Attack of the Show!).



Felicia and Richard talked about the fact that Spooked consists of full half hour TV-length episodes, and that they shot 4 episodes in 11 days, whereas normally a TV show takes more than 11 days to shoot just one episode. The cast commented how this made them grow closer together, since there wasn't a lot of downtime.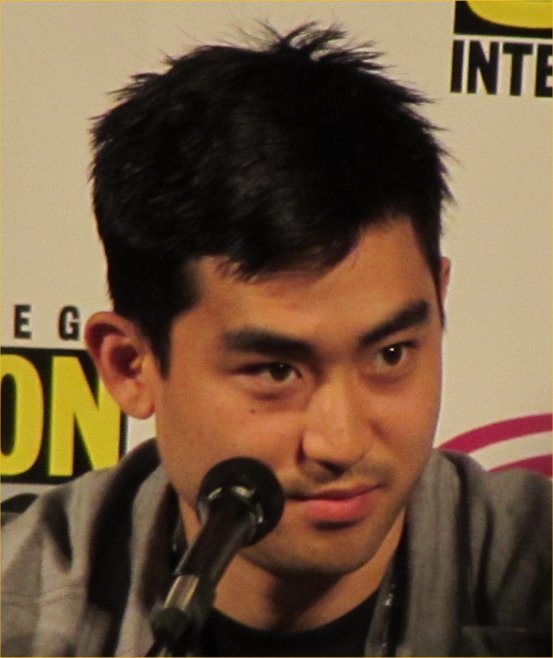 Felicia then asked Ashley about the difference between voice acting versus acting on film, and she talked about how with voice acting she had to do motion capture, and on camera acting she has a costume. Felicia also brought up the maid game she talked about earlier, and Ashley seemed really excited to play it with her again.
Next, Derek shared a story about how after a long day of shooting in Valencia, they were going to hang out, but his car broke down. While they were waiting for AAA, he and Julian broke into freestyle rap. Felicia and the audience encouraged them to do it on stage, and Derek started beatboxing while Julian started to try to rap, but he didn't get very far before he gave up due to being jet lagged. However, they said they would do a video.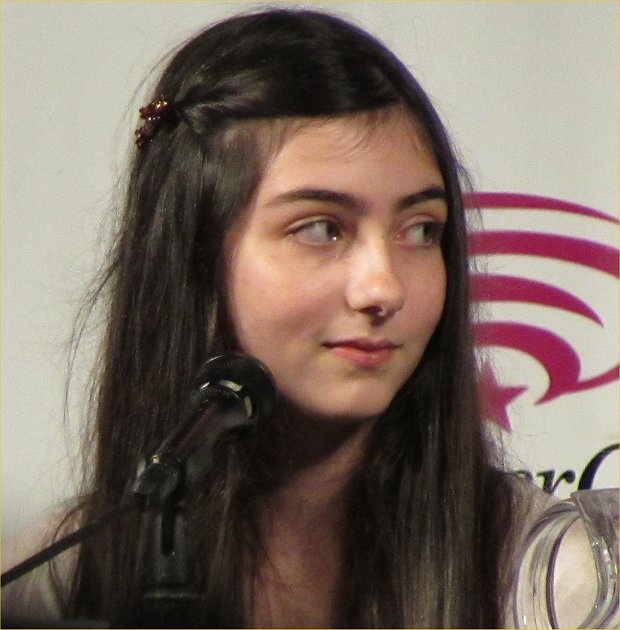 Felicia asked Shyloh if the fact that her character doesn't talk was hard for her, and Shyloh, who is 12,  said that sometimes it was hard for her not to laugh because the lines were so funny. Derek then talked about how Elliott was really fun to play because he had a lot of one-liners and got to do a lot of pop culture references. He revealed that this is his first time to a convention, and Julian said this was his first time as well. Ashley has been going to cons since she was 15, her first being San Diego Comic-Con, but the first time she was on a panel was at age 24. Shyloh told us that this was her first convention.
Felicia then opened it up to audience questions. One person asked whether anyone on the panel had any paranormal experiences. Julian told us a story about how his aunt and uncle bought an old church next to their farm and renovated it, and one time when he was sleeping there in the middle of the night, there was a little boy crying in the corner, and the next day he found out there was a burial of children underneath the house. Shyloh then shared a story about how she would play in her room with someone named Aiden, and her mom thought she was just talking to herself, and that her toys would go off in the middle of the night.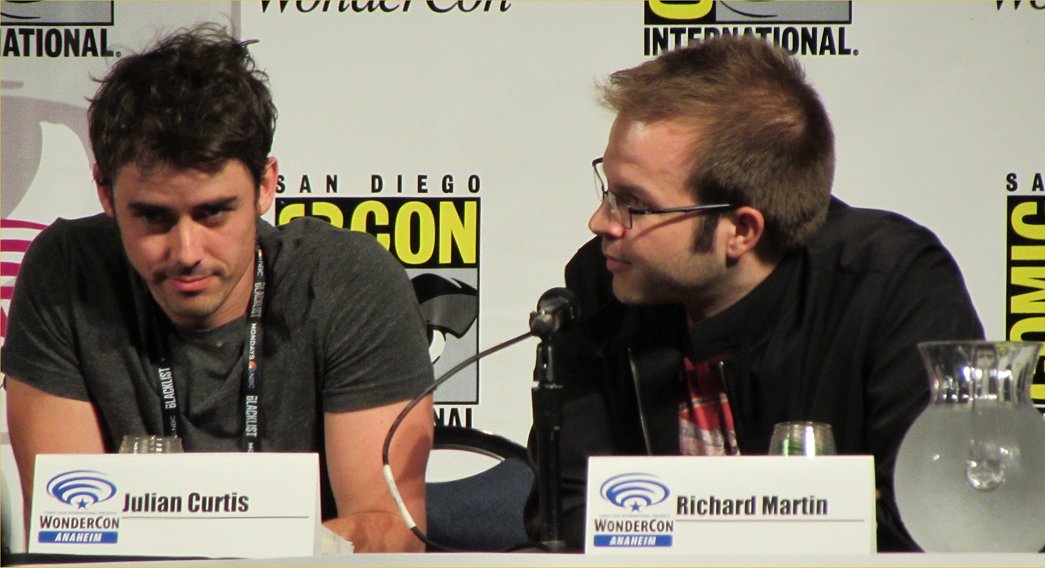 When an audience member asked about the inspiration for the show, and whether it was based on Ghostfacers from Supernatural, Felicia told us that Richard and the Bad Hat Team had already been working on it for awhile when she came into the project, and Richard said that their team had been wanting to delve more into the comedy realm, the closest they'd come to that so far being Trick or Treat. An audience member asked about the rating of the show, and whether this would be on the horror side, but Felicia said she felt it was PG.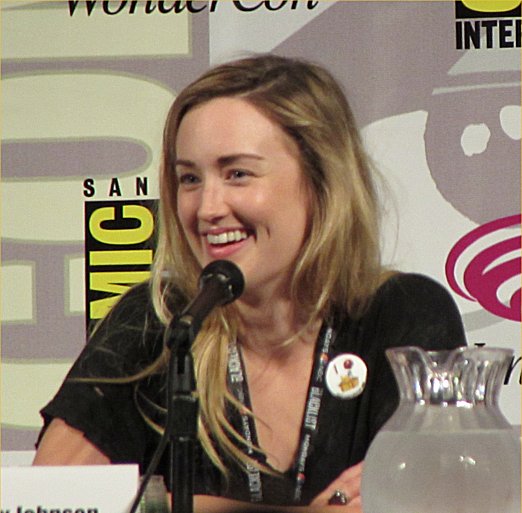 Ashley Johnson was asked about working with Greg Cipes, and she said that he's awesome and "a great cartoon boyfriend." Another audience member asked Derek to compare his comedic relief in Greek to that in Spooked, and Derek said that it's all about the writing, and having the freedom to bounce things off of each other. The final audience question was whether the panelists would ever be actual ghost hunters. Richard said no, because he gets scared easily, while Julian joked, "What's the pay grade?" Ashley referenced the scientific character that Neil Grayson (Eureka) plays in Spooked, and said she would have to be convinced that there are ghosts. Derek said maybe if there was a big group of people he was with that moved from room to room together, and Shyloh simply answered yes.
Felicia ended the panel by announcing that the trailer would be online Monday, and that we would be able to watch the show in June.
At that point, we headed home, because we would have to get up early the next morning for our Saturday of WonderCon! Stay tuned for our WonderCon Saturday report…