Read Violet's report for Sunday, March 31, the final day of Wondercon Anaheim 2013, where she and Josh attended the panel for Joss Whedon's upcoming film, Much Ado About Nothing, as well as The Nerdist panel with Chris Hardwick, and the panel for CW's new hit series Arrow!
Saturday night, when we were discussing our plans for Sunday morning, we were unsure how early we should arrive.  On the one hand, it was Easter Sunday, so attendance might be lighter than days past.  On the other hand, not only did the first Arena panel start at 11:00 am (half an hour earlier than the day before), but that panel, which was the panel for Joss Whedon's Much Ado About Nothing, was arguably the biggest draw of the entire Wondercon weekend, considering the guests who were scheduled to appear.  In the end, we decided the two would balance each other out, and settled on the same schedule we used for Saturday morning.  Again, we carpooled with our friends Davey and Tamara, parked at the Disney Toy Story lot for free and walked over, and again we arrived a few minutes before 8:45 am.  When Josh had picked up his badge on Saturday, they had also given him his Sunday badge, so he didn't have to worry about going over to Hall E and standing in line for badge pickup again.  Once again, there was no line to get into the Convention Center, and staff directed us to the same holding room as the day before.  We ended up being about a column and a half further back than we had been in line on Saturday, and we estimated that there were about 200 people in front of us (rather than 150 as had been previously).
Staff started letting us into the Arena around 10:00 am, and although we were able to find seats together in the right middle section of floor seats, those seats were the very last row.  The good news was that there were about three rows of reserved seats in front of us, which almost no one sat in all day, and therefore we had a decent view since there were less heads directly in front of us.
Much Ado About Nothing
Finally, Joss Whedon came out around 11:00 am to kick off the Much Ado About Nothing panel, unfortunately announcing that Nathan Fillion, who had been scheduled to appear at the panel, would not be able to make it.  This was a big disappointment to fans, as Fillion was probably half the reason many people were excited for this panel. Whedon commented that he was afraid of how the panel would go without him, since Fillion is usually the one that does all the talking!  After watching the trailer for the movie, the rest of the panel was brought out.  The panel seemed to be made up of almost the entire cast of the film, with the glaring exceptions of Amy Acker (better known as Fred from Angel), Alexis Denisof (Wesley from Angel), and of course Nathan Fillion.  Aside from Joss Whedon, the panel consisted of Riki Lindhome, Spencer Treat Clark, Nick Kocher, Clark Gregg (who we know as Agent Coulson from the Iron Man and Avengers movies), Tom Lenk (who you may remember as Andrew, one of the nerds on Buffy), Sean Maher (Simon from Firefly), Jillian Morgese, Romy Rosemont, and Brian McElaheny. Jay Hunter, the cinematographer, was also in attendance.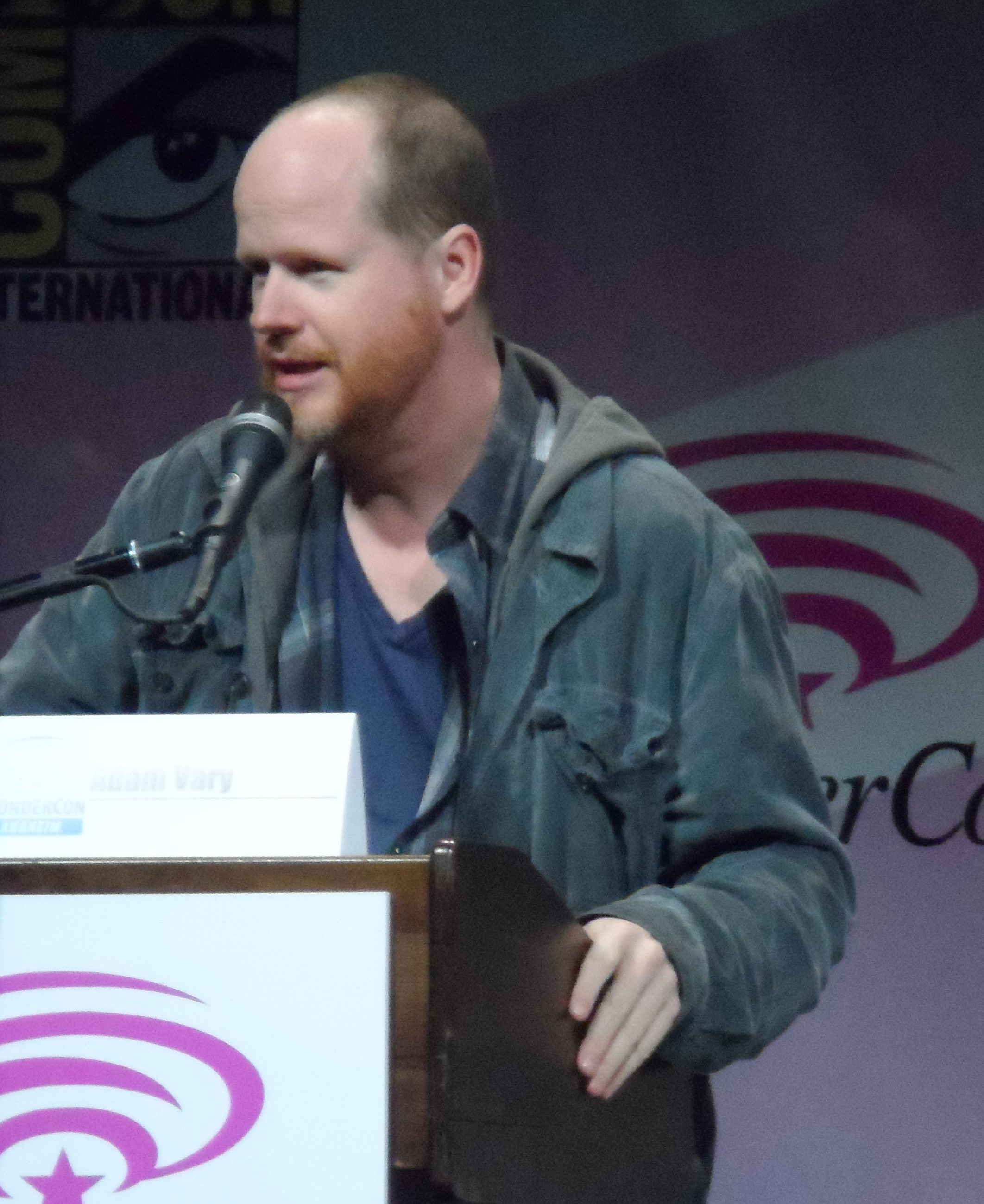 For those who don't know, the entire movie was filmed at Whedon's house in Santa Monica in a 12 day timespan.  When the panelists were asked what their reactions were when Whedon contacted them about the film, Gregg said he had wondered if Joss was having a nervous breakdown; however, he admitted that he later realized he had "underestimated the Whedon." When Whedon called Maher, the conversation went like this:
Whedon:             I need a sexy villain, what sayeth you?
Maher:                 Does this mean you think I'm sexy?
Whedon:             Stop fishing for compliments!

We then got to watch a few hilarious clips from the movie. In the first, two characters are having a conversation inside the house, while Denisof's character is outside trying to eavesdrop, ridiculously jumping around in an effort to remain unnoticed.  In the next, Acker's character has been sent to fetch Denisof's character for dinner, while Denisof keeps showing off with pushups, stretches, and flexing, much to Acker's character's annoyance.  The next clip was of an interrogation that Nathan Fillion's character was leading, with Tom Lenk's character as his sidekick.
When Clark Gregg was asked what was the difference between Whedon directing Avengers and this, he said it was so awesome in different ways, and also joked that he figured Joss would have a hard time killing him off in this one. Whedon said that the next Shakespeare work he would want to make into a movie would be Hamlet.  However, he said that first he would like to take the same cast in Much Ado and do something new.  When asked if there were any similarities between him and Shakespeare, Whedon said that their words don't make sense and you have to look stuff up, adding "I'm just like Shakespeare!" and then quickly told the audience not to tweet that. But an audience member yelled out, "Already tweeted!"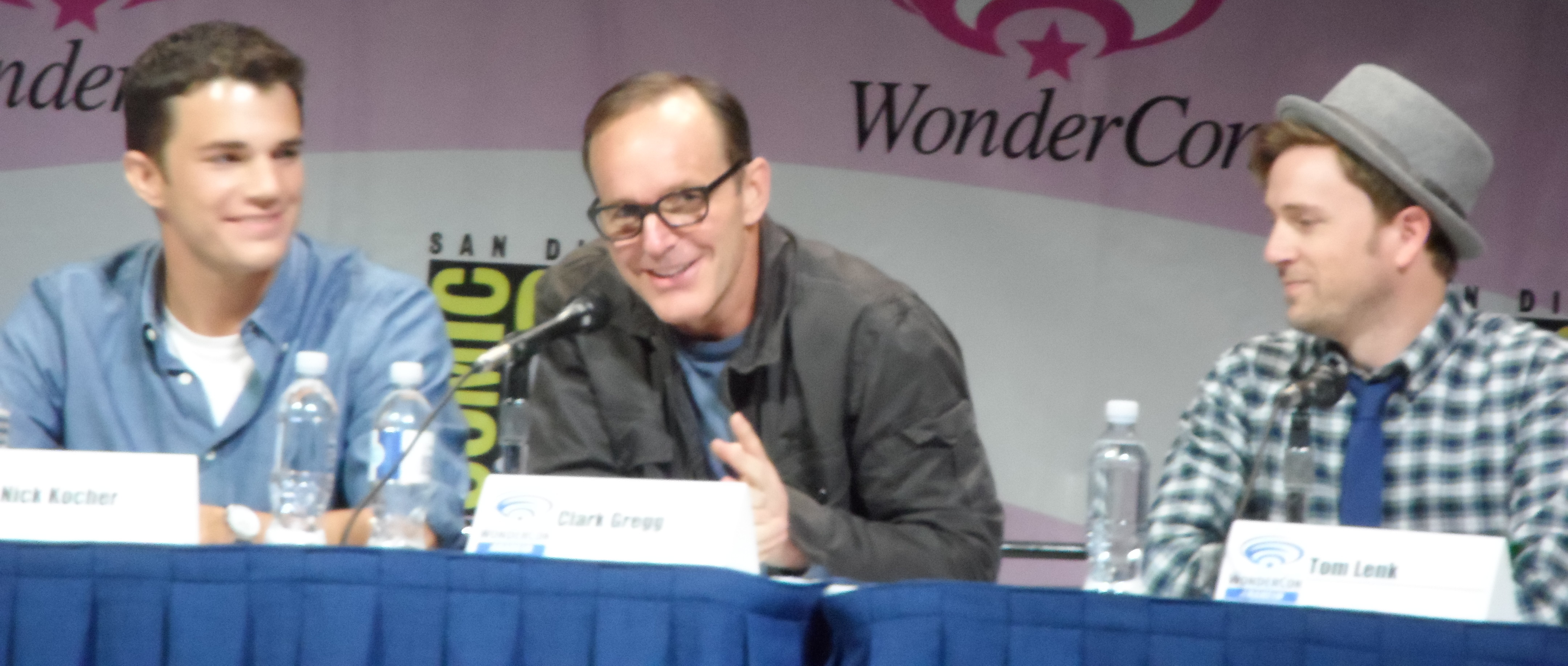 When an audience member asked what was the toughest part of modernizing the story, Lenk talked about how he didn't understand what he was saying most of the time and had to get translations from Joss, who then had to get translations from Alexis! However, Lenk went on to say that Joss took the most difficult part away through his direction of the film, which made things more understandable. Whedon commented that to be successful in this industry, you need to micro-manage everything, until you find people you can trust to do it for you. He also spoke about how he came back to "Fred and Wesley" again because of the chemistry, pointing out that these are two actors who get to die in each other's arms. Going back to modernizing the movie, Whedon commented that Shakespeare "always translates." He said that he wanted to make the film invoke 30s/40s noir, but then realized that the characters in the film, although set in the present, are people set aside from the norm. Hunter commented that the film elicits a new meaning Shakespeare never  intended, and that "it's not just a bland retelling, it's something new."
An audience member asked if the film was entirely in black in white, or if there would be random colored objects, like in the trailer, but Whedon said that the color was only added to the trailer. Whedon shared that when he makes a movie he considers "Do I have something to say?"

The panelists spoke about how they were all encouraged to hang out on set and get drunk, and the whole experience was "one big party." Rosemont confessed that she went through Whedon's drawers.
Another audience member asked about Whedon's experience with scoring the film. He said that he wanted the music to be evocative, yet original, and he did not want to layer music over dialogue, because Shakespeare's dialogue IS the music.
Much Ado About Nothing is set for a limited release on June 7, 2013, and a nationwide release on June 21, 2013.
The Nerdist
Next up on the agenda was a one hour panel for Chris Hardwick's The Nerdist.  In addition to Hardwick, panelists included Matt Bennett, who will be doing a show on the Nerdist Channel entitled Nerdy Jobs (kind of like the show Dirty Jobs, except with nerdy jobs), and Paul Provenza and Troy Conrad, who are both involved in an upcoming Nerdist Channel show called Set List, where stand up comedians have to make up jokes on the spot about random topics.  The audience was presented with previews for both of these shows, in addition to other upcoming projects.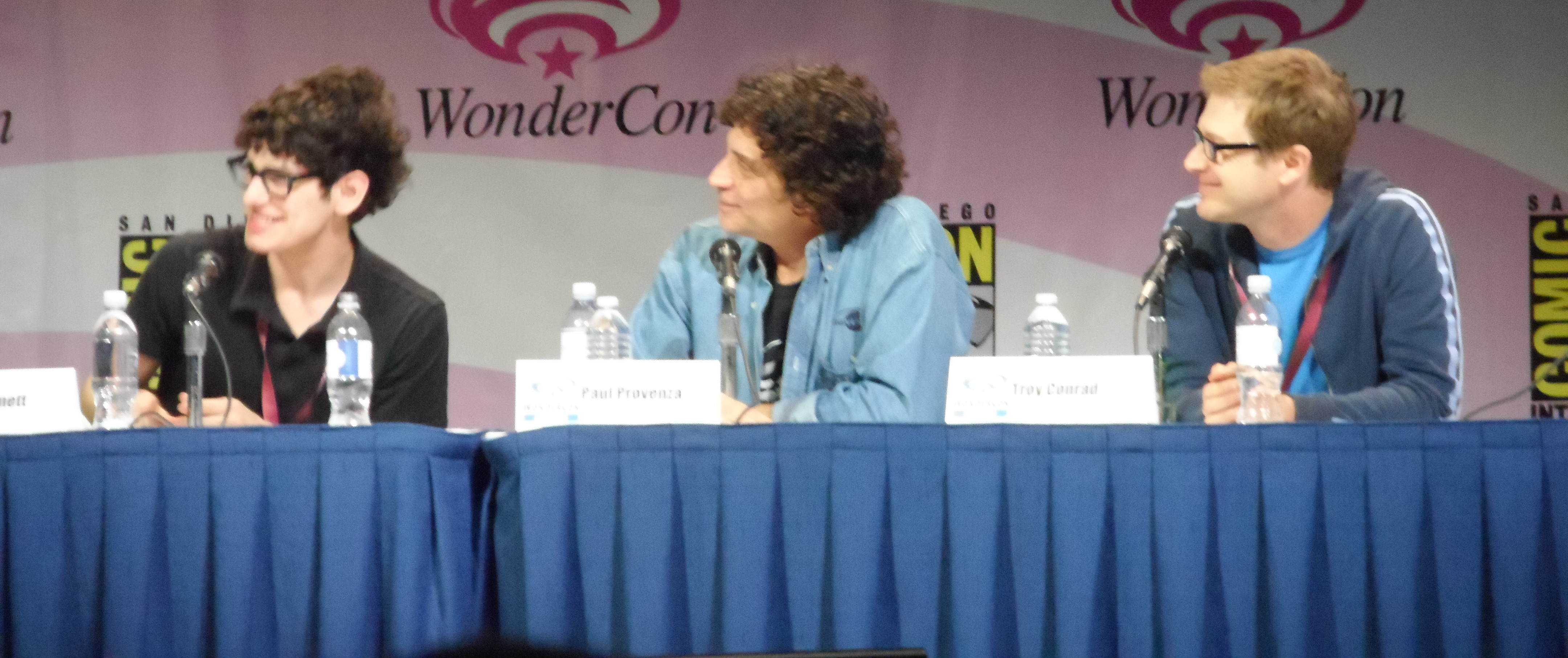 Although Hardwick occasionally tried to bring his panelists into the conversation as audience members came forth with their "quemments," this panel seemed more like "The Chris Hardwick Hour."  This day being both the season finale of The Walking Dead and the season premiere of Game of Thrones, which would be airing simultaneously, Hardwick shared with us this grain of wisdom: "You watch a season finale, you DVR a season premiere!" Although he gets access to The Walking Dead episodes several days in advance of the air dates, he prefers not to watch them right away, otherwise he is dying to talk to someone about it all week, but can't.  At this point, he had already watched the season finale.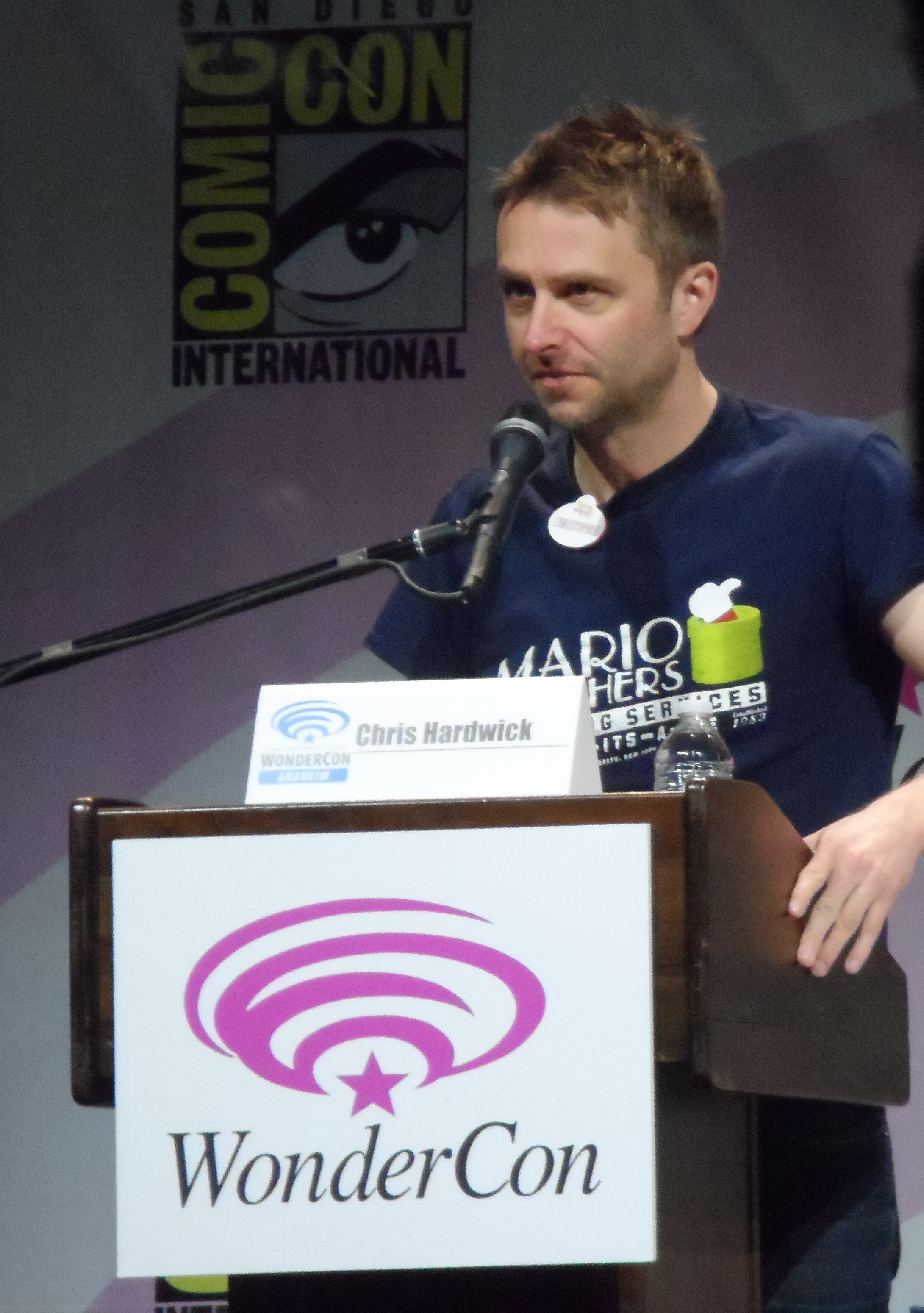 Hardwick told us about some upcoming guests on his podcast (Seth Rogen, Steve Young) and on his BBC TV Show (Seth Rogen, Zach Galifianakis, Elijah Wood, Morena Baccarin), as well as announced that he is currently working on making app for his Nerdist Empire.  Another exciting revelation was that Nerdist is going to start making movies, in light of the fact that it was acquired by Legendary Pictures last year.  Hardwick also spoke about the return of Course of the Force, the lightsaber relay which made its way down the 5 freeway to Comic-Con last year, announcing that it would be starting at Skywalker Ranch this year, with all proceeds going to the Make-A-Wish Foundation once again.
From nearly falling off the stage to hug a girl in a Wario costume, to recommending counseling for a couple who disagreed on the implications of the alternate universe created in the J.J. Abrams Star Trek movie, to without hesitation answering that he would shoot his girlfriend Chloe in the head if she was "patient zero," Hardwick provided an interactive, fun-filled, hilarious panel even for those who weren't familiar with The Nerdist.
Arrow
Our final panel at Wondercon Anaheim 2013 was the one hour panel for CW's new hit TV series Arrow, which was the highest rated CW premiere since Vampire Diaries in 2009.  The panel started off with a clip of scenes from the remaining episodes of the season, then the panel members were introduced.  In attendance were Paul Blackthorne (who plays Detective Lance, and surprisingly has a British accent!), Willa Holland (Thea), Stephen Amell (Oliver), Colin Donnell (Tommy), and Executive Producer Mark Guggenheim.

At this point, there were 3 more episodes remaining in the season, and Donnell revealed that things were not looking good for Tommy's relationship with Oliver or with Laurel, but his relationship with his dad (played by John Barrowman) was looking good. Holland confessed that she wants to pick up a bow and arrow, and Guggenheim revealed that there is a moment in the season finale that she will really like, and that Tommy would have a cool moment with a gun in the season finale. We learned that the actors are being kept in the dark about what's to come, and no one at the table had read the season finale yet.  Guggenheim seemed really excited about the upcoming episodes, saying that Episode 22 would work as a season finale for any other show, but then there will be "our" season finale with Episode 23.
Guggenheim also spoke about the intricate and numerous Season 1 storyboards that the writers and producers employ, such as one for bad guys, another for relationship moments, one for relationship/character dynamics, a board for "things we want to see" (a Barrowman and Kingston scene is on their wish list!), and even one for the show's mythology. He also revealed that we would get answers in the final 3 episodes of the season, and that there are no loose ends, even the little things.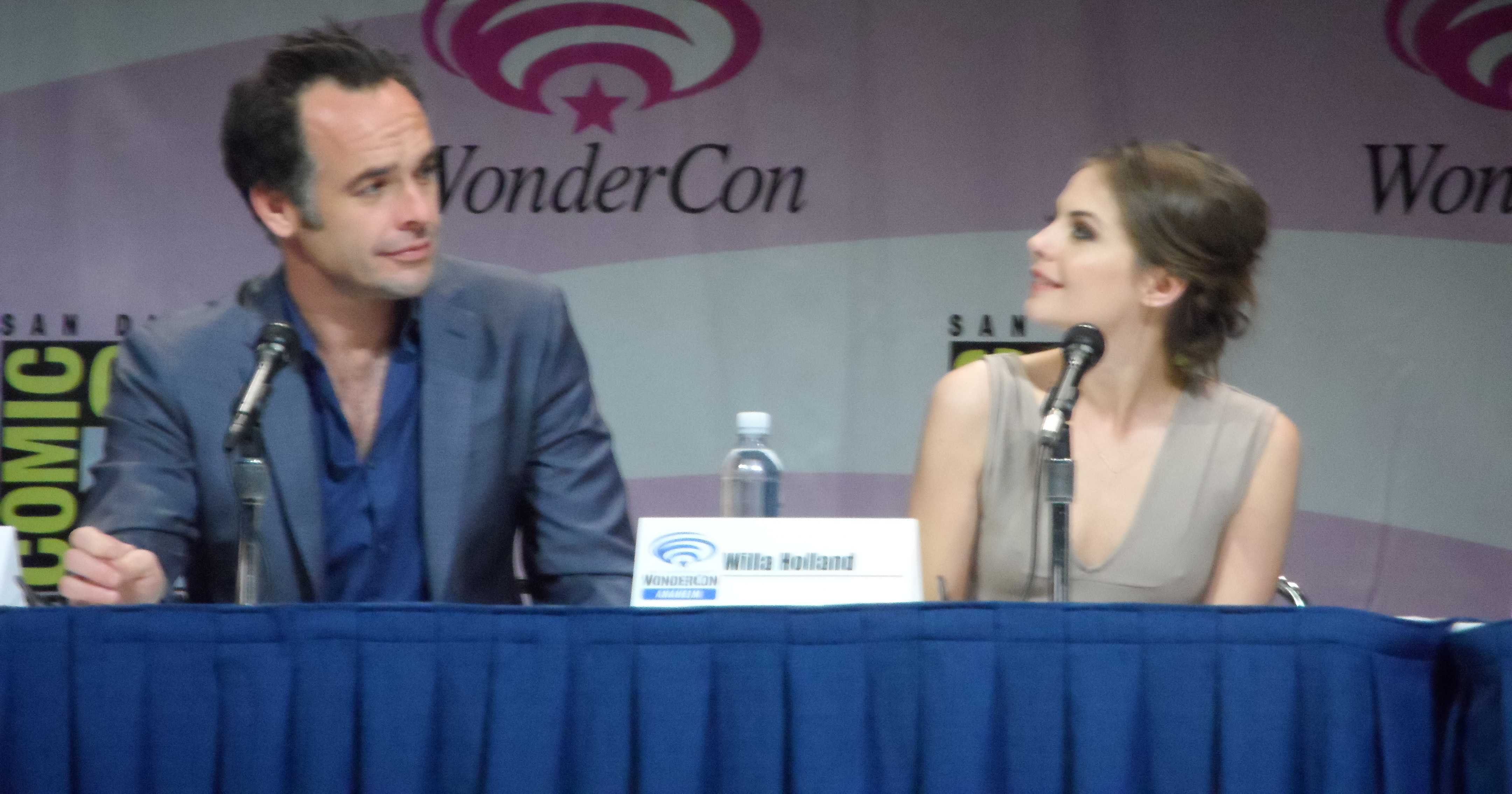 Regarding whether Thea finds out that Oliver is the Vigilante this season, we did not get a definitive answer, but Holland said that when Thea does find out she thinks it should either be in a moment of crisis or joy in her life. Guggenheim spoke about a scene that was cut from one of the earlier episodes that he wishes was not cut, where we see a junior archery trophy in Thea's bedroom.
Guggenheim commented that it was fun to see what they can make Stephen do. When asked about the parkour scene in Episode 19, Amell told us that he did almost all of it himself. However, when asked about the motorcycle scenes, he said "no comment." Amell also admitted to accidentally breaking someone's nose in Episode 5, where Oliver was confined to his house with an ankle monitor, although he was only supposed to brush his arm against the guy. Additionally, Amell spoke about how his archery coach made sure he shot the bow and arrow correctly, unlike most other TV shows and movies where the actors do not handle the equipment correctly.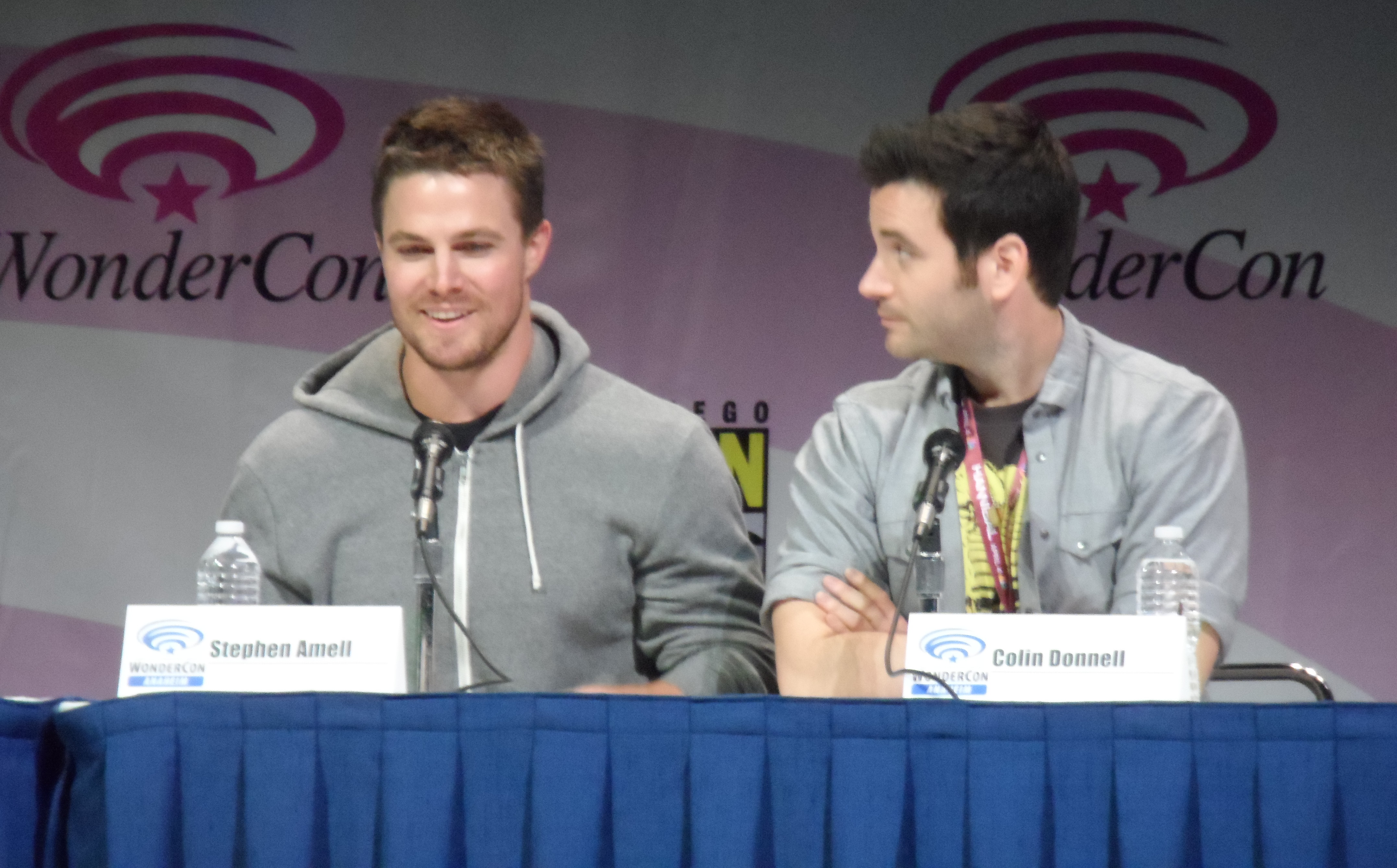 The panelists talked about the Arrow digital comic, which will be published several weeks after the finale.  It was revealed that in Episode 21 there would be a "mystery friend" and to check the digital comic for more info on that person. However, none of the panel members were interested in writing the comics the way that the Fringe actors wrote for the Fringe digital comic.
An audience member brought up the Flash reference in Episode 18, and asked if there would be other Justice League characters in the show, to which Guggenheim replied that there is one in particular that they talk about bringing on, but it won't be Superman, because the character must fit into the "grounded" nature of the show. (Josh and I think that this character could be Batman, since he has no supernatural elements and seems to fit the "grounded" nature requirement.)
And with that, we ended our last panel of the day and of Wondercon Anaheim 2013. We walked around the Exhibit Hall for a bit one last time before we left, and then took the below picture on our way out. Goodbye Wondercon! It was fun! See you next year!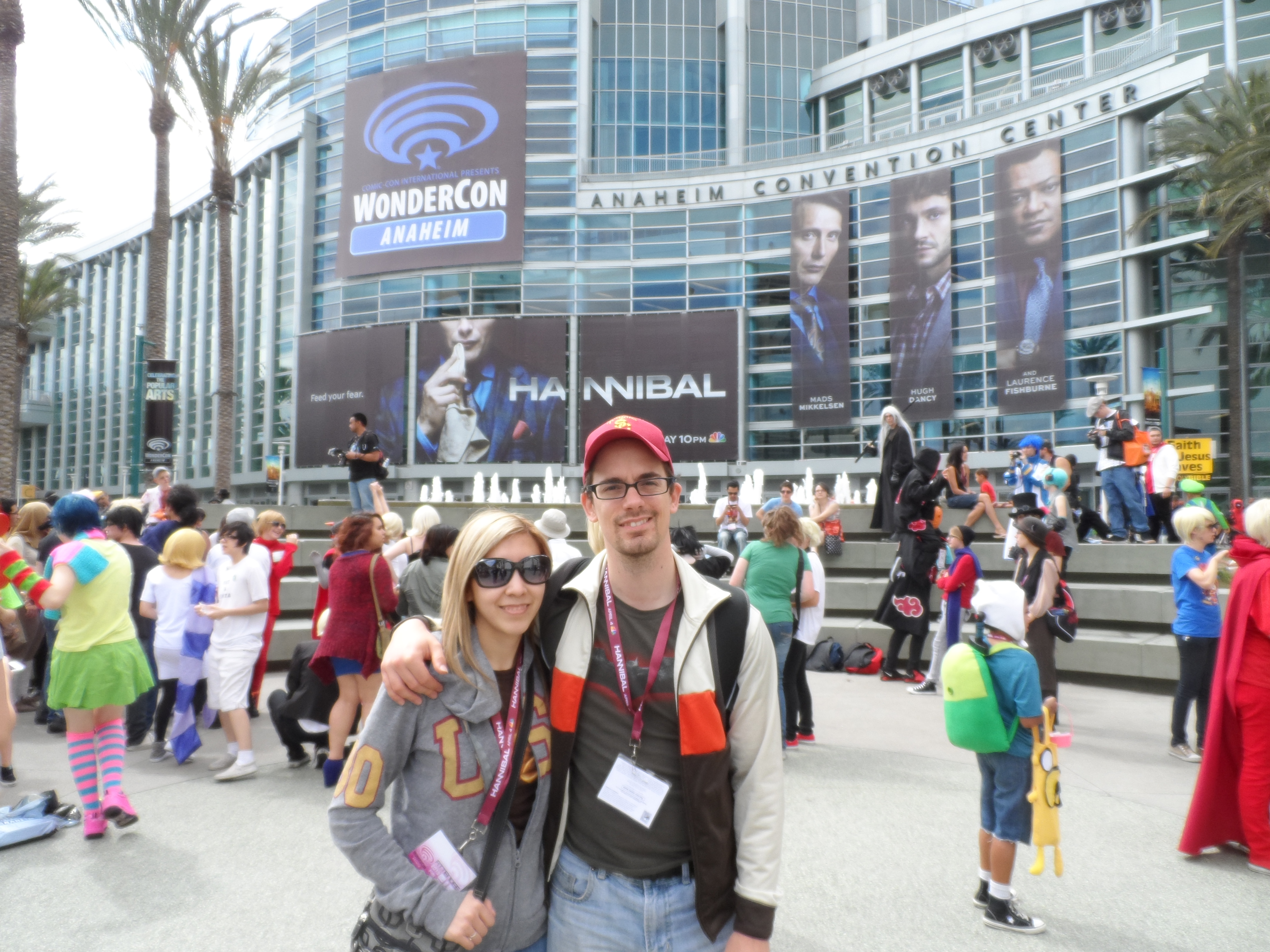 If you missed our Wondercon Saturday Report, featuring panels for The Conjuring, Pacific Rim, Revolution, Mortal Instruments: City of Bones, Evil Dead, This Is The End, and Under the Dome, you can read it here
If you missed our Wondercon Friday Report, featuring Battlestar Galactica 35th Anniversary, Geek & Sundry, The Most Dangerous Women at Wondercon, GEEK Magazine Star Trek Summit LIVE, and Hemlock Grove panels, you can check it out here