Violet gives a full report of her Friday at Wondercon, where she attended the Battlestar Galactica 35th Anniversary, Geek & Sundry, Most Dangerous Women at Wondercon, GEEK Magazine Star Trek Summit LIVE, and Hemlock Grove panels. Click through to read more!
Friday, March 29 was the first day of Wondercon Anaheim 2013.  I have a full time job, so normally I would be at work on a Friday. Luckily, this was Easter weekend, so Friday was scheduled as a half day at work, and I only had to use a half vacation day to get the whole day off. Josh, on the other hand was not able to get the day off from work, and our friends Davey and Tamara had decided they weren't going to arrive until later in the day, so I was on my own.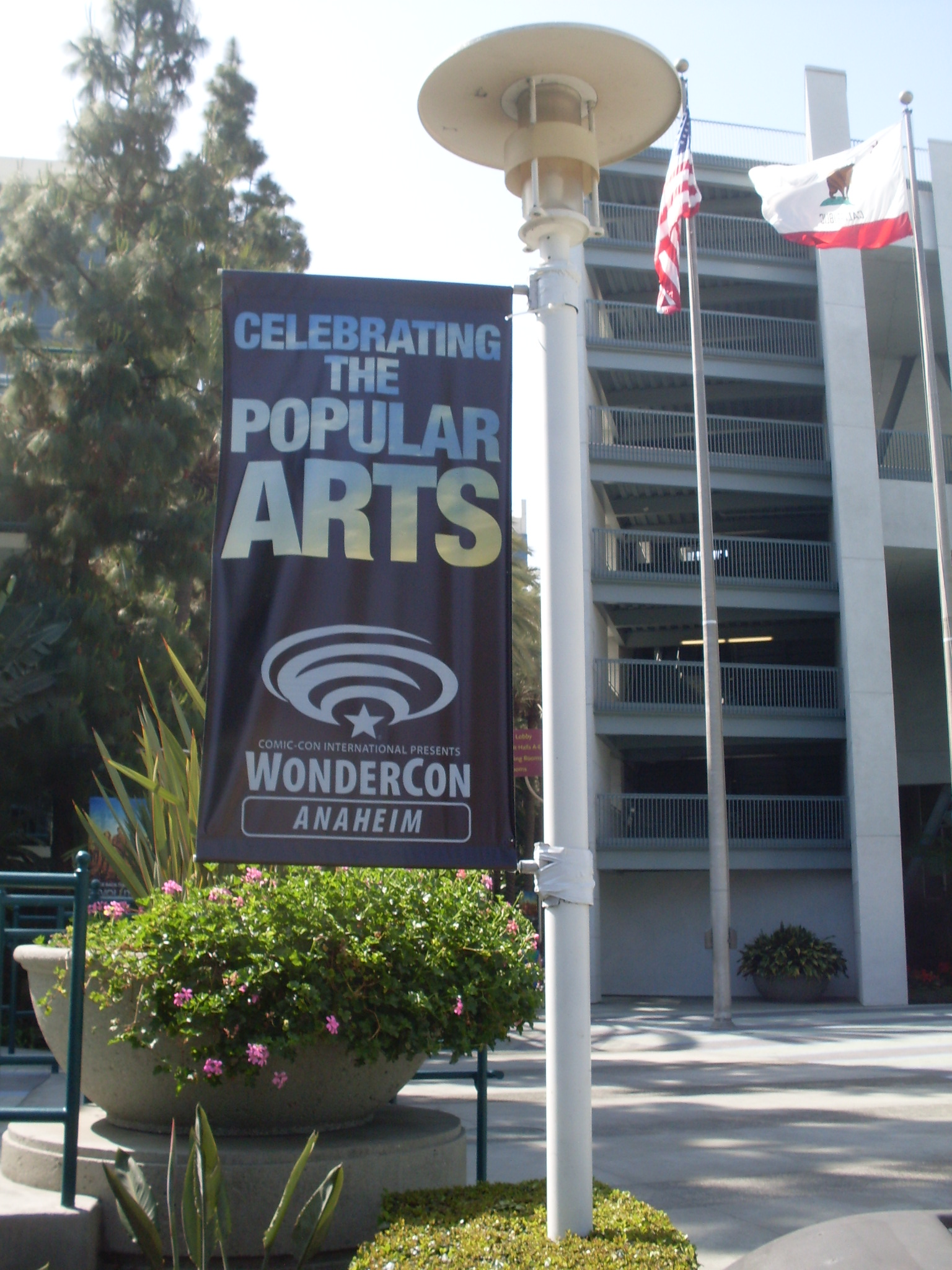 Badge pickup was scheduled to start at 10:30 am, while the Exhibit Hall was scheduled to open at 12:00pm, and programming was to start at 12:30pm.  My original plan was to arrive around 10:15 am. Unfortunately, my schedule got pushed back a little, when I realized that my camera doesn't take batteries but instead has to be charged, and considering I hadn't used it in several months, was long dead. So I caught a bus a half hour later than I had initially planned so that I could give my camera some time to charge.  Yes, you read that right, I took the bus there. Unlike most Southern Californians, I'm not afraid to use public transportation.  Why not, when it's a straight shot down Harbor Blvd to the convention center, plus the added bonuses of not having to pay to park, and having the bus let me off closer than some people were even able to park?  The bus ride was supposed to take 20 minutes, but as we got closer to the convention center and Disneyland, traffic had started to back up, so the bus ride took about 10 minutes longer than scheduled.  By the time I figured out where to go to get in line for badge pickup (the grounds outside the convention center were swarming with people), it was about 11:15 am — one hour later than I had originally planned to arrive.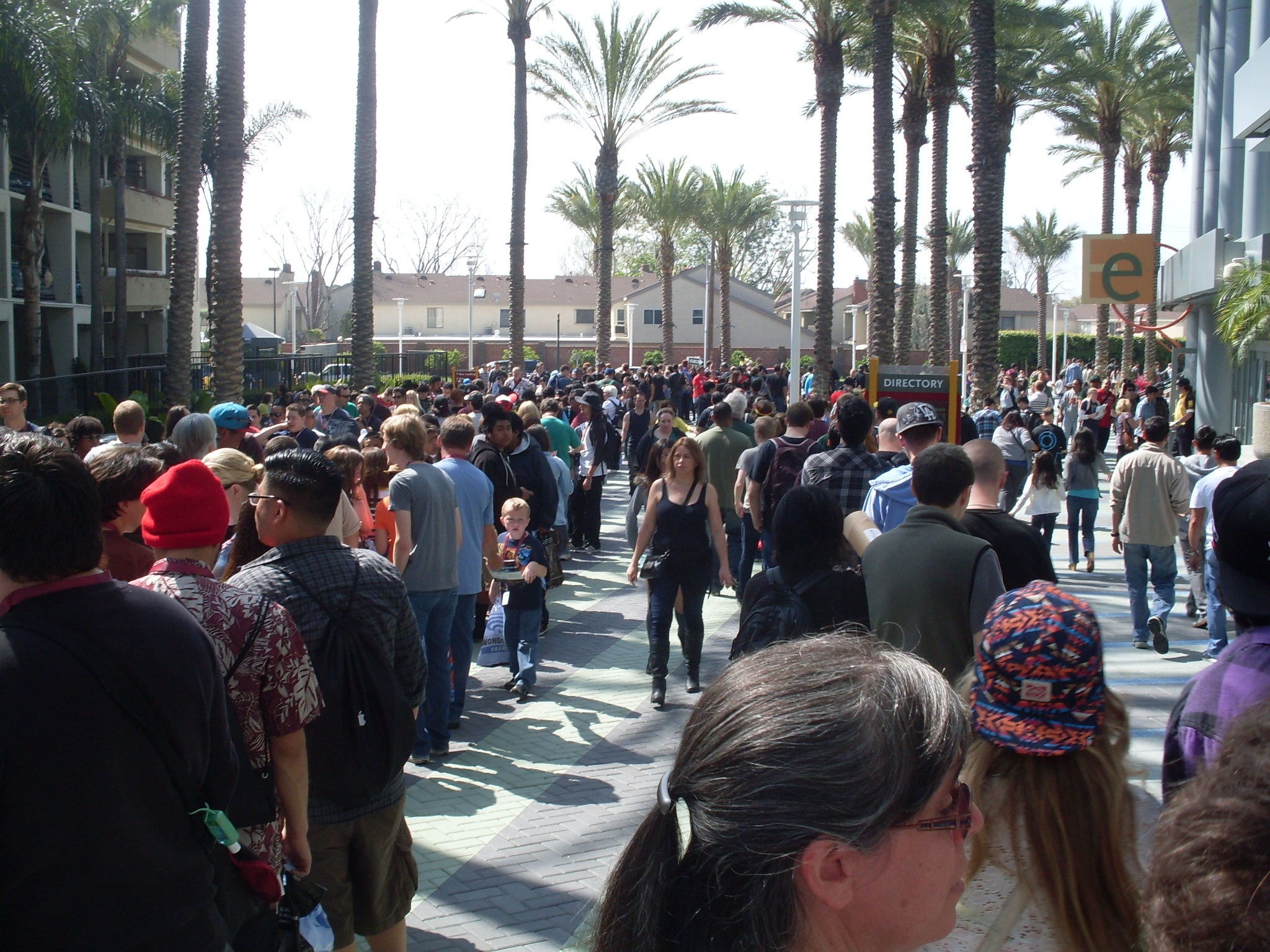 The whole process of standing in line for badge pickup to actually picking up my 3-Day badge took less than 10 minutes.  I had my confirmation email printed out, just as CCI had instructed.  However, they were unable to scan my barcode for some reason, and instead had to type in the code above my barcode.  And, contrary to CCI's email reminder that you MUST print out your confirmation email and that you can't use your phone, the guy next to me handed them his phone and they typed in the code without any fuss.  So much for following instructions. Anyway, then I had to go figure out where to get in line to get into Wondercon.  That part didn't take too long, as there was a guy holding up an "End of Line" sign and following the line as it grew, which made the end of the line easy to spot, and conveniently for me, the end of the line miraculously appeared just outside the doors I exited through after picking up my badge. The line moved fairly quickly, snaking back and forth and making it quite crowded outside of Hall E, where badge pickup was. Once the line entered the doors at Hall A, a staff member announced that if you want to go to the Exhibit Hall, then stay in line, but if you're interested in the programming then you can break away from the line and go up the escalators.  My mission was the Battlestar Galactica 35th Anniversary panel that was starting at 12:30 pm, so I headed up the escalators to Room 300DE.  Only a couple of other people headed up the escalators, while most people stayed in line.
Battlestar Galactica 35th Anniversary
When I reached Room 300DE, I was directed into a holding room where people were sitting in line waiting to be let into the room where the panel would be held.  By this time it was about 11:45 am. So the whole process of getting in line to pick up my badge to getting in line for BSG only took 30 minutes.  Not bad, considering how chaotic it had seemed outside the convention center.  While in line for BSG, I took a quick headcount and estimated that there were about 75 people in line in front of me.  After waiting in line for about 20 minutes, they let us into Room 300DE, which probably had about 1,500 seats, where I was able to score a front row seat in the left middle section!  The moderator podium was right in front of me.
The panel started off with a short video of cast members and other people affiliated with both the old and new series giving their thoughts on the show. Tricia Helfer, who played 6, commented that "You have to be smart to enjoy the show, or it will go over your head," while Katee Sackoff, who played Starbuck in the new series, said that it's a show that will "transcend generations." When Jamie Bamber, who played Apollo in the new series, first spoke, you could hear laughter and surprise coming from much of the audience, who apparently was not aware that he was British. After the video, the panel members came out, consisting of Richard Hatch (who played Apollo in the old series and Tom Zarek in the new series), Kevin Grazier (Science Consultant), and Michael Taylor (Producer). Kate Vernon (who played Ellen Tigh in the new series) and Lili Bordán (who played Becca Kelly in the Blood & Chrome miniseries) would later join the panel, as they were stuck in traffic.
Richard Hatch seemed to be the one running the show, and he quickly opened it up to audience questions. Keep in mind that the panel members liberally used the word "frak" throughout the one-hour panel, in true BSG fashion. The first question was probably one that every BSG fan would want to know the answer to: "Can you explain the last episode?" They must get that question a lot, as Michael Taylor seemed kind of annoyed and quickly rushed through his answer, where he said that Kara Thrace was a ghost and that we all descended from the BSG crew. He also explained that the two angels at the end were supposed to be the equivalent of the Beings of Light from the original series, and that they liked to tie in things from the old series whenever possible. In response to another question, Hatch commented that he never looked at Zarek as a bad guy, because "How many good people do the wrong thing under certain circumstances?" Kevin Grazier geeked out about when he was encoding the "Watchtower" music with the jump coordinates. We also learned that for Blood & Chrome, they had to rent an original raptor from a museum because the network had auctioned them all off! The question of the glowing cylon spine came up, and Grazier explained that it was because all data goes through the spine. Hatch revealed that the cylon costumes were plastic, not metallic, and that it took 45 minutes to get out of the costume. Each panel member shared with us what they've been up to. Bordán is currently in a play in Los Angeles, while Hatch is working on a steampunk movie entitled Cowboys and Engines. Look for Vernon in an upcoming Syfy movie about werewolves where she plays a doctor who saves the world. Grazier and Taylor have both been working on the upcoming Syfy series Defiance, which premiers Monday, April 15. Apparently the series was co-developed with an interactive video game, which has never been done before. Grazier was wearing a T-shirt with a catch phrase from Defiance, "hot shtako," and also said that the word "Defiance" will become the new "So Say We All." And with that, Hatch ended the panel by saying, "So Say We All," to which of course the audience replied, "So Say We All." It was almost like we were in an epic scene of BSG.
Geek & Sundry
Next up, in the same room, was the Geek & Sundry panel, with Felicia Day, Sheri Bryant (one of the co-writers), Sam (who was the voice of Donatello on TMNT on Fox), and Jordan. Sam and Jordan are behind the new Geek & Sundry show Fetch Quest. Unfortunately, to the audience's disappointment, Wil Wheaton was unable to attend the panel, so Jordan joked that he could field any questions regarding Star Trek: The Next Generation, and that he has played Settlers of Catan once. We got a video preview of the new lineup of Geek & Sundry shows, to include Felicia's Ark, Space Janitors, Fetch Quest, TableTop, Player One(s), and Arcade Arms. Sam and Jordan talked about how Felicia goes to your house and knocks on your door when she has chosen you, like Publisher's Clearinghouse. They then went into a discussion of Felicia's favorite Ninja Turtle, which was Raphael because he's a "bad boy." Felicia excitedly told us about a new game they would be playing on TableTop, called Formula-D, which sounded pretty cool because it's a racetrack and there's actual gears that you shift to control the cars. She also discussed a game they played called Lords of Water Deep, where "stuff went down" and "it got nasty." An audience member asked about Felicia's virtual book club, Vaginal Fantasy, and Felicia apologized about the last one, where apparently they were too drunk and never got around to discussing the book. Another audience member asked about the challenges Geek & Sundry faces as it grows.  Sheri said one challenge is how to keep its integrity. They do have plans to venture into TV and more technology. For example, they will have an app soon! However, Felicia has the need to stay intimate with every project that she works on, she must touch everything. This comment about touching everything then led to her running her fingers through Jordan's curly hair. When asked for writing tips, we found out that Felicia worked on her Guild characters for a whole year before she even started writing the show.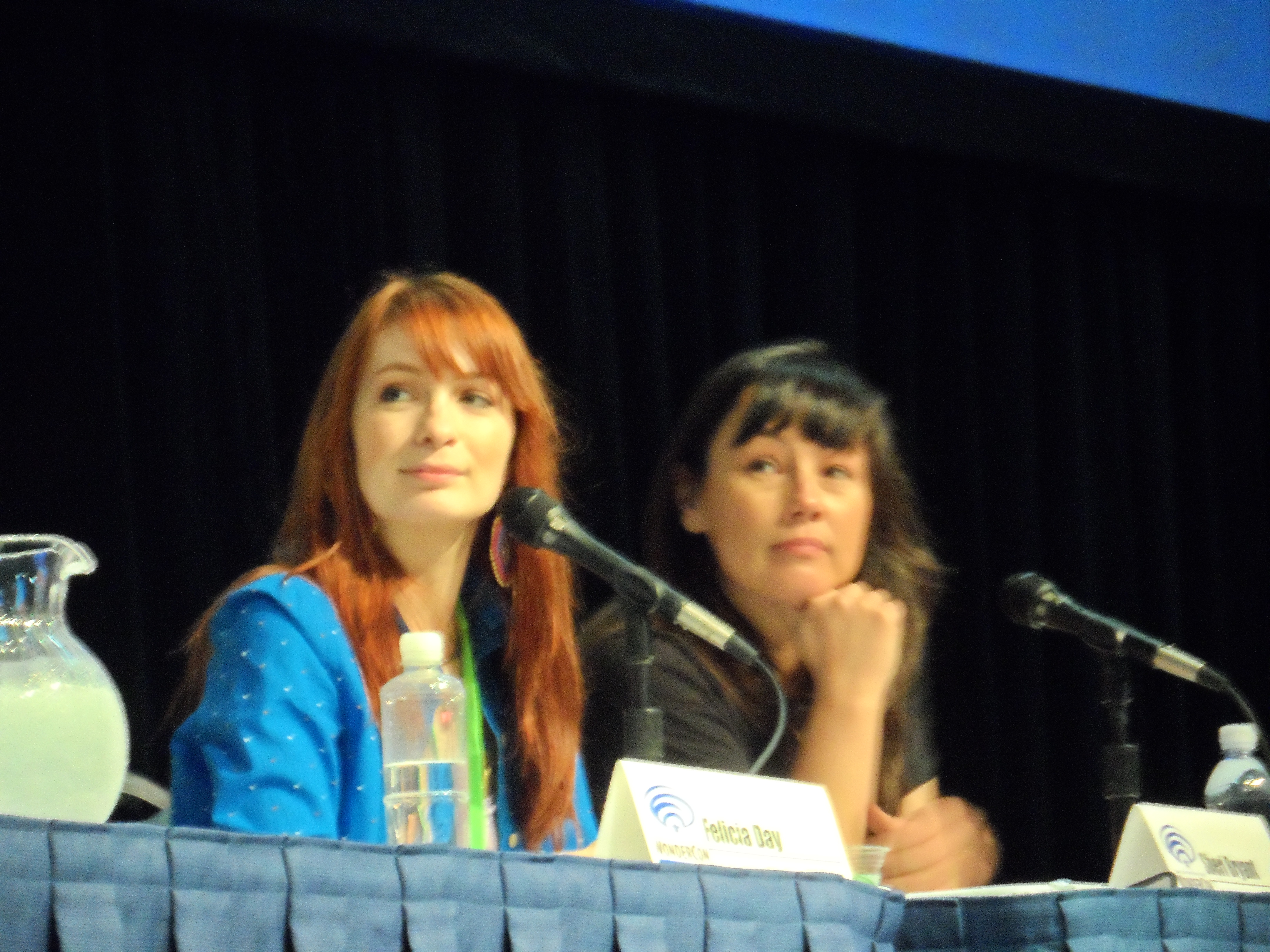 Felicia and Sheri revealed that there are big announcements to come at San Diego Comic-Con regarding a few new series, so that gives us SDCC goers something to look forward to. Felicia also revealed that she had just finished shooting another Supernatural episode two weeks prior, which she believed was Episode 20 and would air the following month. She would not reveal anything about the episode, however, commenting that she was "raised in the Jossverse, you shut your mouth," of course referring to the Joss Whedon universe. Felicia commented that Jared and Jensen of Supernatural smell like flowers and oak and testosterone. One audience member asked whether they would ever consider playing Cards Against Humanity on TableTop, to which Felicia and Sheri replied that they love the game and play it all the time, but they don't want to play it on the show because it's a little on the negative side and they don't want to offend anyone. Felicia talked about when she voiced Veronica, a character on the Fallout video game, for which she read about a thousand lines per hour, and only one take each, which was crazy. Felicia also spoke about how she enjoys more freedom over creativity in this space she's currently in for Geek & Sundry. The panel then moved to trivia questions to the audience with autographed copies of The Guild as prizes. The panel ended with Felicia sharing a story about how when she was on Buffy the Vampire Slayer, she had gotten a spider bite under her chin and she was paranoid that the spider had laid eggs there and that the eggs were going to hatch.
The Most Dangerous Women at Wondercon
After that, I gave up my front row seat and headed over to the Most Dangerous Women at Wondercon panel, in Room 203, which was about to start in just a few short minutes at 2:30pm. Despite my last minute arrival, I was able to snag a second row seat. This being one of the smaller rooms which only held a couple hundred people, the room ended up being completely full. The panel consisted of Moderator Katrina Hill (Fanhattan, MTV Geek), Jenna Busch (Cocktails with Stan), America Young (Stan Lee's World of Heroes), who is not only a content creator but also does stunt work, Dr. Andrea Latamendi, who writes about the psychology of heroes and villains, Jane Espenson (writer and producer of Buffy, Once Upon a Time, and numerous other geeky shows), Dana Braziel-Solovy (Adventures of a Comic Con Girl), and Luci Romberg, who does stunt work. Emma Caulfield, who played Anya on Buffy, was also scheduled to be at the panel, but apparently got stuck in traffic on her way to Wondercon, as Katrina read us a swear word-filled apology message that she received from Emma.
Katrina then proceeded to pose question after question to the panel members, going down the line getting an answer from each one. The questions ranged from introductory (When do you feel your most dangerous? Most geekiest? When was your first comic con and why?) to more serious (When have you experienced sexism? How do you deal with sexism and stalkers? How can you educate the public that cyber stalking is not okay?) to advice-based (How do you take time to relax and stay healthy? How do you deal with creativity block?) to asking about the women that the panel members admire who are groundbreaking or geeky. Through these series of questions we learned that Jane Espenson's guilty pleasure is Project Runway. It seemed like most of the panel members had been going to comic cons for awhile, except for Luci, as this was her first time! Jenna Busch talked about how she got to interview Harrison Ford one time, and whenever a girl would ask a question, you would see his face change. Dr. Andrea Latamendi shared with us that as a woman, sometimes it feels like you're taking a test and that you have to prove yourself. Espenson pointed out that reality has changed [regarding women in the geek world], but the joke still lingers. Dana Braziel-Solovy said that as a woman in the geek world, she has experienced objectification, confiding that a guy once grabbed her boob while she was on the job. However, she also confessed that it feels like she has gotten more support for her writing because she is a woman. Katrina also shared a sexism moment with us, as people have disbelievingly said to her, "You wrote this book?"

Regarding how to deal with sexism and stalkers, Busch commented that you should be aware of the community of supportive women, and pointed out that she's noticed over the past several years that the lines have gotten longer and longer at comic cons for the ladies' room! Espenson spoke about her online series Husbands (which is about a gay married couple), and how at first the comments were 99% positive, but then a lot of homophobic comments starting popping up, to which they responded by making fun of those negative comments, and eventually those people went away. The question also came up of what a geek girl "should" look like, and Braziel-Solovy talked about an article entitled "This Is Why They Hate Us," which was about geek girl pinups. Apparently many people believe that if you're a "real" girl geek, then you can't have boobs or be attractive. America Young commented that we just shouldn't give cyber stalkers power over us.  We learned that Espenson admires Felicia Day, while Braziel-Solovy said that she admires Espenson because she is a great writer, not a great "female" writer.
In wrapping up the panel, Young mentioned that "We're not man haters, it's not us versus them, we're all working together to get the best result." Espenson also pointed out that feminine men also go through what women do. Oh, and be on the lookout for Romberg's stunt work in an upcoming movie which she was not at liberty to name, starring Arnold Schwarzengger. Apparently she got to beat up the Terminator!
That panel ended by 3:30pm, and I had a little bit of free time before the next panel I was planning to go to which started at 4:00 pm, the GEEK Magazine Star Trek Summit LIVE panel.
GEEK Magazine Star Trek Summit LIVE
This panel was to take place just around the corner in Room 207, which seemed a bit bigger than Room 203. There was a short line formed outside, so I sat down in line and took the time to charge my camera on a nearby wall outlet, and ate some of the food I had packed. Soon they let us in, and I was able to get a front row seat, albeit in a side section.
The panel was moderated by Mark A. Altman, and panelists included Scott Mantz (Access Hollywood film critic), Jeff Bond (executive editor of Geek Magazine), Eugene "Rod" Roddenberry, Jr. (son of legendary Star Trek creator Gene Roddenberry), Brannon Braga (showrunner and writer for Star Trek: The Next Generation, Star Trek: Voyager, and Star Trek: Enterprise, as well as writer of Star Trek: First Contact and Star Trek: Generations). The panel was supposed to be based around the below issue of Geek magazine.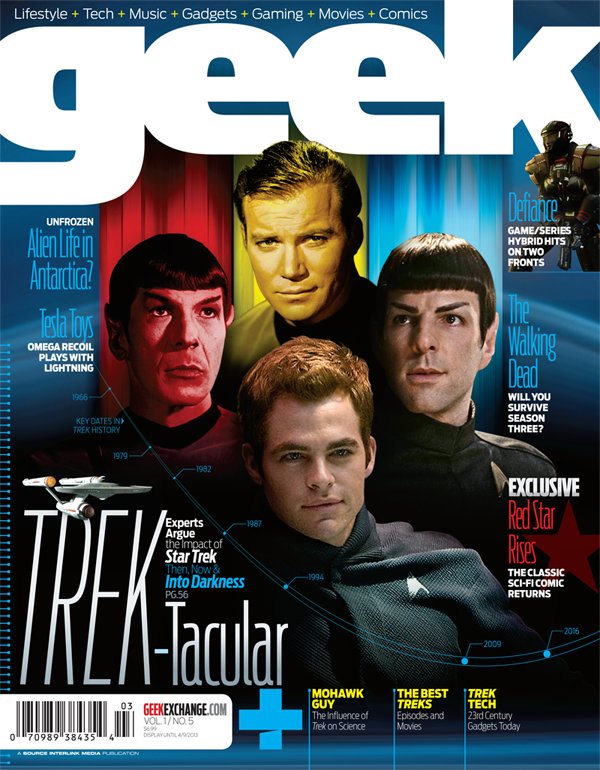 We learned that Roddenberry was not initially a Star Trek fan, and tried to resist Star Trek growing up.  It wasn't until after his father died that the philosophy of it drew him in, and he appreciated the moral message of Star Trek. Braga did not discover Star Trek until college when people were talking about The Next Generation. However, now he has been involved in over 300 episodes of Star Trek  and written over 100. He misses the philosophy of diversity and optimism inherent in Star Trek, especially since he went to 24 after Enterprise was canceled! Regarding the recent J.J. Abrams movie, Bond commented that he loved it, while Roddenberry pointed out that the movie wasn't geared toward having a message, although he conceded that the other movies didn't go heavy on delivering a message either. Mantz brought up the question of "What IS Star Trek?" and replied that for him it was the characters, and commented that in the Abrams movie there was no message other than to just "have fun."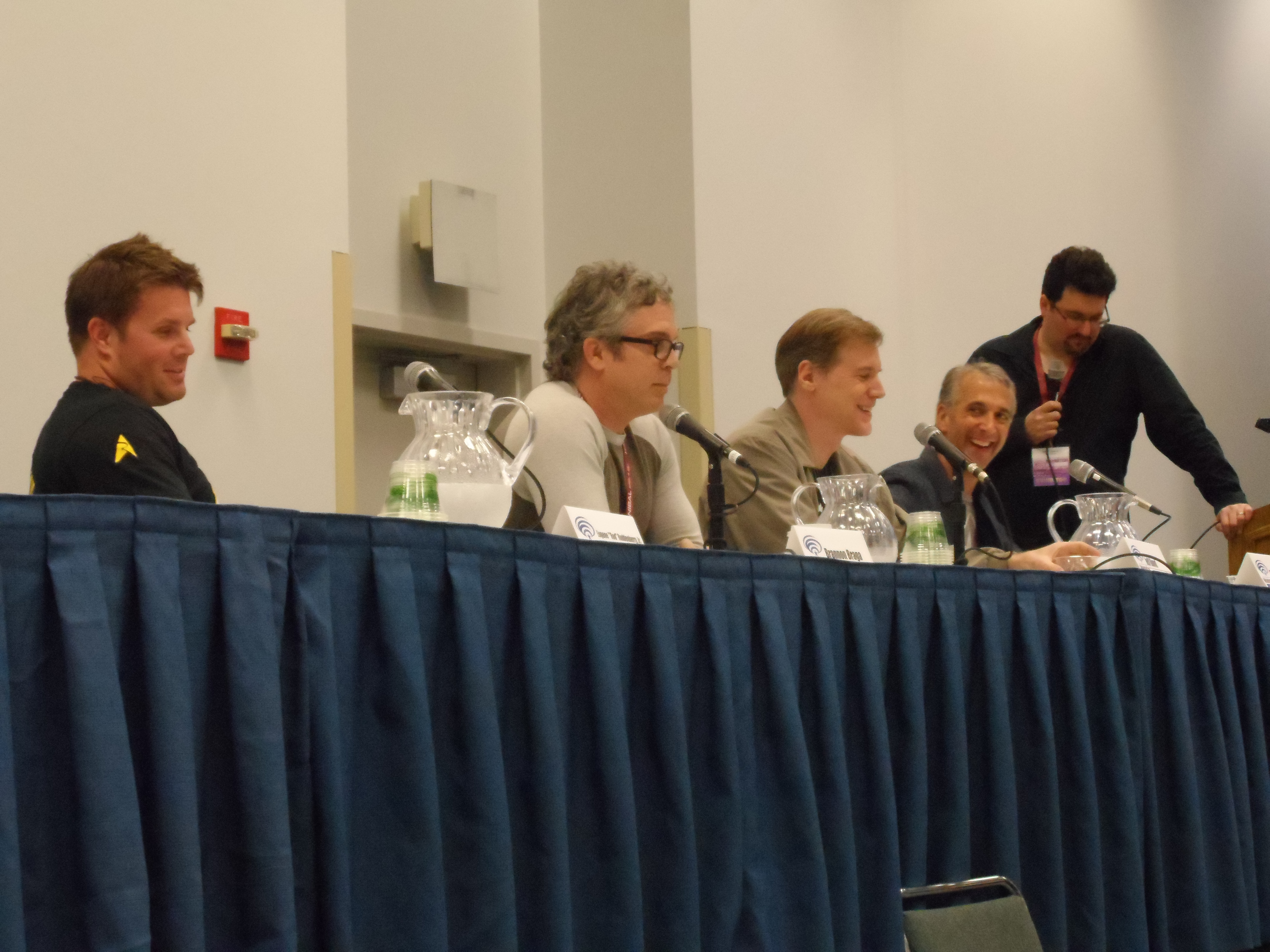 Braga revealed that it was not his idea to kill off Captain Kirk in Star Trek: Generations, and said that Shatner wanted to kill off Kirk. Braga also spoke about his work on Enterprise, and how it was heartbreaking when the show got canceled, which he said was a long story why, but basically the audience just wasn't there. He commented that he originally wanted the Enterprise series to start on Earth, like the new Abrams movie, but the network wanted more of the same: a spaceship show, with futuristic elements.
Mantz spoke a little more about his view of the new Abrams movie, which he thinks is "a little busy," and that they could have done without the parachute scene. He reiterated that the character driven moments are what makes Star Trek for him, and that he hopes in the new one they don't sacrifice character for action.
An audience member asked if Star Trek: The Experience was ever coming back to Las Vegas, and we learned that, assuming the next movie does well, it might move to a different location. We also learned that way back when the first Star Trek movie came out, a project to build a replica of the Enterprise in Las Vegas had been approved. However, Paramount was afraid of the next movie not doing well, so they never went forward with the project.
Hemlock Grove
After that, I went down to the Exhibit Hall and wandered around for a little while. During this time, I met up with my friends Davey and Tamara. Around 6:00 pm, we headed up to Room 300DE for the Hemlock Grove panel, which was starting at 6:30 pm. The room wasn't full, so we sat in on the end of the previous panel, and tried to move up as the crowd left, but didn't get too far.
Hemlock Grove is a one hour horror series premiering April 19, 2013, exclusively on Netflix. All 13 episodes will become available on that date at the same time. The panel consisted of executive producers Eli Roth, Mark Verheidon, Lee Shipman (who also wrote 3 episodes), and Brian McGreevy (who not only wrote 5 episodes, but also wrote the novel on which the series is based), as well as director Deran Sarafian. Additionally, most of the cast members were there, including Dougray Scott, Landon Liboiron (Josh on Terra Nova), Freya Tingley, Kandyse McClure (Dee from Battlestar Galactica), Penelope Mitchell, Aaron Douglas (Chief from Battlestar Galactica), Famke Janssen (Jean Gray on X-Men), and Bill Skarsgård.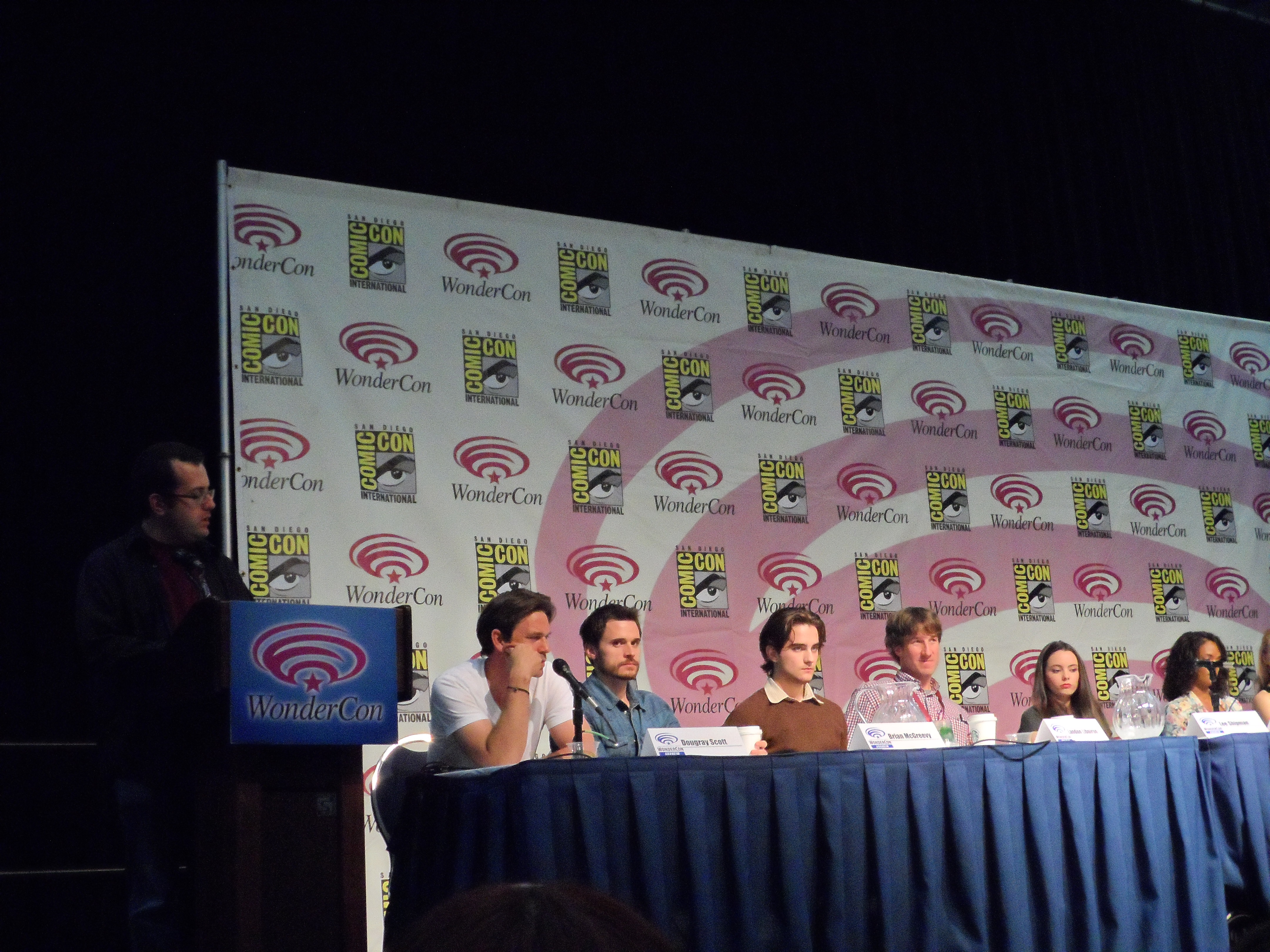 The panel spoke about how this is the future of TV, and Shipman commented how they got to write the series upfront before they ever shot a frame. However, one problem was the expansion of the story, and there will be a big surprise for fans of the novel. Each of the cast members went down the line and gave short explanations of their characters. The story seems to center around the Godfrey family, with a power struggle between mother and son (Janssen and Skarsgård), while Skarsgård's character, Roman, is a disturbed young man trying to battle darkness inside of him. Liboiron 's character, Peter, is the new kid in town and a gypsy. Both characters become suspects in a murder case. But apparently none of the characters end up where you expect them to be.
The producers spoke about working with Netflix, with which they agreed they were essentially filming a 13-hour movie. "Binge watching" is the new way of watching TV, as people often watch an entire season of a TV show in one sitting. They had no limits on length, and fewer limits on language and content. It was odd to shoot a TV show without ad breaks.
We gained a little insight into the relationship between Liboiron's and Skarsgård's characters, who are loners that become friends. They feel a connection to each other, like they're meant to be a part of something important, so they work together on finding the killer and solving these murder mysteries. Apparently a big theme in the series is outsiders finding community.
The panel contained three Battlestar Galactica alums: Aaron Douglas, who played Chief, Kandyse McClure, who played Dee, and Mark Verheidon, who ran the writers room. Douglas made sure to throw in a few cylon jokes. When asked about working with Douglas, McClure talked about how she and Douglas would watch Family Guy and Arrested Development together in the BSG days, but that they never had a scene together on BSG where they actually talked to each other!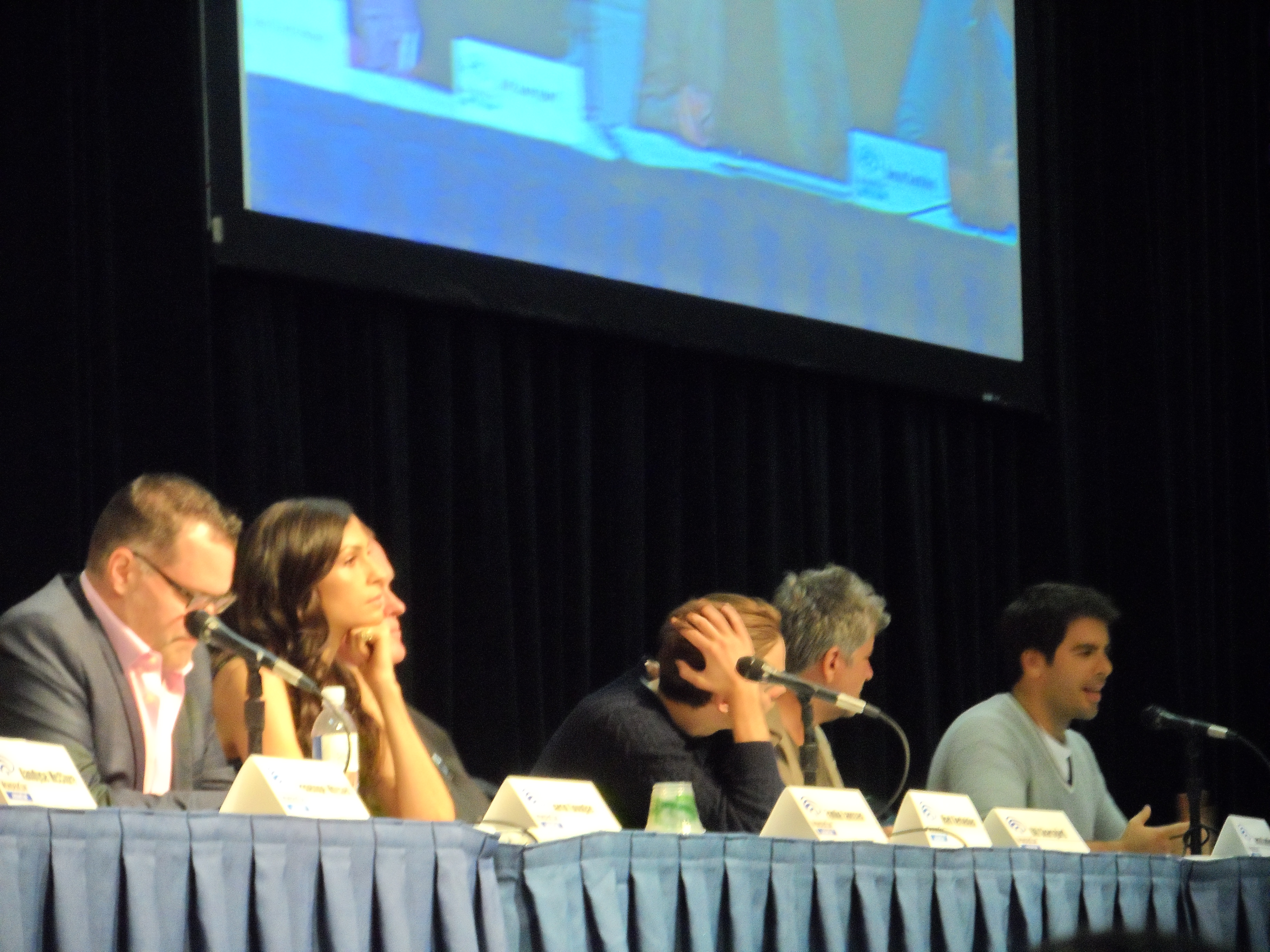 We then watched a clip of Liboiron's character, Peter, transforming into a werewolf, which you can watch here. Roth prefaced the clip saying that he wanted something visceral and violent, but with elegance, and that he wanted Twilight fans to be horrified. I would say that he accomplished that, considering the audience's reaction as Peter's eyes pop out of their sockets, and his flesh rips and falls off. Then once the transformation is complete, the wolf eats the discarded flesh. Meanwhile, as everyone was watching the clip being shown, Liboiron was the only one not watching, as he covered his face with his hands the entire time, refusing to watch. He admits that he was terrified to do that scene. It turns out the transformation was not entirely CGI, as they actually used pigskin to show ripping through flesh. An audience member asked about the transformation from werewolf back to human, whether we get to see the werewolf eyes pop out, but they never really answered that.
Another audience member asked about Roth's remake of The Bad Seed, which apparently is not going to happen. It's no wonder, when his pitch was that he wanted to "kill more children than Schindler's List."
On the way out of the panel, each audience member received a code for a free 3-month membership to Netflix. And with that, Day 1 of Wondercon came to an end, and it was time to rest up for Day 2!
Click here to read our Wondercon Saturday Report, featuring panels for The Conjuring, Pacific Rim, Revolution, Mortal Instruments: City of Bones, Evil Dead, This Is The End, and Under the Dome.
If you want to skip ahead to our Wondercon Sunday Report, featuring panels for Joss Whedon's Much Ado About Nothing, Chris Hardwick's The Nerdist, and CW's hit series Arrow, click here