WonderCon 2017 took place at the Anaheim Convention Center March 31-April 2. Josh takes you through our Sunday at the con, where we walked the Exhibit Hall floor, attended the Collider Movie Trivia Schmoedown, and checked out some cosplay! Then Josh and Violet each share their final thoughts about WonderCon 2017.
Continued from WonderCon 2017: The Saturday Report Part 4 – Warner Bros. Pictures
On the final day of Wonder-Con, Violet and I dedicated a good few hours to walk the entire show floor, since we had only gotten a brief look at it the day before (click here for our Exhibit Hall photos from Saturday). That floor was pretty big, and with the backpack I was carrying (two laptops, a camera, Nintendo Switch, a few battery packs, and other odds and ends) was beginning to feel really heavy by the end of the long walk.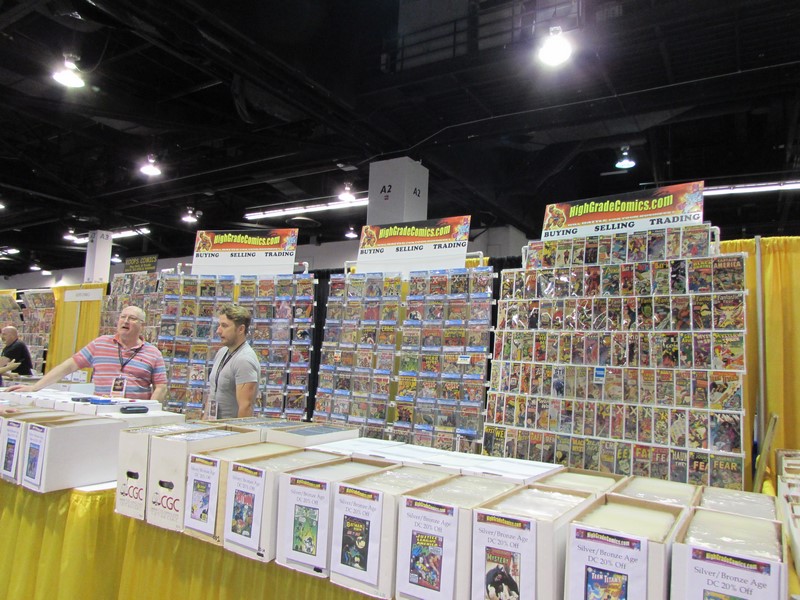 The floor started off fairly empty when we started our march through the hall at about 10:20am in the morning, but as the morning turned to early afternoon, it started getting really crowded. But it is always fun seeing the different booths, that span the spectrums in terms of covering the world of Geekdom. You can find the 501st Legion, a cosplay group dedicated to screen-accurate costumes for Star Wars, to Browncoats, a group dedicated to the beloved show Firefly, to endless sources of comic books and collectibles, to meeting many different comic book artists and writers. Keeping in line with the "Wonder Woman" theme at WonderCon, the DC Comics booth offered an up close and personal look at the Wonder Woman Costume from the film. There was also a sizable Artists Alley, which actually seemed like the most crowded area of the floor. Additionally, Capcom had a unique booth setup where on one side people could step up to numerous screens to play Street Fighter, while on the other side it looked like a 90s kid's bedroom, where you could sit in the "room" and play the old school Nintendo Chip 'N Dale Rescue Rangers game!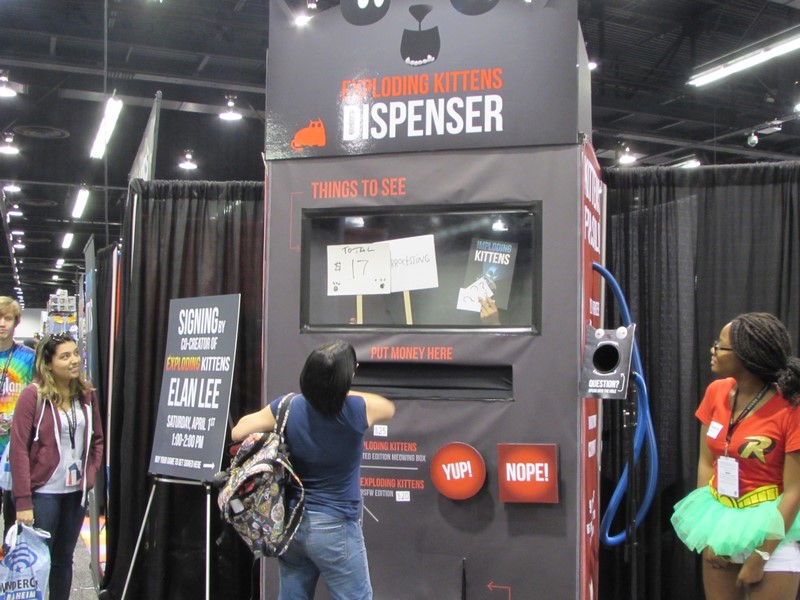 One of my favorite booths at the convention was the Exploding Kittens booth. It was an ingenious way to turn that booth into a moneymaking machine. They had a faux-vending machine, where people would turn a dial to indicate what they wanted to buy. This ranged from a free compliment, to a "random thing", to expansions for Exploding Kittens called Imploding Kittens. Inside the booth, an arm would reach out for payment, and the "screen" would just simply have that same person hold up various signs indicating the machine was "working" or "purrrrocessing". The best part about the booth was watching the various customers interact with it. I told Violet, it was something that I could watch forever. It was an ingenious way to get $1 out of somebody in exchange for silly things like a potato, or coconut. I mean, now that I describe it, it seems completely asinine that this would actually make any money. But it was the one booth that stuck with the most out of the dozens of booths at the con. The one suggestion I would give to the booth if they happen to read this: find a cat paw glove for the person "operating" the vending machine. I think that would just add a more hilarious aspect to the whole thing. Maybe this suggestion will get me a free "random thing" then next time I stop by…
Enough about that booth though! After we finished up walking the exhibit floor, Violet and I grabbed a quick sweet treat from a food truck called Chunk N' Chip, where we got a cookies and cream popsicle and a White Chocolate Fudge, Chocolate Chip Cookie Ice Cream Sandwich. The desserts were pretty good, but I am not a huge fan of White Chocolate Fudge. We'll have to try a better flavor next time we see the truck.
Collider Movie Trivia Schmoedown
After our break, Violet and I headed up to room 300DE, where the Collider/Schmoes Knows people would be hosting their panel at 1:30pm for the movie trivia contest that they refer to as a "Schmoedown." The panel was really large, featuring many of the Collider people — Jon Campea, Kristian Harloff, Perri Nemiroff, Jeremy Jahns, Scott Mantz, John Rocha, Josh Macuga, among others that I am not as familiar with.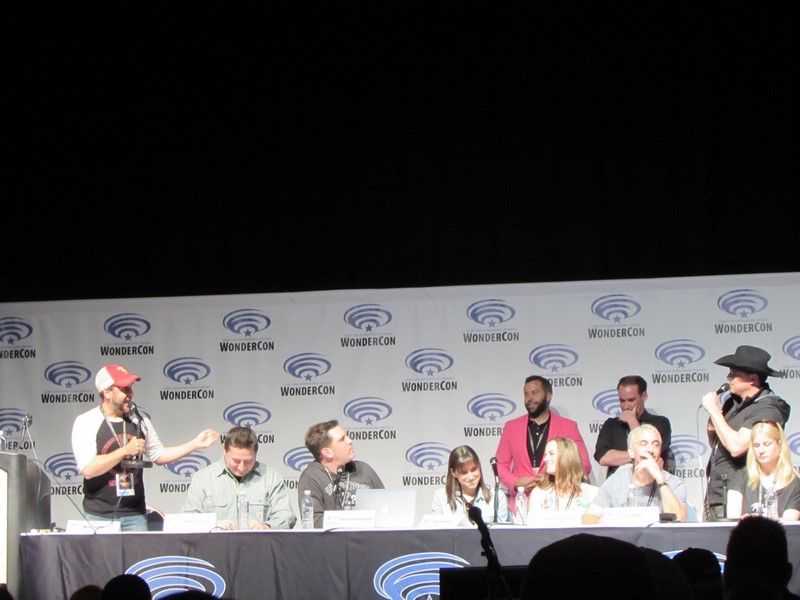 The panel was primarily discussing the evolution of the idea that Kristian and Mark Ellis had started on Schmoes Know, and how it was the blending of movie trivia and Wrestlemania-like matches. Kristian gushed about how much it as grown from both people already in the Collider viewing community and how it brought in a bunch of new fans.
There was also a lot of trash-talk as there were current reigning champions (John Rocha currently has the singles Championship Belt) who were defending their honor from the various challengers, while they also slung insults at their would-be challengers. At times it felt like watching a UFC weigh in, where you expect a fight to break out at any moment, but I am sure these guys are doing this all in fun.
The panel wrapped up with a quick 15 question Schmoedown, which was a bit chaotic, but certainly proved these guys know their movie trivia. John Rocha won with a score of 3. I only knew the answer to a handful of the questions, and I consider myself pretty well versed in movies.
WonderCon 2017 Comes to an End
After finishing the chaos of the Schmoedown, Violet and I decided that it was time to head out. We headed to the balcony, where we took some photos of the view and of the de facto cosplay area, which is the fountain area in front of the Anaheim Convention Center. We then headed down to the fountain, and watched as guy cosplaying as Powerline from A Goofy Movie decided to moderate the cosplay area (I am not sure whether he was an official person in charge of this, or decided to take charge himself?). Either way, Violet seemed excited to see one of her favorite Disney movies come to life, and also had a chance to take some good photos of various Disney cosplayers.
With that winding down, Violet and I rode off into the sunset, and decided to stop by a restaurant nearby called Carolina's. It was an Italian place, and I have to say it was pretty good. Then Violet and I headed home, and took some time getting some content ready for the site!
Keep scrolling down to view our photo gallery of images from Sunday at WonderCon 2017
Josh's Final Thoughts on WonderCon 2017
Generally, I enjoyed myself at WonderCon this year. I am really glad that it moved back to Anaheim, after being in Los Angeles for a year last year. It's much closer for us, and much less aggravating to deal with when it is in Anaheim.
As for the con itself, there is a lot to see when it comes to the show floor and cosplay. There was a ton of really good cosplay at WonderCon, which always inspires me to want to try it more myself, but then I realize how much work goes into these things!
As for panels, I wish there was a bit more to see. The first WonderCon Violet and I went to was in 2012, and there were some really great film panels that year. Unfortunately since then, there haven't been quite as many "big" panels though. I should temper my expectations though, as not every con can be the behemoth SDCC tends to be–even if WonderCon is its little brother/sister.
I am looking forward to next year though, and despite being an introvert, it is fun meeting up with people and hanging out with like-minded individuals. We look forward to seeing everyone next year!
Violet's Final Thoughts on WonderCon 2017
I look forward to WonderCon every year, and this year was no different. Plus, this year included the added bonus of the con returning to Anaheim Convention Center after spending a year at the Los Angeles Convention Center last year. I love the Anaheim Convention Center as a venue, and it doesn't hurt that it's only a few miles from where we live! Usually, I attend WonderCon all 3 days, because there's so much content to fill up all 3 days and I don't want to miss anything! However, this year I had to miss most of Friday, due to recently starting a new job, and being unable to take a day off yet. Unfortunately, this meant having to miss a couple of panels I would have liked to attend, including the Prison Break panel. But our short day on Friday, swinging by after work, still turned out to be pretty fun – and the fun would last throughout the entire weekend. From walking the Exhibit Hall floor, to going to cool panels, to hanging out with friends that we don't get to see that often, to seeing a bunch of awesome cosplay, there was always something to do.
One of the great things about WonderCon, often referred to as San Diego Comic-Con's "little sister," being that it is also run by Comic-Con International, is that it gets a lot of studio involvement, so we often get screenings and clips, and appearances by multiple cast members and creatives of current and upcoming TV shows and movies. As usual, WonderCon had a great showing when it came to TV shows. Unfortunately, I had to miss panels on Friday for two TV shows that I watch, and Agents of SHIELD was the only TV panel left for shows that we watch. Notably absent were the CW superheroes shows, which have appeared at WonderCon the past few years, so that was disappointing.
I was also a little underwhelmed by the Warner Bros Pictures panel, which only had the directors for each of the two movies that it showcased, Annabelle: Creation and Wonder Woman. Don't get me wrong, the clips that we were shown were great (and make me even more excited to see Wonder Woman), and I'm glad that we got the opportunity to see them, and hear from the directors. However, with only two people sitting up there talking about each movie, it made the giant Arena stage seem empty. Additionally, the panel ended 20 minutes earlier than it was scheduled to end, which made it feel like there should have been more, whether it be another movie to showcase, or more panelists to talk about the movies. I had thought that maybe something hindering WonderCon in the past as to getting its film panels up to the caliber of SDCC's film panels was the fact that WonderCon had been taking place on Easter weekend the past few years. However, this year was not Easter weekend for once, and it didn't seem to help.
Overall though, I had a fun time, and will definitely be back next year – which will once again not take place on Easter weekend, and which will be back in Anaheim. I'm looking forward to seeing the construction completed on the Anaheim Convention Center and seeing how that factors into next year's WonderCon experience.
Did you attend WonderCon 2017? If so, what did you think of this year's con? Let us know in the comments below!
Check out more photos below of the Exhibit Hall, the Schmoedown, and Disney cosplay!