Yesterday, Comic-Con International released the full programming schedule for WonderCon 2016, which takes place at the Los Angeles Convention Center Friday, March 25 through Sunday, March 27. Now that we've had some time to go through the schedule, we bring you the highlights!
You can access the full schedule by clicking here, where you can organize by date, category, venue, and popularity, and create your own personalized schedule. Below are some of the highlights from this year's schedule. Remember, just like San Diego Comic-Con, rooms are not cleared in between panels, so you might want to arrive a little early to be sure you make it into your desired panel.
Friday, March 25
12:00pm – 1:30pm
Cartoon Network: Clarence and Uncle Grandpa, Room 403AB
Show teams and talent from Clarence and Uncle Grandpa will be on hand for a special panel to share what goes on behind the scenes, and what's ahead for 2016. There will also be a special screening of never-before-seen episodes, a live table read and more surprises. From Clarence, Spencer Rothbell (Head of Story, voice of Clarence), Stephen Neary (supervising producer), Katie Crown (voice of Mary Wendell and Ms. Baker), Eric Edelstein (voice of Chad), and Roger Craig Smith (voice of Belson and Percy) will be on hand with Uncle Grandpa's Pete Browngardt (creator and voice of Uncle Grandpa) and Kevin Michael Richardson (voice of Mr. Gus). Moderated by Eric Bauza (Uncle Grandpa's Belly Bag), fans will also be treated to a sneak-peek from the new Powerpuff Girls series.
12:45pm – 1:45pm
Stitchers, Microsoft Theater
Q&A with Executive producer Jeff Schechter and series cast members Emma Ishta, Kyle Harris, Ritesh Rajan, Salli Richardson-Whitfield, Allison Scagliotti and Damon Dayoub of Freeform's (formerly ABC Family) hit drama.
1:00pm – 2:00pm
Houdini & Doyle: World Premiere Screening of Episode One and Q&A with Cast Members and Executive Producers, Room 408AB
No word yet on which cast members and executive producers will be on hand for the Q&A following the screening of Fox's new mystery adventure drama.
2:00pm – 3:00pm
Shadowhunters, Microsoft Theater
Showrunner Ed Decter, executive producer McG, and series cast members Katherine McNamara, Dominic Sherwood, Harry Shum Jr., Matthew Daddario, Emeraude Troubia, Alberto Rosende, and Isaiah Mustafa will partake in the Q&A panel for Freeform's new series based on The Mortal Instruments young adult novels by Cassandra Clare.
Damien, Room 408AB
Join the Damien cast and executive producer Glen Mazarra for a special preview of the newest episode before it airs Monday on A&E, followed by a Q&A with stars Bradley James (Merlin), Barbara Hershey, Megalyn Echikunwoke (The Following, House of Lies), Omid Abtahi (The Hunger Games: Mockingjay Part 2, Those Who Kill), and Scott Wilson (The Walking Dead).
The Her Universe Fashion Show Update, Room 502B
Her Universe founder Ashley Eckstein, Cat Carson (SVP of Her Universe), Ed Labay (VP, merchandising), and Andrea Lewis (director, brand marketing) from Hot Topic and 2015 fashion show winners Kelly Cercone and Leetal Platt take you behind the scenes of the making of their all-new Star Wars: The Force Awakens line for Hot Topic. Learn how these designers went from runway to retail! Plus, get an exclusive sneak peek at this new Star Wars collection and hear details about how to submit your designs for the 2016 Her Universe Fashion Show at San Diego Comic-Con!
3:15pm – 4:15pm
Containment Pilot Screening and Q&A, Microsoft Theater
Containment makes its WonderCon debut with a special screening of the entire pilot episode, followed by a Q&A with series stars Chris Wood, Christina Moses, Claudia Black, Kristen Gutoskie, Hanna Mangan Lawrence, George Young, Trevor St. John, along with executive producers Julie Plec, Matt Corman and Chris Ord.
3:30pm – 4:30pm
Marvel: Next Big Thing, Room 403AB
Editor Wil Moss is joined by Brian Michael Bendis (Invincible Iron Man), Charles Soule (Obi-Wan & Anakin), and other Mighty Marvel guests as they take on questions about Marvel's biggest series and events!
4:00pm – 5:00pm
Ratchet and Clank, Room 151
Gramercy Pictures presents a first look at this animated feature based on the classic video game. Panelists include stars Bella Thorne (voice of Cora), James Arnold Taylor (voice of Ratchet), and David Kaye (voice of Clank), as well as writer/director Kevin Munroe.
Bob's Burgers, Room 408AB
Creator and executive producer Loren Bouchard and the hilarious cast, including Kristen Schaal, John Roberts, and Larry Murphy, will entertain with a Q&A panel discussion featuring never-before-seen footage and a behind-the-scenes look at the series as they get ready to celebrate the 100th episode of Bob's Burgers, airing on FOX this May.
4:30pm – 5:30pm
iZombie Special Video Presentation and Q&A, Microsoft Theater
Executive producers Rob Thomas and Diane Ruggiero-Wright and stars Rose McIver, Malcolm Goodwin, Rahul Kohli, Robert Buckley, David Anders will be on hand for Q&A about CW's hit show.
Bad Kids of Crestview Academy, Room 152
The comedy thriller feature film based on the bestselling indie comic book series Bad Kids Go 2 Hell is scheduled to hit theaters the summer of 2016. Meet the director and stars of the movie Ben Browder (Farscape, Stargate SG-1), Drake Bell (Drake and Josh, Ultimate Spider-Man), Sammi Hanratty (Salem, A Christmas Carol), and Sufe Bradshaw (Star Trek, Veep) as they partake in a Q&A session alongisde writing and producing team Barry "Bazz" Wernick and James Hallam. The panel will be moderated by a surprise celebrity guest.
5:00pm – 6:00pm
Bordertown, Room 408AB
From Family Guy's Mark Hentemann comes Bordertown, the newest animated comedy to join Fox Sunday nights about two families living in a Southwest desert town on the U.S./Mexico border. The aptly timed series takes a satirical look at the cultural shifts occurring in America, and explores family, politics and everything in between with a cross-cultural wink. Join creator and executive producer Mark Hentemann, writers and consulting producers Lalo Alcaraz (La Cucaracha) and Gustavo Arellano (Ask A Mexican!), along with stars Alex Borstein (Family Guy, Getting On), Missi Pyle (Gone Girl), and Nicholas Gonzalez (The Purge: Anarchy, Sleepy Hollow) for a special screening of a brand new episode followed by a Q&A!
Thunderbirds Are Go, Room 151
Amazon brings a first look at the new Thunderbirds Are Go series, a reinvention of the 1960s Gerry Anderson classic. Piloting their remarkable cutting-edge Thunderbird Vehicles from the depths of the oceans to the highest reaches of space, Scott, Virgil, John, Gordon, and Alan Tracy return to perform impossible rescues across the globe. Thunderbirds Are Go blends a unique mixture of CGI animation and live-action model sets, delivering a new level of action-adventure animation while paying tribute to the legacy of model locations from the original Thunderbirds series. Panelists include cast members David Graham (classic Thunderbirds, Peppa Pig), Rasmus Hardiker (Danger Mouse), Andres Williams (Taboo, The Walker) and Head Writer Rob Hoegee (Generator Rex, Teen Titans).
5:30pm – 6:30pm
Spotlight on Jim Lee, Room 403AB
DC Entertainment co-publisher Jim Lee (Superman Unchained, Justice League, Batman) talks about his 25-plus years in the comics industry and sketches your favorite characters live on the big screen.
5:45pm – 6:45pm
Teenage Mutant Ninja Turtles: Out of the Shadows, Microsoft Theater
Paramount Pictures and Nickelodeon Movies provide an inside look at the next installment in the Teenage Mutant Ninja Turtles franchise. No confirmation on panelists yet.
6:00pm – 7:00pm 
Teen Titans Go! Screening and Q&A, Room 408AB
Warner Bros. Animation welcomes you to join producers Michael Jelenic and Aaron Horvath, along with voice actors Greg Cipes, Khary Payton, Scott Menville, Tara Strong and Hynden Walch, as they screen an all-new episode and answer your biggest questions on what's in store for Robin, Beast Boy, Cyborg, Raven and Starfire.
DreamWorks Animation's Voltron: Legendary Defender, Room 151
Hosted by Nerdist's Jessica Chobot, join Executive producer Joaquim Dos Santos (The Legend of Korra, Avatar: The Last Airbender), co-executive producer Lauren Montgomery (The Legend of Korra), writer Tim Hedrick (The Legend of Korra, Avatar: The Last Airbender) and special guests as they unite to form this years can't-miss panel of WonderCon 2016! Be sure first in the galaxy to get a sneak peek of this highly-anticipated event, as DreamWorks Animation unveils never-before-seen artwork and footage of the all-new Netflix Original Series. Panel attendees will receive a WonderCon exclusive limited edition Voltron lithograph.
7:30pm – 8:30pm
High Scorers: Star Composers of the Video Game World, Room 152
The composers of some of the most impressive video games of our time will share words of wisdom about the dynamic and entertaining challenges involved in scoring them. Join Gordy Haab (Star Wars: Battlefront, Star Wars: The Old Republic, The Walking Dead: Survival Instinct), John Kaefer (Quantum Break), Bill Brown (Ghost Recon, Rainbow Six, Captain America: Super Soldier, Lineage II), Christopher Drake (Injustice: Gods Among Us,Batman: Arkham Origins), Niels Bye Nielsen (Hitman, Ratchet & Clank Series), and Mick Gordon (Doom 4, Marvel Super Hero Squad, Killer Instinct 2013, Need for Speed: Shift/World/The Run) as they show you how music influences and defines your experience as a gamer. Come learn about the subtle details that go into making the sounds for some of your favorite video games. Moderated by Rahul Kohli (iZombie) and Jason Mewes (Clearks,Vigilante Diaries).
8:00pm – 9:30pm
AMC's Preacher Series Premiere Screening and Panel, Room 408AB
Join cast members Dominic Cooper (Agent Carter) and Ruth Negga (Agents of S.H.I.E.L.D.), and showrunner Sam Catlin (Breaking Bad). Based on the popular, cult comic book franchise of the same name, the highly anticipated series is a supernatural, twisted, and darkly comedic drama that follows a West Texas preacher named Jesse Custer (Cooper), who is inhabited by a mysterious entity that causes him to develop a highly unusual power. Jesse, his badass ex-girlfriend Tulip (Negga) and an Irish vagabond named Cassidy (Joseph Gilgun) come together; and when they do, they are thrust into a crazy world populated by a cast of characters from Heaven, Hell, and everywhere in between.
Saturday, March 26
11:00am – 12:00pm
TNT's The Last Ship: A First Look at Season 3, Room 408AB
The Last Ship returns to WonderCon for a first look at the upcoming season and a panel with producers and cast including Adam Baldwin, Bridget Regan, Travis Van Winkle, Marissa Neitling and Jocko Sims. Panel attendees will be treated to never-before-seen footage and a revealing discussion led by TV Guide's Rob Moynihan.
11:30am – 12:30pm
Nickelodeon's Teenage Mutant Ninja Turtles: Turtle Power, Room 403AB
The Turtles are back! Spend some time with the mutated minds making Nickelodeon's hit animated TV series, now in its fourth season. The panel features executive producers Ciro Nieli and Brandon Auman as they provide sneak peeks into season 4 and discuss the epic and bizarre adventures in store for the Turtles. Fans will also get an exclusive look at an upcoming new episode "Trans-Dimensional Turtles," in which the Turtles collide with their '80s counterparts. Watch the episode for very special cameos! Also on hand will be the extraordinary and talented voice actors of TMNT, including Rob Paulsen (Donatello), Greg Cipes (Michaelangelo), and Kevin Michael Richardson (Shredder).
12:00pm – 1:00pm
New Line/Warner Bros. Pictures Presents, Microsoft Theater
No details have been released as to what this panel includes, but we're going to guess The Conjuring 2 is part of it, considering that the first The Conjuring had a panel at WonderCon 2013.
Wayward Pines, Room 408AB
Join star Jason Patric (Rush, Sleepers), executive producers M. Night Shyamalan (The Sixth Sense, The Visit), Donald De Line (Green Lantern, The Italian Job), and Ashwin Rajan (Devil, The Visit), and executive producer/showrunner Mark Friedman (Believe, The Forgotten) for a sneak peek at the second chapter of this psychological thriller event series, based on the world created by author Blake Crouch in his international bestselling series of books.
1:00pm – 2:00pm
Scorpion: Exclusive Screening and Q&A, Room 408AB
Making their first WonderCon appearance, the cast of CBS's Monday night hit drama will be on hand for an exclusive screening of an upcoming episode, followed by a discussion of what fans can expect from the rest of the action-packed second season. Get the inside scoop with series stars Elyes Gabel, Robert Patrick, Eddie Kaye Thomas, and Ari Stidham and executive producers Nick Santora and Nicholas Wootton.
Universal Studios Hollywood: The Walking Dead Attraction, Room 515A [Updated as of 3/18/16]
John Murdy (creative director), Don Burgess (show producer) and Chris Williams (art director/production designer) go behind the scenes with a sneak peek at the all-new, upcoming The Walking Dead Attraction. Q&A session moderated by John Murdy.
1:15pm – 2:15pm
Alan Tudyk and Nathan Fillion's Con Man Comics Series: Spectrum!
With season 1 a smash hit on Vimeo and season 2 in the works, this panel will talk Con Man and the crazy ride that made Alan Tudyk's dream project a reality. From the series, to the video game, to the Spectrum comic released on Free Comic Book Day, this is the year of the Con Man! Join Alan Tudyk, P. J. Haarsma, and Shannon Eric Denton for a Con panel like no other!
1:30pm – 2:30pm
Spotlight on John Romita Jr., Room 403AB
Join industry legend and Superman artist, John Romita, Jr. for an in-depth look at his storied career and journey. The superstar DCE artist comes to Los Angeles for an all-access and in-depth discussion. From his marvelous start to his distinguished rise and all things in between, be here for this exclusive panel that will give you insight into one of the genre's most influential people.
2:00pm – 3:30pm
Marvel's Agents of SHIELD, Room 408AB
Join executive producer and Marvel's head of television,
Jeph Loeb,
as well as the cast and creators of
Marvel's Agents of S.H.I.E.L.D.
for their first WonderCon panel as a cast! Get a sneak peek at a new episode from season 3 and find out what's ahead for the team this season from the cast and producers! Attendees will also receive a limited edition show-themed mini-poster, as seen below, reported by
Entertainment Weekly
. Panelists have yet to be confirmed, although Brett Dalton (Grant Ward) has
announced on Twitter
that he'll be there.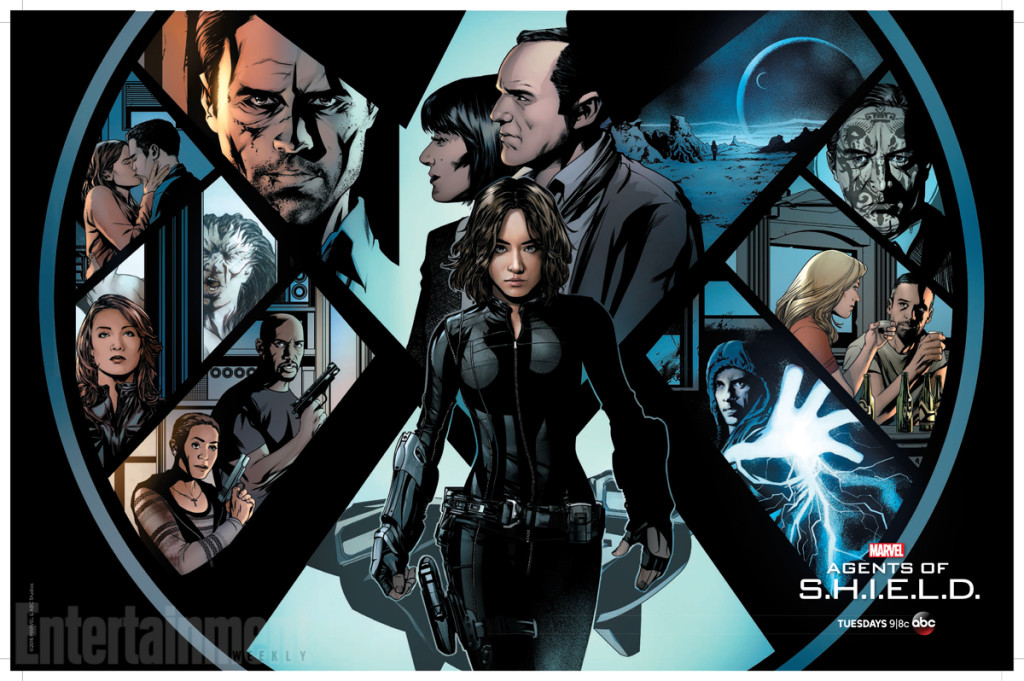 2:30pm – 3:30pm
Millennium Falcon, X-Wings, and TIE Fighters: Creating the VFX for The Force Awakens, Room 152
Star Wars: The Force Awakens VFX supervisor Roger Guyett, HALON Entertainment's Brad Alexander (pre-visualization supervisor), and A. J. Briones (post-visualization supervisor) will take you inside the creation of one of Episode VII's unforgettable fight scenes from concept and shooting to final VFX; including behind-the-scenes material. They will also discuss the creative process and what it means to bring Star Wars to life for a new generation.
2:30pm – 4:30pm
World Premiere: Justice League vs. Teen Titans, Microsoft Theater
Warner Bros. Home Entertainment, DC Entertainment, and Warner Bros. Animation invite WonderCon attendees to witness the world premiere of Justice League vs. Teen Titans, the latest entry in the ongoing series of DC Universe original movies. Several of the film's actors will join a postscreening panel which includes Jason O'Mara (Batman), Jerry O'Connell (Superman), Christopher Gorham (Flash), Sean Maher (Nightwing), Stuart Allan (Robin/Damian), Jake T. Austin (Blue Beetle), Brandon Soo Hoo (Beast Boy), and Kari Wahlgren (Starfire). The panel will also include producer James Tucker, director Sam Liu, character designer Phil Bourassa, and screenwriter Bryan Q. Miller.
3:00pm – 4:00pm
IDW and Syfy: Wynonna Earp, Room 151
Get the exclusive first look at Syfy's action-packed new series with the cast and crew. Who is Wynonna Earp? A smoking hot, badass demon killer, that's who! Stars Melanie Scrofano (Supernatural, Haven), Tim Rozon (Lost Girl, Being Human), Shamier Anderson (Constantine, Defiance), and Dominique Provost Chalkley (The Avengers: Age of Ultron), Wynonna Earp comic creator Beau Smith, and writer and executive producer Emily Andras (Lost Girl) share exclusive footage, present behind-the-scenes sneak peeks, and participate in a Q&A. Hosted by IDW publisher and CEO Ted Adams, IDW Entertainment president David Ozer, and Circle of Confusion's Rick Jacobs.
3:30pm – 4:30pm
TV Guide Magazine's Fan Favorites Showrunners, Room 408AB
TV Guide Magazine returns to WonderCon with an all-star panel of TV's hottest showrunners. Moderated by TV Guide Magazine chief content officer Michael Schneider, the session brings together top producers for a look behind the scenes of your favorite shows. [3/14/16 UPDATE] Panelists include Ali Adler (Supergirl), Craig DiGregorio (Ash vs. Evil Dead), Scott M. Gimple (The Walking Dead), Damon Lindelof (The Leftovers), Melissa Rosenberg (Marvel's Jessica Jones) and Paul Scheer (Party Over Here).
4:30pm -5:30pm
Sleepy Hollow: Attention Sleepy Heads, Room 408AB
Join the cast and executive producers [who have not yet been announced] for Sleepy Hollow's WonderCon debut! Get a sneak peek at the penultimate episode of the third season before it airs Friday on FOX. A brief Q&A will follow the screening.
Cartoon Voices, Room 403AB
Talk about super powers! Here's a panel with heroes who can put voices into the mouths of your favorite animated characters. They'll tell you how they do it and present an unrehearsed reading to show how they do it! With Townsend Coleman (Teenage Mutant Ninja Turtles, The Tick), Maurice LaMarche (Pinky and the Brain, Futurama), Chuck McCann (Duck Tales, The Fantastic Four), Candi Milo (Curious George, Jimmy Neutron), and others! Your host is Mark Evanier (The Garfield Show).
5:30pm – 6:30pm
American Dad: Turns 200, Room 408AB
And they want to celebrate with their fans at WonderCon! Cast members and executive producers behind everyone's favorite All-American family present an exclusive preview of the 200th episode before it airs Monday night on TBS. Following that, enjoy a special panel and Q&A as the cast and producers share favorite memories and the funniest moments from 12 incredible seasons. [Panelists not yet announced.]
5:30pm – 7:00pm
World Premiere and Q&A: The Giant's Dream, Room 403AB
From hundreds of hours of archival footage and myriad modern-day interviews comes a documentary that puts an in-depth spotlight on the beloved 1999 animated film The Iron Giant. Director Brad Bird (Mission Impossible: Ghost Protocol, The Incredibles, Ratatouille) and documentary director Anthony Giacchino will lead a discussion following the premiere screening of an insightful and fascinating documentary that examines the intricate, behind-the-scenes details of the creative process in bringing this critically acclaimed film to the big screen.
6:30pm – 7:30pm
Orphan Black: BBC America, Room 408AB
The men on Orphan Black take over WonderCon to reveal exclusive new footage from the upcoming fourth season of BBC America's award-winning original drama. Co-creators Graeme Manson and John Fawcett are joined by stars Jordan Gavaris (Felix), Kristian Bruun (Donnie), and Kevin Hanchard (Detective Art Bell) for a closer look at what's to come in the new season, with never-before-seen footage and a Q&A session.
7:30pm – 8:30pm
Collider Heroes, Room 152
Jon Schnepp (The Death of "Superman Lives": What Happened?, Metalocalypse) hosts this panel about superheroes on the big and small screen, alongside guests Robert Meyer Burnett (Free Enterprise), Chris Gore (Film Threat), Umberto Gonzalez (Heroic Hollywood), Amy Dallen (Talkin Comics), John Campea (Movie Talk), and Steven Weintraub (Collider). A Q&A follows the discussion.
8:30pm – 11:30pm
12th Annual WonderCon Masquerade, Microsoft Theater
It's the big Saturday night event at WonderCon, an evening of costumed greatness! Doors open at 7:45 PM.
Sunday, March 27
11:00am – 12:00pm
The Nerdist Panel with Chris Hardwick, Microsoft Theater
Chris Hardwick (Comedy Central's @Midnight, AMC'sTalking Dead) is joined by Jessica Chobot (Nerdist News), Nerdist Industries president Adam Rymer, and the Nerdist editorial team: editor-in-chief Rachel Heine, Dan Casey (The Dan Cave), Malik Forté (Nerdist Play), Kyle Hill (Because Science), Matt Grosinger (Celebrity Playlist), and managing editor Alicia Lutes. The panel will talk sci-fi, superheroes, and what it's like to work at Nerdist.
11:00am – 1:00pm
World Premiere: LEGO Scooby-Doo!: Haunted Hollywood, Room 408AB
Get ready for hilarious hijinks in Tinseltown as Scooby and the gang head to Hollywood -this time in LEGO form. They visit a legendary motion picture studio that's haunted by movie monsters from classic old films. See the world premiere of this film, then stay to hear from members of the cast and crew as they tell the tales of making the movie. [Panelists have not yet been announced.]
12:00pm – 1:00pm
DC Entertainment: Sunday Conversation Co-Publishers, Room 151
DCE's co-publishers are back and have lots to share! Jim Lee and Dan DiDio are the driving forces behind DC, Vertigo, MAD, and much more. This up-close-and-personal panel gives you a chance to step up and ask questions about your favorite comic book publishers!
12:15pm – 1:15pm
The 100 Special Video Presentation and Q&A, Microsoft Theater
See a special video presentation of CW's hit series, followed by a Q&A with series stars Eliza Taylor, Bob Morley, Devon Bostick, Christopher Larkin, Lindsey Morgan, Richard Harmon, Isaiah Washington, and Henry Ian Cusick and executive producer Jason Rothenberg.
12:30pm – 1:30pm
Behind Every Great TV Show, Room 403AB
Take a look inside some of your favorite TV series with the people who make them come to life, as they share their candid thoughts on how to create and write the shows you love. Emily Andras (Wynonna Earp, Lost Girls), Amber Benson (Buffy The Vampire Slayer, The Last Dreamkeeper), Deirdre Mangan ( iZombie), and Carolyn Omine (The Simpsons) join moderator Allison Baker (IDW Entertainment) to give you the straight scoop.
Teaming Up: Superheroes at Work, Room 152
Working in teams always has its challenges, but imagine how hard it must be when that challenge is to save the world! When our favorite characters team up, it makes for some amazing stories. WonderCon special guests Brian Michael Bendis (Uncanny X-Men) and Charles Soule (Inhuman) discuss group dynamics in comics with moderator Jessica Tseang.
1:30pm – 2:30pm
DC's Legends of Tomorrow Special Video Presentation and Q&A, Microsoft Theater
Catch a special video presentation of CW's newest super hero team-up from the creators of The Flash and Arrow, followed by a Q&A with executive producers Marc Guggenheim and Phil Klemmer, and stars Brandon Routh, Caity Lotz, Ciara Renée and Franz Drameh.
Live Art Demo with Ming Doyle and Joe Quinones, Room 152
Join Ming Doyle (Constantine: The Hellblazer) and Joe Quinones (Howard the Duck) for a casual, audience heavy Q&A and live-art presentation. Joe and Ming will draw while they field any and all questions, suggestions, and Twitter mentions. Their original sketches will be given away to lucky attendees at the end of the panel!
2:00pm – 3:00pm
Justice League vs. Young Justice, Room 408AB
Join this panel for a blockbuster discussion of the two popular series under the guidance of Warner Archive Collection podcasters D. W. Ferranti and Matthew Patterson and moderator Gary Miereanu. Panelists include the premier voices of Batman and Wonder Woman, Kevin Conroy and Susan Eisenberg, and leading the Justice League and Young Justice creators are Greg Weisman (Gargoyles), Brandon Vietti (LEGO DC Comics Super Heroes, Batman: Under the Red Hood) and everybody's favorite voice of Cyborg, Khary Payton.
2:30pm – 3:30pm
Star Trek's 50-Year Celebration with Roddenberry Entertainment, Room 403AB
Rod Roddenberry (executive producer, son of Gene Roddenberry, creator of Star Trek), Trevor Roth(COO/head of development, Roddenberry Entrainment), and Tory Mell (producer, Roddenberry Entertainment) celebrate the sci-fi giant's golden anniversary! Join this panel for fun, prizes, and more! Rod and Trevor will partake in a Q&A session moderated by a surprise guest.
Again this is not the entire schedule, but just some of the highlights! Click here to access the entire schedule. Which panels are you most excited about? Let us know in the comments below!