There are so many conventions going on these days that it's hard to keep track of them all! Sure, we attend and report on some (click here for our personal calendar of conventions), but there are way more than that going on during any given weekend. So we've decided to give you a monthly list of comic, pop culture, fandom, gaming, etc. conventions taking place in the Southern California area, since that is where we are based. Read on to find out what geeky conventions are going on in So Cal through the last weekend of September (which also includes the first weekend of October)!
ESCon
When: September 9-11
Where: 333 S. Twin Oaks Valley Rd., San Marcos, CA 92096
Cost: 1-Day Registration $15; 3-Day Registration $35
Description: Escondido & North County Boardgame Convention. A North County, San Diego convention held tri-annualy for open-gaming boardgame play.
Story Expo
When: September 9-11
Where: Westin LAX Hotel, 5400 W. Century Blvd, Los Angeles, CA 90045
Cost: $249
Description: STORY EXPO 2016 is the world's biggest convention of writers from all mediums – screenwriters, TV writers, novelists, filmmakers, gamers, journalists, graphic novelists, actors, business people, comic book writers and more. Featuring world-renowned speakers, almost a hundred classes and exhibitors, Story Expo covers all aspects of story and writing – from craft to business to pitching to career. Story Expo is like Comic-Con… but for writers.
Heroes & Horror Con
When: September 10
Where: The Westchester, 2801 F Street, Bakersfield, CA 93301
Cost: $8
Description: Comic, Fantasy & Horror Convention. Collectibles, toys, raffles, prizes, costume contest, and much more.
GameStop Expo
When: September 14
Where: Anaheim Convention Center, 800 W Katella Avenue, Anaheim, CA 92802
Cost: General $40, VIP $115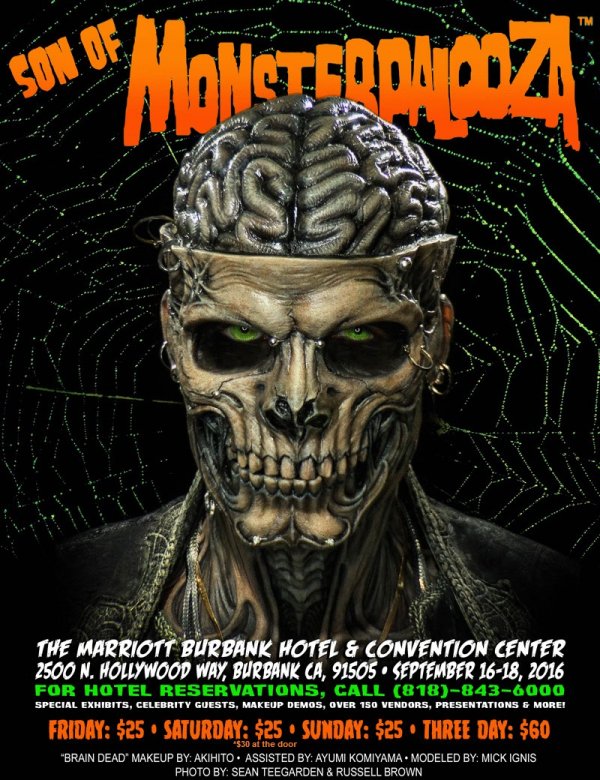 Description: Get a one-day sneak peek at the hottest upcoming video games, as well as exciting new experiences never before seen! In this seven-hour, 250,000 square foot EXPO, get ready to go crazy with over 90 gaming and collectibles vendors, experience virtual reality, and take part in the ultimate gamer preview with over 50 new and unreleased playable games from top publishers such as: Activision, EA, Sony, Microsoft, Nintendo, Square Enix, Ubisoft and many more!
Son of Monsterpalooza
When: September 16-18
Where: The Marriott Burbank Hotel & Convention Center, 2500 N. Hollywood Way, Burbank, CA 91505
Cost: 1-Day Admission $25 ($30 at the door on Saturday); 3-Day Admission $60
Description: All things related to the Art of Monsters. Horror convention with special exhibits, celebrity guests, makeup demos, over 150 vendors, presentations, and more.
Long Beach Comic Con
When: September 17-18
Where: Long Beach Convention Center, 300 East Ocean Blvd, Long Beach, CA 90802
Cost: Saturday $35 ($40 at the door); Sunday $30 ($35 at the door); Weekend Pass $55 ($60 at the door)
Kids 10 and under are admitted free with a paid adult ticket, limit of 2 per adult ticket. Just order your free kids tickets when you order your ticket.
Description: Long Beach Comic Con is an annual event held at the Long Beach Convention Center each fall. It's a celebration of comic books and pop culture that showcases the exceptional works of talented writers, artists, illustrators and creators of all types of pop culture. At Long Beach Comic Con, you'll find exhibitors promoting and selling all types of related products, as well as entertaining and educational programs for all ages, guest signings and meet & greet sessions with celebrities.
FandomVerse Expo
When: September 23-25
Where: Lancaster, CA
Cost: Day Pass $20 ($25 at the door); Full Pass $50 ($60 at the door Friday only);
Student/Military Day Pass $15; Full Pass $40;
Children ages 12 and under are free with adult admission, limit of 2 per adult ticket.
Description: A three-day multi-fandom convention. It's more than a convention, its a philosophy! Our goal with this convention is to enlighten, inform and entertain while celebrating all areas of fandom: Anime, Comics, Sci-Fi, Horror, Fantasy, Gaming, Costuming and more.
NerdBot-Con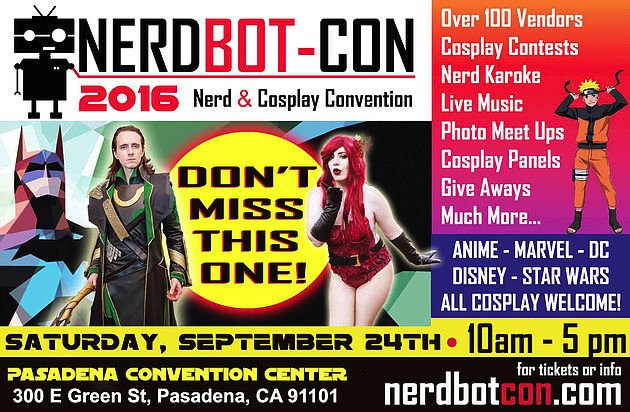 When: September 24
Where: Pasadena Convention Center, 300 E Green St, Pasadena, CA 91101
Cost: $16; Children ages 12 and under are free with adult admission, limit of 2 per adult ticket.
Description: Nerd & Cosplay Convention. Our mission is to bring the very best photographers, videographers, vendors and awesome Nerds to the beautiful Pasadena Convention Center. It's going to be an amazing day of interactive contests, panels, cosplay contests and photoshoots.
MineCon
When: September 24-25
Where: Anaheim Convention Center, 800 W Katella Avenue, Anaheim, CA 92802
Cost: SOLD OUT
Description: MINECON is a weekend dedicated to all things Minecraft. You'll get to watch panels discussing your favourite game (Minecraft, we hope), hang out with thousands of like-minded community members, shake hands with Mojang team members and rub shoulders with some of the biggest YouTubers on the planet. There's something for every type of crafter.
Santa Clarita Valley Comic Con
When: September 30-October 2
Where: LIMS Motion Picture Academy BACKLOT, 27567 Fantastic Lane, Castaic, CA 91384
Cost: Friday Only or Sunday Only $10; Saturday Only $15; 3-Day Pass $29; Incredible VIP $49; Fantastic VIP $79
Description: A 3-Day all Genre Gathering of Geekdom! COMIC BOOK PROFESSIONAL SIGNINGS – VENDOR HALL – PATHFINDER AND D&D ORGANIZED PLAY – INDUSTRY GUEST PANELS – ARTIST ALLEY – COSPLAY CONTESTS & MEETUPS – KOSPLAY KARAOKE – ROCKY HORROR MIDNIGHT SHADOWCAST – GEEKY BURLESQUE SHOW – ENTERTAINMENT – WORKSHOPS – STEAMPUNK – SCIENCE FICTION – TABLETOP GAMING – MUNCHKIN – DOOR PRIZES – VIP PASSES – PRIVATE MEET & GREETS – CHARITY EVENTS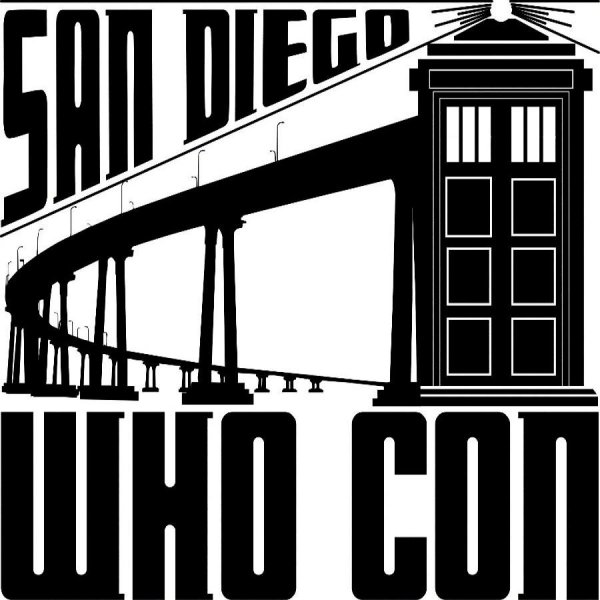 San Diego Who Con
When: September 30-October 2
Where: Town & County Resort & Convention Center, 500 Hotel Cir N, San Diego, CA 92108
Cost: Friday $30; Saturday $35; Sunday $20; 3-Day Membership $60; Children 12 and under with paying adult are Free
Description: Doctor Who Convention with celebrity guests, panels, special events, dances, demonstrations, concerts, contests, games, and other activities.
TwitchCon
When: September 30-October 2
Where: San Diego Convention Center, 111 W Harbor Dr, San Diego, CA 92101
Cost: 3-Day Badges: Community $159, Partner $127, Industry $359;
Single Day: Friday $49, Saturday $79, Sunday $69
Description: TwitchCon is a celebration of all things Twitch. From our streamers and viewers, to the brands that create the games, hardware, and software we love, we're taking everything that makes the Twitch community special and bringing it together at the San Diego Convention Center on September 30-October 2. Whether you're new to Twitch and looking to improve your channel, meet streamers you admire, check out the latest games and hardware, or watch the culmination of the H1Z1 Road To TwitchCon competition, TwitchCon has something for everyone.
We will be attending and covering Long Beach Comic Con as Press. Will you be attending any of these Southern California September conventions? Let us know in the comments below!