There are so many conventions and geeky events going on these days that it's hard to keep track of them all! Sure, we attend and report on some (click here for our personal calendar of conventions), but there are way more than that going on during any given weekend. So we've decided to give you a monthly list of comic, pop culture, fandom, gaming, etc. conventions and events taking place in the Southern California area, since that is where we are based. There were a few conventions the first weekend of October that we featured in our September article, but read on to find out what geeky conventions and events are going on in So Cal for the remainder of October!
Gaslight Gathering
When: October 7-9
Where: Town & Country Resort Hotel, 500 Hotel Circle N, San Diego, CA 92108
Cost: Friday ticket $20; Saturday ticket $35; Sunday ticket $15; Weekend Ticket $50
Description: Gaslight is a weekend long convention that focuses on the steampunk and Victorian aesthetic, art, costume, gadgets, and history.
Protoculture Con
When: October 9
Where: Pasadena Convention Center, Hall C, 300 East Green Street, Pasadena, CA 91101
Cost: $20
Description: This is the second year of Protoculture Con, celebrating Robotech and in partnership with Robo Toy Fest. Come out for panels, contests, and guests. Our dealer room is first rate, brought to you by Robo Toy Fest, with all the robot and anime collectibles you could want!
Esports Arena SoCal Regionals
When: October 14-16
Where: Esports Arena, 120 W 5th St, Santa Ana, CA 92701
Cost: Early bird $35; On site $50; Spectator $10 per day
Description: Southern California's premier fighting game tournament returns this Fall and is hosted at Esports Arena in Downtown Santa Ana, the home of Level Up's Wednesday Night Fights weeklies and Vanguard monthlies.
Long Beach Zombie Fest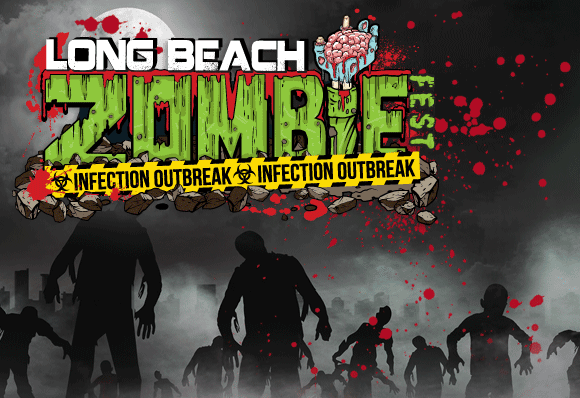 When: October 14-16
Where: Rainbow Lagoon, 400-403 Shoreline Village Drive, Long Beach, CA 90802
Cost: 1-Day Pass $13; 2-Day Pass $18; 3-Day Pass $20
Click here for discount tickets from Living Social! Two 1-Day Passes for $14
Description: Join hordes of rotting revelers for Long Beach's annual zombie outbreak, a THREE DAY invasion of undead music and horror for all ages! This apocalyptic festival is a jam-packed with live entertainment, the infamous Zombie Walk on all three days, as well as FREE make-up services to all attendees by Cinema Makeup School. Features workshops, contests, a haunted maze, The Walking Dead Behind The Scenes Discussion with Vincent Ward as Oscar, and more!
AkibaFest
When: October 15-16
Where: Japanese American Cultural & Community Center, 244 S San Pedro St, Los Angeles, CA 90012
Cost: 1-Day Pass $15 ($20 at the Door); 2-Day Pass $25 ($30 at the Door)
Description: This year marks the first occasion of AkibaFest, and we are excited to welcome you to what we hope is the first of many celebrations together. We're sincere when we say that this is truly "a new kind of anime fan festival," because AkibaFest is created personally by the industry's leading anime companies for you, the fans.
Oxnard SteampunkFest
When: October 15-16
Where: Heritage Square, 715 South A Street, Oxnard, CA 93030
Cost: Time Lord Package – VIP Weekend Pass $65; Early Bird General Admission $10; Early Bird General Admission Child (12 & under) – Saturday Only $5; FREE Child Admission (12 & under) – Sunday Only
Description: Celebrating all that is whimsical, The Oxnard Steampunk Fest Crew, the Friends of Heritage Square, and the Oxnard Heritage Foundation would like to invite you to join in the fun! We are very kid-friendly! Costume Contest, Gadget Contest, great prizes, Tea Dueling, Parasol Dueling, and of course the Velveteen Band! Announcing our distinguished host, Doc Phineas from Pawn Stars.
LeakyCon
When: October 19-23
Where: Los Angeles Marriott Burbank Airport, 2500 North Hollywood Way, Burbank, California 91505
Cost: General Pass $250; Friday or Saturday Pass $75; Marauder Pass $500 (sold out)
Description: An immersive Harry Potter fan experience. Join thousands of witches and wizards from across the globe as they gather for a weekend-long celebration of "The Boy Who Lived" and the extraordinary impact his story has had on both the Wizarding and Muggle worlds. From actors and artists, to authors and editors, we are gathering a group of guests who have had a hand in bringing the magic of J.K. Rowling's world to life for fans the world over.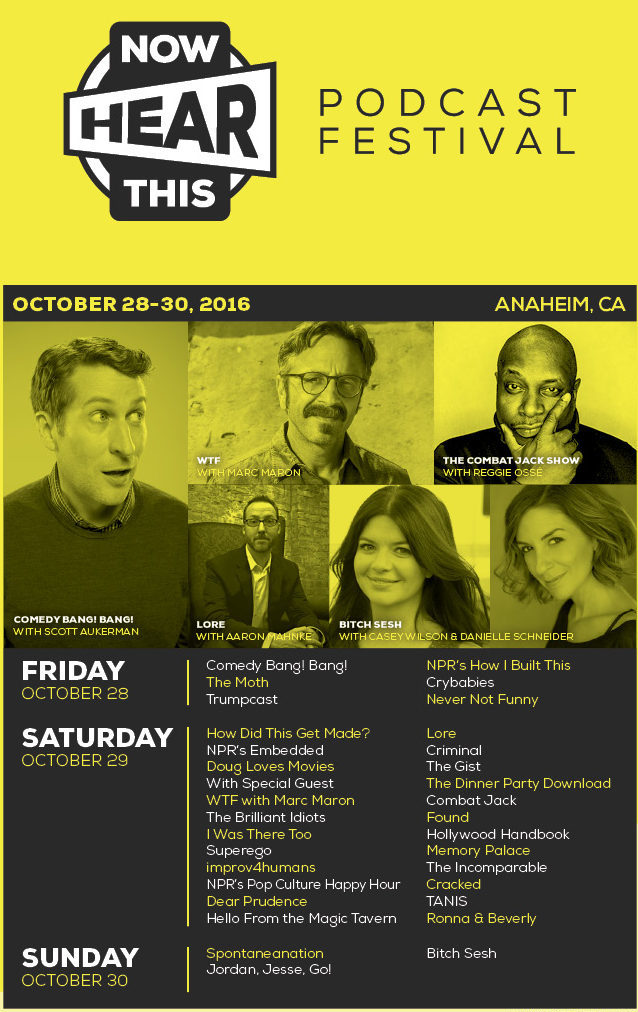 Now Hear This Podcast Festival
When: October 28-30
Where: Anaheim Marriott, 700 West Convention Way, Anaheim, CA 92802
Cost: 3 Day GA Pass $150; 3 Day VIP Pass $200 (sold out); 3 Day Upgraded VIP Pass $280; Friday GA Pass $75; Saturday GA Pass $100; Sunday GA Pass $50. Use promo code OCT241 for Buy One Get One Free GA Passes!
Description: Join us for a weekend of live podcast performances spanning multiple genres, meet-and-greet opportunities, immersive fan-focused experiences, and more at the inaugural Now Hear This podcast festival Oct 28-30 in Anaheim California!
Project Oracle Con
When: October 28-30
Where: Town and County Resort & Convention Center, 500 Hotel Cir N, San Diego, CA 92108
Cost: Weekend Pass: Pre-register thru October 24th $40; At the Door $50; Youth (age 13-17) $25; Child (age 6-12) $20; 6 & under FREE; Friday or Sunday Pass: $15; Saturday Pass $20
Description: Project Oracle is a San Diego Game Convention made up of Fans celebrating Gaming: Electronic Gaming, Tournaments, Tabletop, Role-Playing, Collectible Card, Living Card, and Live Action of all genres. In addition, the Music and Art that was created for, or inspired by, games are celebrated at this convention.


Stan Lee's Los Angeles Comic Con (formerly Comikaze Expo)
When: October 28-30
Where: Los Angeles Convention Center, 1201 South Figueroa Street, Los Angeles, CA 90015
Cost: Friday Pass $25; Saturday Pass $35; Sunday Pass $30; 3-Day Pass $70; VIP Lounge Pass $670; Kids 12 and under FREE! Use promo code IRONMAN for 12% off! (Does not work on VIP)
Description: Stan Lee's L.A. Comic Con is Los Angeles' first multi-media pop culture convention, held annually at the Los Angeles Convention Center. L.A. Comic Con assembles the most exciting and innovative in comics, video games, sci-fi, fantasy, horror and all things pop-culture, making Stan Lee's L.A. Comic Con Los Angeles' ultimate pop-culture convention. Our unique panels, autograph sessions and photo-ops give fans once-in-a-lifetime opportunities to truly interact with their favorite creators and major players in the entertainment industry.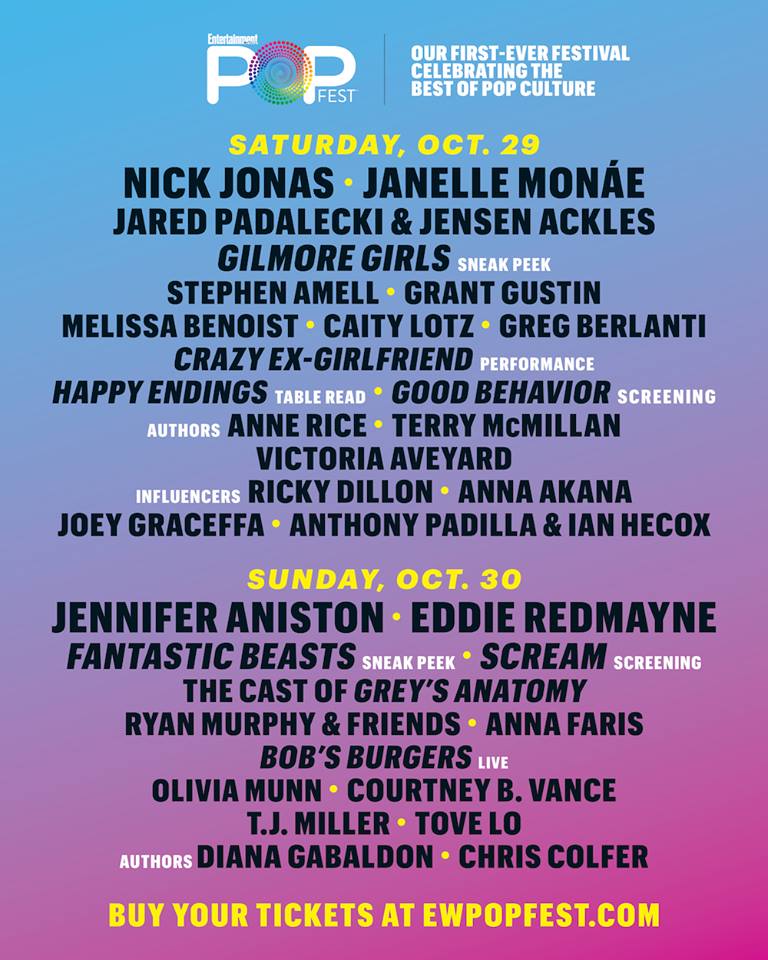 Entertainment Weekly's PopFest
When: October 29-30
Where: The Reef, 1933 South Broadway, Los Angeles, CA 90007
Cost: Single Day $49; Single Day VIP $99; 2-Day $96; 2-Day VIP $199. Use promo code FLASH20 for 20% off!
Description: Come face-to-face with your TV hero, be the first to see MOVIE footage and hear behind-the-scenes stories from the director and cast, check out top bands sampling a variety of MUSIC, listen to popular authors read from this year's biggest BOOKS, dive into virtual reality experiences, plus much more!
We will be attending and reporting on Stan Lee's Los Angeles Comic Con and Entertainment Weekly's PopFest! Will you be attending any of the above events? Let us know in the comments below!