There are so many conventions and geeky events going on these days that it's hard to keep track of them all! Sure, we attend and report on some (click here for our personal calendar of conventions), but there are way more than that going on during any given weekend. So we've decided to give you a monthly list of comic, pop culture, fandom, gaming, etc. conventions and events taking place in the Southern California area, since that is where we are based. Read on to find out what geeky conventions and events are going on in So Cal for the month of November!
BlizzCon
When: November 4-5
Where: Anaheim Convention Center, 800 West Katella Avenue, Anaheim, CA 92802
Cost: SOLD OUT; Virtual Ticket $39.99
Description: BlizzCon is an epic celebration of Blizzard Entertainment's game universes and the communities that bring them to life. This year marks the 10th BlizzCon and Blizzard's 25th anniversary—we'd love for you to join us in celebrating these milestones together on Friday, November 4 and Saturday, November 5, 2016.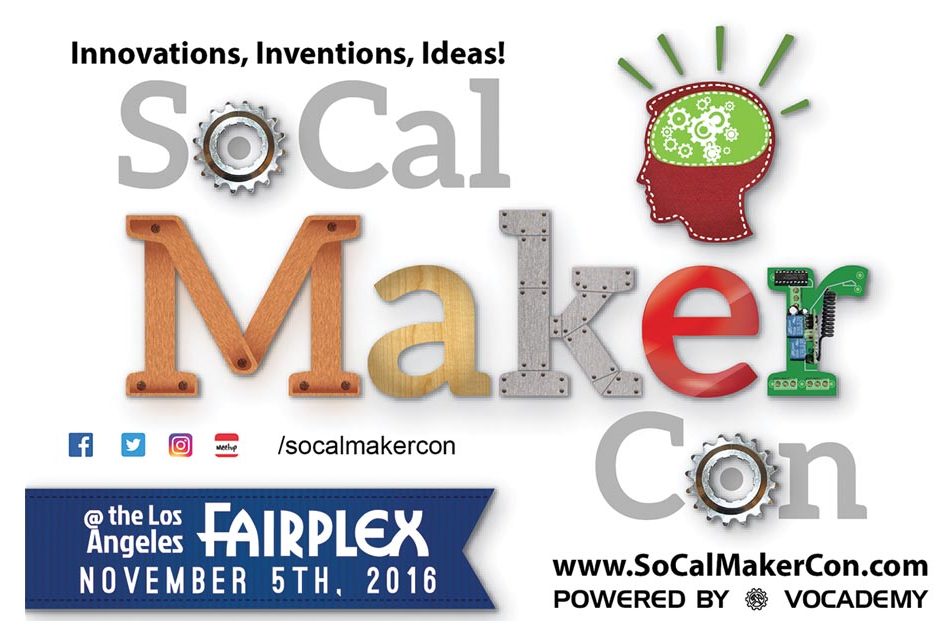 SoCal Maker Convention
When: November 5, 9:00am – 5:00pm
Where: Los Angeles Fairplex, 1101 W. McKinley Avenue, Pomona, CA 91768
Cost: Regular $20; VIP $30; Student $15; Children 11 & Under $10
Description: SoCal Maker Con brings together Makers like you from all walks of life and connects them with companies that are helping the Maker Movement to grow and thrive.  Whether you're passionate about robotics, 3D printing, cosplay, electronics or one of the many, many exciting interests that bring life to the Maker Movement, you'll find it at SoCal Maker Con.
ComplexCon
When: November 5-6
Where: Long Beach Convention Center, 300 E Ocean Blvd, Long Beach, CA 90802
Cost: Saturday Expo DayPass $45; Saturday Expo DayPass + Arena Concert $75 – $150; Sunday Expo DayPass + Arena Concert $45; Two-Day Weekend Expo Pass (includes Sunday Concert) $80; Two-Day VIP (Exhibit + Concert) $200
Description: ComplexCon is an expertly curated convention and festival that brings the world of Complex to life. This is our generation's World Fair. The minds behind Complex have come together with a Host Committee that includes legendary artist Takashi Murakami, award-winning producer Skrillex and our Cultural Director/Executive Chair Pharrell Williams to imagine a place where creators, curators and YOU converge to celebrate and shape our culture. Watch, Listen, Shop, Taste, and Experience the future…now!
Official Supernatural Convention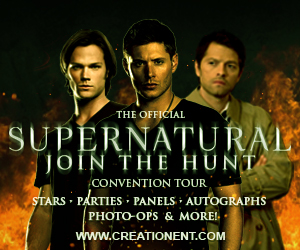 When: November 11-13
Where: Marriott Burbank Airport Hotel, 2500 North Hollywood Way, Burbank, CA 91505
Cost: Single Days  $50 – $155; Weekend Package $239 – $769
Description: We're thrilled to be returning in 2016 and honoring American television's longest running genre show ever! Includes guest panels, karaoke party, concert events, costume contest, fan music video contest, vendors area, and more!
Pacific Media Expo
When: November 11-13
Where: Pasadena Convention Center, 300 East Green St, Pasadena, CA 91101
Cost: All 3 Days $65; Friday or Sunday $30; Saturday $40; Any Two Days: the lesser priced day is half price. Click here for discount tickets through Goldstar!
Description: America's first major trade show dedicated to Asian-Pacific popular culture and entertainment media, Pacific Media Expo (PMX) is an industry event sponsored by the Pacific Media Association. Pacific Media Expo is showcased annually. The show will feature honored guests, live performances, panel discussions, autograph sessions, Asian cinema and animation video rooms, art exhibitions and one of the country's only exhibit halls dedicated to Asian media and pop culture.
San Diego Historical Games Convention
When: November 11-13
Where: Shriner's Center, 5440 Kearny Mesa Rd, San Diego, CA 92111
Cost: 3 Days $40; Single Day $20
Description: Open gaming, board gaming, play with designers, $1,000 worth of games in a massive drawing Saturday evening, continuous flea market. Our theme this year is Revolution! Viva La Revolución!
Bakersfield Comic Con
When: November 12-13
Where: Kern County Fairgrounds, Buildings 3 & 4, 1142 South P St, Bakersfield, CA 93307
Cost: Adults 15 and up – $8.00 Saturday or Sunday, $15.00 for 2 Days; Kids 8-14 – $5.00 Saturday or Sunday, $8.00 for 2 Days; Children under 8 are FREE
Description: Come join the fun and excitement of the Kern County's Biggest and Best 2 Day Comic Book and Fantasy Convention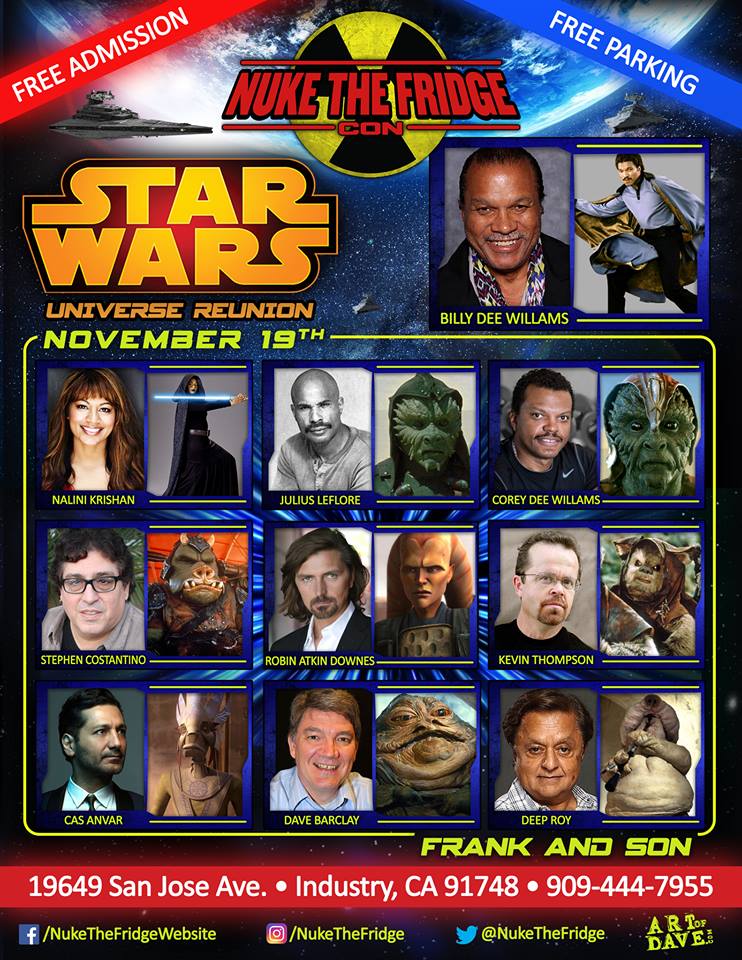 Nuke the Fridge Con
When: November 19
Where: Frank and Son, 19649 San Jose Ave, City of Industry, California 91748
Cost: FREE
Description: Nuke The Fridge dot com celebrates pop culture by hosting a massive FREE convention for the website's fans and supporters. Features Star Wars universe reunion with Billy Dee Williams and others.
DesignerCon
When: November 19-20
Where: Pasadena Convention Center, 300 East Green St, Pasadena, CA 91101
Cost: 1 Day Pass $10; Weekend Show Only Pass $15; Weekend Show + Party VIP Pass $25
Description: DesignerCon is an annual art and design convention that smashes together collectible toys, customs, plush, designer apparel and so much more with urban, underground and pop art! We are a celebration of all aspects from the world of design.
Palm Springs Comic Con
When: November 19-20
Where: Hard Rock Hotel, 150 S Indian Canyon Dr, Palm Springs, CA 92262
Cost: Single day pass $15; Weekend pass $25; VIP Weekend Pass $50 (SOLD OUT); Children 10 and under are free with a paid adult admission.
Description: Palm Springs Comic Con is not just a comic convention. We like to refer ourselves as a nerd culture convention. We embrace the past of what has made attending traditional comic book conventions so wonderful while welcoming everything that will help progress our passion for the fandoms we love like gaming, podcasting, blogging, vlogging, and fan created content.
LOSCON 43
When: November 25-27
Where: Los Angeles Airport Marriott, 5855 W. Century Blvd, Los Angeles, CA 90045
Cost: Adults (13+) $60; Youth (6-12) $25; Kids 5 and under FREE
Description: LOSCON is Los Angeles' longest running Science Fiction & Fantasy Convention, for fans, by fans, held Thanksgiving weekend by the Los Angeles Science Fantasy Society (LASFS).