There are so many conventions and geeky events going on these days that it's hard to keep track of them all! Sure, we attend and report on some (click here for our personal calendar of conventions), but there are way more than that going on during any given weekend. So we've decided to give you a monthly list of comic, pop culture, fandom, gaming, etc. conventions and events taking place in the Southern California area, since that is where we are based. Read on to find out what geeky conventions and events are going on in So Cal for the month of February 2017!
SoCal Retro Gaming Expo
When: February 4-5, 2017
Where: Ontario Convention Center, 2000 E. Convention Center Way Ontario, CA 91764
Cost: 2-Day Admission $35 ($40 at the door); Saturday $25 ($30 at the door); Sunday $18 ($20 at the door)
Description: The SoCal Retro Gaming Expo was formed by collectors and retailers, with decades of retro gaming experience, as a place for collectors to buy and sell retro video games. We will have many of your favorite YouTube talent attending this event, for panels, meet & greets and signings. There will be live music on Saturday night as well as a large FREE play arcade for everyone to enjoy all weekend. We will also be hosting Retro Gaming tournaments throughout the weekend. The hall will be full of retro gaming vendors, giveaways, photo ops and so much more!

World War Brick
When: February 10-12, 2017 (Public Exhibit February 11-12, 2017)
Where: Embassy Suites Anaheim South, 11767 Harbor Blvd, Garden Grove, CA 92840
Cost: Weekend Pass $75; Public Exhibit: Saturday $12 ($15 at the door); Sunday $10 ($13 at the door)
Description: World War Brick is a gathering of hobbyists and fans dedicated to modeling historical and military-related scenes, vehicles, and weaponry using LEGO® brand bricks. At WWB we provide ample space for activities, displays, collaborations and of course products for sale. For the less hardcore, we are also opening the doors for a limited public exhibition. During this time, the curious will be allowed to experience what amounts to the world's largest collection of LEGO military models and dioramas ever assembled. The public will also have access to all of the products for sale. For the most dedicated we offer the World War Brick Weekend Pass. This gives you full access to this unique gathering of like-minded builders sharing their love of modeling with the LEGO brick. This includes showing off your own creations, participating collaborative builds, networking, workshops, speakers, games, tournaments and more.
Animefest 2017
When: February 12, 2017
Where: Price Center, 9500 Gilman Drive, San Diego, CA 92093
Cost: FREE
Description: Cal Animage Beta presents UC San Diego's annual on-campus anime convention! Artist Alley, gaming, panels, performances and more!
C3 (Comic Creator Conference)
When: February 17, 2017
Where: Long Beach Convention Center, 300 E Ocean Blvd, Long Beach, CA 90802
Cost: $20
Description: MAD Event Management, the organizers of Long Beach Comic Con and Expo introduce C3 (Comic Creator Conference), an event designed to connect professional comics creatives with other high-level industry professionals to empower them with exclusive and personal insight, as well as directly connecting them with decision makers, peers, publishers, and other leaders within the industry.

Gallifrey One
When: February 17-19, 2017 (Events begin the evening of February 16)
Where: Los Angeles Airport Marriott, 5855 West Century Boulevard, 90045
Cost: Adults $95; Ages 12-17 $50; Ages 3-11 $20. SOLD OUT, but tickets may become available (at original cost) on the Facebook Ticket Transfer discussion page.
Description: Gallifrey One is the world's largest and longest-running annual fan-run Doctor Who convention. While very much a modern celebrity-driven convention, Gallifrey One stays extremely close to its roots in "old school" fandom: one admission cost for nearly everything at the event, with no preferred seating or tier packages, where pros and fans alike mix throughout the day. Our convention still boasts a classic-style art show, a hospitality suite (or "con suite") with free snacks for convention members, a supervised children's program room, hallway fan tables available for free to clubs and conventions, and specialized costuming events, as well as a dealers room, video program and special themed events. Plus, unlike other celebrity shows, our event goes well into the evening on Friday and Saturday nights with extensive evening programming, dances and karaoke, and a fully judged Masquerade.
Winter GameFest 2017
When: February 17-19, 2017
Where: UCSD Price Center Ballrooms (2nd Floor), 9500 Gilman Drive, San Diego, CA 92093
Cost: FREE
Description: Our goal is to provide both students and non-students alike with the opportunity to experience a large scale eSports event. We strive to promote and demystify the video gaming culture and provide a friendly, social, tech-oriented atmosphere for everybody to enjoy. This year will include not only tournaments but also a variety of performances, movie screenings, an artists alley, industry panels and much more!
Orccon 2017
When: February 17-20, 2017
Where: Hilton Los Angeles Airport, 5711 W Century Blvd., Los Angeles, California 90045
Cost: Full Con Preregistration $50; Full Con Pass $60; One Day Pass (Saturday/Sunday) $30; One Day Pass (Friday/Monday) $15; Children 12 and under with Adult Admission $10
Description: Strategicon brings to you the widest array of family, historical, fantasy, and science fiction board, card, computer, miniatures, and roleplaying games at each and every one of our conventions. We hope that you pay a visit to the various game retailers and manufacturers in the dealer area of the convention, or perhaps attend some of the many seminars, demonstrations, displays, tournaments, and events that make up this convention.

San Diego Comic Fest
When: February 17-20, 2017
Where: Four Points by Sheraton, 8110 Aero Drive, San Diego, CA 92123
Cost: General 4-Day Ticket $50; General Saturday or Sunday Ticket $25; General Monday Ticket $15; High School, College Students, and Active Military (and spouses) with Valid ID, and Ages 13-17 are half price; Children 12 and under FREE
Description: The San Diego Comic Fest is the friendly comic convention with a casual atmosphere and an intimate scale that allows fans to mingle directly with professionals and exhibitors. It's the place where you can indulge your love of comics, science fiction, and films, and meet an outstanding array of professional creators without high-priced tickets, crowding, or long lines.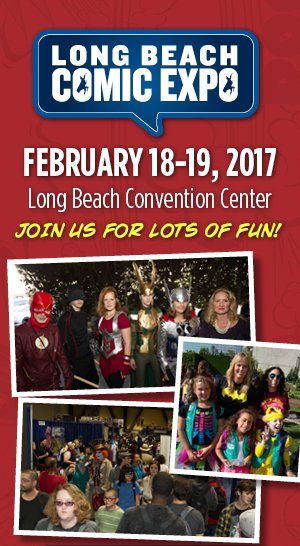 Long Beach Comic Expo
When: February 18-19, 2017
Where: Long Beach Convention Center, 300 E Ocean Blvd, Long Beach, CA 90802
Cost: Weekend Pass $50 ($55 at the door); Saturday $30 ($35 at the door); Sunday $25 ($30 at the door); Children 10 and under FREE with adult ticket
Click here for discount tickets through Goldstar!
Description: Long Beach Comic Expo is an annual event held at the Long Beach Convention Center each spring. It's a celebration of comic books and pop culture that showcases the exceptional works of talented writers, artists, illustrators and creators of all types of pop culture. At Long Beach Comic Expo, you'll find exhibitors promoting and selling all types of related products, as well as entertaining and educational programs, guest signings, and meet & greet sessions with celebrities.
Bak-Anime
When: February 25-26, 2017
Where: Bakersfield Marriott Hotel at the Convention Center, 801 Truxtun Ave, Bakersfield, CA 93301
Cost: Weekend $25; Saturday $20; Sunday $15; Children 8 and under FREE
Description: Bak-Anime is proud to welcome special guests Vic Mignogna (Full Metal Alchemist) and Cherami Leigh (Sword Art Online) to our February 2017 convention. The convention typically offers anime screenings, art contest, artists alley, card gaming tournaments, concerts, cosplay masquerade, dance, karaoke, panels, swap meet, tabletop gaming, video gaming, and vendors.
Pasadena Comic Con
When: February 26, 2017
Where: Pasadena Convention Center, Lower Conference Center, 300 E Green Street, Pasadena, CA 91101
Cost: Early Bird Entry $15; General Admission $10; Children 12 and under FREE
Description: A one-day comic book and toy culture event featuring many comic book and toy vendors along with artists, creators and some celebrity guests.
Will you be attending any of these Southern California February conventions? Let us know in the comments below!