There are so many conventions and geeky events going on these days that it's hard to keep track of them all! Sure, we attend and report on some (click here for our personal calendar of conventions), but there are way more than that going on during any given weekend. So we've decided to give you a monthly list of comic, pop culture, fandom, gaming, etc. conventions and events taking place in the Southern California area, since that is where we are based. Read on to find out what geeky conventions and events are going on in So Cal for the month of December!
San Diego STEAM Maker Festival
When: December 3
Where:  Del Mar Fairgrounds, 2260 Jimmy Durante Blvd, Del Mar, CA 92014
Cost: Adult $8; Junior (Under 18 or with valid Student ID) $6; Children under 5 FREE with paid adult admission. Click here for discount tickets through Goldstar
Description: A celebration for all-ages, a gathering of tech enthusiasts, crafters, educators, tinkerers, hobbyists, engineers, science clubs, authors, artists, students, and commercial exhibitors. The San Diego STEAM Maker festival combines a maker expo with S.T.E.A.M. Education (Science, Technology, Engineering, Art, & Math) to create a unique educational festival for kids and adults alike.
Comic Arts Los Angeles
When: December 3 & 4
Where: Think Tank Gallery, 939 Maple Ave #200, Los Angeles, CA 90015
Cost: FREE
Description:  Comic Arts LA (CALA) is a free, public event promoting the appreciation of comics, graphic novels, and sequential arts among the broader Los Angeles public. CALA aims to engage the public and foster interactions among creators and readers alike by providing the community a space to connect creatively and discover new work.
Claremont Packing House Comic Book & Collectibles Show
When: December 4
Where: 532 W 1st St, Claremont, CA 91711
Cost: FREE
Description: Comic Book Art Demonstrations – See how the magic of Comic Book Art goes from imagination to reality! Comic Books, Collectibles and Art Dealers from around Southern California, with New and Vintage Comic Books, Graphic Novels, Original Art, Prints, Action Figures, Games, and Collectibles. Bargains galore!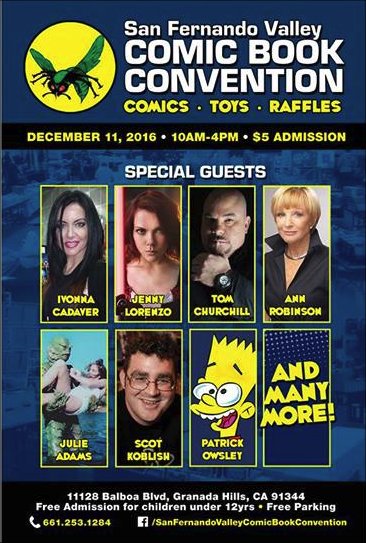 San Fernando Valley Comic Book Convention
When: December 11
Where: 11128 Balboa Blvd, Granada Hills, CA 91344
Cost: $5; Children 12 and Under FREE
Description: Free Comics and Raffle Every Hour. Special Guests: Ivonna Cadaver, Ann Robinson, Scott Koblish, and more.
RoboUniverse
When: December 14-15
Where: San Diego Convention Center, 111 W. Harbor Drive, San Diego, California 92101
Cost: Before the Conference – Exhibition Only Pass FREE; Exhibition+ Pass $197; Track Pass $447; Two-Day Pass $997; Platinum Pass $1,497
On-Site Price – Exhibition Only Pass $47; Exhibition+ Pass $297; Track Pass $547; Two-Day Pass $1,97; Platinum Pass $1,697
Description: RoboUniverse is the leading professional robotics conference and exposition that promotes practical applications of robots and intelligent systems while considering the impact of robotic technologies on human behavior and implications to society. RoboUniverse brings robot manufacturers and technology providers together with business and technical professionals interested in robotics for business, healthcare, education, manufacturing, and the home.