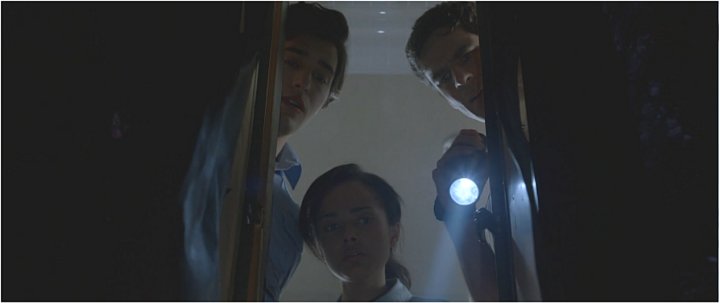 Violet recaps Season 2 Episode 6 of Under the Dome, titled In the Dark, where Barbie and Sam explore the tunnel under the school, and Chester's Mill faces suffocation due to a dust storm! Following the recap, both Violet and Josh share their thoughts on the episode.
Don't need the Under the Dome episode recap for In the Dark? Click here to jump directly to Violet's thoughts on the episode!
To see Josh's thoughts on this week's Under the Dome episode, In the Dark, click here to get directly there!
Episode Recap of Under the Dome Season 2 Episode 6: In the Dark
Junior and Sam go down into the tunnel they find behind the locker to go look for Lyle, despite Rebecca's pleas for them not to.
Norrie and Joe get into a fight over his kiss with Melanie. She tells him she doesn't love him, so he runs off.
Julia tells Big Jim that she plans to give everyone in the town a vote. Big Jim goes to Barbie and asks him to tell Julia it's a bad idea, but he declines. Just then, Rebecca radios Barbie and tells him to get over to the school.
Barbie goes down and finds Junior and Sam in the tunnel. Junior sees him mom's journal, goes toward it, and trips a wire, which causes an explosion. The ceiling caves in, and Sam pushes Barbie out of the way of falling debris. Barbie and Sam get trapped, so they look for another way out.
Rebecca treats Junior's wounds, as Big Jim, Julia, and Melanie stop by the school. Outside, there's a big dust storm, and they worry about the dome walls being clogged by it, which would lead to them suffocating. Rebecca has an idea to make a giant windmill. Big Jim presents the idea to the town, but they vote him down.
Junior tells Julia that he thinks Lyle is trying to kill the Four Hands. He and Melanie go to find Joe and Norrie to make sure they're safe. Melanie tells Junior that she thinks Lyle killed her. They go to Big Jim's house and find Norrie, then go out to look for Joe.
Barbie questions Sam about his whereabouts on the night Angie died, and calls him out on knowing about Melanie. Just then, Barbie nearly falls off the edge of a cliff, but Sam pulls him up.  They argue. Then Sam tells Barbie what happened that night in 1988. He says Lyle is the one who pushed Melanie.
They come back to the house and find Joe, and tell him what's going on. Melanie suggests going to the lake to look for answers, since Julia told her earlier that she had dropped the egg there.
Rebecca pulls out some old maps, but she and Julia determine there's not another way down there, so the only thing they can do is explode the blockage. They have a heart to heart as Rebecca puts together her homemade bomb down in the tunnel.
When Ben comes back into the diner wheezing, the townspeople change their minds, and erect the giant windmill.  They attach a hose, and the windmill works as a misting system. The plan works, and clears out the dust storm.
The four teens sit in a boat out on the lake. They each put their hands on top of each other over the water, and the egg comes up to the surface. They take the egg back to the house. Joe and Norrie make up. The four touch the egg, and they see pink stars, and then an image of an obelisk. Melanie says she's seen it before in her hometown, Zenith.
Barbie sees the scratches on Sam's chest and figures out that Sam is the one who killed Angie. Sam says he has to kill all Four Hands so that the dome can come down. Barbie pulls his gun on Sam, telling him that he's taking him in. Meanwhile, Julia and Rebecca go back up to the school and light the bomb's fuse. Sam jumps off the cliff. Julia runs down to the tunnel and is able to get to Barbie.
Violet's Thoughts on Season 2 Episode 6 of Under the Dome: In the Dark
So, where did this tunnel come from? Was it there all along, or did Lyle somehow dig his way to it? Or did it just magically appear when the dome came down? Oh, and so not only does Lyle know how to make a tripwire explosion, but Rebecca knows how to make a homemade bomb as well? And if Sam is the killer, not Lyle, why is Lyle trying to kill anyone who comes after Pauline's journal? And why did he leave the journal behind anyway?
This episode just has so many gaps and holes that it doesn't make sense. Why would they think a dust storm would prevent any air from getting through, and how would Big Jim and the townspeople even know how to put the big windmill together without Rebecca around to help them? Would that "misting system" even work? Why are Joe and Norrie acting like they're so "in love" when they've barely known each other for what, a couple weeks? Same with Barbie and Julia, really. Why is Joe so insistent about being in love with Norrie if he's off kissing Melanie? Then he runs off all sulkily when Norrie says she doesn't love him, and the teens go out searching for him. But we never see them outside looking for him. In fact, we never really even see the dust storm very well at all. Then they eventually come back to Big Jim's house after looking "everywhere" for Joe, and he's there. Um, Chester's Mill is pretty big from what we've seen, I highly doubt they looked "everywhere." Why would he come back to the house so soon anyway?
I'm sorry, but Under the Dome is quickly losing me. Hopefully they come up with something interesting to keep my attention.
Josh's Thoughts: Under the Dome, Season 2 Episode 6: In the Dark
COMING SOON
Scenes from Under the Dome, Season 2 Episode 7: Going Home
Here are scenes from the next episode of Under the Dome, titled Going Home:

What did you think of Season 2 Episode 7 of Under the Dome, titled Going Home? Let us know in the comments below!