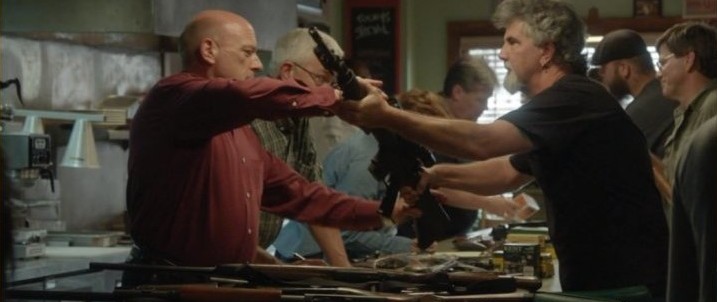 Violet provides a recap of CBS's Under the Dome, Season 1 Episode 9, entitled The Fourth Hand, where Big Jim establishes a voluntary firearm turn in program, and the mini-dome goes missing! Following the recap, Violet and Josh each provide their thoughts of the episode.
Don't need a refresher? Click here to jump directly to Violet's thoughts on this episode!
To see Josh's thoughts on The Fourth Hand, click here to get directly there!
Recap of Under the Dome, Episode 9: The Fourth Hand
The episode starts out with Julia taking Barbie to see the mini-dome, but when they get there, it's gone. Only a hole in the ground remains where it once was. Barbie gets a call on the walkie talkie from Linda that shots were fired, so he goes to check it out.
Meanwhile, Joe and Norrie are trying to catch a chicken. They talk about what "The monarch will be crowned" might mean.
Linda and Barbie Discover Rapture
Barbie shows up to find that a guy was merely grazed by a bullet. Turns out the shooter was his neighbor Ted, but he wasn't shooting at the guy, he was firing warning shots at a crazy guy that was banging on his door. The crazy guy is in Ted's house, so Linda and Barbie go in to detain him. Linda knows the guy, Larry, as a drug addict. He is visibly high on something, and he tells them he took a drug called "rapture" which he got from Reverend Coggins.
Linda and Barbie check out Reverend Coggins's house, where there are several coffins since he was also a mortician. They open up the coffins and find drugs, as well as a list of the ingredients. Liquid propane is on that list.
Angie Has a Seizure
Big Jim stops by the diner and tells Angie, who is now running the place, that he's made a deal with the farmers for food. Angie demands the deed to the diner from Big Jim. He says he'll think about it, and leaves.
Junior shows up at the diner, and Angie tries to kick him out, but she has a seizure, and just like Joe and Norrie, repeats the phrase, "The pink stars are falling in lines." Angie wakes up in the back of Junior's police car and freaks out, thinking he's going to lock her up again. However, he brings her home.
Julia's inside, telling Joe and Norrie that the mini-dome is gone. Angie comes in and tells them about her seizure, and learns that Joe and Norrie had the same seizure. She takes off her jacket, and Norrie notices Angie's butterfly tattoo. She thinks that maybe Angie is the monarch who will be crowned. But Joe doesn't think so, since monarch butterflies are orange, while Angie's butterfly tattoo is blue and yellow. Norrie suggests to Julia that they get the contraption Dodee made, the yagi, to track down the mini-dome. Julia says she'll go talk to Dodee.
Big Jim Has Unexpected Company
When Big Jim returns home, he finds a woman there, who we have not seen before. But they seem to know each other. Her name is Max, and she explains that she got caught in town the one day she decided to come visit Big Jim, because she kept hearing about problems with their "arrangement." Apparently the rapture drug is her product, and Big Jim had been supplying her the "secret ingredient." He explains to her that Duke and Coggins are no longer a problem. Big Jim wonders where she's been the past 8 days, and she tells him she's been staying in someone's house, that apparently got caught outside of the dome. Now she wants to "make the best of a bad situation" now that Chester's Mill is in a crisis, and she doesn't want to let a good crisis go to waste. She says that she and Big Jim "need to get to work."
Tracking Down the Mini-Dome
Over at the radio station, Dodee dedicates a song to Phil, who apparently is still alive after his shoulder wound after last episode's gunfight. Julia asks Dodee to use the yagi, but Dodee tells her it stopped working after Joe and Norrie touched the Dome. She also says that she doesn't trust those two.
Julia shows up at Joe's house to report the bad news that the yagi is broken. Norrie has the idea to use Joe's dog, Truman, to find the mini-dome, because he had started growling when they first found it.
Joe, Norrie, and Julia walk through the woods trying to find the mini-dome, following Joe's dog, Truman. But he's just being a dog, peeing on everything and chasing birds.
The Firearm Turn In Program
When Linda and Barbie return to the police station, Big Jim is waiting for them. He has an idea: to ask the citizens of Chester's Mill to voluntarily turn over their guns, so as to avoid any further shooting incidents. Barbie volunteers to help him collect the guns, though he tells Linda that he's not on board with this, but he wants to stay close to Big Jim to see what he's up to. Big Jim makes an announcement about the "firearm turn in program" on the radio, saying that anyone who participates will get extra food and propane.  However, we see Max driving, and she puts her handgun in her glove compartment.
Lots of people are showing up at the diner to turn over their guns. Big Jim asks about someone about Ted, but apparently Ted has the attitude that Big Jim will have to kill him before he gives up his guns. We then learn that Ted, who's always been a gun collector, lost his wife and kid when they crashed into the Dome. Even though Big Jim had previously announced they would not go to people's homes to confiscate their guns, he says it might be necessary for Ted, because he's "gone cuckoo." Barbie volunteers to give Big Jim backup.
Big Jim and Barbie show up at Ted's house, and a shot is fired at the windshield. Big Jim enters Ted's house to find Ted sitting on his bed, with his numerous guns in the room with him. Big Jim slowly approaches him to talk to him, while Barbie stands outside with a sniper rifle. It seems like he is keeping the red dot pointed at the back of Big Jim's head as Big Jim tries to talk to Ted. We see that Ted has a grenade in his hand. He pulls the pin, but Big Jim is able to grab the grenade from him and replace the pin. Barbie comes in the house, and Big Jim tells him he's bringing Ted to the clinic so they can sedate him for the night, and asks Barbie to pack up Ted's guns. Big Jim also mentions that he could practically feel the red dot on the back of his head, and says he's glad Barbie kept his cool.
Junior Has Something to Show Angie
Angie comes to find Junior at the police station, and he ditches out on his police duties. Now that Angie has had a seizure, she questions Junior about why he said the Dome was making her sick. He says he has something to show her.
Junior takes Angie to see his mom's art studio (where there are a bunch of paintings that look like they were done by a 5 yr old). We learn that Junior's mom died 9 years ago. Junior tells Angie that a couple months before his mother died, she had a dream about him, then immediately went to her studio and painted a picture. He shows her the painting, which is of Junior standing on a hill, with pink stars falling.
Junior insists that his mother knew something was coming, and that he must be part of it because he's in his mother's painting, and that now she's part of it too. Junior thinks it's great because he and Angie are connected through something even bigger and better than his love for her.
Linda Investigates the Propane
Linda goes to Big Jim's propane warehouse to check it out, although it looks much larger and different than the warehouse Boomer was guarding recently. Mrs. Grinnell shows up and tells her about all the suspicious things she's seen from her porch across the street. Mrs. Grinnell says that she told Duke about all this, but he ignored her. She mentions that Julia will verify her story. Linda notices that there is a security camera. She then shoots off the lock on the door, opens it, and finds several large barrels of propane.
Linda breaks into the office where she can watch the footage taken by the security camera. As she fast forwards through, she sees Duke pull up and make some sort of exchange with the woman we now know as Max.
Big Jim and Barbie Have Unexpected Company
Back at the diner, where Big Jim and Barbie have brought all the guns, Max shows up and tells them "Good job with the guns." It becomes clear that collecting the guns was her idea. Big Jim starts to introduce Max to Barbie, but she goes right up to Barbie and kisses him. Apparently they already know each other. He doesn't seem too happy to see her though. But now Big Jim knows Barbie was lying about "just passing through town." Barbie calls Big Jim out on the gun collecting being Max's idea, though Big Jim defends his actions, saying that he was just doing what's best for the town. Max tells Barbie that she's cutting him in on their plan for Chester's Mill. She goes on to explain that hard times means desperate people. But he seems to know what she's up to: she's going to give them a black market to occupy their time. Barbie doesn't want anything to do with it, but Max threatens to reveal his secrets, and threatens to reveal Big Jim's secrets as well.  Both of them have been working for her, even though they didn't know about each other. Barbie points out that Max isn't bulletproof, but she tells them she has an insurance policy. If anything happens to her, their secrets still come out. She then asks Big Jim to load up the guns and deliver them to the cement factory.
After he leaves, we learn that Barbie and Max met several months ago and had a bit of a fling. He tells her that whatever she and Big Jim are up to, she's making a big mistake. She points out that he's right there with them, but he seems to disagree. However, she reveals that she knows that Barbie murdered Julia's husband and that he and Julia are now together. Apparently she was the person Barbie frantically called on the first episode, and she has been watching everyone the past 8 days. She blackmails Barbie into keeping his mouth shut if he doesn't want Julia to find out what he did.
Later, at Julia's house, she is telling Barbie all about the mini-dome and not being able to find it. But Barbie seems distracted. Julia suggests that he take her to bed, but he says he's just going to stay up for awhile.
As Junior leaves his mother's studio, he sees the door to the fallout shelter open. He goes down the stairs to the set of double doors, which are open just a crack. Big Jim is inside, and we see that he has kept an arsenal of guns and ammo.
The Mini-Dome is Found!
Joe and Norrie have returned home with Truman, having given up their search for the mini-dome for the day. But Truman runs over to the barn and starts barking at it. They go inside the barn and find the mini-dome! Angie walks in and sees the mini-dome. Norrie wonders how it got there, and Angie says that Joe brought it there. Joe doesn't remember doing that, but Angie says that last night at around 3am she was getting a drink, and Joe said he was going for a walk.  Apparently he was sleepwalking.
Norrie thinks that maybe Joe brought it there because no one else is allowed to see it, and brings up how Joe shushed the camera and that they thought they weren't supposed to talk about their seizures.  They conclude that only the people who have had the seizures are supposed to interact with the mini-dome, and they probably shouldn't tell Julia they found it. They wonder what they're supposed to do with it. Angie puts her hand on the mini-dome, and there's a blue glow. Joe and Norrie each put their hands on it too, and a blue glow emanates from their hands as well, and the egg inside lights up pink. Norrie thinks that each handprint is a lock, and their hands are keys. However, a glowing handprint shows up on the empty part of the mini-dome, and they realize they need a fourth hand to unlock it. And the episode ends there.
Thoughts on Episode 10 The Fourth Hand
Violet's Thoughts on Under the Dome, Season 1 Episode 9: The Fourth Hand
An okay episode. We've now confirmed that the propane was being used as an ingredient in the drugs Reverend Coggins was making, but we already knew that because the Reverend and Big Jim were talking about that on Visitors Day before the Reverend died. We now know that the Reverend was making rapture on the side, and that Big Jim, Duke, and the Reverend were working for Max. And Barbie, though in a different capacity. But it was just all too weird and convenient that Max just all of a sudden decided to make her presence known after 8 days of hiding out, and that she waited so long in the first place. Too convenient as a plot device for the show's storyline, that is. It's like she came out of nowhere. I almost thought Big Jim was hallucinating her when he first saw her. If she knew all about Barbie and Julia being an item, then why didn't she know about Duke and Reverend Coggins being dead? I suppose you could argue that she was just playing dumb. I don't know, it's just all really random to throw this woman in, who knows everything that's going on, and knows all of Barbie's secrets. It looks like Barbie is going to get pulled into her black market scheme. That is, unless he decides to confess his secrets.
As for the mini-dome, it seems weird that Joe was so easily able to move it. Also, the teens sure are able to jump to a lot of conclusions about what is "allowed" and what they're "supposed" to do. So who is the fourth hand? As of now, it seems that all signs point to Junior. Why else would his mom have had that dream about Junior and the pink stars falling? Maybe Junior isn't so crazy after all. Okay, yeah, he's still crazy. But if Junior is the fourth hand, why hasn't he had a seizure yet? What will it take to trigger him to have a seizure? In fact, what was it that triggered Angie to have the seizure? And what happens when they find their fourth hand? What will be unlocked? I'm definitely interested in finding out!
Josh's Thoughts on Under the Dome, Season 1 Episode 9: The Fourth Hand
So, I guess the first question is, who is the fourth hand and what will the 4 of them unlock? Something bad? Something good? It is hard to say. Will this "egg" hatch? I am also wondering who or what is mind controlling Joe to move the dome. The dome seems to actually be a sphere though now, with a dark base it would seem. It does seem weird that Angie wouldn't have mentioned it to Joe though. As for the seizures: is that the dome's way of informing who the "unlockers" are? Or since Junior has the painting of himself done by his mom, is he the final key?
As for Barbie and Max (played by Natalie Zea, from The Following by the way), I am curious to know their background. It looks like maybe she is the bookie that Barbie works for? Either way, she seems like bad news, and it is unfortunate for both Barbie and Jim that she got stuck on the inside it would seem. She seems willing to air their "dirty laundry" if necessary for her to get what she wants. What she wants seems to be starting a drug party in Chester's Mill, with their new "Rapture" drug. What I am hoping is that Barbie doesn't go further into the dark side. He seems resistant to wanting to assist her, but Max might have the "ammo" to convince him to do the "wrong" thing.
I am curious how far Linda will pursue her discovery in the propane warehouse. She knows that Duke knew about the warehouse, and she respected him. That has to make her wonder why he was protecting it. She seems suspicious of Jim, and seemed to ally herself with Barbie to get to Jim more. Now that Barbie is being blackmailed, will he now be a roadblock for Linda? Will be curious to see what happens next…
Scenes from Under The Dome Episode 10, Let The Games Begin
Here are scenes from Under the Dome for next week, episode 10 titled Let The Games Begin: