Check out this week's recap of NBC's Revolution, titled The Longest Day.  Monroe has some unpleasant surprises in store for Miles and company, while Rachel and Aaron deal with her leg injury.  Violet provides this week's recap, while Josh provides his commentary through. Let's get into this week's episode of Revolution after the jump!
Rebel-Georgian Coalition vs. The Militia
The episode begins at a Militia camp.  One of the soldiers walks into a trailer, where a bunch of computers and electronic equipment is set up.  They're up to something, though it's not clear what.
Over at the Rebel-Georgian Coalition in Ashland, Kentucky, Nora wakes up in bed next to Miles and starts to get dressed.  She tells Miles this was a mistake, but he says it didn't feel like one.  Nora admits that what's really bothering her is that in the midst of all these battles, odds are that one of them is going to watch the other one die, so why make it harder?  I was a little surprised that Miles was the one who said this didn't feel like a mistake, because I sure haven't gotten the romantic vibe between him and Nora for quite awhile. I've only seen the romantic vibes flowing from Nora to Miles, but not the other way around.
I felt that it was really strange that Nora makes a complete 180 on wanting to be with Miles from the end of the last episode. I felt her reasoning was very weak, as regardless of whether they get together or not, they could live or die either way, and she already has feelings for him anyway.  After watching the full episode, I felt this was just a weak way to influence Nora's actions later in the episode. 
Meanwhile, Neville is talking to Jason, criticizing him for leaving him to die.  He angrily tells his son to finish the job, putting a gun into his hands and forcing him to point it at his chest.  Jason tells him to back up, and after a minute Neville takes the gun from him and tells him, "No matter how hard you try, you're never gonna get rid of me."  Jason storms off, and Charlie, who has just watched this whole altercation, follows him.  She empathizes with Jason, telling him that she didn't have the best relationship with her mom, and says that sometimes she thinks it's just easier being alone.  They go pump some water from the well, and a plane begins to fly overhead.  Charlie hurriedly runs over and rings the bell to alert everyone at camp (apparently they are somewhat far away), but two planes soon reach the camp and fire missiles at it.
The scene with Neville and Jason makes it seem like there is no hope for reconciliation.  For me though, I felt this scene actually set up the reconciliation. I feel their hatred for each other is so over the top, that it will eventually digress into forgiveness.  As for the bombing, this is bad news for Georgia.  A few planes is all Monroe needs to eliminate the Georgia Federation.
Miles wakes up with blood on his face, but seems okay.  There is destruction and chaos everywhere.  He hears Nora screaming for help, finds her, and frees her from the debris.
He asks where Charlie is, but she doesn't know.  Miles and Neville discuss how the attack reduced their men from 300 to 30, and Miles thinks there's a mole.  He finds out that Charlie and Jason were last seen headed toward the North Lookout, but never came back.  Miles tells Nora to get out while she can, as he goes North to look for Charlie, but of course Nora insists on going with Miles.  Neville decides to go with them because Jason's mother would never forgive him if he let Jason die out there alone.  We see Charlie buried under debris, calling for Jason.
I thought the mole theory would come into play.  While I think it is possible that Neville is the mole, I also think it might be a little too obvious.  I will continue this line of thought in my predictions at the end.
In Monroe's office, Captain Baker excitedly reports that the drones are mowing down the Georgian-Rebel forces, and that the Militia is winning.  However, all Monroe cares about is whether Miles is dead.  Baker says that he assumes Miles was killed in the attacks, but Monroe says he'll believe it when he sees it.  Baker invites Monroe for a celebratory drink at the bar with the other officers, to which he declines at first, but Baker convinces him that he deserves to take a break and that he shouldn't be a recluse.  As Monroe, Baker, and a few other officers walk to the bar, they are attacked by gunfire.  A few of the soldiers are hit, but Monroe and Baker manage to take cover and are unharmed.
It is pretty obvious where this is going when Monroe is attacked.  Baker is clearly going to be thought of as a spy, as he and Monroe are the only two to live and this attempt on Monroe happened to occur when Baker pushed Monroe to go get a drink.  As for this actually being the case, I thought it probably wouldn't as it would be a great way to show Monroe's paranoia getting the better of him. 
As Miles, Nora, and Neville make their way North, they attack a few Militia soldiers and find a very injured Jason.  He tells them that the lookout tower collapsed and that Charlie is inside.  Miles gives him crap for leaving her there, but Jason explains that he tried to dig her out, and he doesn't know if she's alive.  Jason realizes that he can't get past the Militia in his injured state, and tells him just leave him a gun.  But Neville says he'll get Jason out of there, and tells Miles and Nora to go.  Miles wishes him luck before they leave.
I felt it was a bit odd that Jason would leave Charlie behind.  I would have thought he would have searched longer for Charlie, even though he was severely injured.
Monroe and Baker are safe and sound back in Monroe's office, and Monroe comments how it's a miracle that they didn't get hit by the gunfire, especially Baker, since he was totally exposed, while Monroe was protected.  He muses how it was amazing timing, how the gunman just happened to be waiting right outside the bar.  Baker chalks it up to being lucky, but when he turns to leave, Monroe's guards close in on him, blocking his path.  Monroe accuses Baker of leading him there, and says that it wouldn't be the first time a friend tried to kill him.  Baker must know what's coming, as he freaks out, saying that Miles did a number on Monroe, and that Monroe made Miles and Neville betray him.  He tells Monroe, "You probably will take over the continent, but you'll do it suspecting everyone around you, and friend, I wouldn't wish that on my worst enemy."  Monroe thanks him for telling the truth, and leaves the room, closing the door behind him.  Then we hear a gunshot. We've seen that it is true that Monroe is very paranoid, killing anyone that he suspects. Since that part is true, I wonder if it is foreshadowing that Monroe will take over the continent as well?
And so the inquisition continues.  This kind of plays into my problem with Monroe: How can someone so paranoid and with so little trust for his officers remain in power?  I suppose the same could be said of Stalin and other paranoid dictators who managed to reign for long periods of time however. 
Miles and Nora get closer to Charlie, but are under heavy fire.  Charlie is able to pull herself free from the debris, but as she goes to climb out of the hole she is in, she sees enemy soldiers all around.  Neville has managed to get Jason out into the woods, but they are spotted by Militia soldiers, who surround them and tell them get on the ground.  Neville expertly shoots each of the soldiers, but he also gets shot in the process.
A cool scene for Neville I thought, and one to surely help with reconciling with Jason.  I thought he may die here, but he is only wounded by the gunshot that hit him. 
Miles asks Nora to cover him so he can get across the clearing and get to Charlie. Nora protests at first, bringing up how Jason said Charlie could be dead, and tells Miles she knows it's selfish but she doesn't want to lose him too, that she doesn't want to watch him die.  Miles replies that he's not going to leave Charlie for dead, that he did it to her mom, and he's not going to do it to her, and tells Nora to trust him.  She reluctantly gives in.  Charlie comes out of her hiding place, and soldiers chase her.  A solider catches up to Charlie and attacks her with his sword.  Charlie puts up her hands in defense, and the sword slices into her palm.  Just then, Miles finds her and saves her, stabbing the soldier with his own sword.  They hug, and Miles yells for Nora.
I feel this is where the plot device set up in the beginning comes into play. All of sudden Nora becomes selfish, and unwilling to risk her or Miles' life for Charlie.  I thought this was very uncharacteristic of Nora, considering her willingness to join the rebel cause, which is a very dangerous position to be in.
At Monroe's office, a Militia soldier reports to him that they have caught his would be assassin, as a Georgian solider just confessed.  Monroe asks if the attacker was working with anyone, but the soldier tells him that they interrogated the attacker with "extreme prejudice" and they are confident he was acting alone.  So it turns out Monroe's paranoia got the better of him, and that he had Baker killed for nothing.
I thought this was a great scene for Monroe's realization.  I am curious to see how this plays out for him in the future, as I believe all officers introduced to viewers have been killed or became traitors to his cause.  You need to lighten up some Monroe!
Jason wakes up in a hospital room in Atlanta, where Charlie is waiting by his bedside.  He asks how they got there, and Charlie tells him it wasn't easy, and that his dad got him out.  Jason apologizes for leaving her, and that he thought she was dead. She says she thought she was too.  He caresses her cheek, and they kiss.  Neville walks down the hallway towards Jason's room, his arm in a sling, and sees them kissing. This seems to bother him, but I'm not sure why.
I think Neville is annoyed because he hates Charlie, and Charlie hates him.  Charlie will likely remain a wedge between the reconciliation between Jason and Tom, as it is clear that Tom really cares for Jason in a weird, twisted way.
At the Georgian President's office, Miles is arguing with someone about finding Nora, saying that he doesn't care what it takes.  The guy tells him that there's not very many spies or contacts left because Monroe has wiped them out, so Miles says he'll just have to go himself. The President walks in just then and tells Miles he's not going anywhere, that she's lost enough men as it is, being that Georgia lost half its army in the last week from the drone strikes.  The President thinks that Monroe will attack the city any day now, and tells Miles it's her obligation to save as many of her people as she can. She says that it's time to hear Miles' brilliant ideas if he has any, otherwise she's going to surrender.
The Georgia Federation has had its victories nullified in a matter of hours due to electricity and air superiority.  I am not sure how they can recover without somehow eliminating Monroe's power source.    Miles is going to have his hands full.
We see that Nora has been captured by the Militia, and is brought into a room with a hood on her head.  When the hood is removed, she sees Monroe sitting in front of her, and he tells her what a pleasure it is to see her again. And the episode ends there.
I am sad to see Nora captured, as she is going to have a  rough time being so close to Miles.  I am curious if she will give up any information to Miles' location, or if Monroe will be planning a trap to lure Miles into. 
Flashback: Seven Years After the Blackout (about 8 years ago)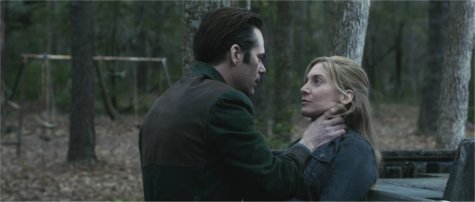 Throughout the episode, we keep getting flashbacks to 7 years after the blackout, starting at the point where Rachel reports to Miles for duty.  Miles, still General Matheson of the Militia, tells her he invited Ben to join them, he didn't ask for her.  When he asks if Ben can get the lights back on she tells him they both can, and that she was project lead, so she knows as much as Ben does or more.  Also, Ben doesn't have any interest in turning the lights back on, but she does.  Miles comments that he thought she didn't want to see him again.  She says she's been thinking about a lot of things.  He says that they're going to go get Ben anyway.
I think this scene is supposed to pick up when Rachel leaves the family behind.  This must have been her way to attempt to save her family, hoping that Miles would not proceed to searching for them if he has her.  Unfortunately so far, Miles plans to continue his search. 
Miles finishes searching a house, and asks Rachel where Ben and her family are.  She says they're long gone, though she doesn't know where, and that she doesn't know if she'll ever see them again, but it's worth it to keep them safe from Miles.  When he asks if she can get the power back on, she says no, but implies that Ben can, though they won't be able to find him.  Rachel tells Miles that she and Ben heard all about him, and how he's known as General Matheson, the Butcher of Baltimore, that he is a monster and they are ashamed to call him part of their family. Miles replies that that's not what she used to say about him, that she thought she could just bat her eyes at him and he'd roll over and take her away instead of Ben.  He tells her that he cared about her and always thought she felt the same way. Rachel responds that they were kids, they had a cheap and ugly fling and not a day goes by that she doesn't regret it.  This angers Miles and he almost punches her in the face, but stops himself and says that is not the only thing she's going to regret.
I am curious to know when this fling was in relation to her marriage to Ben. Was it before? During? Regardless, it is hard to watch Miles be so cold, considering that we know they were together at some point in the past, and the feelings in the present still seem to be there as well.  It is hard to imagine both Monroe and Miles going from regularly army guy to hardened Dictator and ruthless general, to having Miles soften back up again. 
The final flashback scene of this week's episode of Revolution shows Rachel sitting in a chair with her hands tied behind her back and Miles questioning her as to where Ben is. She says she can't tell him, that she doesn't know. Miles gets angry and tells her that he doesn't care about whatever they had, or that they're family. I guess we are to assume that he then tortured her to get information out of her regarding Ben's whereabouts.
Miles was really hard to watch in these flashbacks.  I was angry with him, as a few hand placements and what he said may it appear that he might do more than physically abuse her.  I am not sure NBC would go that far, but it sure felt like it could go that way. 
So we finally got some insight as to what happened between Miles and Rachel.  It sounds as if Rachel and Ben were dating, but then she may have secretly cheated on Ben with Miles.  This all happened when they were "kids," but what does that mean exactly? When they were teenagers? Or early 20s? At what point in time was this compared to Miles' relationship with Emma? However, something else must have started back up between them during the time they spent together following the blackout. Did he actually go through with torturing her, or did he give in to the feelings he had been harboring for her all these years? And what exactly were the circumstances of him leaving her for dead?
I am curious about these questions too.  Do these scenes lead up to the answer Charlie has been trying to get from Miles as to what he did to her?  I have a feeling it is. 
Rachel and Aaron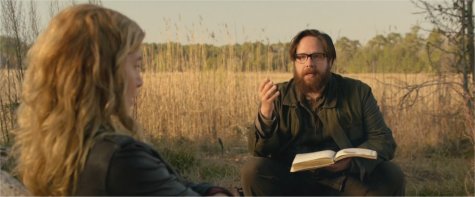 Of course, Rachel and Aaron have their own problems to worry about.  They start off in a clearing, as Aaron is looking at Dr. Warren's journal, and he asks Rachel why he is in the book.  She says she doesn't know, that it doesn't make sense, but that she thinks Ben knew something, and that's why he always kept Aaron close after they met him, and why Ben chose Aaron to give the power pendant to. Aaron tries to pick Rachel up so they can get going, but she cries out in pain.  She realizes that Aaron is really not going to leave her. She then gets an idea for something that might fix her leg, although it might kill them  — and pulls out the glowing pill device that used to be in Danny, although it is no longer glowing.
I was wondering when the "glowy" capsule would come back into play.  I am also glad to know exactly what it does and what it did for Danny. I also wonder: If Aaron and Rachel get the power back on, will that render this pill device useless? Was Danny only able to stay alive because the power was out? Was this another motive for Rachel and Ben to assist with turning off the power?
They go to an electronics store.  As Rachel sits on the floor and pulls the bandages off of her wound, which is very bloody and gross, Aaron is busy following directions from the journal to build something — which Aaron comments that he has no idea what he's building.  Rachel tells Aaron that the pill device is first generation nanotech, that it kept Danny alive, and it can be reprogrammed to do almost anything, such as stitch bone or heal skin. It could fix her leg if it works, and if not, it could cook them from the inside, or ignite the air, hard to say.
The answer is finally given for the device!  That wound does look disgusting though. 
Aaron finishes building the device, plugs it in, boots up the computer, and types in some commands.  Rachel hears a noise.  Aaron hesitantly shoves the device into Rachel's open wound, and she screams in agony as her leg heals and the wound closes.  Some people with guns come in just then, and apparently they witnessed what just happened because they ask how Aaron did that, and tell Rachel and Aaron they coming with them now.
I believe Rachel says that the capsule device was a early version of the nannites used to turn off the power.  I guess this capsule is able to power the captures though, as they had no other way of doing it. 
The men take Rachel and Aaron to their town and into the house of one of the men.  He wants them to help his son, who fell off a horse and cracked his ribs.  The boy is laying on the couch, and Rachel goes over and sweetly talks to him, and looks at his wound.  The boy confesses that he only tried to ride the horse because a girl was watching, and Rachel comments that she knew a boy like him once (referring to Miles?). She tells the man that they have to go back to the store to get a few things but that they will help.
I think Rachel might be referring to Danny, as he was injured like his son, and she could save him, but probably realized she shouldn't (spoilers for the next scene).  I think this foreshadows that Rachel should have let Danny die and prevented this manmade apocalypse.  I could be way off on this interpretation though.  
They arrive at the store, and Aaron begins to explain the healing device to the man, when Rachel hits the man on the back of the head and he collapses.  Aaron is shocked, because he thought they were going to save the boy, that he was going to cut the device out of Rachel's knee. But Rachel says it's too late, that the infection has already spread to his organs, and that the capsule can't save everyone.  Aaron questions what's the point of having power if they can't at least try to help people. Rachel coldly asks what makes him think she's in it to help people, and tells him that she wants power so that Monroe's enemies can wipe him off the map, that she just wants to kill the man that killed her son. Aaron tries to protest, accusing her of being willing to let someone else's son die, but Rachel just tells him that if he wants to stay there, she will leave him there, she doesn't care what's written in the journal.  And that ends the Rachel and Aaron storyline this week. My guess is that Aaron didn't want to get left behind, so he went along with Rachel's plan to take off while they had the chance.
Rachel comes off again as cold and ruthless, which is scary, as she would very well kill even Aaron, or maybe her own daughter if she felt they were in the way of her objective.   
Wow, Rachel was pretty cold hearted in this scene, revealing that the only reason she wants to turn the power back on is to avenge Danny's death. However, realistically speaking, it wasn't feasible for them to heal the boy, considering that yeah, they could cut the capsule out of Rachel and put it into the boy, but then that leaves Rachel with an injured leg once again. Plus, if Rachel was telling the truth, that it was too late to save the boy, then the men with guns would have killed Rachel and Aaron when the capsule didn't work, so maybe she was just being practical.
I was wondering about how the capsule worked here.  It would probably be a minor flesh wound to cut the capsule out, but would the repairs it made not remain once removed? That wou8ld seem odd to me, as the bone and tissue have already healed, and I can't imagine it "un-healing".  I would like to know what extend this device can work, as Rachel's leg was nearly broken off, and was repaired. We also know that it can assist with cancer treatment as well, reducing tumors in size. 
Final Thoughts
Pretty decent episode, though I feel like the relationship between Nora and Miles is a bit forced, and that they turned the usually tough Nora into a crybaby drama queen. I'm glad that we finally got a little background on Miles and Rachel, though there are still a lot of unanswered questions and many more details to be learned. Charlie hasn't gotten another chance to ask Miles again about what happened between him and her mother, so hopefully she'll get a chance to do that again soon.  Rachel seems to be a lot colder than we thought, and it makes me wonder how much of the Militia rubbed off on Rachel while she spent time with them. Aaron continues to prove himself to be a decent guy, but it's obvious that he would not survive a day without Rachel's help.  It's surprising how lucky they've been travelling on their own across the country this far, although they have had their fair share of trouble. Next week: I'm looking forward to seeing what "brilliant idea" Miles comes up with to stop the decimation of the Rebel-Georgian Coalition, while also figuring out how to save Nora.
I agree with the forced nature of Nora's mood change, as I explained earlier.  Charlie continues to improve over the "immature" kid she seemed like in the first half of the season (although she might be a little cold hearted at times now).  I too am curious to see how far Miles takes the abuse with Rachel, but hope it is not too far.  As for Rachel, she is as about as cold as I thought, as we have seen her do some harsh things in order to pursue her agenda.  I was not surprised by her treachery this episode.  As for my thoughts for next episode, I think that the mole will be revealed, and if I were to make a call as to who it is, I would say Jason.  Why? During the air raid, we don't actually see Jason injured in the bombing.  I also felt it was odd for him to simply leave Charlie behind.  I also wonder why he was so willing to be left behind when Monroe's men came in, which lends to me to think possibly he wasn't in real danger.   On the other hand though, this would be DEEP cover considering what Jason has done to anger Monroe, so I am not 100% sold on this theory.  As for Nora, I think that Miles will make a rescue attempt which may land him in hotter water than he had hoped. I think Georgia will continue thoughts of surrender, but will not do it quite yet.  I can't wait for the show to continue. Bring on next week! 
If you haven't seen scenes from next week, check them out below: