On this episode of Syfy's Defiance, Irisa's visions return, and so does her Irathient friend, Sukar, as the the town of Defiance has to deal with a razor rain storm. Violet gives her recap of the episode, while Josh provides his commentary in blue font.
Main Story: Razor Rain
The episode starts off with a view of the debris in Earth's orbit, then we see some of the debris falling to Earth, as Spirit Riders begin to follow it. However, they soon realize that the debris is "razor rain," and they try to get out of its way. Unfortunately, one of the Spirit Riders gets hit, so Sukar goes to check on him, but then Sukar gets hit too, and his friends carry him to safety. Irisa shows up, and Sukar tells her "What we must do is for the good of all," and then he dies, as a dragon looking creature flies by in the distance. Then Irisa wakes up. Turns out the whole scene was a vision.
I was interested to see where Irisa visions would be going.  Are they of the future?  Where do they come from?  We did not get a lot of answers to these questions, but I think as the visions continue, we will get more explanation with time. 
We then see Alak broadcasting from the radio station at the top of the arch.  Christie is there too, and she comments that it looks like rain. Alak says it's a good excuse to make out. However, they are interrupted by a phone call from Amanda, who tells him to play "Shiny Happy People," or he's fired.  Alak tries to get back to making out with Christie, but she brings up a weird conversation she had with his mom.  Apparently Castithans have a bathing ritual for newlyweds in which the whole family bathes naked together. Um, awkward… and of course Christie feels awkward about it too.
It looks like the radio station is going to be Alak's "thing".  As far as the bathing ritual, I think the show is trying to bring up societal differences in cultures, and how people/aliens would deal with them.  Clearly we as humans think the thought of a family bathing as completely weird, but to these aliens it is completely normal.
Irisa tells Nolan that she's going to the Badlands because she had a vision that Sukar is in danger. She goes out the door, but then comes back in and asks Nolan if he's coming or not. At this point I literally said "Yay!" out loud because I was glad they were finally going to do something together, rather than be split up yet again.
It was nice to see that they would be working together for once. I am curious to know why the show continuously has them separated.
Nolan and Irisa pull off to the side of the road and get out of the car. Irisa tells Nolan she saw mountains in her vision, so they're close.  The Irathients step out from the woods and tell Irisa, who they refer to as "Little Wolf," that Sukar is dead — the sky opened and took him.  They tell her they are preparing a ritual that she is welcome to attend, but Nolan must go. Irisa picks up a piece of debris from the ground and realizes it is razor rain, like from her vision. Everyone in town thinks it's a normal rainstorm coming, so she says she's going to stay for the ritual while Nolan goes back to Defiance to warn the town. Ugh, they were together for 5 minutes, and now they're splitting up Irisa and Nolan again! Will they ever work together on anything??
As far as Irisa visions go, I am curious as to the "why" behind them.  Why did Irisa have to come out here? She was unable to save Sukar, so it seemed a little odd for the vision to even happen. 
The Irathients begin the ritual, and Irisa is dressed in fancy clothes. Sukar's belongings are placed in a vat of what appears to be acid, then the pallbearers place Sukar's body into the acid, while Irisa joins another Irathient woman in singing.  Suddenly, Sukar rises from the acid alive and wound-free, to everyone's surprise. He announces, "Through this body flows the path to Irzu." The Iraths argue whether Irzu (the Irathient god) sent Sukar back, or if it's a curse, or if it's really even Sukar.  Sukar announces that he's heading to Defiance, and Irisa follows him.
A weird way to handle death, burning off all of the flesh.  As humans, unless cremated, we try to keep the body intact as much as possible.  As far as Sukar goes, we have one lady thinking he is cursed, while most think he is a prophet. 
Back at the arch, Alak doesn't want to talk about the bathing ritual, but Christie says they're going to talk about it before they leave the arch. Alak gets on her case about how humans are too hung up on their bodies, and if she doesn't want to do the bathing ritual, she should talk to his parents about it. Just then, Nolan calls Alak, tells him there's an emergency, and to patch him in. Nolan then tells the town about the impending razor rain and to stay indoors.
As a human it is easy to side with Christie, since bathing with one's mom sounds weird.  But if you take a more relatable action, such as maybe whether to have a church wedding versus a non-church wedding, because the bride is Catholic and the groom is not, can spark a debate that is harder to side with.  I understand what the show is doing, but clearly hope Christie gets her way. 
Some fool is standing outside, dressed in some protective gear, shouting about how he's not scared of a little rain. The razor rain begins and he starts to get pelted, but Tommy saves him.
Said fool should die a horrible death. That is all.
Sukar, who has reached Defiance, tells Irisa to gather as much cable as quickly as she can.  A man comes up with a gun and tells them to get out of his store, then shoots Sukar. However, the wound immediately heals.  Sukar throws a knife at the man, then aims a gun at another man who has come over to check on the wounded first man, but Irisa stands in his way.  Irisa wants to call the Lawkeeper, but Sukar won't let her.  He tells her this is a test of faith for both of them, and that she came with him for a reason. Irisa says it was to make sure he didn't hurt anyone. The razor rain starts coming down near them, so they run to the roller for protection.
Sukar is seeming kind of crazy, and his regenerative powers make you wonder if he is on some righteous path.  With his violence towards the people, and willingness to steal, it is hard to take him as righteous entity though. 
In the roller, Sukar asks why she come to the woods today.  She responds that she had a vision he was in danger, and he tells her that he had the same dream as her, and that she appeared to him before he died. He goes on to say that finally there is another like her that has been chosen, and that she is no longer alone. He says that they have a mission and asks if she can accept that their mission is a holy one, and that she was chosen and is special.
I am curious if they truly are linked or not by this point.  Hopefully soon we begin to see the origination of her visions…
Nolan and Amanda are walking around town.  Amanda comments that it looks like the town is secure, but they should look for stragglers. They find Tommy, who has been hit by the razor rain. He begins to pass out, but Nolan picks him up and takes him to the infirmary, where Dr. Yewell looks like she is struggling to pick herself up from the floor. She tells them that Sukar attacked her, and that Irisa was with him, and dressed her wound. Nolan wonders why Irisa didn't stop Sukar from attacking her.  They begin CPR on Tommy.
Seems like Irisa is a believer given that she allowed the attack on the doctor.  I was sad to see Tommy injured though, he is one of my favorite characters in the show, and hope to see him come into his own more.
Up in the arch, Alak tells Christie he'll tell his parents no about the bathing ritual, and say it was his call, and leave her out of it. This makes Christie happy. Sukar and Irisa burst into the room, and Irisa tells them to get out before they get hurt.
Glad to hear that Alak has said no to the ritual.  His family will probably not be too fond of that decision though. Hopefully they live long enough now that Sukar has shown up…
After they stabilize Tommy, we learn that Sukar stole an Ark Brain interface, a module that lets Dr. Yewell talk to her medical equipment. Nolan attempts to turn on the radio but finds dead air.  They figure out that Sukar could hook up the module to a radio signal in the arch, which makes a fine antenna for sending a signal into space.  They then realize that an Ark spaceship fragment is on a direct course to Defiance, and if it hits, they're all dead.
Did Sukar direct it towards either?  How is an Ark space FRAGMENT able to fly itself? 
Nolan pulls up to the arch. Up at the top, Sukar tells Irisa that when the time is right, they flip the switch. Nolan comes into the room pointing a gun at Sukar, and tells Irisa that Sukar is bringing a huge chunk of the Ark right into town.  When Irisa asks if it's true, Sukar replies that if for some reason Irzu wishes to destroy Defiance, it is for the greater good.  Nolan shoots Sukar, commenting that the shot was a warning, and the next one will be through his head.  However, the wound heals, and Sukar knocks the gun out of Nolan's hand.  Nolan and Sukar begin to fight. Irisa tells them to stop, as Sukar gains the upper hand on Nolan, and Nolan asks if she's just going to stand there. Sukar tells Irisa to tie Nolan up and she starts to do so, as Nolan tells her that Sukar's trying to kill them all. Irisa says she doesn't believe that. Nolan continues to fight back against Sukar and is able to get the gun and shoot Sukar several times, until he breaks through the arch's wall and plunges backward out of the arch. Before he falls, he tells Irisa, "It flows through both of us." However, he doesn't fall all the way down to the ground, as his fall is broken by a window washing looking thing. Irisa begins to cry, and tells Nolan that Sukar had faith and so does she, and then flips the switch. The Ark ship starts to fall out of the sky and appears to be heading toward Defiance. However, it changes direction and crashes outside of town. Irisa, through her tears, tells Nolan "Sukar saved Defiance, and you killed him." Nolan tries to apologize, but she pushes him away and runs off.
This episode really played up Sukar as either a crazy person or prophet, depending on if what he doing is right or not.  Given the erratic nature of the things Sukar has been doing, it would be hard to believe he is doing "good".  Especially when Sukar doesn't even know what he is doing.  How weird of Irisa to back Sukar though, still not knowing what is going on, and from the looks of the situation, Sukar could be causing obliteration of Defiance. 
Sukar has been taken to the infirmary, where he is in a coma and is not coming out of it.  Dr. Yewell explains that it wasn't an Irathient god that saved them, but that the razor rain that hit Sukar contained a piece of Ark Brain, which contained and controlled microscopic robots called nanites. The Ark Brain knew that a piece of the Ark had fallen out of orbit and was on a collision course with Defiance, so the nanites acted on the primary mandate to preserve Votan life, and repaired the tissue damage to Sukar's body, then drove him to create the device which saved the town. However, the nanites went dormant once the town was saved, so they won't be repairing the injuries Sukar suffered from his fall: his brain is shut down and his spine is severed.  Despite all of these explanations, Irisa asks Dr. Yewell to explain her visions. It looks like the age old debate of science vs. religion is still alive and well in Defiance. Nolan can see that Irisa is very upset, and gently tells her that Sukar is gone and she has to accept that, and all she can do now is ease his passing with medicines that the doctor has. However, this angers Irisa, and she threatens to cut them with her blade if they touch Sukar.
My take on Sukar was that he actually died from the Razor Rain, and the nanites repaired the functionality of the body, but Sukar was no longer there, and the nanites may have worked off of his memories, which is why he still called Irisa Little Wolf, and knew who she was.  The other take could be that the nanites repaired Sukar, and he lived, and just had a driving force caused by the nanites to try to stop the ship.  Then Nolan kills him again, breaking his spine in the fall, and the nanites shutdown and don't repair him this second time.  It is hard to say which one is correct.  The latter makes Nolan look much worse in my opinion though, because he actually killed Sukar at that point. 
Irisa returns to the Irathient camp with Sukar, who appears to still be alive, though on his deathbed. She kisses him and repeats the words that he said to her earlier, "It flows through us both," then tells the Irathient man to take care of him.  As she turns to leave, the dragon looking creature from her vision flies by.
Irisa is very unhappy with Nolan, and I am curious to see how this continues during the season.  Will Irisa be hanging out with other Irathients more? Will she hold a grudge against Nolan? Or will the show simply move on from this event?  I guess we have to wait and see. 
Side Story: Rafe McCawley's House
Nicky stops by Rafe's house to wait out the rain storm while her roller gets fixed, and it seems like she insinuates to Quentin that she knows what happened to Mr. Birch. Quentin leaves the room with the excuse of allergies.
Rafe asks Nicky what's really going on. She tells him that she's looking for Mr. Birch, and the last time she saw him, he was on his way there to break into Rafe's house. She says that Mr. Birch had a theory that Luke was involved in the Volge attack and came to Rafe's house to find evidence, but he never returned.  Nicky thinks Rafe walked in on Mr. Birch breaking into his house and killed him.  But then she says the accusation was a joke and to lighten up.  She begins having trouble breathing and uses her inhaler/breathing mask. She asks Rafe for somewhere to lie down, and he suggests the upstairs sewing room of his late wife, Pilar, adding that she knows where it is.  If she knows where the room is, that must mean she was close with the McCawley family at some point.
Looks like Nicky is here to figure out either where the artifact is or who killed her henchmen, or perhaps both.  I am curious to know how much she knows about the artifact, and what it actually does besides create hallucinations. 
Quentin is sitting at the dining room table and Luke appears to him, telling him that Nicky knows everything, and that he knows what he has to do: kill her like Birch.  Rafe comes in and asks what happened to Birch, and if he got rid of the artifact like he was supposed to.  Luke tells Quentin to lie and say he got rid of it, and Quentin listens to him. However, he admits to killing Birch, saying that Birch came there thinking he had the artifact, and he didn't mean to fight back so hard. Quentin tells his father that he disposed of the body in Dante's Drop, and scrubbed the living room from top to bottom, so there is no evidence. Rafe comments that a man should protect his home and his family, and he is proud of Quentin for doing so.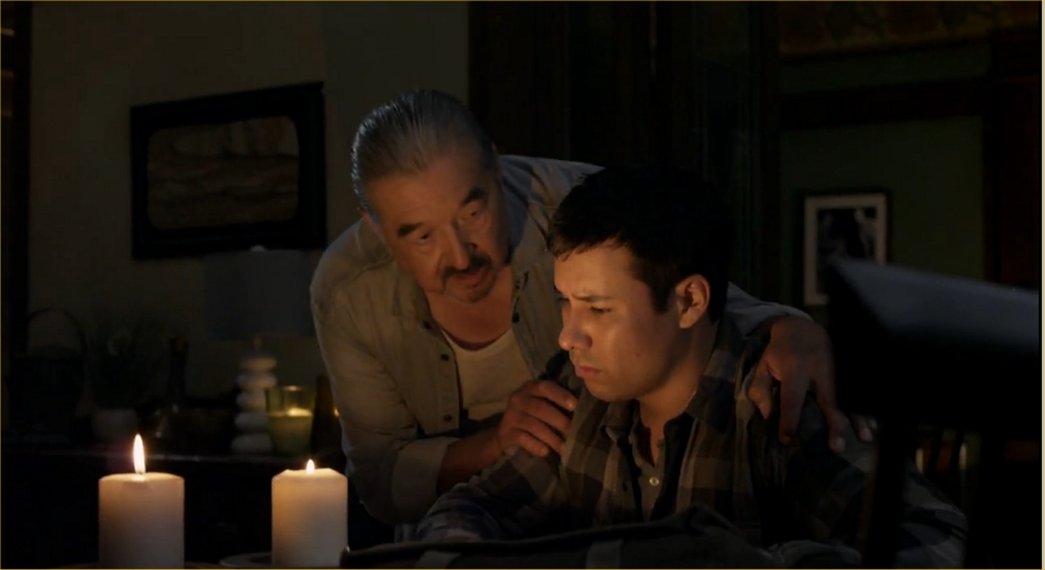 Brave of Quentin to come clean, but it seems to be the lawkeeper should be involved.  Birch clearly was there to potentially kill Quentin, and it was self defense.  This probably won't happen though, as they are too scared they would get in trouble. 
Nicky comes downstairs and tells Rafe that she'll be on her way now that the rain has let up, and it looks like her roller problem has resolved itself. She is carrying a pillow, which she says she found on the daybed, and points out a spot of blood on it. She tells Rafe she knows something happened there, and she demands to know what. Rafe tells her that he shot Birch when he caught him breaking into the house. However, Nicky knows that he wouldn't have admitted to that so quickly unless he was protecting his family. She then yells out to Quentin that if he wants to know what happened to his mother, to come talk to her.  This angers Rafe, who begins to strangle her, and threatens her if she doesn't stay away from his family. As she turns to leave, she shows Rafe her bloody finger, and says that she must have cut it upstairs.  So it turns out the blood on the pillow was her own, and she tricked Rafe into revealing what happened. Quentin asks Rafe what she meant about his mom, but Rafe just says Nicky likes to cause trouble and tells him to stay away from her. Hmm, what did happen to his mom? Whatever it was, sounds like Rafe had a hand in it!
Interesting and cunning trick Nicky pulled.  Honorable of Rafe to take the fall for his kid as well.  I am also curious as to the comment Nicky made about Quentin's mom.  It sounds like something is afoot there.
Side Story: Stahma and Kenya
Stahma stops by NeedWant and talks to Kenya about securing services for her son, Alak. She wants him to get educated about making love to a female human so he can please Christie on their wedding night. She goes on to talk about how she wants Christie to be able to say good things about her wedding night when she tells her father about it, which causes Kenya to laugh, since no human girl would ever talk to her father about her sexual encounters. Stahma gets offended by this, and feels like Kenya has made a fool of her.  Kenya apologizes for the misunderstanding, offers her a drink, and tells her to stay there since the storm is coming. This was a weird scene to me, not only because of the subject, but mainly because Stahma seemed a little out of character from her usual self that we've seen thus far. Usually she is very smooth, confident, and collected, but here she did not seem that way, and appeared somewhat awkward. However, it was interesting to hear about the differences between Castithan and human cultures.
As they sit and have a drink together, Stahma confides in Kenya that she is worried about Alak. Kenya notices that Stahma has been talking about Datak and Alak, but not about herself. Stahma confesses that sometimes she feels that she is living in service to them and wants things for herself.  We find out that back on her home world, Stahma was good at what would equate to spoken poetry on our world, which she did until her father disapproved. Kenya encourages Stahma to do something that is just for herself, then asks Stahma to dance. Stahma looks alarmed, then asks for another drink.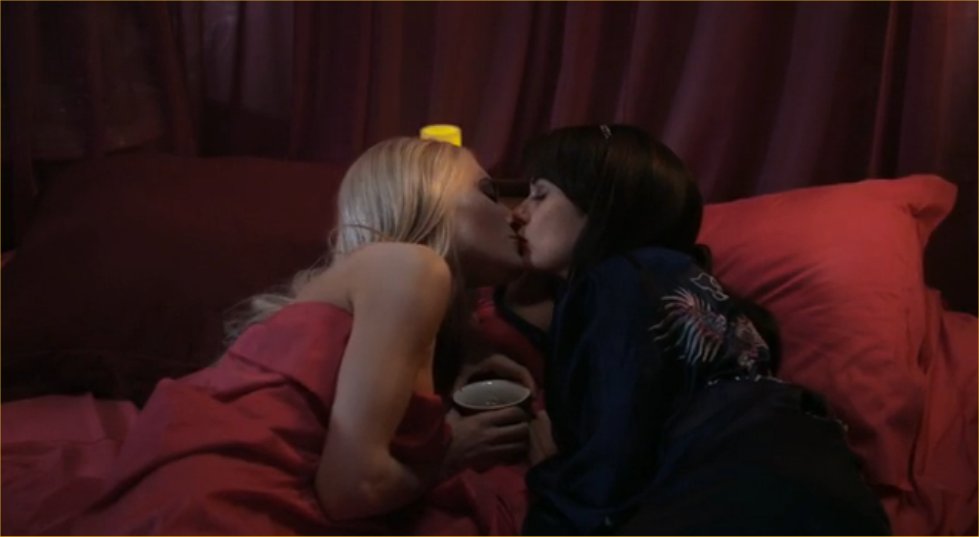 We then see Kenya in bed with Stahma. They kiss. Kenya wonders what Datak would think if he could see them now. Stahma suddenly becomes very serious and warns Kenya that if Datak found out they'd been together, he'd kill them both without hesitation or mercy. Kenya says that's his loss, and she would have given them a 2 for 1 deal. Since we know that Datak has been with Kenya, and we learned this episode that Castithans are more open about their sexuality and their naked bodies, I'm wondering what issue Datak would have with the two of them being together: that even though it's fine for him to go to a prostitute, it's not acceptable for a married Castithan woman to do so, or if the issue is of her being with another woman, or if it's because Stahma was with a woman that Datak had already been with.
I don't have much to say on this whole storyline.  I felt this was just a way to put two women in bed together.  Was this even about "preparing" Alak?  Would Christie want Alak "prepared"? Regardless I really found these scenes gimmicky, and unnecessary.
Thoughts
An interesting episode, though a little convoluted and complicated when it came to the explanation about the Ark Brain and the Ark ship falling to Earth, and all that.  It looks like the Irathient mythology is starting to develop more, despite the scientific explanations given for Sukar's resurrection, as it still does not explain Irisa's and Sukar's shared vision. I'm disappointed that the show found yet another excuse to split Nolan and Irisa up, and now it looks like Sukar's death, which Irisa blames on Nolan, may cause a great schism between Irisa and Nolan, so they probably won't be working together anytime soon. The Stahma and Kenya hookup seemed to come out of left field, and just seemed like an excuse for the show to provide some girl on girl action and stir things up a bit. However, it was interesting learning more about the Castithan culture, as well as the Irathient culture.  I'm wondering when or if we'll ever learn more about the other six Votan races, though. In any case, I did enjoy this episode, even if some of it was a little hard to follow, and I find myself sucked in a little bit more to the Defiance world.
I was not very impressed with this episode.  The Razor Rain didn't make for much excitement for me, and the Sukar storyline was just sort of weird, and seemed to be a way to put some tension between Nolan and Irisa.  I would like the show to get deeper into this artifact, giving us some information as its actual power, and have Nolan involved in that storyline.  I guess I can hope for that next week!
Check out the first few minutes of Episode 8, "I Just Wasn't Made for These Times," where Nolan and Tommy go check out the wreckage of the Ark ship, and find that one man has survived hypersleep.