This week, Josh recaps episode 5 of Syfy's Defiance: The Serpent's Egg.  Who is this Castithan Irisa is hung up on?  What could possibly go wrong for Nolan when transporting a large sum of money via public transportation?  Find out after the jump with commentary provided in pink font by Violet!
The episode of Defiance is split into two storylines. Nolan, Rynn and Amanda are heading west to drop Rynn off at Vegas prison, and then continuing on to Calexico to pay for their rail system with tax money.  Meanwhile, Tommy and Irisa deal  with a mysterious Castithan that is traveling on "business" through town.  I think SYFY has done quite a bit better this episode, and I am excited to get started!  Let's get into this week's episode of Defiance called The Serpent's Egg!
Lawkeeper Nolan and Mayor Amanda Head West
The episode begins with the Datak's son Alak broadcasting a radio station from within the top of the Gateway arch.  The song he puts on is "Ride Captain Ride" by the Blues Image, a song from the 70s.    He then announces that mail has a arrived, which we learn is a big deal, as it happens once every two weeks. We also learn that the arriving vehicle is a transport vehicle heading west.  Alak then scrambles down to get his "treasure" which looks the be some old vinyl records, while everyone else grabs their mail.
Kind of interesting that there's so much technology in some ways, yet the only method of far reaching communication is old-fashioned mail.
As people are retrieving their mail, Rynn (the Castithan that murdered the humans 2 episodes ago with the Hellbug pheromones) is being walked in chains to the transport vehicle by Irisa and Tommy.  Rynn is understandably unhappy, and hisses at Rafe as they pass her. We learn she is being transferred to Vegas prison.  Is that what happened to Sin City? Nolan shows up, carrying a briefcase, as he is to guard Rynn as well as take the city's collected taxes to Calexico to make a payment on their railway they have been working towards the last few episodes.  Does anyone else see the problem here?
Next the episode introduces Olfin Tennety.    Amanda has spotted her and informs Nolan that she is an "E-Rep Ambassador" whatever that is.  Apparently Amanda has been avoiding contact with her.  Looks like this will make for an awkward road trip!  Olfin spots Amanda, and Amanda is abrupt, telling her she is not interested in what she has to offer.   Olfin then reveals that Amanda used to work in New York as what Olfin describes as "an assistant at public HQ". From what it sounds like, Amanda used to work for these people that she no longer wants to have anything to do with?  Anyway, one of Olfin's husbands (yes, apparently polygamy is legal here) is shocked to hear that Amanda left New York, and asks her why she did.  She brushes the question aside, and Olfin again begins her sales pitch, but seems a little more threatening than sincere in her desire, and warns that "the Earth's Republic is a good friend to have", and takes note to point out that Nolan is carrying the money to pay for their railroad.
One can assume that an "E-Rep Ambassador" is an Earth's Republic Ambassador. And again, we get a reference to the old fashioned communication in use, as Amanda has been ignoring Olfin's letters.
Olfin and her two husbands board the truck.  Nolan also boards the transportation vehicle, and Irisa brings Rynn aboard and chains her to her seat.  Rynn manages to steal an ink pen from one of the vehicle's operators, and conceals it.  Irisa tries to comfort Rynn by saying her prison time will be quick, but Rynn scowls back an insult.     Nolan asks Irisa to stay out of trouble while she is gone, and she says he probably won't.
At first it looked as if Irisa and Nolan might be finally working together again on this transport, but no such luck. I've been complaining about how they keep separating Nolan and Irisa and it bothered me that it happened yet again! So again we have Nolan and Amanda working together, just like last episode. Can the show be more obvious in trying to push these two together?
The transport vehicle has proceeded to its destination with Nolan, Amanda, Olfin (plus her two husbands), Rynn and a few other passengers aboard.  The other passengers begin insulting Rynn and asking the lawkeeper if she is dangerous.  A reverend is then introduced, who is "spreading the good word".  Looks like missionaries are still alive, even post alien invasion.
As the transport traveled on its trip, it was interesting to see the alien animal life on the side of the road as they passed.
Amanda and Nolan then have a conversation about polygamy.  Nolan says he's not interested mainly due to the upkeep of two women.  Amanda says she would consider it, as it would allow her to "be all that she can be" with the different husbands, and they would have different personalities and strengths for her.  Nolan calls her out though, and says that Amanda has been in love, but was "burned".  Meanwhile during their chit-chat, Rynn has begun working on her ink pen escape.
Rynn is able to unshackle herself while the passengers have fallen asleep.  She begins to reach for something, but Nolan catches her, and re-cuffs her.  He also takes away her ink pen.  The vehicle then crashes, and we see that the driver has been killed.  Nolan realizes that the driver was killed by a bomb from within the vehicle.  Amanda kicks the doors open to see vehicles approaching.  Then, the good reverend we learn is not so good, and pulls a gun on Nolan.  The vehicles arrive, and pull guns out as well.  A lot of bad stuff happening all at once here.
The reverend finds the briefcase, and then says that the ambassador is also carrying a lot of money.  Olfin denies it, but the reverend shoots one of her husbands.  Sadly, the other husband seems more concerned about his death than Olfin.  Olfin then comes clean about the money she was carrying, which was being carried by the now dead husband, and gives the scrip chip to the reverend.  The still alive husband is outraged at Olfin for not coming out with it earlier. In the commotion of the husband's distress and Olfin handing the chip to ambassador, Nolan is able to steal a knife from one of the hijackers, then a gun, and Amanda is able to quickly close the vehicles doors.  The still alive husband is wounded in the process however.
Seemed like Olfin was purposely trying to get rid of her husbands, considering that earlier she mentioned she married them when she was drunk. So, polygamy is accepted, but divorce isn't?
Back inside the vehicle, Nolan says that they can't get the vehicle up and running.  He also says that they are running out of supplies as well.  The reverend, though shot, is still alive and is holding the ambassador hostage.
Night has fallen, and Rynn taunts Nolan and Amanda about the wolves drawing closer.  Rynn says that they are all going to die.  Amanda is about to bargain for the ambassador's life with the briefcase, but Nolan has another idea.  He asks Amanda to provide cover fire from atop some close mountain ranges, while Nolan goes out to meet them head on.  Nolan leaves the transport with the briefcase, while Amanda makes her way to the mountains.  Meanwhile, Rynn has escaped again, and warns the alive husband to not yell for help, and she takes off.
Wolves? They're still around? I would be more worried about all the other scary alien life forms that are out there. Remember those things that attacked Nolan and Irisa in the pilot? I'm pretty sure those things, or other alien animals, would have devoured the wolves by now!
As Nolan approaches, he tosses the reverend the briefcase of scrip, and begins to get the ambassador up.  The Castithan bandit takes aim at Nolan, and the reverend says he must kill him since he is a witness.  The reverend learns that the case has been emptied, but Amanda has found the Castithan, shoots him, and Nolan takes out his spare gun and shoots the reverend.  Nolan tries to interrogate the reverend before he dies, asking who set this hit up, but he dies too quickly.
The passengers make camp outside the vehicle (weren't there wolves coming?)  The ambassador then decides it is time to make her move and pulls her gun on Nolan.    Her hostage situation is short lived though, as Rynn has returned, throwing a chain around  Olfin's neck, and pulling a gun on Nolan herself.  Rynn won't even allow Nolan to remove the chain from Olfin's neck, as she suffocates .
Rynn allows Nolan to cuff Olfin, but demands a rifle and Roller vehicle, and says that if she is followed, she will kill them.  Amanda asks why Rynn has helped them, to which she responds her kind has laws that one cannot leave another to die if that person has saved someone else.  Olfin's still living husband asks to ride with Rynn, to which she grudgingly agrees.  He then begins asking her about a bounty hunting career.  A spin off perhaps?! (just kidding).  Amanda asks what is to become of Olfin.  Nolan wants to kill her (or at least scare her).  Amanda says that she will stand trial though.
Back in Defiance, they plan to ship Olfin off to Vegas prison.  Unfortunately this doesn't go as planned, as  when she is loaded onto the vehicle, her cuffs are removed, and she tells her "guard" that she wants to know everything about the Mayor.
Irisa and Her Internal (and External) Demons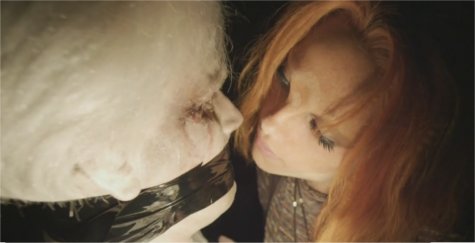 So what happened with Irisa this episode?  Remember how Nolan asked her to stay out of trouble? Well Irisa fulfilled her prophecy of she "probably won't".  As she stepped of the vehicle that Nolan, she sees a businessman-dressed Castithan that steps into a bar.  Irisa is immediately hit with another vision which involves a snake.  Tommy walks up and notices her looking disturbed as she had her vision, but Irisa brushes him off and runs to an alley to gather herself.
Irisa then enters the bar, to spy on her Castithan "friend", who is being chatted up by Tira (the NeedWant employee that was captured with Kenya last episode).   He says that he is happily married though, and isn't interested in her services.  We learn that he is from New York, and also has a child.  Tira presses more, but she is rebuffed, and the Castithan leaves the bar.  Irisa purposely crosses paths with him, and without saying a word knocks him out.
The man's actions at the bar got me thinking, wow, what a good guy to stay faithful to his wife, considering the hard sell that Tira put on, and the fact that the prostitution seems fairly acceptable in this society. So Irisa's later actions put me on his side initially.
Irisa has tied up and gagged the Castithan in a dark basement-like room.  He attempts to scream for help,  and Irisa calls him Daigo.  She has another brief vision of herself seemingly drugged.   The Castithan refers to himself as Thesho Sazhino, but Irisa immediately dismisses this "lie" and says that she remembers his smell , and she is going to make him confess.  She has more visions of the snake, and threatens to kill the Castithan if he doesn't come clean.
Irisa searches Daigo/Thesho's briefcase, which contains jewelry.  The Castithan pleads that he is just a jewelry dealer when one specific pendant draws Irisa's attention.  He tries to play it off as him simply liking the design, but Irisa seems drawn to it specifically for some reason.  Irisa claims that he taught her the meaning of the pendant which is "The Devouring Mother", possessor of both womb and grave.  Thesho still denies her accusations, and Irisa smacks him around violently.  He still denies, starting to make her look crazy.  She then leaves the room, as he pleads for her to let him go.
Irisa is carrying a bag of something down the street, when Tommy spots her, and followers her down to the room she is keeping the Castithan in.  The Castithan screams for help, and we learn that Irisa had a snake in the bag, which is now moving towards the prisoner. Irisa chains Tommy to a pipe, and continues threatening Daigo.  Irisa begins telling Tommy and the Castithan what the Castithan did to her.  We have more flashbacks of Irisa being tied down by masked Castithans, and she says that she was tortured as her parents watched because this man told them that Irisa was "special".
Tommy tries to reason with Irisa, and asks her how she is so certain this is the same guy.  Tommy asks if she saw his face, to which she says no.  She responds that she remembers his "stink" though.  She also says that she remembers the piece of jewelry.  She says she also remembers the "twitchy eye" that he had.  The Castithan chimes in, saying that if Irisa is so certain, she would know his eye color, and he then closes his eyes for her to guess.  Tommy then demands the answer.  She answers blue, to which she is wrong (what Castithan has had blue eyes before?)  Tommy tries to further reason with her, but she refuses and picks up the snake, presumably to attack the prisoner.
Really odd how she would guess blue. Even the audience knows by now that Castithans tend to have unnatural, lighter colored eyes, so it doesn't make any sense why she would guess blue. Chances are she would have gotten it right based on an educated guess. This incorrect guess really injured her credibility.
The snake has bitten the Castithan, and Tommy tries to talk sense into Irisa, telling her it's not too late to stop her madness.  Daigo finally comes clean about what he had done to Irisa though, and admits it is all true.  He also says he tried to live in denial, with his wife, child and possessions.  The effect of the snake has poisoned him, making him come clean.  Daigo proceeds to explain what he had done as an attempt locate the "Chosen One", to which he believes Irisa is.  Irisa demands further explanation, and he calls her "The Devouring Mother", the symbol from the pendant Irisa was looking at earlier.
Back in the flashback of her capture, Irisa remembers she was forced to kill an Castithan as a sacrifice, and after she had done so, Nolan's old military regiment had stormed into where she was captured, and we learn that this is where Nolan and Irisa first met.  The final moment of the flashback, has Daigo fleeing the scene.
After the flashback, Daigo says that he must be Irisa's sacrifice, demanding that she kill him.  Irisa holds one of her blades to his throat, but she does not kill him.  This outrages Daigo, as Irisa frees Tommy.  Tommy, then angered by Daigo, begins to kick and punch him.  Irisa stops him though, and decides to take him to Yuell, the doctor in Defiance.
Tommy asks why Irisa has chosen to let  Daigo go.  Irisa seems to think it will be more punishment for Daigo to continue his "mundane" life rather than killing him, fulfilling what he wanted.  Meanwhile, Daigo has hopped onto the transport, which is the same one that Olfin Tennaty happens to be on.  Tommy and Irisa have more conversation regarding Irisa's "gift".  She is concerned that Daigo is right about it, and that she will eventually use it for destruction.  Tommy tries to comfort her.  Irisa then asks why Tommy was willing to kill Daigo after defending him for so long, to which Tommy responds with "because you aren't the only one with nightmares".  He also follows up with some romance, and they begin making out.
Hm, actually didn't see that makeout scene coming. Although it has seemed like Tommy has a crush on Irisa, it hadn't appeared that Irisa was interested at all, to me at least. But I guess she liked his "knight in shining armor" routine of him beating Daigo up when he found out what the guy did to Irisa. Also, it seems like he's the only person in her age group that she's ever around, so makes sense.
The episode closes out with Alak Tarr, broadcasting again from his station in the Arch.  He dedicates the song to Christi (who was somehow able to see him inside the top of the Arch?)  The song that he chooses? "Lovesong" by the Cure.  We have a few scenes of Irisa and Tommy making love, Rynn riding with her new friend, and the town dancing to the music.
As for my thoughts on this episode:  I thought it was a pretty good episode.  Clearly we will be seeing more of the ambassador, and I am curious to see if this is a set up for a greater conflict between the Earth's Republic and Defiance, or if she is actually working for another party (the old mayor perhaps?).  I also am curious to know what is going on with the old mayor, as we have not seen her or her minions for some time.  Clearly the episode is working towards building the romance between Nolan and Amanda, which will be awkward considering Kenya being in the picture for Nolan.  I am curious to see what they are planning for Irisa's visions.  Will she go to the "dark side" with them?  Hopefully not, as I like her character, and would hate to see her go evil.   Also, what are Tommy's "demons" he mentioned this episode? I am curious to find out about those as well.
I agree, I actually enjoyed this episode quite a bit more than the past few episodes, and I am happy to announce that Defiance has once again captured my interest! We finally got some pretty decent action, as well as some interesting character development. As far as Nolan and Amanda, it was pretty obvious from the beginning that there would be a love triangle between those two and Kenya. Nolan and Kenya are supposed to be dating without the label right now, so it was curious that she didn't come see him off or anything, and that she wasn't in the episode at all. I'm wondering where their relationship stands at the moment. We also get this new mystery about Irisa about her being "the one" and "The Devouring Mother." We already know that she has a gift of seeing visions, so it is possible that Daigo was not all that crazy in his quest after all, and that there is something to his mission. I am curious to see where this leads and what Irisa's destiny actually is, or at least is supposed to be. Looking forward to next episode and seeing where the show takes us!
I feel like I am getting more invested in the show, as we learn more about each character, and more about the history of Defiance and how the planet has changed since the invasion.  I look forward to next episode, and hope for more development on their main storyline!  Until next week!
Scenes from next week
Meanwhile, check out the first four minutes of next week's episode of Defiance, which Syfy has posted on Youtube.  You can view it here: