Both Josh and Violet were able to attend Day 2 of the 3-Day Stan Lee's Comikaze Expo, on Saturday, November 1! Read on to find out how their day went! Josh will write about the first half of the day, and Violet will report on the second half of the day.
So today was my first day at Stan Lee's Comikaze, as I had work on Friday and was unable to attend. Violet managed to make it yesterday, and you can read her write up about it here.
Getting to Comikaze
Violet and I planned to get there around 9 to 9:30am, along with two of our friends, Davey and Tamara. We headed out from Fullerton around 8:15am, and being in the middle of a drought, we had a much needed rainstorm in the morning on the way. This of course caused a few traffic problems, as in California, if the freeways are wet, Californians do not know how to drive. But we made it to the 10 freeway, and me in my infinite "wisdom" chose to use my "manly," innate sense of direction (and followed the freeway signs for the Convention Center) to arrive at our destination.
So like a scene from any movie where a husband and wife are debating the best way to get from point A to B, I made a grave mistake. I should have listened to Violet and Google Maps, and exited at Pico Blvd. Thankfully, my mistake didn't cost too much time (and might have made parking a little easier as a consolation price to my error!)
We parked in the Los Angeles Convention Center Parking (has anyone ever heard Dane Cook's bit on driving in parking garages? I am pretty sure he was specifically referring to the LA Convention Center, as the noises were so loud for cars going 5 mph). Luckily, parking is right underneath the Convention Center, so we easily made it to check in. There was a bit of a line, but I got my press badge with little effort.
Walking the Exhibit Hall Floor
We headed into the Hall, and at 9:30am, the Exhibit Floor was pretty sparse. The four of us decided to purchase a photo op with Stan Lee ($80 per picture plus $10 per additional person after 2, plus $10 more for a digital copy, totaling to $110). This seemed like a good opportunity, as Stan Lee isn't getting any younger, and let's face it: Stan Lee is a Founding Father of the "Comic book" world. We signed up, and were told that we should come back 10 to 15 minutes prior to 5pm to get the photo.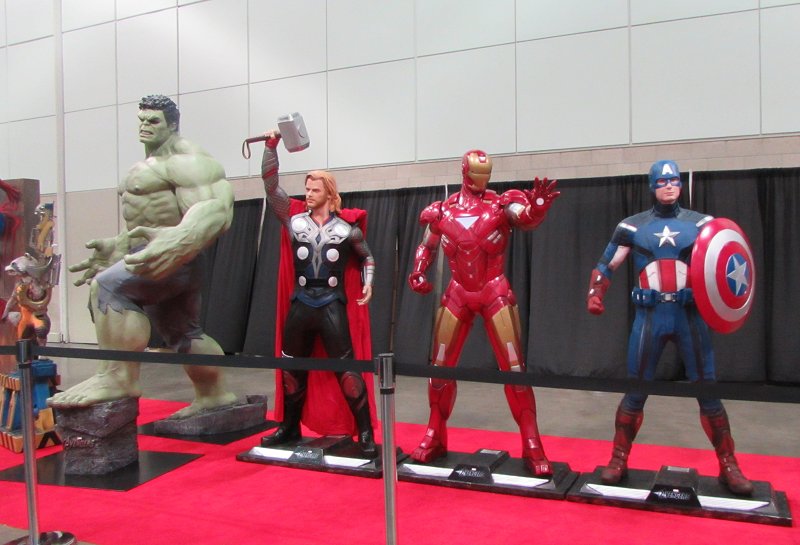 At that point, Davey and Tamara headed off to a panel, so we decided to walk the floor. Initially, I was a little disappointed. It seemed fairly drab and dreary, with one specific reason being the lack of carpet in the aisles. I have worked numerous trade shows for my real job, and there is a big difference in presentation when you have carpet down and not. But I also understand why they didn't have carpet. The cost of that carpet is enormous, coming into the several hundreds of thousands of dollars. Plus, when the show got busier, the floor became a tertiary concern, with so many people walking around.
So I had a severe lack of Comic Book-y sweaters, and ran across a pretty cost effective solution to that problem. One of the exhibits had hoodies for $35! I could not believe how cheap they were. Normally you would be looking at $80 or more for a nice hoodie. I picked out a cool Captain America one, as size options were a bit limited (I wear a medium and they mostly had extra large). Unfortunately, I did not catch their name, but they were in the 1600s aisle. Perhaps I will update this post with the name tomorrow. They had various other cool shirts and hoodies. Deadpool, Spiderman, Black Spiderman, Iron Man, and Iron Patriot to name a few. I wanted them all but could only find my size in a couple. But I was very happy with what I walked away with.
We walked the rest of the floor, and the traffic seemed to pick up some as the morning progressed. We started seeing a lot of cosplay as well. Overwhelmingly, I saw Starlords and Winter Soldiers everywhere! Males and females both represented these awesome characters. Deadpool and Spiderman had a ton of presence as well. There were a lot of neat costumes during the day though. Probably more interesting cosplay here than the past couple conventions I have been to.
We checked out Stan Lee's Mega Museum, which had a ton of cool figurines from the Marvel Universe, as well as numerous props from the movies–Thor's Hammer and Helmet, the Infinity Gauntlet from Thor, and a bunch of other stuff. Really neat stuff that I wish I could take home.
Burt Ward and Julie Newmar
After seeing the floor, we headed to the Main Stage, which Violet probably already explained, is at the back wall of the exhibit floor, with standing room only. We popped in for the end of the Adam West panel. Unfortunately, Adam West couldn't make it due to illness, but Burt Ward (Robin) and Julie Newmar (Catwoman) were there. We managed to walk up right when Julie Newmar decided to make out with a fan. It was….intriguing to watch. That is probably the only words I can put to describe that moment.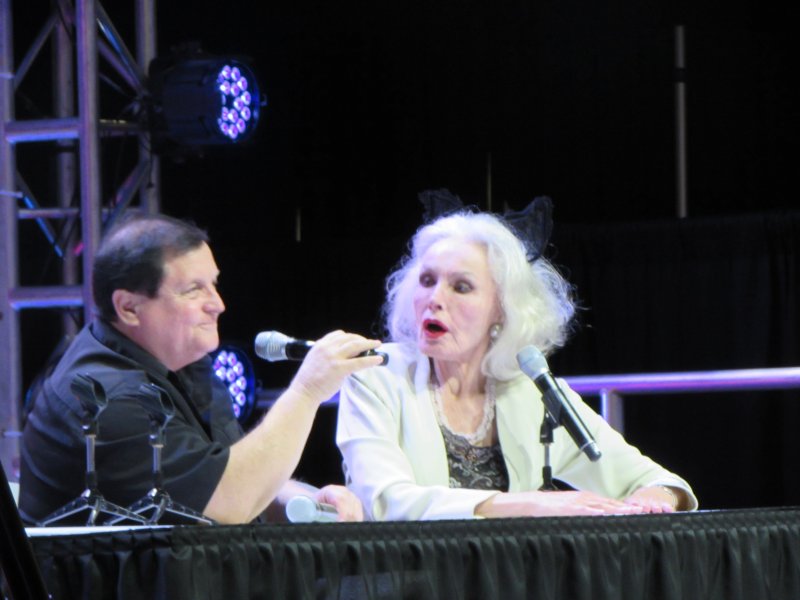 I have to say, Julie Newmar reminds me of a strangely spunky, malfunctioning robot. She is really funny, but she seems to go off the rails at times, and I bet the moderators of her panels get a little worn out working with her. She is definitely a ham for attention.
Burt Ward discussed his journey to becoming Robin, and the dangers of the part. He had a pretty funny story of the opening scene, where he was filming the opening scene with Adam West's double. Apparently the scene was too dangerous for Adam West, but since 20th Century Fox couldn't find a good enough double Burt Ward, he had to be a part of the scene. Long story short, Burt Ward explained this antic and various others that put him in the emergency room almost every day during the first few days of filming.
The panel finished up with Burt Ward talking about is big breed dog rescue, and new dog food his charity has invented. Definitely a good cause, but felt a little out of place at a comic book convention. If you are a dog lover, his rescue is Gentle Giants, and specializes in big breeds (I guess I am plugging it now, huh?)
Battlestar Galactica
After Burt Ward and Julie Newmar concluded, It was time for some Battlestar Galactica fun. Edward James Olmos (Adama), Michael Trucco (Sam Anders) and Jamie Bamber (Apollo) were supposed to lead the panel, but we only got Olmos and Bamber. At first at least–Jamie showed up pretty shortly after the panel begin and tackled Michael to the ground in a good bit of hilarity.
A quick personal note–I am a huge cynic. I feel like a lot of the people who do these conventions are in it for the money, and may not be too genuine in their feelings towards whatever body of work they are representing. I felt this way at the start of this panel as well–the three just wanted their pay check. But after watching the panel, I have to say, I think that for the most part, they do care about their parts on the show. Olmos specifically had nothing but great things to say about their time on the show. Trucco also talked about the perfect storm of timing, actors and story that culminated into the great show Battlestar Galactica became. All three of them were more than appreciative to take questions as well, and answered some good ones. We learned Apollo had a particular fondness for working Mary McDonnell's character and the strong woman she portrayed.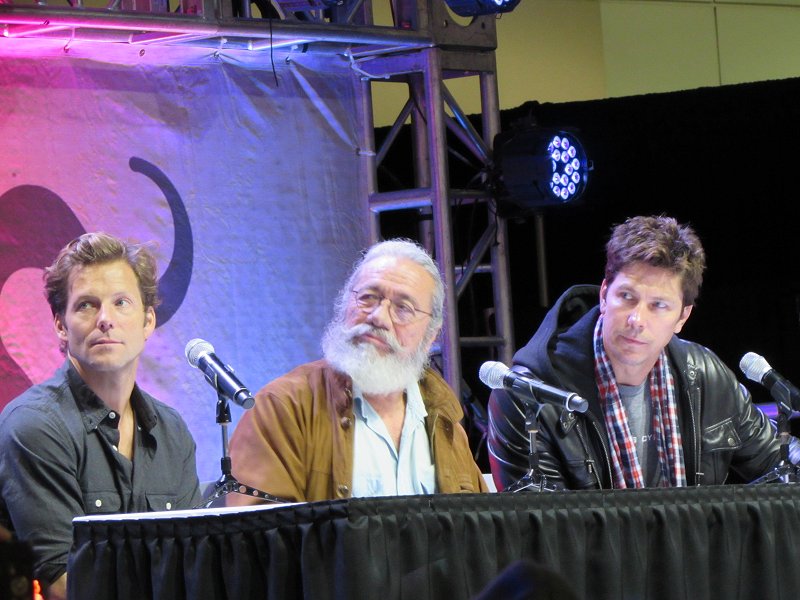 Both Trucco and Olmos talked about their initial reading of the scripts, and Trucco explained how the script was an instant page-turner for him. Olmos mirrored this sentiment, adding in that he didn't think he would have time for this show, but after reading the script, he made the time. Also interestingly enough, Olmos never saw the original Battlestar Galactica due to working nights on plays when BSG was on TV (there wasn't TiVo back then I guess!).
Also brought up was the much rumored BSG movie, but Olmos, while probably not having any concrete information on the movie, did seem to think that it would be an entirely new cast if the movie is made. This is a disappointment, but not unexpected, and more importantly not confirmed by anyone directly working on the movie–if there even is one.
The three of them also talked about the final scenes of the series being shot, and how close everyone had become to each other. They genuinely all seemed to really appreciate the opportunity they got with this show, and realize it was lightning in a bottle. Olmos acknowledged the fact that this is his body of work that will probably be the most famous, and he admits how glad he was that it happened later in life–so that he didn't have to worry about hitting it again if he were younger.
The panel was pretty short though, and despite being cut off, Olmos and the other two tried to answer as many questions as they could before they were forced to move off the stage. At that point, Olmos encouraged fans to come over to their autograph booth and they would answer any questions, saying that they didn't have to buy anything. Again, I think those guys really do appreciate their fans. I miss watching Battlestar Galactica for the first time.
John and Carole Barrowman
After Battlestar Galatica, we headed to John and Carole Barrowman's panel. The panel was supposed to promote their joint book series, Hollow Earth. The panel really turned into Carole and John bantering on stage, which was a lot of fun. We saw John Barrowman at Phoenix Comicon and knew he wouldn't disappoint. As expected, John received most of the questions, but Carole was a good sport about it, and even provided a couple funny stories about John on their various trips together. The story about their trip to Spain was particularly funny.
What is a lot of fun is hearing both Carole and John move in and out of their Scottish and American accents. It is pretty funny and mind-boggling at the same time.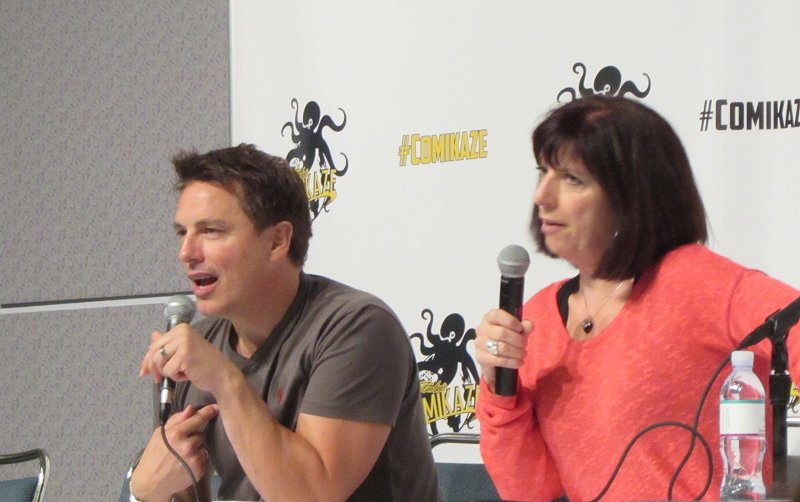 There wasn't a whole lot of meaningful information in this panel, mainly just a lot of goofing around. John did talk about his Stan Lee/Marvel collection he has, along with naming Captain America and Iron Man as his favorite Marvel characters.
John also discussed his hard time with naming "favorites" of anything, which makes sense. Favorites change, and especially when it comes to movie/TV roles, different characters probably have different favorite parts about them.
They also talked about their creative process, which comes from either a sugar rush or really drunk conversations. It seems the Barrowmans bounce ideas off each other, record their conversations, then retrieve the worthwhile bits. Carole also does all the writing, John acknowledges (and is also what I figured).
The biggest news I think gleaned from all the witty banter in this panel is that Malcolm Merlyn is likely to try to leverage Thea against Oliver in Arrow, that John would like to continue Torchwood if possible, and that he and Carole might be working with DC to bring some obscure DC characters to comic pages again. That could get really interesting!
But the Barrowmans were a lot of fun! I felt a little bad for Carole, but she was a good sport about it, and I am sure she is used to her brother getting most of the limelight at conventions.
Violet will take over this article now, and let you know what we did for the rest of our Saturday at Comikaze!
Game of Thrones
As Josh mentioned, this is Violet taking over from here on out for this article. Okay, so after we left the Barrowman panel (which was hilarious!), we headed back over to the Main Stage for the Game of Thrones panel, which was scheduled to start at 1:00pm, the same time that the Barrowman panel let out. Luckily, they were running just a couple minutes late, and had only started introducing the panelists to the packed crowd as we walked up. The panel consisted of Alfie Allen (Theon Greyjoy, or Reek, as he continually reminded everyone who tried to call his character Theon during the panel!), Esme Bianco (Ros), and Gwendoline Christie (Brienne of Tarth).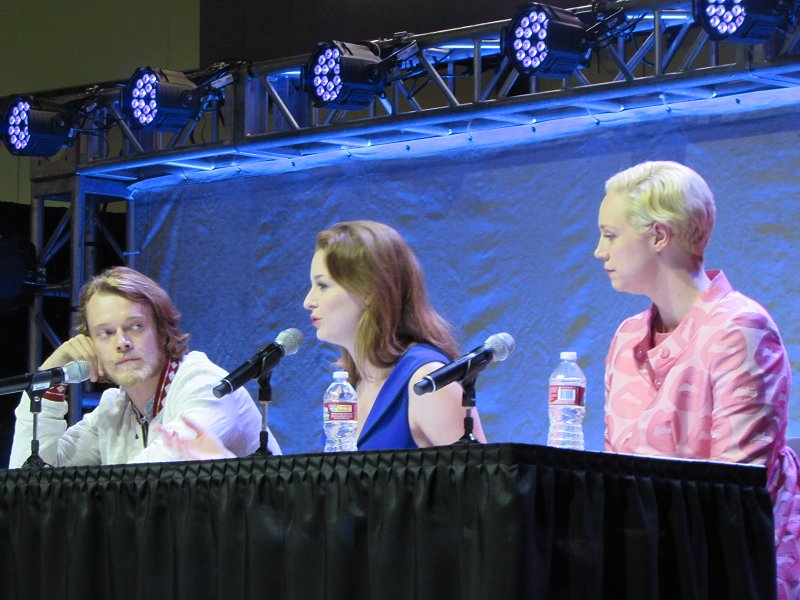 Of course, the first topic that came up, and that kept coming up throughout the panel, was Theon's, uh, member, being cut off, but Allen seemed to be a good sport about it. Allen also told us about how he was given a fake script at one point  during the show, in which his character died — due to being killed by Bran. However, he didn't freak out, as intended. Instead, his reaction was more like, "Fair enough."
Quite a lot of audience members had the chance to ask questions of the panelists. Through these questions we found out how they think their characters would have killed Joffrey, and that both Christie and Allen prefer House Lannister, while Bianco likes House Stark . The actors also discussed their favorite deaths on the show, and who they thought would ultimately win the "game of thrones." (Christie answered Hodor, which got several crowd members "Hodor"-ing.) However, she said she didn't know why anyone would want to sit on the Iron Throne, because she has sat in it before, and it is very uncomfortable! In a question posed regarding the misogyny and treatment of women on the show, Christie asserted that Game of Thrones has some of the strongest female characters on any TV show.
Regarding Christie's upcoming role in Star Wars: Episode VII, she was unable to talk about it, unfortunately. However, she did say that she brought the hard work and discipline she learned working on Game of Thrones to her Hunger Games and Star Wars roles.
Fatman on Batman: Kevin Smith and Ralph Garman — and Burt Ward!
After the Game of Thrones panel wrapped up, we headed to meet up back up with Davey and Tamara, and get in line for Kevin Smith and Ralph Garman's live podcast recording, which was at 2:00pm. The line of people wanting to get in was, of course, really long. They tried to squeeze as many people into the room as possible, and even allowed people to stand against the walls, but it looked like they ended up having to turn away some people. We joked about how of course the first time we would be seeing Kevin Smith live is when he is unrecognizable — due to the fact that he had recently shaved off his trademark beard, and lost some weight. However, when he arrived, he was still easy to recognize, and his facial hair was scruffy, rather than clean shaven.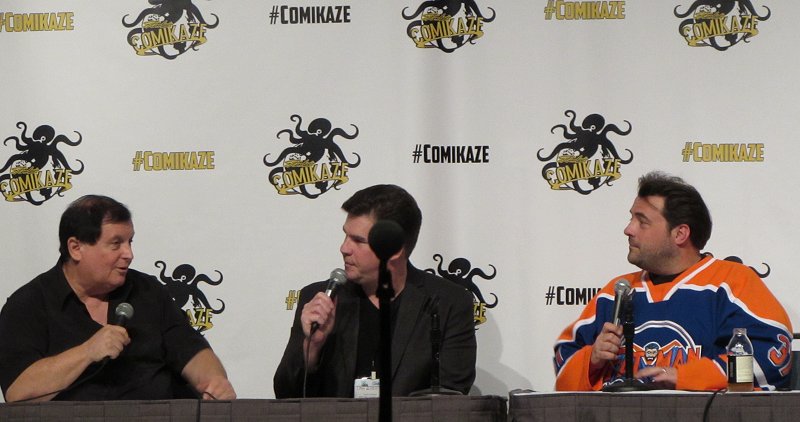 Kevin and Ralph talked about how important the old school Batman was to them growing up, and still is, and mentioned that all of the episodes of the original Batman TV show, which they refer to as "Batman '66," would be available on Blu-ray in just 10 short days. Adam West was supposed to have joined the panel, but as we mentioned before, he was unable to make it Comikaze due to illness. Therefore, Burt Ward crashed the panel instead! He explained that this was the first time in 50 years that Adam West had missed a scheduled appearance, so he must be really sick. The rest of the panel was mostly Ward talking, mainly telling us the same stories he had in the morning's panel, except with a few more details thrown in, including the story about all the accidents that took place on set within the first few days of shooting, and his lack of a stunt double. He also went more in depth about his Gentle Giants charity. A few audience members were able to ask questions, but not many.
At the end of the panel, we got to see a clip of one of the Special Features that would be on the Blu-ray: Ralph showing Adam West his Batman collection — which is massive! One of the final audience questions was whether Kevin Smith would be signing, and he said to just throw your stuff up at the end of the panel, and he would sign it. So when the panel let out, many people crowded up to the front of the stage, handing stuff to Kevin for him to sign, and he did as he promised.
I'm sure the podcast will be posted on Kevin Smith's Fatman on Batman website soon, and you'll be able to listen to the whole panel.
Constantine
The Kevin Smith panel let out a little late, so by the time we got back over to the Main Stage, we had missed over half of the short 30 minute Constantine panel, which was to be a discussion about the new NBC series. This panel included writers David S. Goyer, Daniel Cerone, and Cameron Welsh, and Executive Producers Mark Verheiden and Christine Boylan.



As I said, we didn't catch much of this panel, but one audience member asked whether a character from the comics named Zee would be in the show. However, the answer was that she wouldn't be in the first season, but maybe the second. They named some episodes where certain other characters from the Hellblazer comics would appear, though. The panelists also spoke about how they wanted to keep Constantine close to his punk roots, and that even though the character was created in the 80s when there was a punk movement, they would still stay true to that today. They assured us we would be hearing more about Constantine's punk band, Mucous Membrane.
The Floor, Tetris, and Stan Lee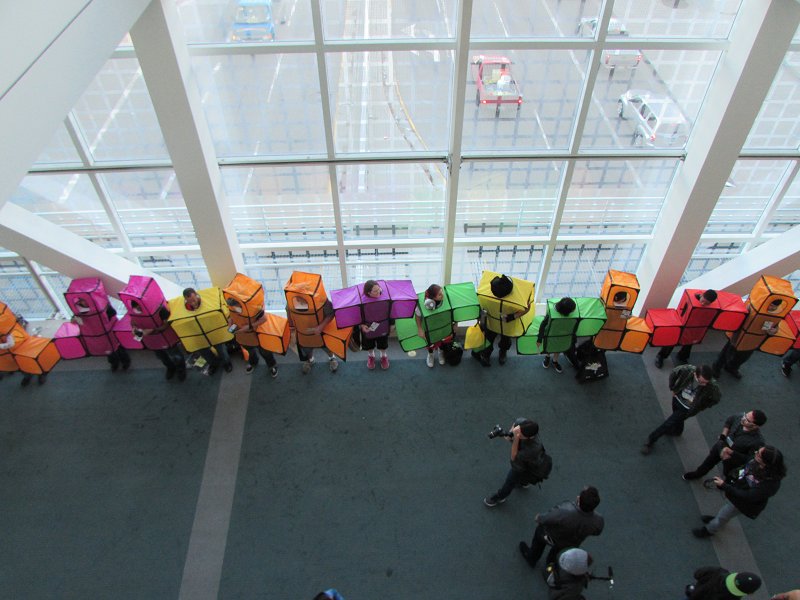 After that, we wandered around the Exhibit Hall floor for a little while. One interesting thing we saw was a sword fighting demonstration.  Then at 4:00pm we went to check out the Guinness Book of World Records attempt at the longest line of human Tetris pieces. According to a press release I saw tonight, the final tally was 201 participants, and the attempt had been submitted for final verification. We then came back in and walked the aisle next to the row of autograph tables, but most people were not at their booth. We swung by Elvira's area and caught a glimpse at her. Considering how tired we were and how crowded it was (way more crowded than Friday!) we decided to find some chairs to sit in, until Davey and Tamara met back up with us (we had split off from them after the Kevin Smith panel).
By this time it was about 4:45pm, so we went and got in line for our Stan Lee photo op, which was at 5:00pm. The line was fairly long, but not too bad. However, they must have been running behind, because the line did not budge until about 5:30pm. When it started moving though, it moved very fast. Before you go in, there's a table where you're supposed to leave your stuff. A guy at the entrance collected our ticket, and another guy asked us how many people would be in the picture. They directed us to stand behind Stan Lee, who was sitting in a chair. Stan turned his head, smiling, looked me in the eye, said "Hello," and I smiled and said "Hello" back. Then they snapped the picture and ushered us out. We went back and grabbed our stuff, and our picture was printed and ready within just a few short minutes! So, that was pretty awesome to meet Stan Lee, even if it was just for a few short seconds! Yes, in case you were wondering, I did touch him, as I had placed my fingers on the back of the chair he was sitting in, and my fingertips brushed his jacket. They're supposed to be emailing us a digital copy of the photo, so hopefully we get it soon! (How long does it normally take to get it? This was the first time we've done a photo op!)
After the Stan Lee photo op, we decided to head out, so we could rest up for Day 3 of Comikaze!
Below is our photo gallery of our pictures from today.
Note: When you click on each image, it will open in a new window. Then you may click on the image to enlarge it even more.