Friday, October 31, kicked off the first day of Stan Lee's Comikaze Expo, a 3-Day event taking place at the Los Angeles Convention Center October 31 through November 2! Check out Violet's recap of her Friday experience at Comikaze.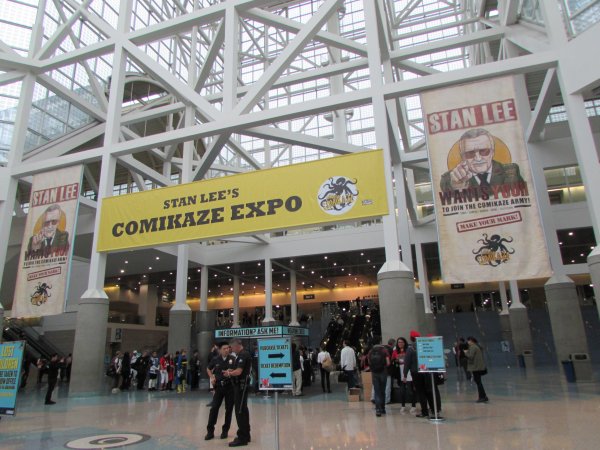 Considering that Friday was only a half day at Comikaze, with doors not opening until 1:00pm, I took a only half vacation day from work, leaving a little after noon, using public transportation all the way from the West side of LA to downtown. Unfortunately, traffic was pretty bad, and I didn't end up getting to the convention center until almost 2:00pm.
When you enter the convention center, a huge Baymax from the upcoming Disney movie Big Hero 6  is there to greet you, along with posters of Stan Lee.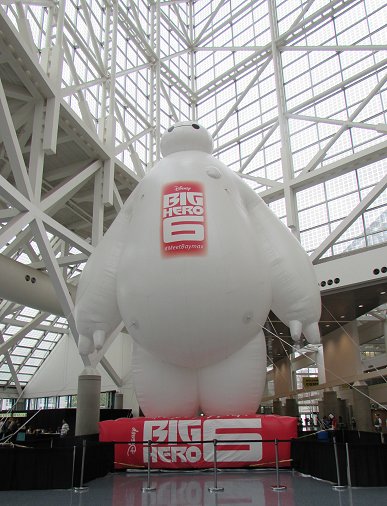 I didn't really have much planned for the day, aside from just walking the floor and meeting up with Twitter friends, so as soon as I picked up my press badge, I headed directly to the Exhibit Hall floor. There, I promptly found Twitter friends @cyberaug (John) and @thenerdygirlie (Megan), and then Kim from @thenerdelement found us as well. I had met John and Megan a couple of times before (met them both for the first time at last year's Comikaze, in fact!), but it was my first time meeting Kim, who was very nice! Then Kim and her friend went on their way, at which point, John, Megan and I walked around the floor for a bit.
The aisles on the floor are quite wide, and it didn't seem like too many people were there, so it didn't feel crowded at all, and it was very easy to walk around without feeling claustrophobic like you do at other cons. We checked out Stan Lee's Mega Museum, where there were props from various Marvel movies on display, and also took a look at the Sci-Fi History Museum's booth, which had the Dolorean from Back to the Future on display! See our photo gallery below for those pictures.
After that, Megan and I went upstairs to the Disney Fandom panel, where Disney social media sensations Traci Hines, David Rubilar, Charis Lincoln, Hali Ducote, Andrew Ducote, and Leo Camacho talked about DisneyBounding and their favorite Disney memories. There was also some Disney trivia posed to the audience for which prizes were awarded.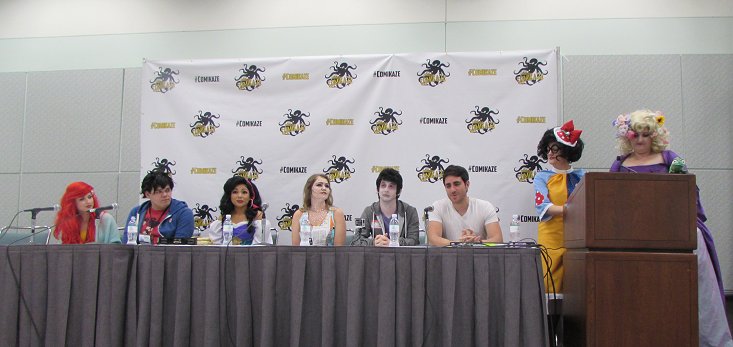 Then Megan and I went back down to walk the floor some more, and met back up with John. My mission of the day was to find out what Stan Lee's photo op schedule was, because Josh, our friends Davey and Tamara, and I were wanting to get a photo op on Saturday, the only day that all 4 of us would be there. The online schedule doesn't say, it just says to check his booth for the schedule. It took a little asking around, but I finally tracked the info down. In case you're wondering, he's signing autographs at 11:00am on Saturday for $60, and will be doing photo ops at 5:00pm for $80. Well, $80 for up to 2 people, plus $10 for each additional person.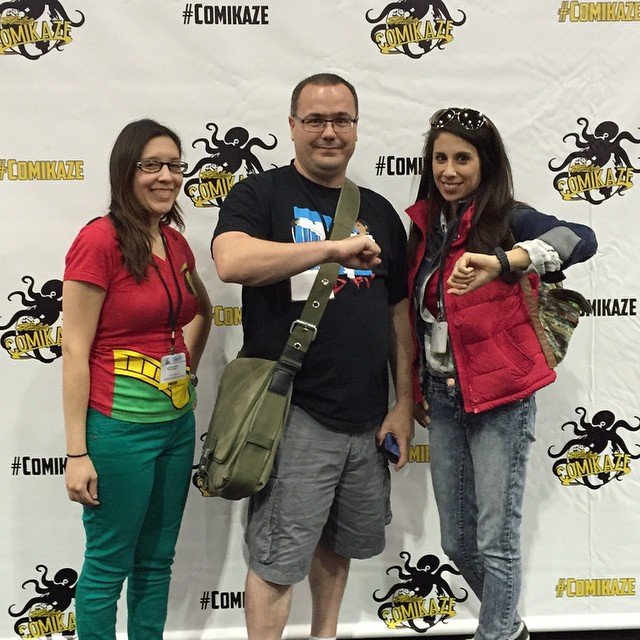 After walking the floor for awhile, we took this photo of the three of us. Then we caught a little bit of the kid's costume contest that started at 5:30pm on the main stage. The first kid to walk out on stage was dressed at Bender from Futurama, and Megan got super excited since that's her favorite show, and was cheering for him really loudly. Sadly, he was eliminated. We watched a few rounds of contestants, then I had to leave at 6:00pm to make sure I caught my train to Orange County that was leaving Union Station at 6:30pm, so we all decided that was a good time to call it a day.
Time to get some sleep, because tomorrow's going to be a long, fun-filled, exciting day at Comikaze!
Check out the Day 1 photo gallery below.
Note: each image will open in a new window, then you may click on it again to enlarge it even more.