by Josh

In the last "Silly Superhero Situations", we pitted Joker against Joffrey at the DMV and it was a runaway victory for the Joker. I really thought the Joker's lack of identification might sway the audience in Jeffrey's favor, but I guess his people skills and knowledge of driving gave him the edge!
This week, we are returning to heroes, and we have a couple of fairly timely heroes facing off against each other. We have the regenerative Wolverine from the X-Men facing off against the might of the Godzilla. This almost seems unfair! What could Old Man Logan do against the mightiest Kaiju of them all? I am glad you asked! Let's just say it involves one of the most beloved and detested stores of all time. Check out this week's Silly Superhero Situations after the jump!
Wolverine's and Godzilla's Mission:
If you have never been to Ikea, then you are missing out one of the most bittersweet of human activities. On the one hand, it's exciting! It's an all-in one furniture store, that has almost anything you could possibly ever need! And there is even a restaurant inside! But then it dawns on you: There is a restaurant inside. What shopping place needs a full-on restaurant? The kind of place where you enter, and when you leave, it could quite possibly be two days later. The kind of place that reminds you of the same reason Vegas casinos do not have windows: They don't ever want you to leave their maze of wonders! So this week, we will torture our two heroes with their ability to navigate Ikea, find the media shelf they so desperately need to put their movies on, return home, and assemble the furniture for use!
Objective 1: Rendezvous at Ikea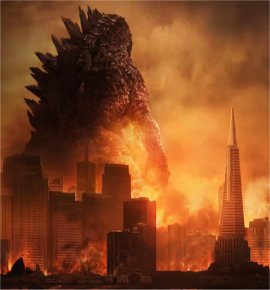 Chances are, since Logan recently spends a lot of time in New York, at Professor Xavier's Mansion and School, him finding a Ikea near him would not be too difficult. He can simply put his information into Ikea's handy-dandy store locator, and voila! There are 3 in New York, 1 in New Jersey and one in Connecticut. He can simply drive there and pick it up!
For Godzilla, he is in luck too! There is an Ikea in Tokyo! That is just a stone's throw away from his home in the Pacific Ocean. And considering how quickly we saw Godzilla swim in his new 2014 movie, he would likely get there before Logan/Wolverine would get to the nearest New York Ikea. Godzilla will just have to smash his way through Tokyo again, in order to find the perfect bookcase for his favorite Kaiju films.
Objective 2: Identifying the Bookcase Target
Once inside Ikea, that is when the real mission begins for Logan. Unfortunately, Wolverine is at a bit of a disadvantage here: He will be forced to navigate the maze known as the Ikea. The good news though, is that if the escalators are full, Wolverine can simply use his claws to climb up the walls! Once Wolverine has made his way to the shelving area, he will have to pick the right shelf for his house. There are so many options, this could take some time! Once he chooses, he has to make sure that he writes down the correct aisle number for the unit when he makes his way down to the Self-Serve area of Ikea. Logan also has to navigate successfully through the rest of the store, and avoid being distracted by all of the other merchandise–floor rugs, window curtains, kitchen utensils, picture frames, lamps, mattresses. There is so much to look at, and so little time!
Wolverine does have one thing going for him here though. If he was able to pick up the scent of the bookcase he was looking for, perhaps he might be able to sniff his way to victory. Unfortunately, since a lot of Ikea furniture is made from the same weird paper-wood hybrid material, this may not be an option. Once he has made it through the maze, Logan has to hope to not have spent too much time in Ikea–otherwise the delicious, inexpensive restaurant may appeal to Wolverine's appetite!
So how about Godzilla? The big dinosaur-like creature can't even fit inside the building! While this might seem like a disadvantage for Godzilla, it actually might be a huge advantage. Godzilla could simply play "dollhouse", and remove the roof of Ikea, and pick and choose. He could simply bypass the maze of Ikea! But then again, this actually may turn back into a disadvantage, as bypassing the maze of Ikea to the people who run the company is considered a crime, and the Ikea police may come to take down the beast. Godzilla may be stuck dealing with the distraction of the Ikea Maze-Enforcement Agency (IMEA). While Godzilla would not be in any mortal danger, it could be enough to slow him down and allow Logan the win!
Objective 3: Loading Up and Extraction:
Wolverine tends to be a bit brash in his decisions, and he– thinking it would be the quicker option–might steal Cyclops' motorcycle to reach Ikea quickly. This could be a problem–how is he going to load this onto a motorcycle? Luckily, he possesses some superior strength, so he would likely be able to use the complementary twine in the loading area of Ikea, and tie the bookshelf to his back, and drive home. Unfortunately, since Ikea doesn't help load, he would be on his own tying it down. But after that, and assuming the bookcase doesn't fly off Logan on the trip home, he would nearly be done!
As for Godzilla, given that he has dealt with IMEA, the task for Godzilla taking the bookshelf home is a piece of cake. Godzilla does have one problem though: His home is the Pacific Ocean. Godzilla is going to have to spend some time waterproofing the paper-wood material the shelving is made from before taking it to the depths of the ocean!
Objective 4: Clearling the Landing Site and Setting Up the Package:
It seems like Logan has been at a disadvantage most of this battle, but the tide could turn in the latter half of this match. Given that Sabertooth or Lady Deathstrike don't come and cause a distract, or Magneto doesn't show up and hide all of the screws and doo-dads for the shelf with his powers, Logan has a serious chance here. As to the eliminating of the old shelving, Logan is strong enough to carry it out with minimal effort.
Godzilla has a pretty good advantage here too, however. He would simply need to use his fiery breath to destroy the old shelf, and sweep the ashes away. No big deal for the overgrown lizard.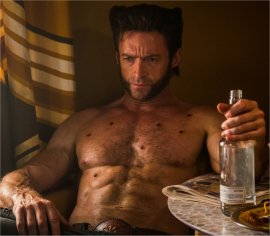 But then the final test: actually assembling the bookshelf. Logan has a good advantage of opening the packages. Using his Adamantium claws, he would easily be able to slice through the cardboard box. He would just have to be careful to not slice through any of the wood parts, and most importantly–the instructions.
Godzilla would have trouble at this point. His fiery breath would simply char the entire box, the bookcase included! He is going to have to somehow use his little claws the open the box without damaging the wood inside! I can see that proving difficult for the big guy.
As for actual construction, Wolverine probably has the advantage here. The only concern would be his temper. Trying to decipher the wordless picture instructions can wear on even the most patient of people. As long as Wolverine remains calm, he should be in a good position here. He could possibly even use his claws as a screwdriver, eliminating the need to find tools. If Wolverine did lose it, it could be over for Wolverine, as a berserker rage could send him into a frenzy, destroying the shelving with his claws.
Godzilla will be at a debilitating disadvantage here. How is he going to get wooden dowels into the walls of the shelf? Can he even see them? This could prove to be a game changer for Logan, and I have a feeling Godzilla might resort to some nefarious moves in order to win this competition, and possibly attempt to toast Wolverine before he can finish. Luckily Weapon X's healing powers would be able to stop any nefarious fiery actions of Godzilla.
So in the end, who do you think gets their brand new shelf assembled in the most timely fashion? The giant lizard that was born as a result of World War II or the regenerative mutant that fought in the war? Take a vote in our poll below and let me know who you think would be most successful!
P.S. If you vote and leave a comment, you can earn 5 extra entries in our X-Men Giveaway, which includes a Wolverine Funko Pop Vinyl figure & much more!
P.P.S. We will also be awarding 25 bonus entries in our X-Men Giveaway to the person with the most convincing argument in the support of Wolverine, and to the person with the most convincing argument in support of Godzilla! Josh and Violet will be the judge.