If you've ever been to San Diego Comic-Con, you've probably noticed the extremely long lines at the Starbucks locations inside the convention center and at the Hilton Bayfront just across the street. But if you're willing to venture just a bit further, you can skip those lines and get your Starbucks fix much quicker. Here's how.
Download the Starbucks app and order ahead using the mobile order option.
How does mobile ordering work? You just open the Starbucks app, customize your order, select which location you want to pick it up at, and input your payment method. You'll be given an estimated amount of time in which your order will be ready (typically 4 – 9 minutes), then you just show up at the pick up window, give the barista your name and tell them you have a mobile order, and you walk out of the store without having to wait in line. If you're a bit early, you may have to wait a short time at the pickup window for them to call your name, but it beats having to wait in line!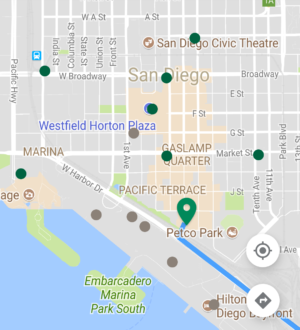 Note that not all Starbucks locations offer the mobile order option. None of the three locations in the convention center do, nor does the Hilton Bayfront location, nor the one in the Marriott Marquis.
So which downtown San Diego Starbucks locations DO offer mobile order?
5th Ave and L Street
4th & Market
Harbor Drive & (Pacific) Coast Highway
10th & Market
Horton Plaza
Horton Plaza – Pavilion Area (Broadway & 4th)
525 B Street (6th & B Street)
Broadway & Kettner
The closest mobile order option to the convention center is the 5th Ave and L Street location, which is right next to Mary Jane's (which will be themed as a SYFY show during SDCC) at the Hard Rock Hotel. Yes, if you're already at the convention center, you'll have to cross the railroad tracks to get to it on the other side of the street, but you'll probably be able to place your order, walk over and get it, then come back in a much quicker time than it would have taken you standing in line at one of the closer locations.
The Starbucks located at Harbor Drive and Pacific Coast Highway (the app calls it "Coast Highway" while the street signs call it "Pacific Highway") is a good option if you're at the Manchester Grand Hyatt, or Embassy Suites. It's at the back of the Headquarters shopping center, the one where Cheesecake Factory is.
The other Starbucks locations on the list are a bit far to walk from the convention center, but are good options if you're walking from a further out hotel or parking lot.
Will you be needing a Starbucks fix while at San Diego Comic-Con 2017? Let us know in the comments below!
Our other SDCC Tips articles:
Start Getting in Shape NOW
How to Avoid Con Crud
Keep Your Devices Powered Up
Seating Capacity