Are you going to San Diego Comic-Con and wondering what the seating capacity is for each room? Well, look no further, as we have broken it down for you room by room below! We also offer advice on evaluating the popularity of a panel based on seating capacity and using the MySched "Popular" feature. 
We went straight to the sources, the San Diego Convention Center, Hilton Bayfront, Manchester Grand Hyatt, Lamb's Players (Horton Grand Theatre), Omni Hotel, and San Diego Central Library websites for the following info for seating capacity, which we based on the "Theater" or "Lecture" capacity for each.
We listed the 6 main rooms first (Hall H, Ballroom 20, Indigo Ballroom, Room 6BCF, Room 6A, and Room 6DE), then proceeded to list them in numerical order, followed by alphabetical order.
Hall H
6,500
Ballroom 20
4,800
Indigo Ballroom,
Hilton Bayfront
2,663
Room 6BCF
2,160
Room 6A
1,040
Room 6DE
  884
Room 2

  340
Room 4
  280
Room 5AB
  504
Room 7AB
  480
Room 8
  340
Room 9
  280
Room 14A
  230
Room 16AB
  546
Room 17A
  230
Room 17B
  230
Room 18
    84
Room 19
    72
Room 23ABC
  374
Room 24ABC

  420
Room 25ABC
  480
Room 26AB
  340
Room 28DE
  297
Room 29AB
  336
Room 30CDE
  504
Room 32AB
  350
Coronado Ballroom DE,
Manchester Grand Hyatt, 4th Floor
  408
Grand Ballroom D,
Manchester Grand Hyatt
  700
Horton Grand Theatre*
  250
Neil Morgan Auditorium,
San Diego Central Library
  350
The Playback Room,
Omni Hotel, 4th Floor Ballroom
  800
Shiley Special Events,
San Diego Central Library
  333
Keep these numbers in mind when deciding how early you should get in line for a panel that you really want to go to.  Also, remember that San Diego Comic-Con does not clear rooms between panels, so it is possible you might need to sit through a panel that you don't really care about in order to make sure you get into your desired panel. You'll also need to take the new Hall H wristband policy into consideration if want to attend any panels in Hall H.
Something else that might help you decide when to get in line is the "Popular" feature on MySched, which ranks the panels by popularity based on how many people have RSVP'd that they are attending each panel. Of course, not everyone creates an account and RSVP's on MySched, so the number of people who say they are attending is much smaller than the number of people who will actually attempt to attend each particular panel. However, at least it gives you a gauge to go by.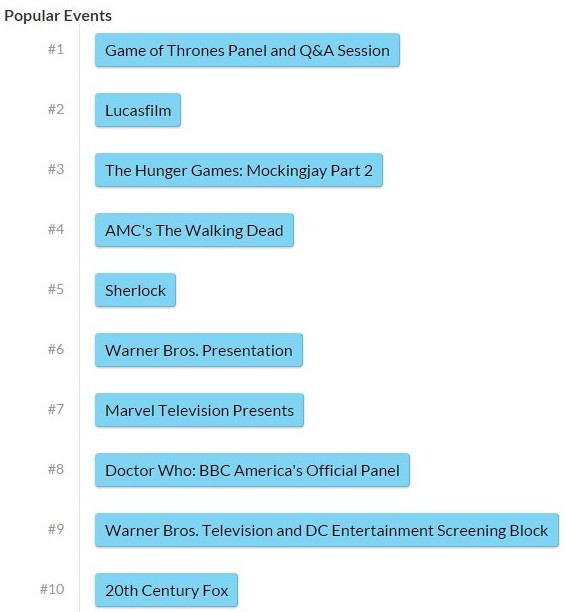 For example, at the time of publication, the #1 most popular panel is the Game of Thrones panel with 2024 attending, but obviously a much higher number than that will attend. Make no mistake, this panel will fill up the 6,500 seat capacity Hall H and then some. Plus, with #2 Lucasfilm and #4 AMC's The Walking Dead being in the same room on the same day, this combination will make for a crazy line for Hall H on Friday!
Currently, 8 of the Top 10 panels are in Hall H, but notice that #5 Sherlock and #7 Marvel Television Presents (Agents of SHIELD and Agent Carter) are in the 4,800 seat capacity Ballroom 20.  Let's look at Sherlock. Typically, Saturday is the most popular day in Hall H (except for this year, which appears to be Friday). However, the highest ranking Hall H Saturday panel is #6 Warner Bros. Presentation with 1636 attending, which Sherlock is currently ahead of with 1660 attending. It's a pretty good bet that the Warner Bros. Presentation will be more than full. Considering that Hall H has a capacity of 6,500, let's multiply the amount of Warner Bros. Presentation attendees by 4, which gives us 6,544. Now, let's multiply the amount of Sherlock attendees by 4, which gives us 6,640. Unfortunately, Ballroom 20 only holds 4,800 seats. So comparatively, that's quite a lot of Sherlock fans who will be vying for a spot in that room. If you're planning on attending any panels in Ballroom 20 on Thursday prior to Sherlock, you've been warned.
This brings up another point, which we mentioned above, that rooms are not cleared between panels. That means people can and will sit through panels they're not interested in. You should always look to see what is going on in that room later on in the day and judge by the popularity of those panels to determine whether you should get in line even earlier. For example, the first panel of the day in Hall H on Thursday, Open Road, has only 292 attendees. Even if you multiply that by 4, that's only 1,168. But #3 The Hunger Games: Mockingjay Part 2 and #8 Doctor Who are also in Hall H following that panel, so Open Road will be full as well.
Again, this isn't an exact science, and you can't base your decisions solely on the amount of people who RSVP'd on MySched, but it does help you get an idea of how popular each panel is. If your desired panel is in one of the much smaller rooms, but doesn't crack the Top 50 on the popularity list, then you most likely don't have anything to worry about. You may want to compare the number of RSVP'd attendees to the seating capacity for the room, though, and you can also sort popularity by day, rather than than look at the overall popularity list for all days.
For example, although Thursday's Cosplaying 101: Bringing Your Dreams to Life is not on the overall Top 50 list, it is #38 on Thursday's Top 50. However, while 315 attendees have RSVP'd for this panel, Room 14A only has a seating capacity of 230.
Just some things to consider as you plan out your SDCC schedule. Remember, always have a backup plan! And a backup plan to your backup plan!
* Note that panels at the Horton Grand Theatre require a separate ticket for entry, in addition to your Comic-Con badge. Drawings for free tickets to each panel at the Horton Grand Theatre will be held at 9:00am on Thursday, Friday, and Saturday morning in the Autograph Area of the Sails Pavilion. Each winner will receive entry for two. There is assigned seating, and rooms are cleared between panels, so no need to line up early at the venue once you secure a ticket. However, based on the popularity of these panels, you may want to line up early for the ticket drawings. There will also be a second drawing after the initial drawing for "stand-by" tickets.
What days are you going to SDCC 2015? Are there any panels that you're worried about not getting into? Let us know in the comments below!
Our other SDCC Tips articles:
Parking
Start Getting in Shape NOW
How to Avoid Con Crud
Keep Your Devices Powered Up