by Violet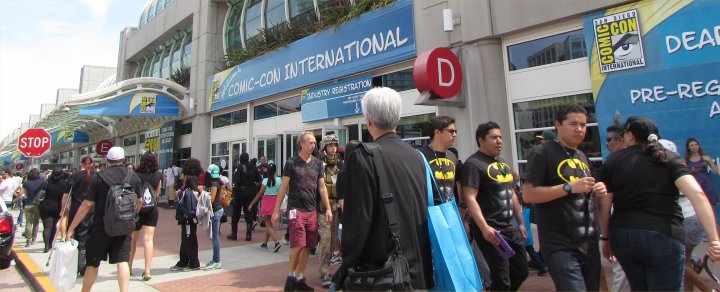 Only 15 days until San Diego Comic-Con! With so much to see and do at SDCC, we know you're going to want to take tons of pictures (but not with a selfie stick!) and Periscope (except during panels) and tweet all about it, and while you're waiting in the long lines, you're going to want to use your electronic devices to keep you entertained. The problem with that is your phone, camera, tablet, and laptop batteries will likely run out of juice at some point throughout each long day! Read on as we offer some tips and a giveaway to help with that problem!
1. Turn off Wi-Fi and Turn Down Brightness
Before we get into the heart of this discussion, let's start with the #1 way to help conserve power on your smartphone: turn off wi-fi.  Even when you're not using wi-fi, if it's turned on, your phone will constantly be searching for a network to connect to, an action which uses up battery power. While it is true that someone at SDCC will sponsor free wi-fi (in the past it has been MTV's Teen Wolf), it's virtually useless, because so many other people in and around the con are also trying to use it. The only time you might actually be able to use it is in the middle of the night when you're camping in line. But as soon as the masses start showing up during normal Comic-Con hours, it'll stop working again. Other than that, yes, service is spotty, but you might as well conserve your battery power and try to use your own cell network, rather than waste it trying to connect to free wi-fi that doesn't work. Turning down your screen's brightness will also help conserve your device's battery.  I usually have mine set to Automatic Brightness, but you might want to manually adjust your settings to a lower brightness level instead.
2. Bring Power Strips
Your hotel room is most likely only going to have about two available outlets, and chances are that there are going to be more than two things that need to be charged, especially if you have four (or more) people staying in your room. The best solution to this problem is to bring a power strip or two with you to provide additional outlets so that everything that needs to get charged can get charged overnight (or in the few hours you're at your hotel room before heading out to line camp).
3. Use a Battery Case for Your Phone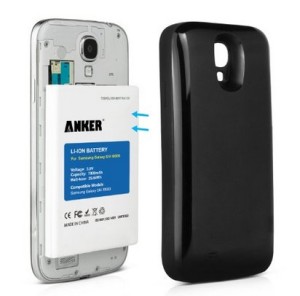 Alright, let's talk about battery life now. If you have a Samsung Galaxy S4 (like Violet), the battery capacity is 2600 mAh, whereas if you have an iPhone 6 Plus (like Josh), the battery capacity is 2915 mAh.  However, if you have a non-plus iPhone 6, the battery capacity is only 1810 mAh. That means the iPhone 6 will die much quicker, because it doesn't have as much battery life as the iPhone 6 Plus or the Galaxy S4 to begin with. No matter what phone you use, if you're using only your phone's built in battery, it will most likely drain by the end of the day during SDCC.  This is where a battery case comes in handy.  Violet uses the Anker High Capacity Extended Battery Case for her Galaxy S4, which bumps up the battery capacity to a total of 7800 mAh – that's 3 times the original capacity! On normal days, she can go for 2 days without charging her phone. During SDCC last year, she used the ZeroLemon, which had a capacity of 7500 mAh, and was always under 50% by the end of each day, some days lower than others.  It worked great for awhile, but after several months of use, it seems that the battery wouldn't hold a charge for as long as it used to, which is why she switched to the Anker. You can get the Anker on Amazon for $26.99. As for iPhone 6 Plus, Josh uses the iBeek External Battery Charger, which adds 4800 mAh, for a total of 7715 mAh. You can get the iBeek on Amazon for $22.99.  The only drawbacks for using a battery case are that it makes the phone much bulkier and heavier. Regardless of what type of phone you have, when looking for a battery case, be mindful of the mAh battery capacity in addition to the price.
4. Bring Extra Batteries and Battery Chargers
If you would rather not have your phone be weighed down by a battery case, you could bring backup batteries – that is, if your phone has a removable battery, which the iPhone does not have, unfortunately. However, if your phone does have a removable battery, you can easily find extra batteries for pretty cheap on Amazon, like this Samsung Galaxy S4 replacement battery for $8.75. You'll also want to have a wall charger so that an extra battery can be charging while you have a battery still in your phone.  This wall charger for the Galaxy S4 battery is only $3.03 on Amazon. The same thing goes for your camera. You'll be taking tons of pictures and possibly video with your camera all day long, so the battery will drain quickly. You should easily be able to find extra batteries and chargers on Amazon for your particular camera. We suggest buying 2 extra batteries each for your phone and camera, that way you can always have a spare battery on hand, and can leave one behind charging at the hotel while you go out for the day. This is especially helpful if you're like us and only spend a few hours at the hotel each evening because you're camping out in line all night.
5. Invest in a Portable Charger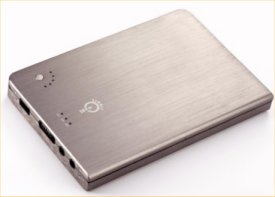 Speaking of lines, you're probably going to be spending a lot of time in them at SDCC. That means you'll most likely be using a tablet and/or laptop in addition to your smartphone to entertain you (or to make blog updates!) while you're waiting in line. Those take up a lot more battery power than a phone or camera, and once they die, they'll need a lot of power to get them working again. To alleviate that problem, you'll want to get a high capacity portable charger.  In 2013, we invested in the Introcircuit Power Castle PC26000 for SDCC, which is about the size of a Kindle, and weighs a little over 3 pounds. It's a bit pricey at $99.99 on Amazon, but it's well worth the money, considering that it has a battery capacity of 26,000 mAh. With that much power, it could provide one full charge to a laptop, or over 2 full charges for an iPad. Of course, this could also provide backup power for your camera, or iPhones since they don't have removable batteries, or any smartphones really. The Introcircuit comes with connectors so that you can charge your laptop, but if you don't need to charge a laptop, this EC Technology External Battery is a great value at $38.99 for 22,400 mAh, and has 3 USB ports so that you can charge 3 devices at once. Depending on what your power needs are, when shopping for a portable charger, don't just go for the cheapest. You have to be aware of how much mAh battery capacity it provides. If you don't need a lot of power, and want something that's much more compact, the RAVPower Luster Mini Portable Charger might be better for you. It's about the size of a lipstick tube, and provides 3000 mAh battery power, so it could provide over a full charge for a Galaxy S4 or iPhone 6 Plus.
RAVPower Luster Mini Portable Charger Giveaway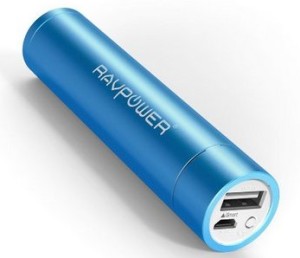 Now we've come to the part of this article that you're probably most interested in – the giveaway! We are giving away one RAVPower Luster Mini Portable Charger, the same that we mentioned above. Enter by using the Rafflecopter entry form below. You can earn one entry just by telling us what kind of phone you have! There are also options to earn additional entries, such as following us on social media, tweeting about the giveaway, etc. There are also ways to earn entries daily, so you can keep coming back and racking up those entries! The giveaway ends Tuesday, June 30 at 11:00pm PT, so hopefully that should give us enough time to get this out to the winner if they are going to San Diego Comic-Con. Good luck!
Apologies to our international friends, but this giveaway is open only to U.S. residents, age 18 and over. 
Our other SDCC Tips articles:
Parking
Start Getting in Shape NOW
How to Avoid Con Crud