San Diego Comic-Con 2017 took place at the San Diego convention center Wednesday, July 19 through Sunday, July 23! Follow along as we recount our experience at SDCC 2017.
The Inhumans panel was on Thursday, July 20 at 6:15pm in Ballroom 20. Violet and I weren't sure if we could make it to the panel, but we decided to give it a shot. After the Nerdist panel in Hall H let out at 5:45pm, we made our way down to Ballroom 20, and while there was a bit of a line, we got into the room around 6:30pm, only missing the first 15 minutes of the panel. Jeph Loeb, Executive Producer and head of Marvel Television, moderated the panel. The panelists included Executive Producer Scott Buck, Director Roel Reine, and cast members Anson Mount (Black Bolt), Serinda Swan (Medusa), Eme Ikwuakor (Gorgon), Ellen Woglom (Louise), Ken Leung (Karnak), Mike Moh (Triton), Iwan Rheon (Maximus), Isabelle Cornish (Crystal), and Sonya Balmores (Auran). Several of the cast members had plush Lockjaws which Marvel was selling at their booth.
During the panel we saw a fair amount of footage. We saw an extended trailer for the show, along with a few various scenes for the show. We saw a character named Triton attempt to rescue a newly created Inhuman that underwent Terrigenesis, which is when dormant Inhumans are exposed to Terrigen crystals, revealing their abilities and often physical body changes. We see this character possibly die in the clip, which leads to an argument in a separate clip between the king, Black Bolt, and Maximus, Black Bolt's brother, arguing over decisions Black Bolt has been making. We also saw footage showing Maximus's attempt to take over Attilan, the homeland of the Inhumans. We also saw Maximus talking to Medusa, wanting her to be his queen instead of his brother's. Medusa then used her hair to begin to strangle Maximus. There was a debate among the panelists about the best power to have, and we saw a clip of Ken Leung's character, Karnak, using his powers. At first, it looks like he dies, but then he uses his powers to go back and analyze the situation to take a path with a more favorable outcome for him.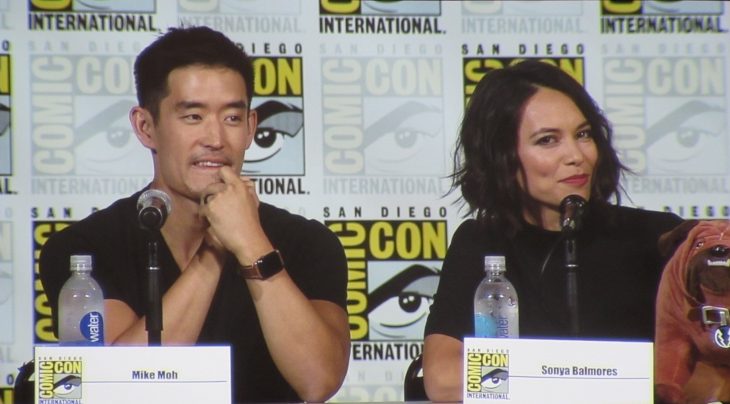 In the clips, we learned that Anson Mount's character, Black Bolt, does not speak, and instead communicates via sign language, which Medusa translates on his behalf. Apparently, according to Serinda Swan, sometimes she does not translate everything he says. The panelists talked about how the show was careful about not overlapping Black Bolt's sign language with actual ASL (American Sign Language) and instead made up its own signs.
The cast also talked about various aspects of the show, such as the action scenes. The actor playing Triton, Mike Moh, apparently trains people in Tae Kwon Do, while other members of the cast had to learn as they went with the fight scenes. We also learned that the filming was done in Hawaii, in the jungle which is a lot harder than one would expect, according to Jeph Loeb. Another thing we learned was that Ellen Woglom's character is the only one up on stage who does not have powers.
Jeph Loeb told us the premiere date of the show, which is September 29 on ABC. Jeph Loeb was also sure to remind us that the first episode will also be premiering in IMAX theaters on September 1. Jeph Loeb then informed us of the Inhumans off site event, which was at Horton Plaza Park, where some footage would be shown in IMAX. More importantly, there would be free food available. Violet and I decided to head down to see what the event was all about.
With the panel ending at 7:15pm, and having to fight our way through the crowds, by the time we got there, it was around 7:45pm. There was already a pretty lengthy line started, as the doors had opened at 7:30pm, but we decided to wait it out and see what happened. Our friend Cyberaug showed up as well to join us for the event.
We had to wait about 20 minutes, and we were able to get inside. The food we got was not bad — a slice of pizza, a candy bar, popcorn and a bottle of water. You can't beat that for free, right? We also got a free poster. The other great thing about the event was there was actually space to move around. The three of us sat at a table, enjoyed our food, and chatted for a bit. As for the actual footage of Inhumans, we figured it was probably what we had already seen, so we opted to skip that line, as it was pretty long.
We decided to make our way back to the hotel at this point, and get everything we needed ready for the Friday all day camp-fest for Saturday Hall H wristbands. Click here to continue to our report on that.
This wraps our adventures in Hall H and Ballroom 20 for Thursday. It was a pretty tiring day. Violet had a pedometer running on her phone and we were at over eleven miles of walking for the day!
You can view more photos from the Inhumans panel and IMAX offsite below.