San Diego Comic-Con 2017 took place at the San Diego Convention Center Wednesday, July 19 through Sunday, July 23. Follow along as we recount our experience at SDCC 2017!
The grand finale of Hall H for Saturday is the epic-ness that belongs to Marvel. The host of this panel was none other than Chris Hardwick himself.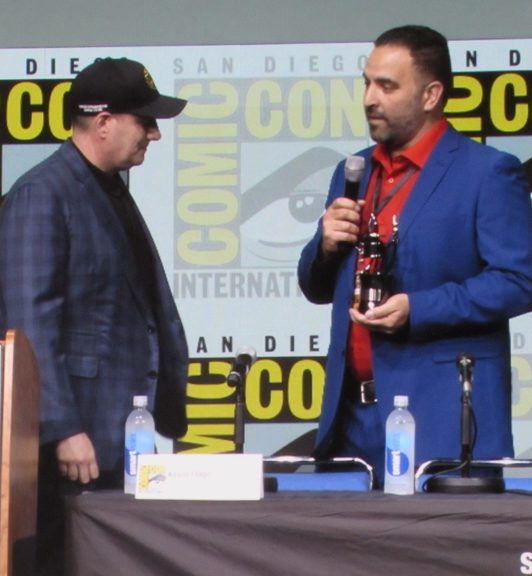 Prior to the panel getting started, Eddie Ibrahim came out and presented the Inkpot Award to Kevin Feige for what he has done for Comic-Con and comic culture in the mainstream. Kevin said this wasn't a part of the panel that he was aware, and seemed appreciative of the award.
As per the usual, there was an intro video to the Marvel panel. It wasn't like the DC intro though, with the epic feeling that DC's montage had. This was much more comedic in nature. Paul Rudd and Michael Pena (who play Ant-Man and Luis, Scott Lang's friend) decided to give the audience a primer on the Marvel universe, only in the most comedic way possible. They go through the entire MCU, with a lot of hilarity, but then the twist comes — and we learn that the two are actually talking to Michelle Pfeiffer about joining the MCU, as she will be playing Janet van Dyke, the mother of Evangeline Lilly's character (who plays the Wasp). It was really funny, and it is too bad that I don't think most people outside of SDCC are going to be able to see the clip, as I was cracking up watching it.
After the clip, we saw some animated shots of Ant-Man and the Wasp, and we saw what the Wasp Suit will look like, and various other artistic looks to the film. It all looks really good, as is standard with Marvel movies.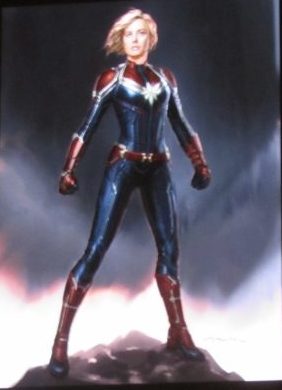 After all this, Kevin Feige talked real briefly about Captain Marvel, for which the casting was announced at the previous SDCC, as Brie Larson. This year we got to see a little bit more, with costume shots. There was no footage yet, but we learned a couple story elements: One is that the movie will be taking place in the 90s — before the events of the first Iron Man film. Additionally, Samuel L. Jackson will be returning to the MCU as Nick Fury, who will apparently have both of his eyes. I am curious to see how this will all play out, but I may write an article on my theories about this in the future, so look out for that. Additionally, he announced that the Skrulls will be the villains.
After the Captain Marvel reveal, Kevin Feige moved on to to talking about the two movies coming up next for the MCU — Thor: Ragnarok and Black Panther.
Thor: Ragnarok
The first movie Kevin Feige got into was Thor: Ragnarok. The panelists for the movie were then introduced, which included director, Taika Waititi, and cast members Chris Hemsworth, Tom Hiddleston, Cate Blanchett, Mark Ruffalo, Tessa Thompson, Jeff Goldblum, Karl Urban, and Rachel House.
Kevin gave us some story elements to the film — Thor's hammer is broken, and Thor is taken to the planet Sakaar, where he has to fight in gladiator tournaments as a slave for the Grandmaster, played by Jeff Goldblum. We also learned that Goldblum's character is the brother of the Collector. Other story elements discussed were Loki's ruling of Asgard, and the trouble Asgard might be in due to Hela's attack.
Taika Waititi was a pretty hilarious guy, who is apparently from New Zealand, so a common theme for the panel was the war that was between Australia and New Zealand because of Hemsworth, and the subsequent treaty they created when they reconciled, and shook hands. The entire cast seemed very excited about the film, and it looks like we will be having a lot fun with this movie. Another interesting thing discussed about the film was that the Hulk seemingly is refusing to return to Bruce Banner, and on top of that, has begun to learn some basic vocabulary.
After some additional chit-chat about the movie, we got the good stuff, which is a new trailer for the movie. The trailer actually made it to YouTube, and can be watched here:
In the trailer, we see a scene of Bruce Banner not "hulked-out" which is interesting, as I am curious how he would survive in such a fragile state. Additionally, we see Hulk talk a little bit, and see some scenes of Loki getting into some mischief as he is known for doing.

In addition to the trailer, we also watched some footage from Thor: Ragnarok, which is not available online. We saw parts of what happened to Thor to be kidnapped, and that Tessa Thompson's character might have a lot to do with that reason, plus we saw Hulk meet the Grandmaster for the first time. There was also a scene where Thor is in a holding area with another contender named Korg, who is made of rocks. Thor tries to find a way out, to no avail. We also see an extended look at the scene where Thor sees the Hulk for the first time, and their subsequent battle, because the Hulk is angry.
Black Panther
After the Thor: Ragnarok panel wrapped up, it was time for the Black Panther panel. Chris Hardwick and Kevin Feige brought out that panel, which included director Ryan Coogler, and cast members Chadwick Boseman, Lupita Nyong'o, Michael B. Jordan, Danai Gurira, Letitia Wright, Forest Whitaker, Daniel Kaluuya, Andy Serkis, and Winston Duke.

The cast talked about their characters in the movie. Forrest Whitaker's character seems to be a religious elder character who provides advice to the young king. Meanwhile, T'Challa, Black Panther, is still dealing with the loss of his father. Danai, meanwhile, gets to be the tough bodyguard of T'Challa.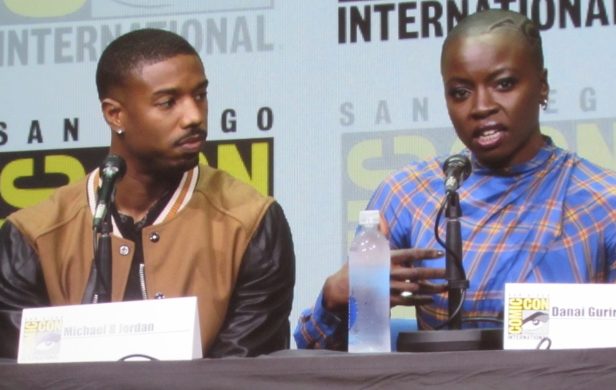 The cast also talked about how each character has their own unique fighting styles. Danai talked about using her staff weapons, which she remarked has some crossover with using a katana as she does as Michonne in The Walking Dead, but for the most part, it is completely different. Michael B. Jordan had to be careful what he said about his character, Erik, but he did mention that he had his own opinions about how Wakanda should be ruled, and that he has his eyes on the throne. Lupita talked about her character, which seems to be a spy, keeping an eye on who might be trying to keep an eye on Wakanda.
Andy Serkis talked about his character, who seems to be the villain of the film. Serkis also praised Coogler, the director, a lot, saying that he is a very enjoyable director and brilliant director to work with.
After a bit more talk about the film, Coogler introduced the clip for the movie, which we had been anticipating all day. This clip does not disappoint either. We see that T'Challa and some of his group are incognito, watching Andy Serkis' character, Ulysses Klaue. We see that he is making a deal with Martin Freeman's character from Captain America: Civil War, Everett Ross. Things go awry though, and we see that Everett must have been working with T'Challa on a sting operation to take down Klaue. But what ends up happening is Klaue and some henchmen take on T'Challa, and his bodyguards, and we get a really awesome fight scene, with some really cool shots. We also see a bit of Klaue's arm, and its ability to shoot some sort of energy beam. We also see some aspects of Black Panther's suit, which apparently has the ability to come out from underneath his tuxedo he had been wearing.
Overall, the footage looked really good, and I am pretty excited to see what comes next for the movie!
Avengers: Infinity War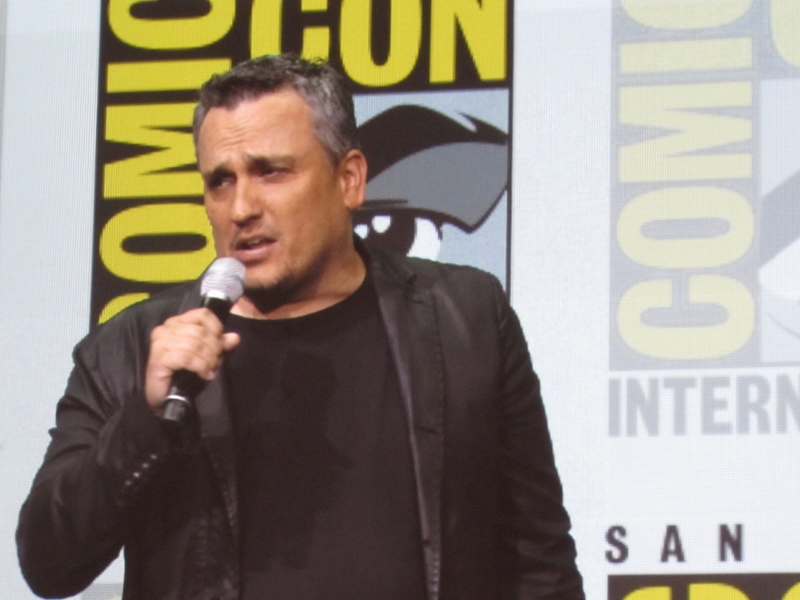 After the Black Panther stuff, Kevin Feige is prepared to end the panel, and begins walking off, but Chris Hemsworth and Chadwick Boseman, Mark Ruffalo, and Tom Hiddleston, decided that Hall H should get to see a little something else. With that, Joe Russo, one of the Avengers: Infinity War directors, came out to introduce a clip, which is the clip that Violet and I saw at D23 Expo the week prior. Even though it was a clip we had already seen, it was still a lot of fun to watch. On top of that, Kevin Feige decided all of Hall H gets a Black Panther poster and a Thor: Ragnarok poster. (Since we have an extra set, look for those in a giveaway coming soon!)
With that, Hall H wrapped up, and Violet and I made our wary, but overjoyed bodies out of Hall H, back to the Programming Premiums room at our hotel, the Manchester Grand Hyatt, where we picked up our free swag, then headed up to our hotel room.
After getting situated back in the room, Violet and I headed down to dinner at Kansas City Barbeque across the street to meet up with a bunch of Comic-Con buddies, including Corgi, Pablo, Nerd Fu, and a bunch of other people. After finishing up dinner and socializing for a bit, Violet and I decided to make our way back to the hotel, and pass out. We were tired.
Click here to continue to our coverage of the final day of San Diego Comic-Con 2017!
You can view more or our photos from the Marvel Studios panel below.