We are only 6 months away from San Diego Comic-Con 2017, which kicks off with Preview Night on Wednesday, July 19, then continues with four full days of programming Thursday, July 20 through Sunday, July 23 at the San Diego Convention Center! What should you be doing to prepare? Check out our list of 10 things you should be doing now that we're 6 months away from SDCC 2017!
1. Get a Comic-Con International Member ID. You'll need this in order to be able to participate in Open Registration, which will occur "shortly after Returning Registration is complete in early 2017." Last year, SDCC 2016 Open Registration took place on February 20, 2016, while Returning Registration (formerly known as Preregistration) took place November 14, 2015 — but we are still waiting on word from CCI on the Returning Registration date for SDCC 2017. (Note that only paid attendees of SDCC 2016 are eligible for Returning Registration.) When you sign up for your Member ID, make sure you are opted-in for at least Email (meaning: leave this box unchecked), because this is how you get notifications from CCI about important information, like when Open Registration will occur. New Member ID creation will close within the last few days before Open Registration (and leave those without an already existing Member ID ineligible), so if you don't already have a Member ID, get one now before it's too late!
2. Start saving money. Now that the holidays are over, you should start putting money aside for SDCC expenses. Hotels, flights, food, outside events, and cosplay can add up quickly.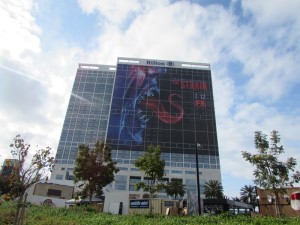 3. Research housing options. Start thinking about where you would like to stay during SDCC. Do you want to stay in the heart of downtown, near the convention center, where all the action is? Or would you rather save a little money and stay a little further away? Don't try to book a hotel just yet though. You'll want to wait for either the Early Bird Hotel Sale (which will usually start very soon after Open Registration, and which includes no downtown hotels, but guarantees you a hotel room), or take your chances in the General Hotel Sale (fondly known as "Hotelpocalypse," which generally occurs about a month after the Early Bird Hotel, and includes most of the hotels in the San Diego area), as these will have convention rates. The SDCC Unofficial Blog previously reported that the General Hotel Sale would take place on April 6, but then onPeak, the SDCC hotel vendor, tweeted that an incorrect date had been posted online. Last year's General Hotel Sale took place on April 5, in case you were wondering. If you try to search for a hotel now, most of them have the dates surrounding SDCC blocked out, or are charging extremely high prices. Click here for a list of last year's hotel prices, which started at $178/night. Do you want to stay in a condo? You can try searching on sites like airbnb.com or vrbo.com, though those can cost just as much or more than hotels, especially if they're downtown.
4. Begin pricing flights. If you're traveling from far away, you'll want to start looking at travel sites to get an idea of what a good price for your flight might be. Flight pricing does tend to fluctuate, and you'll want to keep an eye on when a good deal pops up. Also factor in baggage costs, which vary from airline to airline. However, wait until you have secured a SDCC 2017 badge before booking a flight!
5. Need a passport? Get one. If you're traveling internationally, and don't already have a passport, go ahead and start the process for getting one. Sometimes there can be delays with securing a passport, and you don't want to wait till the last minute and get stuck in your home country due to your passport not coming through in time. Also check to see what international travel requirements apply to your country. For example, you may need to obtain a visa, or if your country is part of the Visa Waiver Program, then you'll need to apply for an ESTA (Electronic System for Travel Authorization).
6. Put in your vacation request. Depending on where you work, your vacation time may have reset when the new year started. You already know the dates for SDCC, so you might as well secure that time off now before someone else beats you to it!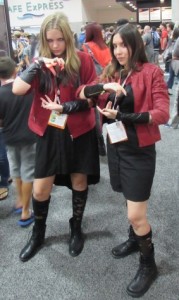 7. Start getting in shape now. As we mentioned in our SDCC Tips article on this subject last year, you might find yourself walking 5 miles per day while at San Diego Comic-Con! If you're not used to walking such distances, you should start getting used to it while there's still time. That way, by the time SDCC rolls around, 5 miles per day will be a breeze to you, and you won't be so exhausted at the end of each day.
8. Get to work on that cosplay! Will you be cosplaying at SDCC this year? Do you want to have a different cosplay for each day? Start planning your outfits now! If you're making your costumes, it could take a lot of work, and a lot of time. If you are ordering pieces from elsewhere, this could take some time as well. Get ahead of the game and get everything in order now, so that you're not left scrambling at the last minute!
9. Join a badge buying group. If you're part of a group, you have a better chance at scoring a badge to SDCC than if you're working alone. Check out the Friends of CC Forum to find a group to join.
10. Keep an eye on your email. CCI doesn't give much advance notice of Returning Registration or Open Registration, but when they do, it'll be to the email address you used to set up your Member ID. They generally provide about a week's notice.
Again, don't make any big non-refundable purchases like flights or hotels until you have actually purchased a San Diego Comic-Con 2017 badge. Because demand far outweighs supply, it's quite possible that you won't end up getting a badge. It would be unfortunate if you already spent money that you can't get back on an event that you can't get into.
Is there anything else you're doing at the 6 month mark to get ready for San Diego Comic-Con 2017? Let us know in the comments below!