Following the Sherlock panel, the next panel at San Diego Comic-Con 2016 on Sunday, July 24 in Hall H was Supernatural. It will be getting a 12th season, making it the longest running sci-fi, American TV show. It was announced that September 13th is going to be Supernatural Day, since that is the date the show first premiered. Then it is announced that Season 12 of Supernatural will premiere October 13th, 2016, and the Blu Ray release will be September 6th.
Next, we are shown some clips of what happened in previous seasons, and then we get a few scenes showing us what is ahead. Sam looks to be in trouble with the Men of Letters, Dean is dealing with their mom coming back, and Castiel seems to be in some trouble of his own.
The moderators then come out, Richard Speight and Rob Benedict. They introduce the panelists, executive producers Robert Singer and Andrew Dabb (the new showrunner), and cast members Jared Padalecki, Jensen Ackles, Misha Collins, and Mark Sheppard.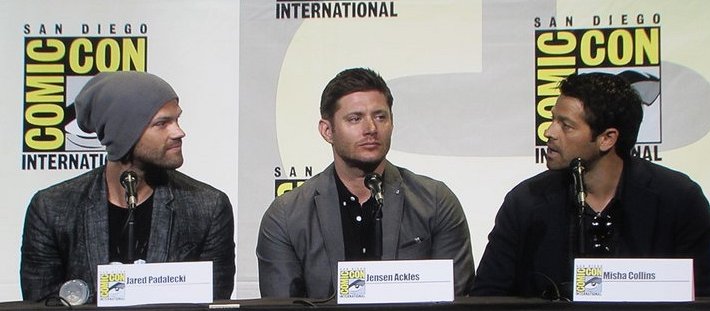 The first question is asking where Season 12 will go, and how can it get "bigger than God". Robert Singer says that they are going back to basics telling horror stories, and possibly hunt for Lucifer. Mark Sheppard apprehensively asks Singer and Dabb if his character will be killed soon.
Apparently there was a question of Sam being alive, and Jared says that Sam is alive because Sam is not a "Losechester"…get it? But Jared says they will learn more about the Men of Letters this season, but Sam is not off to a great start with a person he has encountered, who seems to be one of them.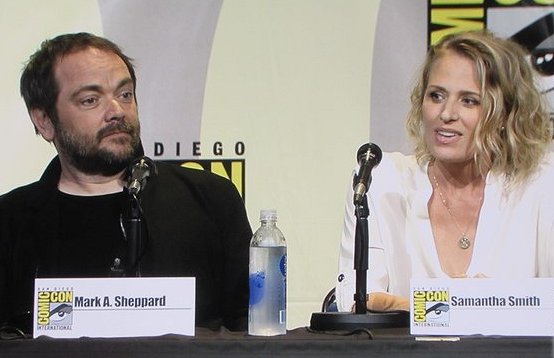 Moving on to Jensen, the moderators ask about how the Winchester kids will react to their mother being back. Jensen says it will be an interesting change in dynamic, and talks about how Dean was a kid when they lost their mother, but Sam was only a baby. Jensen seems to think because there has been such a big gap between when they knew their mother and now, there won't be much of a relationship, and we will have to see how that comes together. Jensen also says that their mom could leave the Winchesters vulnerable to other dangers.
Then mom is brought out. Samantha Smith is introduced to the panel. She talks about her character, Mary, and how her character will work out being dead, then not, and dealing with her now grown up children, which she thinks will be a really fun dynamic for the show.
Jared talks about the family dynamic and how it has been a big part of the show, and it will be interesting to see how it plays out, since this is now their blood relative, and wants to see if blood makes you family or being together does.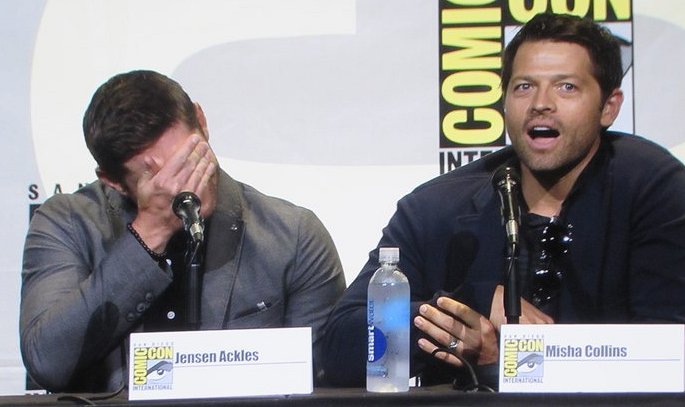 Dabb also chimes in, and describes Sam and Dean's relationship with their mom as mythical, and at the same time spotty at best, since they have little memories of her.
Moving on to Misha, he is asked about where he will be in Season 12. Castiel is going to be returning to his Season 4 version in a way, as he will have a lot more of his powers back, but not wings, he thinks at least. Apparently Cas is going to be pretty angry as well. When asked how Mary will affect Cas, Misha says that Cas and Mary will bond over them both being outsiders.
Richard Speight and Rob Benedict then do some weird puppet show with what looks to be a hamster wearing a human-sized spiked collar. I am not sure what the reference was, but it was pretty odd.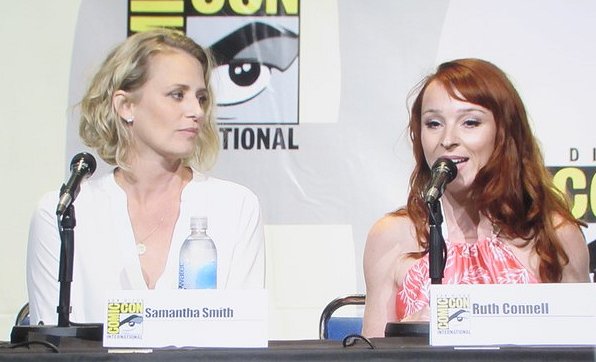 Moving on to Mark Sheppard, the moderator asks about Crowley's family dynamic. He is asked how he is doing with his son and mom. Crowley says there might be a more "expanded" family dynamic for Crowley. Speaking of Crowley's mother, another panelist joins the panel – Ruth Connell comes out, who plays Crowley's mother, Rowena. She is asked about the relationship between Crowley and Rowena. She says it's "downhill fast." She also says she doesn't know if Rowena knows about Gavin, Crowley's child, and she is interested to see how that plays out.
Discussing Lucifer, Bob Singer is asked about what vessel Lucifer will get, and Singer says that Lucifer is going to look for a strong one, and might try a few out. One vessel option is Vincent Vincente, a rock star. We learn who will be playing that role, which is Rick Springfield (singer of the song "Jesse's Girl").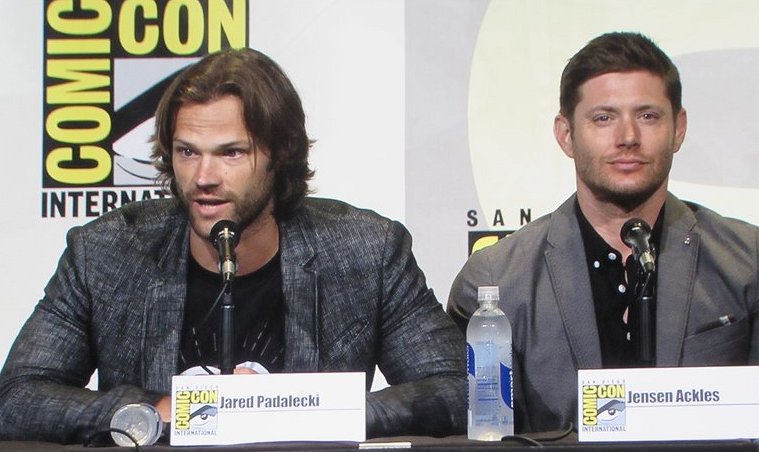 The panel then moves on to audience questions. Here are a couple of the good ones:
One questioner asks if they have been freaked out playing their characters for so long. Jared says they went to a restaurant once, and someone asked him, concerned, if they are there "to kill demons or something." But he says he hasn't had any issues. Jensen says that for him he thinks demons are smart enough to not approach himself or Jared, as they play Hunters on TV, so it is like the phrase, "I'm not a doctor, but I play one on TV", and he is certain if he did have a run-in, he hopes he has learned enough.
Then again, we get another marriage proposal. That is two in two days! He had a pretty romantic, yet very nerdy speech, and it went well!
Overall, the panel did not disappoint. I am not caught up on Supernatural, but these guys always seem to want to have a good time onstage, so it is fun to watch. They were being silly a lot of the panel, comparing how deep their voices could go, and have some crude, but funny humor throughout the panel. It is exciting to hear that they are still going strong with their show. Some of the panel even hope to have their children continue the legacy—imagine that, 50 year old Sam and Dean training their kids to be hunters.
Stay tuned for our recap and photos of our final panel at San Diego Comic-Con 2016 – Prison Break!
You can view more photos from the Supernatural panel below: