Our recap of Thursday at San Diego Comic-Con 2015 continues! In Part 1, we covered the Open Road Rock The Kasbah and The Hunger Games: Mockingjay — Part 2 panels. Part 2 of our Thursday recap features the Doctor Who and Con Man panels! Violet recaps Doctor Who, then Josh takes over for Con Man. Finally, Violet closes out the Thursday recap with what we did that night after we finished our panels.
Click here if you missed our Preview Night recap!
To go back to Part 1 of the Thursday recap, click here!
Below are just a handful of our pictures from Thursday! Click here for our Thursday Photo Gallery!
Doctor Who
by Violet
Next up was the Doctor Who panel, moderated by Chris Hardwick. Panelists included the Twelfth Doctor himself, Peter Capaldi, as well as Jenna Coleman (Clara), Michelle Gomez (Missy), and Executive Writer/Producer/Showrunner Steven Moffat.
This was Peter Capaldi's first appearance at Comic-Con, upon which he commented, "It's cosmic." Hardwick asked how long it takes to arrive at the conclusion that this is the Doctor, and Moffat replied, "Very quickly." He said that you just start writing for that voice, and that Capaldi has a very distinct voice. He added, "And being Scottish makes him better."
Capaldi talked about how Doctor Who is the only show he's followed since he was 6 years old, and that it's the only show he's ever been in that he knew and loved. He reminisced about the episode he was in with David Tennant, and how he thought that was the only time he'd get to be on Doctor Who. When he got on set, he asked David, "Where's the TARDIS?" and got quite teary.  Capaldi thought they would never go "that direction" so he was glad that Moffat decided to go that way.
Coleman then spoke about how this season was about working the schoolteacher dynamic out, and how she was a control freak, trying to live both lives at once, with the rule about dropping her off 30 seconds after she left. As for Clara's relationship with the Doctor, she commented that they were kind of trying to figure it out. But this season is much more head first in the TARDIS with the Doctor.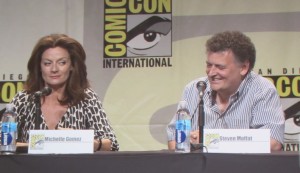 Moving on to Michelle Gomez, she talked about how this is one of the easiest jobs she's ever had, and that it's still sort of a "pinch me" moment. She said she's lucky that the dynamic between the three of them instantly seemed to work. In speaking about her character, Missy, aka the Master, she says it's the best idea of a villain that you can have, and that she has the attitude that the rules don't apply to her. Gomez described the Master's relationship with the Doctor as "a great friendship that just went wrong," and that she just wants to chase after the Doctor and say, "No you started it, I'm right."
Moffat elaborated that the Doctor and the Master are friends, they aren't enemies, and described their relationship as a "friendship between a vegetarian and a hunter." Gomez explained it as, "We both kill people. He feels bad about it, I don't." Capaldi jumped in, saying that when the Master shows up, the Doctor thinks, "I'm pleased to see you, but now I remember, and I'm gonna have to put up with all this sh*t." Capaldi then shared the Scottish philosophy with us: "Life is sh*t, business as usual." Capaldi talked about how last season, the Doctor was struggling to figure out who he was, but in the now he has realized he's a Bohemian/Philosopher/Rebel Time Lord.
Regarding her last episode with Matt Smith, Coleman commented that she thinks Clara got scared, because she felt comfortable with the Eleventh Doctor, and then when he changed, it was getting to know each other all over again. Moffat had described it to her as going to see someone who had an operation and looks very different now. However, Coleman thinks that by the end of this last season, Clara and the Doctor found their groove.
We then got to watch the world premiere of the Season 9 trailer, which was publicly released later that day. You can watch it below:
From the trailer, we learned that the new season will premiere on September 19, and we saw a couple of shots of Maisie Williams (who plays Arya on Game of Thrones). Chris Hardwick tried to get some info about that out of Moffat, but he wasn't about to reveal anything.
Capaldi then talked a little about the transition to Season 9, and how he feels that the writers know him better now. He also talked about how there's a "B movie" element to Doctor Who that still survives, and how there's always men in rubber suits. In fact, Capaldi first felt like he was on Doctor Who when they threw a rubber spider in his face and said, "Fight it."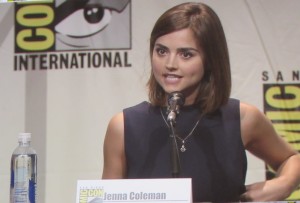 As for Season 9 for Coleman, she commented that, "It's our glory years. It's really adrenaline fueled, and all about living in the moment, and pushing the adventure right up to the edge, which obviously with that comes extraordinary danger." She went on to say that it's a change of perspective, the idea that life is short and that she wants to live it and feel alive and "hang out with my best mate on the TARDIS."
Gomez said that Missy has to come at Season 9 at another angle. She said she still can't believe that they asked her back.
Hardwick commented that there seemed like more of an "open door" policy with the TARDIS in Season 8. Moffat joked, "Well, Peter's got such a friendly face." But then Moffat went on to say that he wasn't really aware of it, though he thinks that the Doctor has gotten a bit more relaxed as compared to the older series, when he was very strict about who entered the TARDIS. Moffat said that as a child, he always wondered why the Doctor didn't use the TARDIS to prove that he's an alien from outer space.
Hardwick asked Capaldi if he thinks the Doctor is a nice guy. Capaldi replied, "He's fabulous! He's a wonderful guy! He's a guy you really want to hang around with!" He then went on to say that, "The Doctor's mysterious, he's a Time Lord, he's not a guy." However, Capaldi said, "But if he was a guy, he'd have my face and he'd be really nice." Coleman commented that Clara teaches the Doctor a little more how to interact with humans one on one this season.
Moving on to audience questions, one was how the dynamic between the Doctor and Missy would change in Season 9. Moffat fielded this question, saying that the way that Missy comes back into the Doctor's life is not something you would predict. However, he said he didn't think it was a new idea for the Doctor and the Master to be good friends. But Moffat said not to worry, that "she's just as vile and psychopathic as ever — in a lovely way."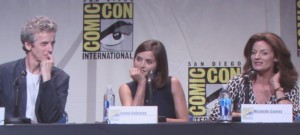 Another audience question was what each cast member thought was iconic about their character. Capaldi's answer was his eyebrows, Coleman said she had no idea, but Moffat answered that it was her huge eyes, and Gomez said her lips. Gomez also brought up that the question is who kissed who, and who hung on and just didn't let go, insisting that if you play it back, you'll see there's some suction there. Coleman jumped in saying that there was one take where Gomez held Coleman's hand during the kiss.
When asked about the transition from Matt Smith to Peter Capaldi, Coleman said it was a "roller coaster," and that it was like saying goodbye to one friend and hello to another.
As for Moffat's opinion on having a female Doctor, he said there currently is no vacancy, but that he thinks he's expressed himself as clearly as he can in the context of the show, but some people are reading it because it's subtle. Gomez commented, "I'm not going to turn into a man today." Capaldi joked that he should do a drag episode just to try it out.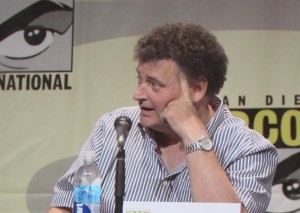 Regarding Moffat's greatest inspiration in literature, he responded that it was Doctor Who that made him want to be a writer. The first time the Doctor regenerated, his father had to explain to him that it was because one actor wanted to leave and another wanted to come in. He had a hard time understanding why someone would want to leave Doctor Who! He also named William Goldman and Neil Simon as other inspirations.
Upon being asked if the Twelfth Doctor would ever want to travel with another actor, and who would it be, Capaldi said that he has a special bond with Clara, but thinks he'd like to see his granddaughter again.
The actors then talked about their characters' idea of a perfect day. Gomez said Missy's day would involve squashing bugs and slapping Wonder Woman in the face, while Coleman said Clara would teach Jane Austen, then jet off to a strange planet and kill some octopus alien. Capaldi said he would read the paper, have coffee, get bored, then go to a planet where morning is night.
When asked why he thinks the Doctor is so enamored with humans, Capaldi joked, "Budgetary reasons."
An audience member asked if there was ever a crossover episode with Sherlock, how the Doctor would react. Capaldi answered, "More cleverly." Moffat took the opportunity to address the issue of a crossover episode, saying that he has no problem with the idea, "it's all the rest of them."
Addressing the question of whether we would ever see other versions of Clara, Moffat said to read the Doctor Who comic book.
Coleman talked about how it was a "very happy accident" that she became a companion, and about how her life changed from that first audition.
There was a question about whether Moffat would show the Twelfth Doctor affection as he had done with Matt Smith, to which Moffat responded, "I aged him to death, that's not how you express affection!" He then said he wouldn't answer the question, because the answer is coming up in the show.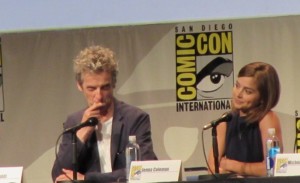 Then there was the typical question about tips for aspiring actors. Coleman said to read a lot of books, and Capaldi said to learn your lines. Gomez revealed that her agent nicknamed her "The Roach," as in a cockroach, because she keeps getting squashed but keeps coming back, so just believe in yourself and keep going. Chris Hardwick also contributed his own answer, saying to start making the stuff that you want to see, because there's so much technology now, so there aren't any excuses.
An interesting question was whether Capaldi feels the other Doctors inside of him. Capaldi answered that sometimes he'll do something and think that it was very Tom, or David, or John. However, he doesn't do anything to try to emulate them, though.
The final question was what was the most amazing thing that has happened that they weren't expecting to come from the show. Capaldi replied that he didn't realize it was to this extent, so to come here and find this warmth and affection to something that goes all the way back to his childhood is very extraordinary, as well as the fact that he gets affection for the whole 50 years pointed in his direction. Coleman said that she loves Peter Capaldi, and going to work with him every day, and that he's her favorite actor. Capaldi responded by kissing her on the cheek.
Chris Hardwick wrapped up the panel by telling us about a Nerdist special called The Doctor's Finest that will be hosted by Hannah Hart, which airs on August 15.
Con Man
by Josh
After Doctor Who was the new web series coming up called Con Man, which is the first time a web series has ever been in Hall H.
For those unfamiliar with this upcoming series, it is about a television star who is best known for his role as a pilot named Cash on a Science Fiction show called Spectrum, that winds up being cancelled too soon, and follows the adventures this man goes through trying to continue his acting career while maintaining the life of a "con" man, meaning someone who attends various conventions, and how that eco-system affects his life.



If this sounds a little familiar, it is because it's sort of a parody of Alan Tudyk, the actor who played the iconic character Wash in the TV series Firefly and subsequent movie Serenity. Also, the series is actually created by him, and was funded through a crowd funding site called Indiegogo. A part of this series are various other "Con-Men/Women," including Nathan Fillion, Seth Green, Michael Trucco, Tricia Helfer, Alison Haislip, Nolan North, Casper Van Dien, Mindy Sterling, Felicia Day, Wil Wheaton, Producer PJ Haarsma and his daughter Sky, as well as two crew members, Barry Bishop and Billy Brooks.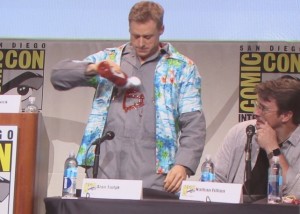 Chris Hardwick moderates this panel, and talks about the inception of the idea, and Alan Tudyk apparently came up with this idea in the kitchen with Nathan Fillion. It brought in over $3 million, and is one of the biggest crowd funded series so far. Hardwick brings out the massive panel, all of the people mentioned above. The panel involves a lot of musical chairs at first, with everyone trying to figure out where they sit.
Alan Tudyk came out in his full "Wash" uniform, then he reveals his "new" uniform, which is the uniform Cash wears. He reveals this by using ketchup on his shirt, which is supposed to be blood, and he then strips down to his jump suit for "Spectrum."
Hardwick and Tudyk talk about this new series, and we are given some footage, which basically outlines the fall of this show "Spectrum," and how it became a cultural icon, that Alan Tudyk's character has grown to hate. You can view the trailer for Con Man here:

The trailer shows his character working through his life, trying to get auditions, and dealing with his "compartmental" fame, with some people knowing who he is, while others have no idea. There's a lot of other funny scenes in the trailer as well, revolving around the Con "environment." Of course, Nathan Fillion plays the successful actor in the series, who was able to move on to bigger and better things, which seems to be a big part of the series, and how different the two character's lives have gone.
Alan talks about his own life for a bit, how he started going to conventions after Firefly was cancelled, after being invited by Fillion. Tudyk acknowledges that other people also thought the Convention environment could be a great TV show series, and he decided to be the person who got this going. He also says how ideas come to him walking around the conventions.
Tudyk also talks about how crowd funding was the only way to get this show going, as networks wouldn't really fund this type of show.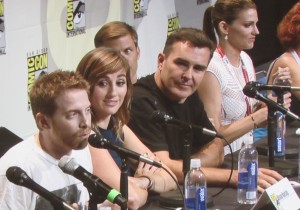 Hardwick then goes down the line of the panel, asking about how each person got involved in the panel. The answers are pretty similar, they all seemed very eager to join the project. Fillion says that Tudyk "stole" his idea, but he clearly is joking. The only person who seemed to not be on board from the beginning was Wil Wheaton, who says he thought Tudyk could handle this himself, but then decided that he was excited for it, and was worried he would be on the outside looking in, until finally he got a part in the series. Everyone on the panel seems to be in agreement though–Tudyk seems to be the brains and hard worker behind the series.
Tudyk also talks about how the series will be released: it is going to be 4 half hour segments, adding up to two hours for the total series. But it will be broken down a little further, into twelve 10 minute episodes.
Alan Tudyk seems to have further plans for this show beyond season one, as he talks about various smaller characters having bigger parts after the first series is done, including Van Dien's and Wheaton's characters, who have just a couple lines in the series. Tudyk also talks about how he will get funding for season two, and he says that he hopes to not have to use crowd funding again, so he doesn't have to take the funders' money again, and seems to be looking at pitching it to some network if the first season does well.
Tudyk talks further about the idea behind the show, and that the characters in the show are playing aspects of themselves, but maybe a twisted or expanded version of their real life character. Tudyk also talks about the extras (who named themselves the "Guild of Extras"), and how great it was working with them. Tudyk also thanks his producer, PJ Haarsma. Funny enough, Tudyk talks about working with Haarsma's daughter, Sky, who apparently had to be directed by Fillion as Tudyk couldn't handle it. Fillion I guess came up with the saying "Use your imagi-Nathan" which is what Sky would use to get her character down.
There was some audience Q&A, and the first one was already cos-playing as Cash, having a full flight uniform already. The panel is very impressed with her costume, and Hardwick decides to take a photo of the Comic-Con Hall H screen, with this woman on the screen, while trying to work Tudyk in his uniform into the shot. It's hard to explain, but was funny to watch. She ends up asking about the best part of making this series. Tudyk says it was just coming up with the ideas that worked for the show, and how he would come up with the funny jokes.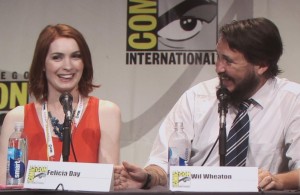 Nolan North talks about how collaborative the work was on the set, and everyone seems very positive about the panel, still. Hardwick and Felicia Day and Wil Wheaton talk about making web content, and they both seem to echo the same sentiment, everyone seemed to enjoy making the content, and that comes through on the screen when the viewers watch it.
Another question asks about some of the hardest things of making this show were. Tudyk says the hardest part was dealing with agents of actors, because they would often shut down parts presented to them without even consulting the actor/actress, which was frustrating. But Tudyk talks about some of the amazing crew people he was able to work with, which included people from Agents of SHIELD and also crew from Interstellar.
Some Firefly fans ask about the question about Nathan joining the idea, and the character is sort of based on Fillion's life, since Fillion is so busy, his scenes are his personal assistant holding a cell phone or tablet with Fillion's face on a screen because his character is so busy. His assistant is played by Alison Haislip.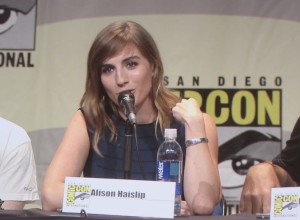 Some of the members of the "Guild of Extras" come up for a question, and they express their excitement for being a part of the show. They mainly are just thanking the panel, which is nice. It shows further the amount of excitement everyone on the set had for this film.
One interesting tidbit about Nathan Fillion that came out, is that he tried out for the role of Angel. That sure would have a been a different show if that had happened. The panel then goes down the line, talking about their experiences with stars that made them nervous when they met them. They all have some funny stories, with Hardwick probably having the best, discussing his meeting with Harrison Ford, and his half fake-cranky, half-real cranky attitude.
As the panel begins to wrap up, Wil Wheaton talks about his celebrity encounter with Billie Piper, and it turns out Billie was a fan of Wheaton in the movie Stand By Me. Well this causes total chaos during the panel as Hardwick begins to serenade Wil Wheaton with the song "Stand By Me." For those who don't know, Hardwick is good friends with Wil Wheaton, as they had been roommates in college, and seemingly had been waiting for an opportunity to embarrass Wheaton in public. Even though the serenading by Hardwick was irrelevant to the movie, it was a very funny panel.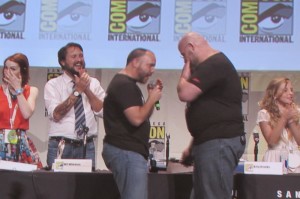 The panel ended with a very sweet surprise though. Two people on the panel really said no words at all, and it was a bit odd they were up there. But at the end, Alan Tudyk brings both Barry Bishop and Billy Brooks to the front of the stage. He thanks them for all their help on the set, and says how hard they worked, and then drops that they are actually "together" in real life. I was able to guess what was coming next, and so it happens! Barry Bishop asks Billy Brooks to marry him in front of 6,500+ people. And so the panel ends with a happy engagement, and thunderous applause!
This panel was a pretty fun one. It was not only fun seeing some of our favorite stars from "nerdy" properties like Firefly or Battlestar: Galactica, but this series legitimately looks like it could be really hilarious. I am really looking forward to it, and the only disappointing thing is it doesn't come out until September! It will be out on Vimeo, and you will be able to watch it at the following link once it releases:
https://vimeo.com/ondemand/conman/132967832
You will have to create a login for Vimeo if you don't have one yet, or login with Facebook. I think this show could be worth it though!
Thursday Night
[Note: Violet takes over at this point.] After Con Man, we headed back to the hotel room to drop off our stuff. Oh, forgot to mention that Tamara and Bradley had joined us in Hall H before the Con Man panel, as it was pretty easy to get into Hall H pretty much all day on Thursday. The only time I ever saw it close to full was for The Hunger Games panel, and I don't think it was completely full for that. This was surprising, considering that Hall H is usually packed for Doctor Who, but not this year, for some reason.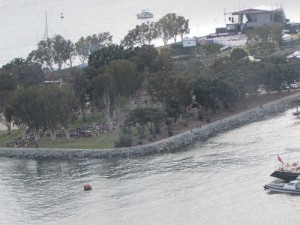 Anyway, so when we got back to our hotel room, we took a look out the window at the Friday NDL (Have I mentioned how awesome a view that we had at our Hilton Bayfront room?), and saw that it went all the way to the island. It was pretty crowded over there, but by then we had already all agreed to give up on Friday, considering that there were already hundreds of people in line for it when we got back in the Thursday Hall H line that morning. This just confirmed what we were afraid of, and made us realize that we would probably need to spend most of our day on Friday in the Saturday NDL to ensure that we would make it in.
Then we walked around looking for a place to eat that wasn't too crowded, and found an Italian place called Toast on J and 9th. We had taken the bridge over, so on the way we passed by all the outside events going on across the street from Petco Park. I don't think we ever passed by that area at all last year. Anyway, so we chose to sit outside so we could people watch. It turns out the MTV Fan Fest was right next door, so we kept hearing announcements about it, but it didn't seem like it had really started by the time we finished dinner.
After that, we just walked around the Gaslamp, looking around. We went over to the Assassin's Creed obstacle course because we hadn't walked by it yet, and since this was Bradley's first time at SDCC, he'd never seen it before. So it was a good opportunity to get a close up look at it without all the crowds, since it had already shut down for the day. After we were done looking around there, we went back to the hotel.
I met up with Twitter friend @cyberaug in the lobby and chatted with him for a little bit, while everyone else went upstairs and took showers and stuff. Then I headed back up to the room and took my shower as well. We just relaxed and watched TV, and got a good night's sleep for once. That's a rarity for SDCC!
Up next is our Friday escapades, which is going to be great story to tell. Click here for our Friday recap!
Photos by guest writer/photographer David DeMesquita, except for photo of Friday NDL (by Violet)