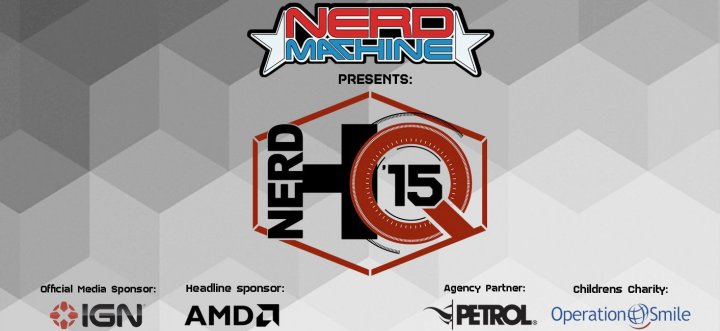 Last night, Zachary Levi's company, The Nerd Machine, announced the initial schedule for its 5th annual Conversations for a Cause panels at Nerd HQ. Read on for all the details.
This year, Nerd HQ will take place at the New Children's Museum in downtown San Diego, located at 200 W Island Ave, which is across the railroad tracks from the Marriott Marquis & Marina. Tickets are $22 each, and there is a limit of 2 tickets per panel per order. However, there are only 200 seats in the room, so tickets often sell out within seconds! As usual, proceeds go to Operation Smile.
The first wave of tickets will go on sale starting at 6:00am PDT on July 2, 2015, and additional panels will go on sale in 15 minute increments through 7:15am PDT. As you can see, there are some gaps in the schedule. Other panels will go on sale starting July 8, 2015, and more panels will be announced as we get closer to the event, and possibly during as well. Last year, panels started as early as 9:00am, so expect each day to be packed with Conversations for a Cause panels from morning to night! [UPDATE 7/6/15] Sales on the new wave of panels have been moved up to July 6 at 6:00pm PDT!
If you aren't able to score tickets to any of the panels, don't worry, as they will all be streaming live at IGN.com, the IGN YouTube channel, and the Nerd HQ app!
Thursday, July 9
10:00am Zachary Levi. Sales begin on Jul 2, 2015 6:00 AM PDT
12:00pm Battlebots. Alison Haislip, Chris Cowan, Donald Hutson, Peter Abrahamson, Greg Munson, Fon Davis. Sales begin on Jul 6, 2015 6:00 PM PDT
1:00pm Dead Rising. Jesse Metcalfe, Dennis Haysbert, Director Zach Lipovsky, and guests. Sales begin on Jul 2, 2015 6:00 AM PDT
2:15pm William Shatner. Sales begin on Jul 2, 2015 6:15 AM PDT
3:30pm Yvonne Strahovski. Sales begin on Jul 2, 2015 6:00 AM PDT
5:00pm Hitman: Agent 47. Zachary Quinto, Rupert Friend, and Hannah Ware. Sales begin on Jul 2, 2015 7:00 AM PDT
6:30pm Supermansion. Bryan Cranston, Seth Green, Keegan Michael Key, Jillian Bell, Matt Senreich, Zeb Wells, Heidi Gardner, Tucker Gilmore, and Tom Root. Sales begin on Jul 2, 2015 6:15 AM PDT
7:30pm Julie Plec and Friends. Sales begin on Jul 2, 2015 6:15 AM PDT
8:30pm The Last Ship. Sales begin on Jul 6, 2015 6:00 PM PDT
Friday, July 10
10:00am Sherlock. Steven Moffat, Sue Venture, Rupert Graves. Sales begin on Jul 2, 2015 6:30 AM PDT
11:00am The Visit. M. Night Shyamalan and Jason Blum. Sales begin on Jul 2, 2015 7:15 AM PDT
12:00pm Virtual Reality, Project Morpheus, and the Future of Gaming. Geoff Keighley, Dr. Richard Marks (Director of PlayStation Magic Lab, Sony Computer Entertainment), Ben Throop (Frame Interactive), John Drake (Director of Portfolio Strategy, Sony Computer Entertainment), and more. Sales begin on Jul 6, 2015 6:30 AM
1:00pm Star Wars: Battlefront. Play with Zachary Levi and others in a 20 versus 20 battle. Only 34 tickets available. Sales begin on Jul 6, 2015 6:00 PM PDT
2:00pm Con Man. Alan Tudyk, Nathan Fillion, Nolan North, Michael Trucco, Alison Haislip, PJ Haarsma, and Tricia Helfer. Sales begin on Jul 2, 2015 6:30 AM PDT
3:00pm Elijah Wood. Sales begin on Jul 2, 2015 6:45 AM PDT
4:00pm Falling Skies. Moon Bloodgood, Will Patton, Drew Roy, Colin Cunningham, Connor Jessup, Sarah Carter, Doug Jones, Olatunde Osunsanmi. Sales begin on Jul 2, 2015 6:30 AM PDT
5:00pm Stephen Amell. Sales begin on Jul 2, 2015 6:45 AM PDT
6:00pm Bad Ass Women. Sales begin on Jul 6, 2015 6:00 PM PDT
Saturday, July 11
10:45am Doctor Who. Jenna Coleman, Steven Moffat, Michelle Gomez. Sales begin on Jul 2, 2015 6:45 AM PDT
12:00pm Nathan Fillion. Sales begin on Jul 2, 2015 7:15 AM PDT
1:00pm Mr. Robot. Christian Slater and Rami Malek. Sales begin on Jul 2, 2015 6:15 AM PDT
2:00pm Men of Orphan Black. Jordan Gavaris, Dylan Bruce, Kristian Bruun, Ari Millen. Sales begin on Jul 2, 2015 6:00 AM PDT
4:45pm Colony. Josh Holloway, Sarah Wayne Callies, Ryan Condal, Carlton Cuse, Peter Jacobson. Sales begin on Jul 2, 2015 6:45 AM PDT
6:00pm Mystery Panel. Sales begin on Jul 6, 2015 6:00PM PDT
7:00pm The Maze Runner: The Scorch Trials. Dylan O'Brien, Ki Hong Lee, Thomas Brodie-Sangster, Rosa Salazar, Giancarlo Esposito, Direcotr Wes Ball, and book author James Dashner. Sales begin on Jul 2, 2015 7:00 AM PDT
Sunday, July 12
10:00am Thrilling Adventure Hour. Ben Acker, Ben Blacker, Mark Gagliardi, Hal Lublin – with special guest Arden Myrin. Sales will begin on Jul 06, 2015 6:00 PM PDT
11:00am Marvel: Partners in Prime Time. Chloe Bennett, Clark Gregg, Hayley Atwell, James Darcy. Sales begin on Jul 2, 2015 7:00 AM PDT
12:00pm Joss Whedon. Sales begin on Jul 2, 2015 6:30 AM PDT
1:00pm Nathan Fillion. Sales begin on Jul 2, 2015 7:15 AM PDT
2:30pm Supernatural. Jared Padalecki, Jensen Ackles, Misha Collins and Mark Sheppard. Sales begin on Jul 2, 2015 7:00 AM PDT
5:15pm ZACHARY LEVI AND THE PEOPLE HE IS CURRENTLY WORKING WITH….? (Heroes Reborn) Zachary Levi, Jack Coleman, Gatlin Green, Robbie Kay, Ryan Guzman, Danika Yarosh, Henry Zabrowski, Rya Kihlstedt, Judith Shekoni, and Tim Kring. Sales begin on Jul 2, 2015 7:15 AM PDT