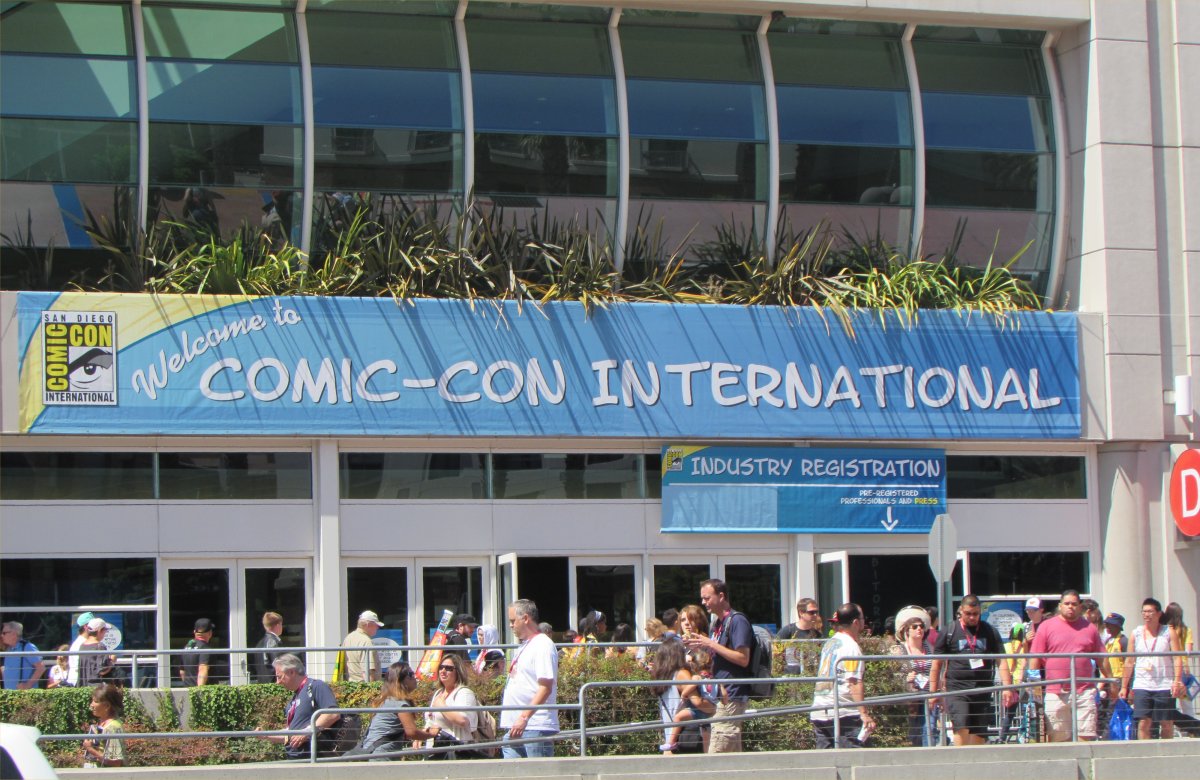 This past weekend, we had the pleasure of attending San Diego Comic-Con – for the third time! We'll soon have more pictures and details about each of the panels we attended at San Diego Comic-Con this year, but for now we wanted to give some recaps about the things we did and saw at SDCC! Read on to find out what we did on Wednesday and Thursday! (Friday, Saturday, and Sunday coming soon…)
Wednesday, July 23
Our journey started on Wednesday evening, which is Preview Night for those lucky enough to snag a badge for that night. Unfortunately, that did not include us this year. My friends Davey, Tamara and I (Violet) left Fullerton a little after 5pm, and arrived at Town and Country around 7:30pm to pick up our 4-Day badges. Josh had left straight from work in Santa Ana at 4:30pm, so he was a little ahead of us. Josh actually only had Thursday, Friday, and Sunday badges, but thanks to very helpful friend to which we are forever grateful, he was able to get a comp ticket for Saturday. Josh checked us in at our hotel, Best Western Seven Seas in Hotel Circle, and we met him there. After having a nice dinner at nearby Lazy Dog Cafe, we went to sleep in our comfy hotel beds knowing that we wouldn't be able to do so for the next couple of nights.
Thursday, July 24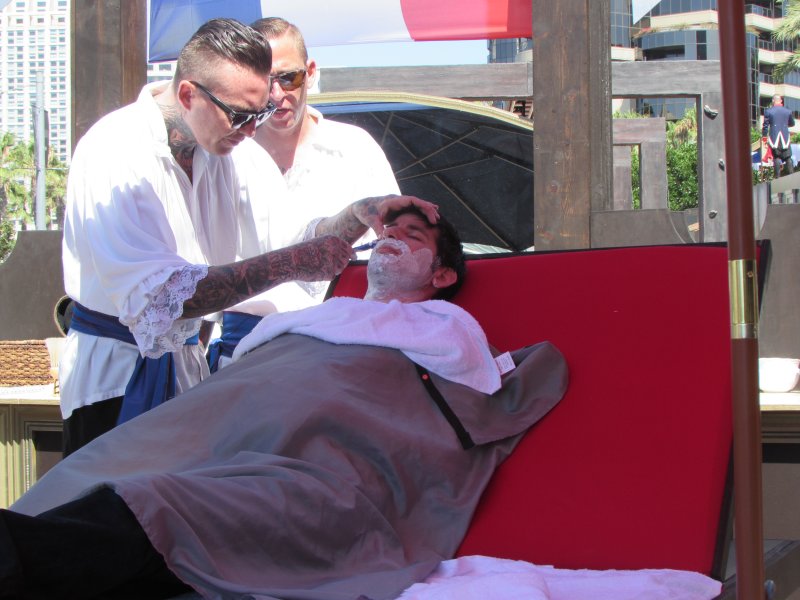 Unfortunately, Josh ended up having to work on Thursday and Friday, so he got up early Thursday morning to drive back to Orange County. Davey, Tamara, and I had breakfast at the cafe by our hotel, then headed out to SDCC! We arrived right before 10am, and saw that the Assassin's Creed obstacle course was just about to open, so we stuck around waiting to watch the first couple of people go through it. While waiting, we saw that there was a Shaving Station off to the side, so Davey signed up for a free shave.
After that, we headed into the Convention Center for our first panel, Masters of the Web, in Room 24ABC, featuring Manu Bennett (aka Deathstroke from Arrow), John Campea and Jon Schnepp (AMC Movie Talk), Jeremy Jahns (YouTube film critic), Tiffany Smith (DC All Access), and Kristian Harloff and Mark Ellis (Schmoes Know). There was already a line of about 40 at 11:00am, though the panel didn't start until 11:30am. Other than Manu Bennett, I was only somewhat familiar with the panelists, but Davey and Tamara are huge fans of most them. While waiting, Davey and Tamara spotted Mark Ellis, Jeremy Jahns, and Jon Schnepp outside the room waiting for the panel to begin, and were able to meet and get pictures with them, so they were really excited about that.
After that panel, we headed over to Hall H and just walked right in! We caught the end of the Dreamworks Animation panel, moderated by Craig Ferguson, while Benedict Cumberbatch and John Malkovich were talking about Penguins of Madagascar. We even got to see the first 6 minutes of footage from the movie.
After that was The Giver panel, featuring author Lois Lowry, director Phillip Noyce, and actors Jeff Bridges, Brenton Thwaites, and Odeya Rush. Most of the audience questions were directed at Lowry, but she kept trying to redirect the questions to the cast and director!

Next up was Paramount Pictures, which I'll admit I wasn't very excited about, yet I felt obligated to attend just in case Christopher Nolan showed up for Interstellar, but I wasn't holding my breath. The panel started off with a short intro about the upcoming Spongebob movie, but then quickly transitioned to feature Teenage Mutant Ninja Turtles. First, co-creator Kevin Eastman came out on stage, followed by producers Andrew Form and Brad Fuller, director Jonathan Liebsman, and finally actors Megan Fox (who plays April O'Neil), and Will Arnett. We got to see a couple of fairly long clips from the movie, and some additional footage.  Form and Fuller stayed on stage to introduce another film they are producing, Project Almanac. Director Dean Israelite and actors Sofia Black D'Elia and Jonny Weston came out on stage for about one minute to set up the clip we were then shown. They also announced there would be a first come, first served screening later that night.It seems to be about some teenagers who find a time machine.
Dwayne "The Rock" Johnson then made a surprise appearance on the floor and walked up on stage to tell everyone that he had rented out three theaters to screen his new movie Hercules that evening, and would soon tweet out the location.
Clark Duke, escorted by two lovely ladies, made his way on stage to introduce the first footage ever seen from Hot Tub Time Machine 2.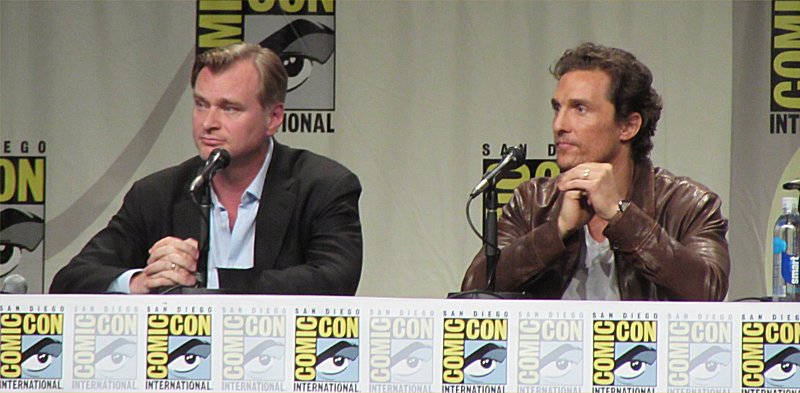 Right after that, some footage from Interstellar was shown, with commentary from notable names such as Neil Degrasse Tyson and Elon Musk, and then Matthew McConaughey came out on stage for his first ever Comic-Con! He talked for a few minutes – and then brought out Christopher Nolan for what was also his first Comic-Con! Although they were only on stage for about 10 minutes, this was totally unexpected and was definitely my highlight of the day, and quite possibly the whole con. We also got to see the new, never before seen trailer for the film, which Nolan said won't be out for awhile.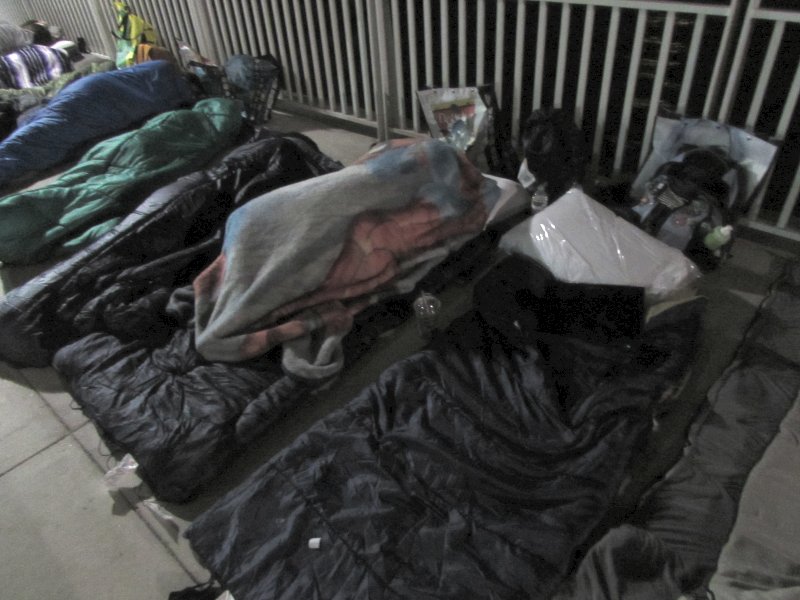 With that, the one hour panel wrapped up at about 4pm, and we decided to go walk around the Exhibit Hall floor for awhile, since we hadn't been there yet. At 6:30pm we called it a day. On the way back to the car, we stopped off at IHOP Express for dinner, then headed back to the hotel to shower and recharge our electronics. Then we headed back out for a night of camping outside of Hall H. It was about 10:20pm by the time we got in line, which had just started to wrap around to the marina a little past Hilton Bayfront. You can see our accommodations to the left. Unfortunately, they were very slow at giving out wristbands, so it wasn't until 12:30am that we got our yellow B wristbands (signifying that we would be in the second 1/4 of people who would get into Hall H in the morning), and that we were finally able to go to sleep.