by Josh



Hall H on Saturday is the holy grail of Comic-Con.  The "heavy hitters" of Comic-Con always have their panels in Hall H on Saturday. Comic-Con attendees know this well, and every year lines form the night before in order to obtain a coveted spot  in Hall H.  This year was no exception–attendees were lined up early on Friday, and there were enough people in line to fill the room before midnight Friday night.
Comic-Con Saturday-Hall H: Warner Brothers Panel
The first panel of Hall H on Saturday morning, July 26, was one of these heavy hitters–Warner Brothers.  The Comic-Con schedule had Mad Max: Fury Road, Jupiter Ascending and The Hobbit lined up for their panel.  A fairly respectable panel.  But whispers around Comic-Con swirled regarding some Batman v. Superman: Dawn of Justice footage.  The hopes and dreams of Comic-Con-ers dared wish for this to happen.  Chris Hardwick led the panel, known for his show and podcast The Nerdist, as well as Talking Dead, @midnight, and various other nerd-oriented events.  He is an all-around great moderator at Comic-Con.
Batman v. Superman: Dawn of Justice
These wishes were granted, although some of us Hall H-ers were not quite happy with the order in which Warner Brothers presented their information.  Right out the gate, Warner Brothers brings out Henry Cavill, Ben Affleck and Gal Gadot to the stage along with Zack Snyder.  Unfortunately, Hall H is still being seated, and Violet and I, along with our friends attending with us, missed the footage by just a few minutes.  So disappointing.  From what I have seen and heard, none of the actors said a word.  They only posed for some camera shots.  A teaser was shown however, with Batman uncovering his Bat Signal during a pretty heavy rain storm.  Batman is seen in some heavy duty armor reminiscent of the graphic novel The Dark Knight Returns, complete with the glowing, white eyes.  Then above, Superman is seen–eyes glowing red, looking down at Batman.  That is about it for the footage from what I understand (if you Google looking for the footage, you might be able to find some leaked photos or footage…)
Also shown is Gal Gadot in a teaser poster, with the Wonder Woman costume on, sword in hand, along with Batman and Superman photos already released.
Jupiter Ascending
After Batman v. Superman: Dawn of Justice's short panel, Jupiter Ascending was up next.  This seemed to be another short panel, as when Violet and I finally enter into Hall H, footage was ending, and Channing Tatum was leaving the stage.
 Mad Max: Fury Road
Now finally for what we actually DID see.  After Jupiter Ascending, Mad Max: Fury Road was the next panel.   For those unfamiliar with Mad Max, it is a film trilogy starring Mel Gibson, in a post-apocalyptic future where technology seems to have faded, and is a film very much about carnage, chaos and cars.  George Miller has returned to direct the newest film, some nearly 30 years after the last Mad Max film was released.



Chris Hardwick brings out the next panelist: George Miller.  Unfortunately, Tom Hardy did not show up, the person taking the reins of Mad Max from Mel Gibson.  At the beginning of the panel, we are shown a montage of the previous films, before the panel actually gets started.  Chris Hardwick reveals that this is George Miller's first Comic-Con, which leads to Miller taking a photo on stage, as a memento.
Hardwick then gets into the nitty-gritty of the panel–Miller says that he has been waiting for someone like Tom Hardy to come along to take over the role of Mad Max.   Also, Chris Hardwick discusses the 3500 storyboard panels made to help create the movie.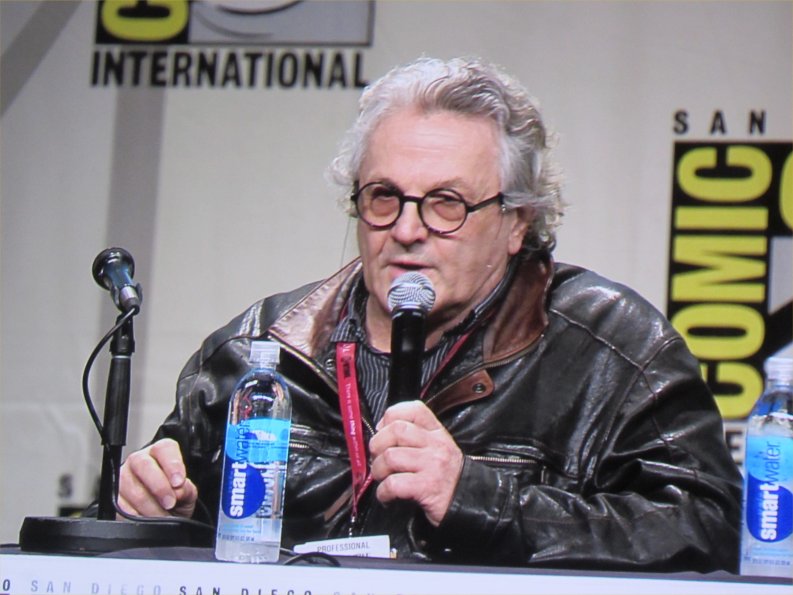 Miller also discusses the main "rule" for his film–that the world is limited to older technology–old cars, and other more primitive tools and devices are the only thing that can exist in the world.  Miller gets a number of good audience questions as well.  For example, one asks how being older has changed the way he makes films.  Miller seems to give a very honest answers–he says that he really doesn't remember how he made the previous films because a lot of what drove him when making the films was instinct.  He continues explaining that that is what is driving him this film as well.
Another good question the audience asked was which previous Mad Max film this was most similar to.  Miller says that Mad Max 2 is probably the most comparable film, but has story elements similar to the first movie as well.
Wrapping up the Mad Max panel was a fairly long scene, previously not seen by any other audience according to George Miller.  The scene involves seeing Mad Max being forced into a crash in his vehicle, and is then taken prisoner.  He doesn't have a good time for a while–being kept in brutal conditions, but then while being transported, he is able to get free during a gigantic dust storm, and mayhem breaks loose!
The footage of Mad Max: Fury Road seems to be out now. Check out the footage here
The Hobbit: Battle of the Five Armies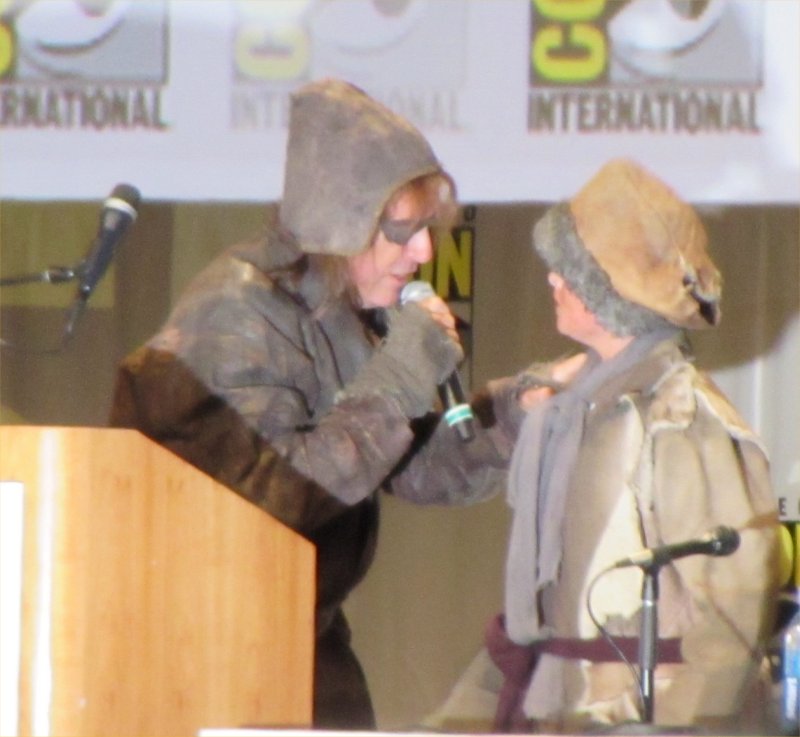 After Mad Max, Hardwick apologizes for exiting as moderator, and a new moderator is brought out–Stephen Colbert.  There is some comedic footage shown of Colbert being in The Hobbit film as the Laketown Spy, and he comes out on stage in the same get-up, eye patch and all.  He begins the panel by discussing his experience with the development of Lord of the Rings back in the 90s, and his skepticism of how the movies would turn out, followed up with how amazing they were to him–although he makes several comments in jest about how short they are.
The panelists are introduced, and the panel is a pretty big one.  Peter Jackson of course shows up, the director of The Hobbit, as well as screenplay writer Philippa Boyens, and actors Benedict Cumberbatch, Elijah Wood, Andy Serkis, Cate Blanchett, Orlando Bloom, Evangeline Lilly, Graham McTavish, Lee Pace, and Luke Evans.
Stephen Colbert begins with asking Peter Jackson about spending so much time on the Tolkien books, and Peter Jackson's response shows that he probably is happy that it might be done–at least for a little while.  Interestingly, we also hear the original pitch for creating the Lord of the Rings movies–it was originally supposed to be a Hobbit film followed up with two Lord of the Rings films.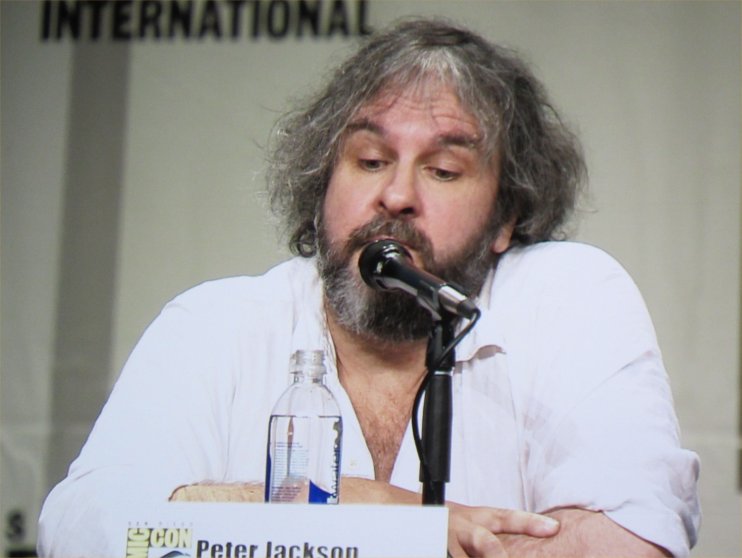 Peter Jackson also says that the movie is still in progress, and that the battle sequences are still being worked on.  Stephen also talks with Peter Jackson about using motion capture, and how the motion capture has made it to where some actors have not seen each other on set, despite being in scenes together.
Another topic that comes up is Tom Bombadil–a character from the Lord of the Rings books that never made it to film.  Philippa Boyen, one of the screenplay writers for the films, says they toyed with the idea, but were never able to work it in.  One interesting tidbit brought to light by Philippa though–Cate Blanchett was on their "casting wish list" from the very beginning.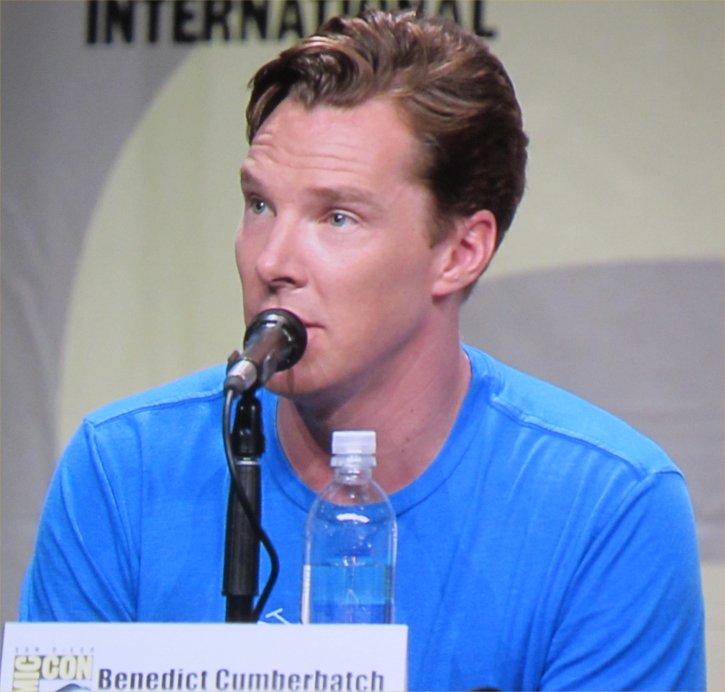 Getting back to motion capture, Benedict Cumberbatch talks about the ridiculousness allowed with actions when performing motion capture.  Andy Serkis also chimes in, and talks about how motion capture has changed his trajectory for his career.  He also mentions how it has allowed him to play such a variety of characters.  Also asked later by an audience member, is how actors are able to act when no scenery is around to create the scene.  Serkis provides an excellent answer–responding with saying that working with another actor is really the best thing to create a good scene.
Shown early on in the panel, we see a fun comedic and blooper reel that seemed to be a combination of Lord of the Rings and The Hobbit.
There are some funny moments throughout the panel–Orlando Bloom and Luke Evans discuss their bow and arrow abilities.  Elijah Wood gets called out for not reading the Lord of the Rings novels as well.  At least he was honest about not ever reading them though!  There is also discussion of Elven "poo" sparkling.  Also brought up later in the panel is the wolf penis that Stephen Colbert noticed on a battering ram used in the films.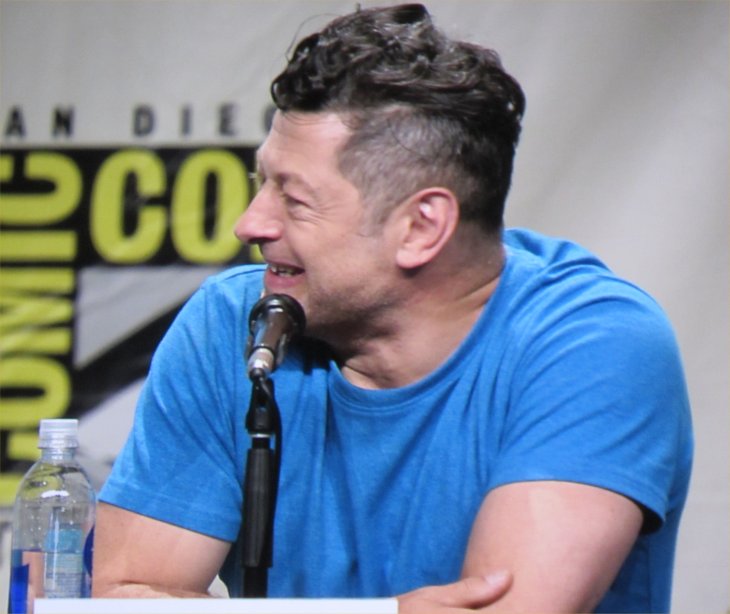 The tone of The Hobbit versus Lord of the Rings is also discussed.  Peter Jackson says that his goal was to take the first Hobbit movie from the lighter tone, and bring the film closer to the darker tone that Lord of the Rings has.
Additional neat tidbits include discussion of a potential Lord of the Rings museum being made eventually, and that there is a mysterious warehouse that holds a lot of the movies' props and costumes. Also, the famous Button Lady had Benedict Cumberbatch say "Button Lady" in his Smaug voice, and when a question was posed to the panelists as to where they would take their characters at Comic-Con, Serkis did a schizophrenic bit in his Gollum voice about going backstage to see what Stephen Colbert has inside his costume!
Towards the end of the panel, we are shown some footage from the final film which looks to be epic.  We see Smaug wreaking havoc, and several scenes involving moments of war.  It is hard to get a sense of what will happen in the final film, but it certainly seems exciting.  The trailer has been released to the public, and can be seen here:
Check out The Hobbit: Battle of the Five Armies footage here
Overall, it was great seeing more information come out about the final Tolkien universe movie at Comic-Con.  It was also sad, as this is likely the last film for a long time.
You can see more pictures from the Warner Bros. panel in the photo gallery below. Click on any of the thumbnails below to see an enlarged image. Each thumbnail will open in a new window, and you can click on the photo again to enlarge it more.
To continue on reading about the next panel, Legendary Pictures–Click Here!