The first panel on Sunday, July 27 in Hall H at San Diego Comic-Con was Supernatural, which airs on the CW Network.  For this one, we were able to walk right into Hall H right before the panel started at 10:00am! Read on for our recap of this panel and to see our photo gallery!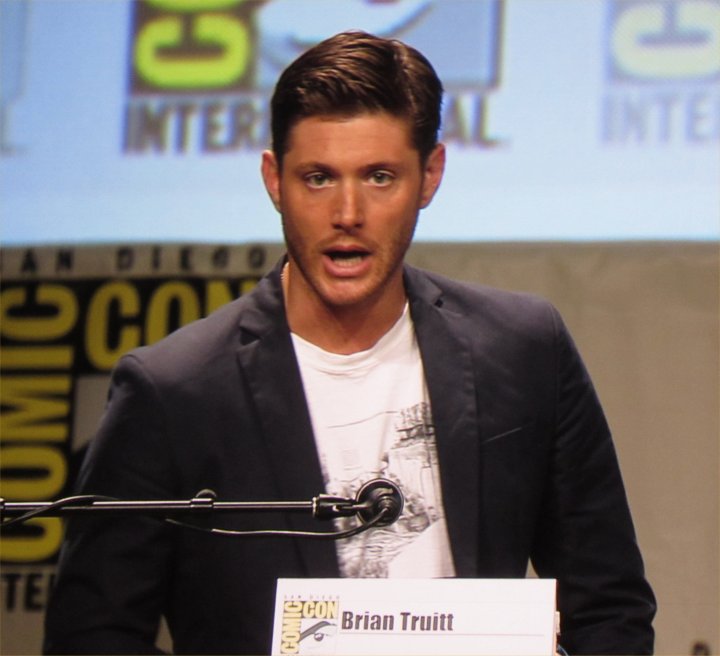 The very first person brought out for the panel is Jensen Ackles, who plays Dean Winchester in the show.  He has directed a couple other episodes of Supernatural, and was given the privilege of directing the first episode of the 10th season of show.  The reason he is brought out, is he is going to show us the first look at season 10!  He introduces the clip as a recap of the last season, and lets us Hall H-ers know that we will get a glimpse of Demon Dean encountering Sam for the first time.  The clip rolls, and we see the musically enhanced footage of season 9, until it gets to Demon Dean.  Dean isn't happy to see Sam, and attempts to kill him.  We hear Dean spout a few mean and sarcastic lines to Sam before the clip ends.  Looks like a pretty good start to the season so far!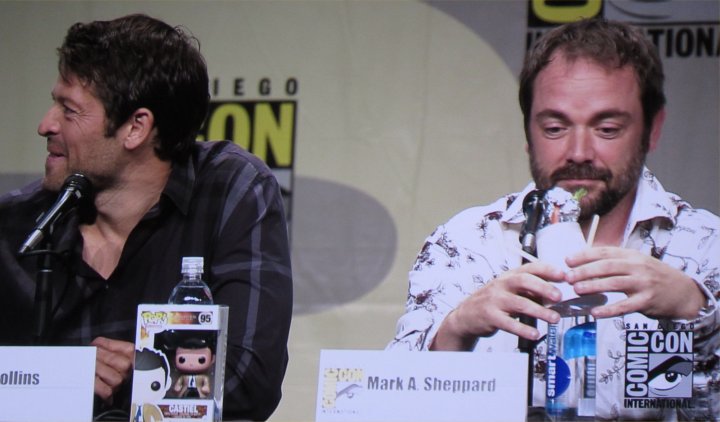 After the clip ends, the moderator Brian Truitt is brought out, who is from USA Today and describes himself as the number one Supernatural fan.  He brings out the panelists—Jeremy Carver, one of the writers, Jared Padalecki who plays Sam Winchester, Misha Collins who plays Castiel, Mark Sheppard who plays Crowley, and Jensen Ackles comes back out.  All but Mark Sheppard have Funko Pop figurines of themselves (made by Funko Pop, who has all sorts of collectible characters for almost any show, movie or comic book franchise).  Someone made a doll for Mark though, out of a Starbucks cup and aluminum foil.  Jensen, Jared and Misha are kind enough to give their figures away to the first people in line (Jared kindly makes it a point to include the first person in the ADA line as well!)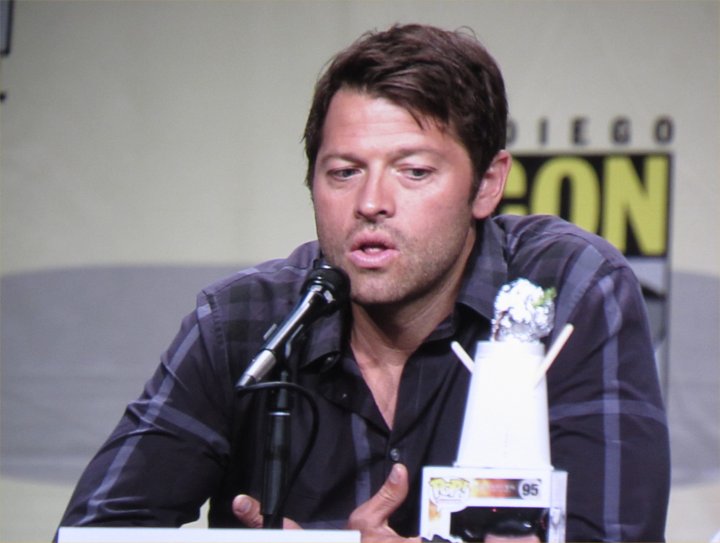 Brian Truitt first asks what it is like for Dean finally playing a "possessed" character given that Jared has typically taken most of those roles in the show so far.  Jared is excited for Jensen to see where it goes, while Jensen discusses how it is a difficult character to play because he has to find the balance of playing Dean and the demon.
Misha also discusses his need to maintain Castiel's fading Grace, and how that while his grace fades, Castiel is focused on trying to save Dean.  Meanwhile, as Misha Collins talks, Mark Sheppard is playing with his make-shift doll, entertaining Hall H with his antics.
Mark Sheppard is congratulated by Brian Truitt for being made a series regular on Supernatural and is asked about Crowley's role with Dean.  Crowley rhetorically asks if any believes that Crowley didn't know what would happen to Dean, but largely remains mysterious about Crowley's involvement in the season–but does remark that his story will be resolved in 4 to 5 seasons from now.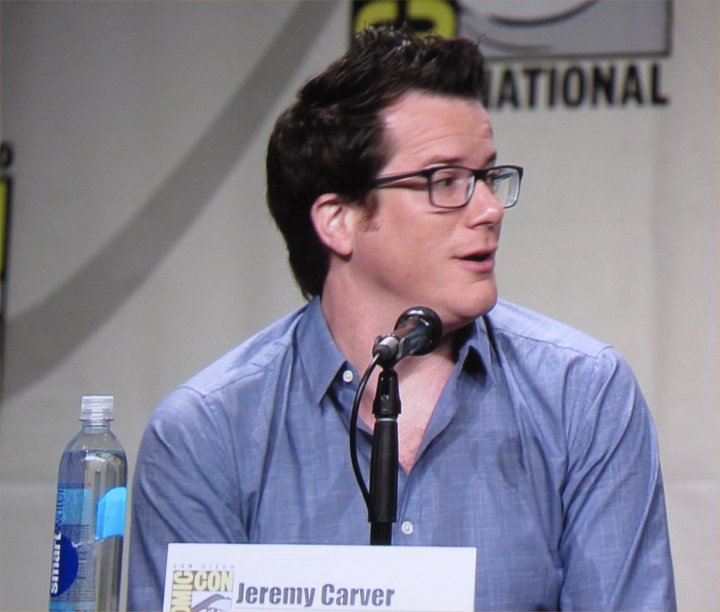 Jeremy Carver brings up that the 200th episode will be a "musical-ish" episode this season of Supernatural.  The episodes that step outside the norm tend to be the best episodes of the show, so that episode should be entertaining.
Brian Truitt then asks what it was like making the pilot 10 years ago, and Jared talks about their excitement that they could be picked up for a full season back when the show first started.  Jensen and Jared both remark how they are constantly stopped by full grown adults who tell them that they have been watching Supernatural since they were children.    It kind of seems to creep them out.  But Jared does say that he plans on visiting the Hall H line on Sunday going forward, as he did this year for the first time.  Jensen also discusses how they had to navigate through some turbulent waters, and keep their heads down as the network merger went on early in their show's life.


Misha Collins is then asked about William Shatner guest starring on Supernatural because of the live tweeting Shatner has been doing of the episodes lately.  Misha remarks that Shatner would have to audition like everyone else!  By the way, Mark is still intermittently playing with his little doll the whole time.
Then Jared and Jensen discuss Dean's naturally tendency to make friends while Sam seems more reserved.  They seem to come to the conclusion that since Sam has always seemed to be the more "home-bodied" of the two, he tends to shy away from people, while Dean was always looking for trouble.
The panel then moves on to audience questions, and the first one is a really detailed Castiel costume, complete with retractable wings.  Even the panelists are impressed with them.  She has a pretty funny question for Misha, asking that with the show  Constantine coming out, will Castiel being changing going forward?  Misha jokes that he already has a cease and desist letter going to the show runners of Constantine, and acknowledges that the comic character did have the look first. But he reasons that since Castiel has been around for so long, the character has "squatter's rights."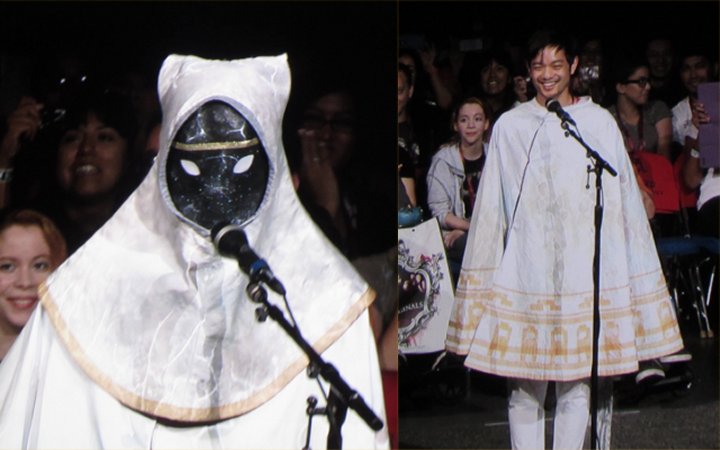 The next audience question comers from a creepy, silent nun-looking costume–only it doesn't say anything for a while.  After a couple seconds the costumer takes his mask off, and it is Osric Chau!  For those who don't know, that is Kevin Tran from Supernatural.  You can probably guess what his question is–he asks when Kevin is returning to the show.  Carver replies, "Now? Never!" No clear answer is given, but personally, I have a feeling he will be back.
Another person asks about stunts in the show, and Jared and Jensen are pretty honest about the stunt doubles doing most of the heavy work.  Jared also seems pretty knowledgeable about how difficult it is to shoot action scenes–explaining that single camera scenes take little time, while multi-angle scenes require a lot of work and can take several hours to film a couple minutes worth of action.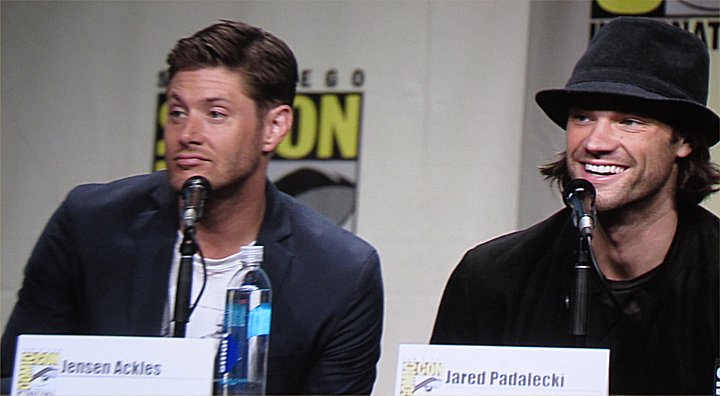 Rounding out the panel is a question asking about Jensen being worried about pranks while directing.  Jensen says that Misha left him alone while directing, but Misha reassured Jensen that the pranks were coming.  Jensen also says now that Mark is a regular cast member, he will get to join the fun!
The panel finishes up with a portion of the blooper reel for Season 9, of which the full length will appear on the Blu-Ray and DVD box set when it is released.
The new season is set to begin airing October 7th.
Below is our photo gallery from the Supernatural panel. You may click on any of the thumbnails to see an enlarged image. It will open in a new window, and you may once again click on the image for an even more enlarged photo.