We now continue the saga of our time at San Diego Comic-Con 2014 with a recap of our Saturday experience! Just a reminder that this is a brief overview, and we will have more pictures and details of the individual panels up soon. Read on for a recap of our Saturday at SDCC!
If you missed our Wednesday and Thursday recap, click here!
If you missed our Friday recap, click here!
Saturday, July 26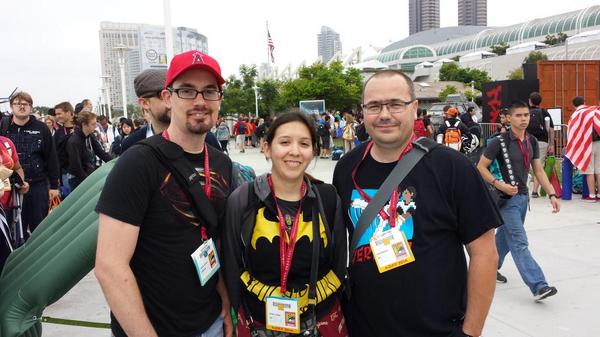 After settling in for the night upon being moved to the park behind Joe's Crab Shack around 12:30am, we were woken by Security around 5:30am, walking down the line telling us that if we don't have a wristband, we're definitely not getting into the first panel, but that we might get in later, which is what we figured would be the case. As I mentioned in the Friday recap, we were about 80 people behind the last wristband. We packed up our stuff, and they started condensing the line around 6:30am. Our Twitter friend @cyberaug came and found us in line to say hi a little after 8:00am, which was cool, because it was the first we had seen of any of our Twitter friends! We eventually made it under the tents a little after 9:00am, and were funneled into a chute around 9:30am. We could see that in all 3 of the chutes around us, people had wristbands, and we were the first chute without wristbands. They started letting the last chute before us in at 9:55am, not all at once, but very slowly. We started losing hope, and knew that if my some miracle we did get in, we would all be separated. We saw on Twitter than we had already missed the Batman v. Superman portion of the Warner Bros. panel which had started at 10:00am and were pretty bummed. Then around 10:10am, they started letting our chute in! We were going, going, then suddenly stopped about 10 people back. Nooooo! We thought that was it and we'd be stuck there all day. But then they told us 15 more people could go in, so we made it in around 10:30am, right as Channing Tatum was wrapping up with Jupiter Ascending! And we were escorted to a fully empty section, so not only did we get to sit with our group, the group we had been chatting with in line sat in the row in front of us! We were a little upset that we had missed Batman v. Superman when there were all these empty seats, but were mostly just happy we made it in.
So the first thing we saw was Mad Max: Fury Road, which Chris Hardwick was moderating. Director George Miller was there for his first ever SDCC, and Charlize Theron recorded a video message. We got to watch quite a good long clip of never before seen footage from the film, which Miller said is closer to Mad Max 2: Road Warrior. The movie comes out in May 2015.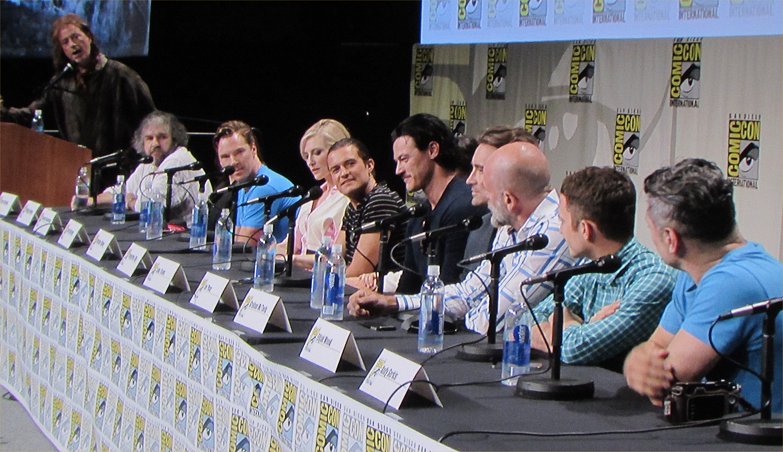 The remaining hour or so of the 2 hour Warner Bros. panel was for The Hobbit: The Battle of Five Armies, the final installment of the trilogy. Stephen Colbert came out dressed the Laketown Spy,  his cameo role in the previous film, and moderated the panel, which included director Peter Jackson, writer/producer Philipa Boyens, and actors Cate Blanchett, Benedict Cumberbatch, Orlando Bloom, Luke Evans, Graham McTavis, Evangeline Lilly, Lee Pace, Elijah Wood, and Andy Serkis. We got to see a clip and some footage, as well as a blooper reel.
Following Warner Bros was the Legendary panel, moderated by Jessica Chobot. She brought out Legendary CEO Thomas Tull, who introduced a clip from Gareth Edwards, wherein he announced Godzilla 2. Then John and Drew Dowdle, director and producer of As Above So Below came out on stage to promote their horror movie that takes place in the Paris catacombs, and we got to see some footage. Next, director Michael Mann came out on stage for his first SDCC to talk about his upcoming Asian spy/hacker technological thriller Blackhat, starring Chris Hemsworth, who also joined him onstage. We got a bit of footage of the film, which comes out on January 16, 2015.  After that, Guillermo del Toro took the stage to discuss his upcoming movie Crimson Peak, which he described as a gothic romance, and we got to see a teaser. Then Duncan Jones, director of Warcraft, came out to talk about the film and give us a sneak peek trailer of the film, which comes out in March 2016. He says he'll have more for us at next year's SDCC. The panel ended with a teaser trailer for Skull Island, a King Kong film. Nope, nothing about Jurassic World, sadly.

Then there was a full one hour panel for The Boxtrolls, a stop animation film about a little boy who thinks he's a boxtroll because he was raised underground by these creatures who only come out at night and find stuff with which to build their underground city. Panelists included producer Travis Knight, directors Graham Annable and Anthony Stacchi, and voice actors Isaac Hempstead Wright (who plays Bran on Game of Thrones), Elle Fanning, and Sir Ben Kingsley – for which this was his first SDCC. We got to see some footage from the film, as well as some behind the scenes footage about the making of the film.
Next was the Sin City: A Dame to Kill For panel featuring writer/director Frank Miller, director Robert Rodriguez, and actors Rosario Dawson, Josh Brolin, and Jessica Alba.  We watched a cut from the first film that didn't make it in, and some footage from the new film. They ended the panel saying they would see us next time for Sin City 3. 
After that was the Entertainment Weekly: Women Who Kick Ass panel, which was made up of  Maisie Williams (Arya on Game of Thrones), Natalie Dormer (Margaery on Game of Thrones), Katey Sagal (Gemma on Sons of Anarchy), Sarah Paulson (American Horror Story), Tatiana Maslany (Orphan Black), and Nicole Beharie (Abbie on Sleepy Hollow). The women spoke about various topics, such as what drew them to their respective roles, to challenging scenes, to their favorite "kick ass" moments for their characters.



Finally came the moment that everyone had been waiting for since literally the previous day: the Marvel panel! The panel, which was moderated by Chris Hardwick, started out with some footage of the various Marvel movies pieced together, and then Kevin Feige, President of Marvel, brought director Peyton Reed out to talk about Ant-Man, as well as actors Paul Rudd, Michael Douglas, Evangeline Lily (who it was announced would be playing Hope Van Dyne, Frank Pym's daughter), and Carey Stoll (who it was announced would be playing the villain Yellowjacket). We got to see some CGI footage, as the movie hadn't started filming yet. After they left the stage, one by one the cast of Avengers: Age of Ultron danced on stage to "Don't Stop Til You Get Enough," including Robert Downey Jr., Mark Ruffalo, Jeremy Renner, Chris Hemsworth, Cobie Smulders, Samuel L. Jackson, Chris Evans, Aaron Taylor-Johnson, Paul Bettany, James Spader, and Elizabeth Olsen. Later, Josh Brolin came on stage wearing the Infinity Gauntlet. We got to see a funny clip from the film of the Avengers taking turns trying to lift Thor's hammer, when Ultron crashes the party, followed by some additional footage. The panel ended with a video message from Chris Pratt and James Gunn announcing that Guardians of the Galaxy 2 would be released July 28, 2017.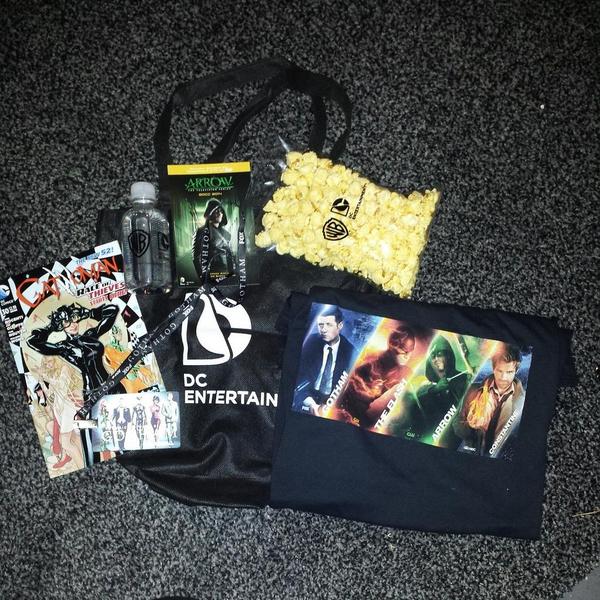 At that, about 3/4 of Hall H emptied out, and an announcement was made that the hour and a half break would be used to "repurpose" the stage before the next panel started at 8:00pm. The table was taken off the stage and lots and lots of chairs were brought out. Meanwhile, swag bags were placed on all the empty seats, or handed to people still seated (like us). The Warner Bros. Television and DC Entertainment panel kicked off to a half empty Hall H. Stephen Amell greeted the crowd, then brought out Grant Gustin to briefly speak about The Flash before screening the pilot. When that was over, he brought out Ben McKenzie to say a few words about Gotham before the world premiere screening of the pilot. He then brought out Matt Ryan to talk about Constantine, though they said they couldn't air the pilot, and instead showed some footage. We saw a teaser for Season 3 of Arrow, in which we learned that Ra's al Ghul would be in the show next season. Then essentially the entire casts of each of the four shows, The Flash, Gotham, Constantine, and Arrow joined the stage for the world record number of panelists on the Hall H stage! DC Comics writer Geoff Johns then became the moderator and asked questions of the panelists, and there was also time for audience Q&A. When the panel wrapped up at 11:00pm, it was suddenly announced that they would screen the Constantine pilot, which started playing immediately. However, we were so tired at that point that we just left so that could actually go to our hotel and sleep in a bed!



Did I mention that I never changed out of my pajama pants all day? At some point in line that morning, I realized I hadn't changed, but we were at a point where I didn't want to risk leaving the line. Once we got in, I figured we were just going to be sitting in the same spot all day, and I was comfortable in my pajama pants, so I never bothered changing. I think we should start a new Hall H trend next year for those who camp out overnight – pajama pants party!
Click here to continue to our Sunday recap!