The Marvel panel took place at San Diego Comic-Con on Saturday, July 26 from 5:30pm-6:30pm. This panel, for which many people lined up over 24 hours in advance to see, featured the films Ant-Man and Avengers: Age of Ultron. Read on for more details about the panel, and to view our photo gallery and some videos!
Comic-Con Saturday-Hall H: Marvel Panel
Chris Hardwick came back out for the Marvel panel this year.  Hall H is of course all a-buzz about the Marvel panel, probably the pinnacle of Saturday.  The panel opens up with a montage of all of the Marvel Universe films, showing some of the epic scenes from Avengers, Iron Man, Thor, Captain America and the like.  It finishes up with some scenes from Guardians of the Galaxy, which were really fun to see. Marvel has released this video online, which you can watch below:

Marvel Panel: Guardians of the Galaxy
Kevin Feige comes out, as per the norm for Comic-Con. Feige then talks about Guardians of the Galaxy coming out this weekend, and how awesome it is going to be.  He thanks the Hall H audience for enjoying the sequels to their established movies, as well as their new movies like Guardians of the Galaxy.
Marvel Panel: Ant-Man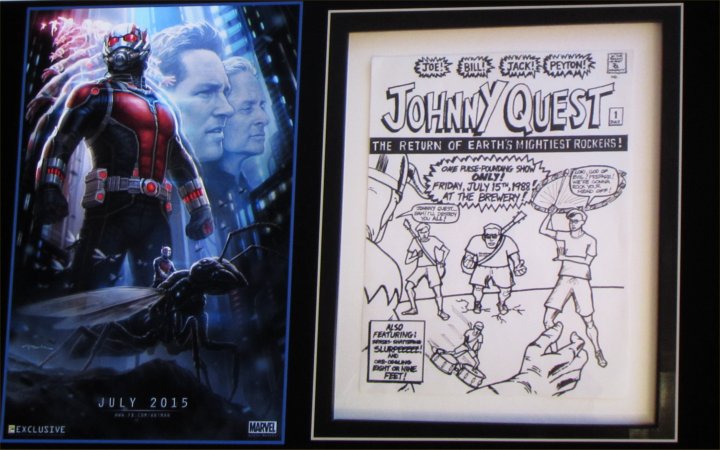 Hardwick and Feige move on to talk about Ant-Man, which recently lost Edgar Wright as director.  Peyton Reed will be taking over as director of the film, and he along with Paul Rudd, Michael Douglas, Corey Stoll and Evangeline Lilly are brought out to talk about the film's progress.  Michael Douglas is set to play Hank Pym, the first iteration of Ant Man, while Paul Rudd will be playing the person taking over the abilities of Ant Man, Scott Lang.  Corey Stoll is set to play Yellowjacket, the villain of the film.
Paul Rudd and Michael Douglas are "Comic-Con virgins"–aka first-timers to Comic-Con, and Paul Rudd particularly seems enthusiastic about it.  He discusses how "mind bending" it is playing a Marvel character.  Michael Douglas decides to inform Hall H that he has "popped a lot of cherries."  Douglas takes it upon himself to discuss the film origins in the Comics–as if the audience doesn't know yet.  It was a little awkward, honestly.


Evangeline Lilly discusses her role as Hank Pym's daughter, Hope Van Dyne, and trying to evade the press because her lips were sealed until the Marvel panel.  Lilly hasn't even seen the script yet, so unfortunately she doesn't have a whole lot to say yet.  Corey Stoll seems to be in about the same boat as Evangeline Lilly, as he doesn't seem to know a whole lot about his role other than he is going to become Yellowjacket, and is the "big bad" of the film.
The film hasn't even begun filming, but is set to begin in August.  Feige announces that there is a little tidbit that we can see, however.  It is a brief scene, with Paul Rudd being talked to by Michael Douglas, on how to use Ant-Man's powers.  The footage seems exciting, yet a little cheesy at the same time–given that Paul Rudd's character spends much of the teaser attempting to coax an ant into giving him a ride.  But I am sure that is part of the charm of the film, and we will just have to see how it works out when the film gets closer to release.
Marvel Panel: Avengers: Age of Ultron
The Ant-Man portion ends after the footage, and Feige moves on to discussing Avengers: Age of Ultron.  Unfortunately, Joss Whedon could not make it to Comic-Con because he had knee surgery, and was bed ridden in London.  There were a lot of the cast who did decide to come Comic-Con though, and we get a dance party as the cast comes out.  First is Robert Downey Jr, followed by the rest of the cast–Mark Ruffalo, Chris Hemsworth, Chris Evans, Samuel L. Jackson, Jeremy Renner, Cobie Smulders, James Spader, Paul Bettany, Elizabeth Olsen, and Aaron Taylor-Johnson.  It certainly was a full table for the Avengers panel.  As Chris Hardwick stated during the panel, "This is good."  The Hall of course is abuzz with the excitement.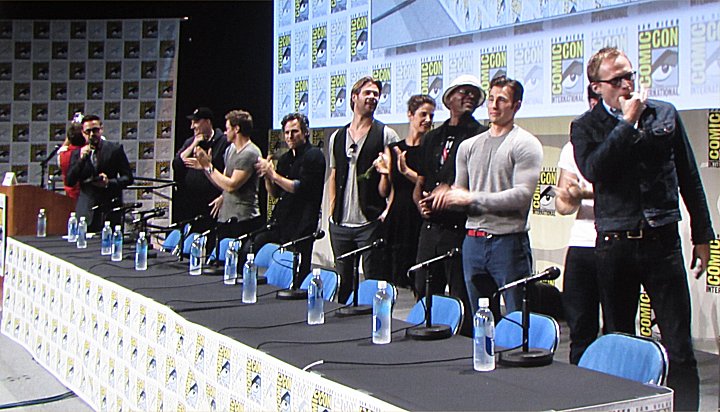 Hardwick spreads his questions across the cast once everything settles down.  Robert Downey Jr. says being Iron Man keeps getting better, but remarks that, "he is a little less significant each time".  Hardwick continues down the line, asking everyone how it is being on the Avengers and of course they all say that they are excited to be there.  Chris Hemsworth notes Avengers: Age of Ultron could be his Oscar movie as he turns into a woman (referencing the comics turning Thor to a woman character recently announced).  Samuel L. Jackson announces he is excited to come back next year, which is hopeful that he will continue to be Nick Fury in the films.  Paul Bettany jokes about having to do more work now that he has more than just a voice to provide to the Marvel films.  Spader talks briefly about becoming Ultron, and the "weirdness" of Comic-Con.  He talks about how he has always played humans, so it was challenging and startling playing Ultron.
After talking with the present cast, Scarlet Johansson provides a brief video message, and on the video tells Kevin to roll some video footage for Age of Ultron.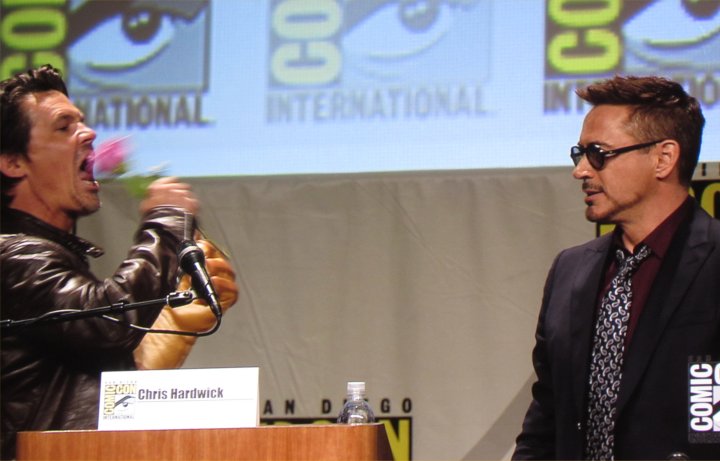 The clip begins quite comically, with all of the Avengers hanging out, attempting to lift Thor's hammer.  Captain America is nearly able to–which visibly startles Thor quite humorously.  Then, interrupting the party is a broken down robot–Ultron.  The party is then joined by other robots, who attack the unarmed Avengers.  Ultron calls them killers and announces that extinction is the only path to peace.  Also seen in the footage is Iron Man's Hulkbuster armor, going toe to toe with the Hulk.  Even more surprising is the amount of robots that the Avengers have to fight, and then towards the end of the teaser we see a broken Captain America shield, an injured Tony Stark and the bodies of the Avengers littering the ground.  The Avengers are certainly in for some trouble in Age of Ultron.
Before the panelists leave, Josh Brolin takes the stage wearing the Infinity Gauntlet. Robert Downey Jr. gives him a rose, which he chews up and spits out.
You can view video of the cast's introduction to Hall H below. (Sorry it's so shaky!)

Marvel Panel: Guardians of the Galaxy 2 Announced
The panel ends, and we get one final video–Chris Pratt and James Gunn.  It is a fun video, where they act as if they are going to pull one over on Marvel, by announcing the sequel to Guardians of the Galaxy.  The sequel is already set to come out July 28, 2017.
And that was about it for the Marvel panel.  Not a whole lot of new information, but the Avengers: Age of Ultron footage was amazing.  Ant-Man looks to be on the right track as well despite the setbacks it has dealt with.  Unfortunately, none of the Marvel footage is available online, but hopefully some teasers will begin to dribble out soon!
You can view our photo gallery from the Marvel panel below. Click on any of the thumbnails for an enlarged image. The thumbnail will open in a new window, and you may once again click on the photo for an even more enlarged image.