After Warner Bros. finished its panel in Hall H on Saturday, July 26, up next was the Legendary panel, featuring As Above So Below, Blackhat, Crimson Peak, Warcraft, and a couple other surprises. Read on for our recap of that panel, and to see our photo gallery!
Comic-Con Saturday-Hall H: Legendary Pictures Panel
(To read the Warner Brothers Hall H wrap up, click here)
Legendary Pictures: Godzilla Wrap Up; Sequel Announced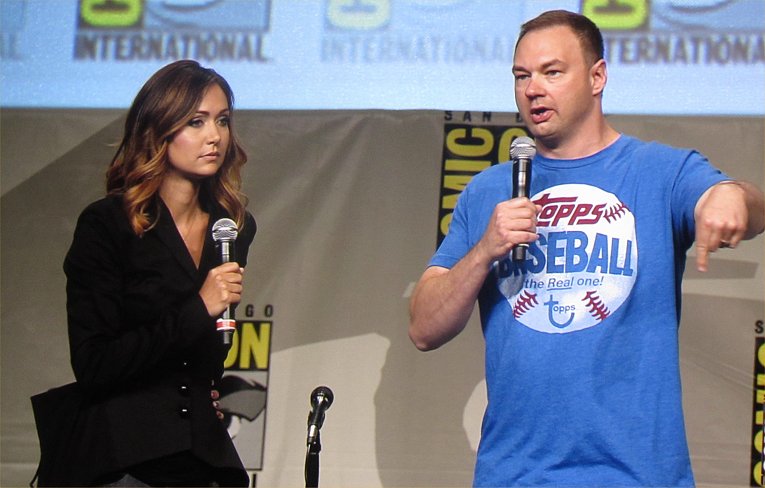 Legendary Pictures was the next panel, after Warner Brothers.  The moderator was Jessica Chobot.  First up for Legendary was Thomas Tull coming out to talk a little bit about the success of Godzilla.  He thanks Comic-Con and the attendees for getting Godzilla hyped up when it was first announced a couple years ago.  He then brings up Godzilla 2, but regrets to inform us Comic-Con-ers that Gareth Edwards is a locked up in a "Galaxy far, far away", so he was unable to attend this year.  The good news is, Gareth decided to give us a little video to watch.  On the video, Gareth is seen near the Golden Gate Bridge, and informs us that the bridge has been rebuilt after the destruction of Godzilla and Mutos destroyed it.  But he announces that he will be coming back for Godzilla 2 after his sci-fi project.  He even announces what other Kaiju will be present, but unfortunately it is censored and a big tease to Godzilla fans leaves them wanting.  Finishing his video is Godzilla visiting San Francisco again and about to make another mess.
After the video with Gareth, another video is shown which teases some previous Godzilla characters such as Mothra, Rodan and Ghidorah.  The audience seems very hyped about seeing these old characters in a new movie.
Legendary Pictures Panel: As Above, So Below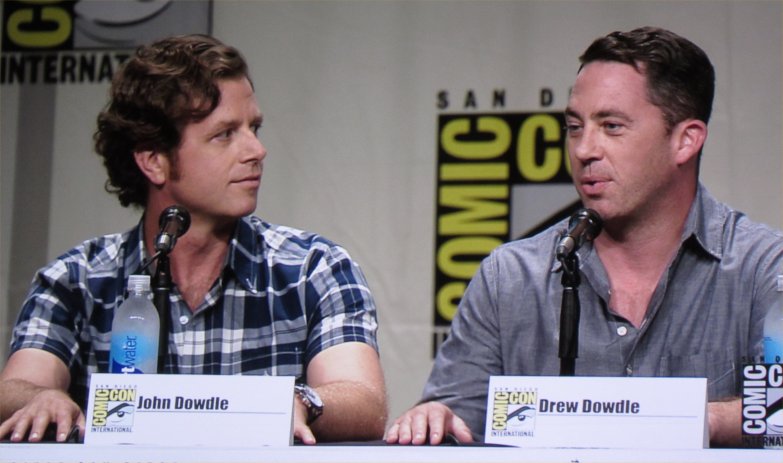 After Godzilla is wrapped up, a movie I have not heard anything about is the next section of the panel.  The film is As Above, So Below.  The film is being directed by John Dowdle and written by Drew Dowdle.  A clip of the film is shown, and the movie is about an archaeology crew going into the depths of the Parisian catacombs, documenting their journey.  After we see the characters descend for a while, odd things begin happening.  Then creepy things begin.  Then finally, scary crazy things begin happening, and we see that this is definitely going to be a horror story, told documentary style.
The Dowdle brothers discuss the premise of the film, in which their characters will face their worst fears in these catacombs.  They also discuss the filming of the movie, being waist high in the water in the catacombs, and given the privilege of film in some areas that were previously inaccessible for film crews.  They also talk about the illegal rave parties that take place down in the depths of the catacombs.  Sounds like a scary place to me. Why would anyone want to party down there?
The movie is set to release August 29th, 2014.  The film stars Edwin Hodges from The Purge and Perdita Weeks, whose work I am unfamiliar with.  While the Comic-Con footage doesn't seem to be out, there is a trailer that came out about 3 months ago.
Check out the trailer for As Above, So Below here
Legendary Pictures Panel: Blackhat
Michael Mann was brought out next.  He is known for directing films such as Heat, Public Enemies, and Last of the Mohicans.  This new film he is working on is called Blackhat.  Michael Mann discusses that he wanted to make a crime drama, and that the idea for Blackhat came to him after coming back from a trip to Singapore.  He explains that the film will be about cyber crimes, and working to stop it.  We are shown some footage of the film, with Chris Hemsworth doing some hacker-y type stuff, with some action scenes thrown in as well.
The star of the movie, Chris Hemsworth, then comes to the stage to discuss the movie.  Hemsworth compliments Mann's attention to detail, and devotion to accuracy for the film.  Mann and Hemsworth also discuss the whirlwind journey they took on making the film–74 scenes, 6 locations in 66 days.
Hemsworth also discusses learning about hacking and describes his newfound fear of hackers after doing some research for the film with a hacker.  The film is set to come out January 15th, 2015.  Unfortunately, I could not find any footage of the Comic-Con teaser, or even an official teaser online yet.
Legendary Pictures Panel: Crimson Peak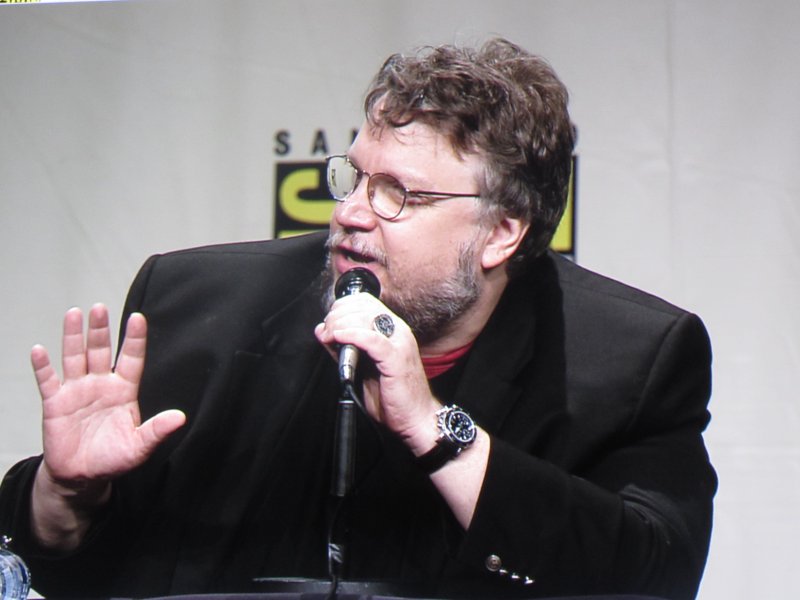 The next panel was a big one, featuring a regular of Comic-Con–Guillermo Del Toro.  He has a new film coming out, Crimson Peak.  He discusses his return to the horror genre, and describes wanting to make a beautiful yet scary movie.  He says that the film still has a year and half before it releases, but Toro was kind enough to bring some footage.  It is set in a Victorian era, and for a while it seems like a drama.  Them things begin to get creepy, yet colorful–as Del Toro is known for.
Guillermo promises to bring Hiddleston next year, which results in shouts of approval from the audience.  He also remarks how nice of a guy Hiddleston is.
Del Toro also discusses some of the technical aspects of creating the Victorian house–which is for the most part fully functional as a house, but is also a stage for the film.  He finishes his panel with a couple pleas from the audience–requesting help to convince film producers to make Hellboy 3 and Mountains of Madness.  I had no idea what he latter one was, and neither did most of the rest of the Comic-Con Hall H audience.
No trailers or teasers are currently available to show anything about Crimson Peak, unfortunately.  But we know that Tom Hiddleston, Charlie Hunnam and Jessica Chastain are set to star in the film.
Legendary Pictures Panel: Warcraft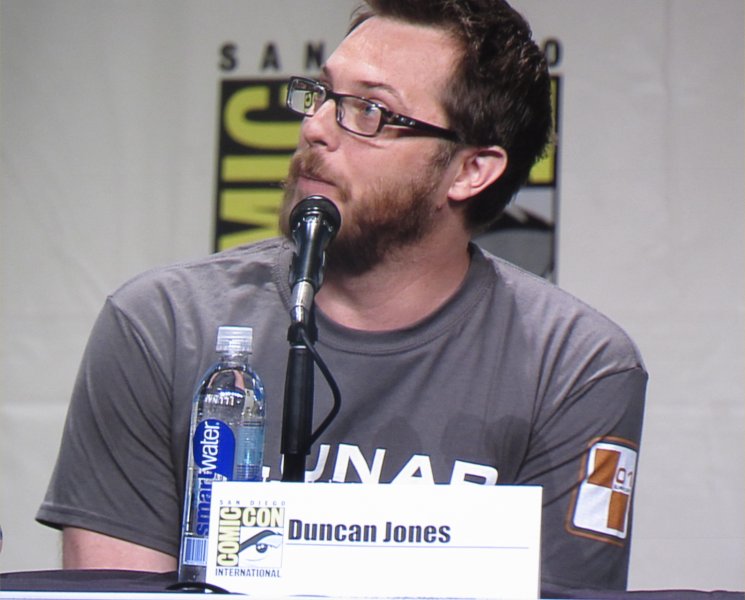 The final panel for Legendary is the Warcraft panel.  Last year in Hall H, a brief teaser was shown for Warcraft, and other than the director being announced, nothing else was known.  This year, not much more was revealed, but Duncan Jones did come out to talk to the Hall H-ers for a few minutes.  He discusses working with the vast amount of lore that Warcraft has, and how to make a film that fans of the franchise will enjoy, while also trying to draw in new audiences as well.  Duncan Jones also discusses the difficulty of working with both live action in the film along with having to work with a whole lot of special effects that the film will require.
Jones also discusses the help and support Blizzard has provided for making the film.  Blizzard is the video game company responsible for making Warcraft video games among other titles.
The film is set to be released in March of 2016.  Duncan was kind enough to bring a little bit more footage than we saw last year.  We only see orcs and humans in the film, so it looks like the film will be starting potentially from the very beginning of the video game franchise's history.  The one notable difference that I caught however, showed the orcs being much more of a sympathetic character than they would have been in the original video games.  All in all, Hall H seemed fairly excited for the film.
Legendary Pictures Panel: Conclusion/Skull Island Teaser
That is about it for Legendary–with the exception of one final visit from Thomas Tull, who has a surprise up his sleeve.  He reveals some footage.  This footage takes place on a tropical looking island.  Then we see a gigantic ape–King Kong?  Must be as the film is revealed to be Skull Island.  Since both Godzilla and King Kong rights seem to be in Legendary's hands, does that mean we will be seeing a King Kong vs. Godzilla movie soon?
Click on any of the below thumbnails for an enlarged image. It will open in a new window, and you will then be able to click on the image again for an even more enlarged image.