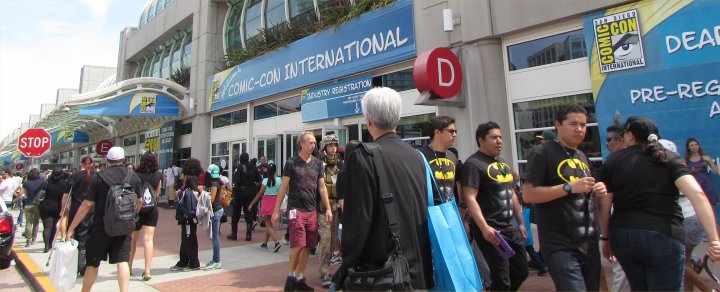 Now that we've had a week to reflect upon Comic-Con, it is time to evaluate the panels, and see which ones were worth the wait, and which ones could possibly use some improvements.  We decided to pick our top three panels, one panel that was surprisingly good, and one panel that was disappointing this year.
Josh's Top Three Panels:
1. Marvel Panel –  I think it feels almost given that Marvel had the best panel, but it really stood out for the Saturday Hall H panels.  While it did not quite seem as exciting as last year's panels, there were still a lot of gems during the panel.  The Marvel montage was a lot of fun, seeing the first ever Ant-Man footage was exciting, and then of course seeing a lot of the cast of The Avengers: Age of Ultron capped the panel off.  Not only did we see the cast, but Marvel has a great way of showing that these actors want to be here (even if some of them may not!)
So really it comes down to the Marvel panel bringing exciting exclusives for Comic-Con and at the same time presenting it in an entertaining way.  All in all, a lot of fun.
2. Legendary Pictures – I feel like Legendary may have had the most to bring to Comic-Con this year.  There was the announcement of Godzilla 2, and Legendary did a good job of hyping up the sequel with the footage they brought.  Guillermo del Toro is always fun to watch at Comic-Con, because he genuinely seems to enjoy being there.  Chris Hemsworth was also part of the panel with his movie Blackhat, and we saw some more Warcraft footage.  On top of that, Del Toro really tried to get hype up for Hellboy 3 and the other film he would like to make.  Then on top of that, we are given a teaser for a new King Kong film.
While for the most part, these are films I am not particularly excited about (except for Warcraft, I am very interested to see how that turns out), Legendary really did a lot of fan service for their panel.
3. Warner Bros/DC TV Panel – This was the evening panel on Saturday, where The Flash and Gotham were both previewed.  Steve Amell hosted the night, and since seeing him on his own panel at Phoenix Comic-Con, I have really grown to appreciate him a lot more.  He seems to enjoy entertaining his fans.
Previewing both Gotham and The Flash was a lot of fun as well.  After these two episodes aired, a lot of the Warner Brothers TV cast and crew came out and did a very big panel, which was exciting.  The one bad thing about this was by that time it was around 10pm Saturday night, and could barely keep my eyes open.  After the panel, Warner Brothers even screened Constantine, but we were too exhausted to keep going.  So I guess my one gripe about this panel would be how late it was.  After camping in line since 10:30 the night before, then waking up at 5:30am, I was out of gas.
Most Surprisingly Enjoyable Panel:
Supernatural Panel – Saturday night, I told Violet I may skip out on Supernatural.  Since I had only been able to come down to Comic-Con for Saturday and Sunday, I really hadn't been able to do anything aside from camp for Hall H.  I really wanted to walk the Exhibit Hall.  But I decided to attend the panel anyway, despite having seen them twice before.  I was excited about it, but once I was there, and the panel started, I realized how much fun these guys are.
We didn't learn a whole lot about what is coming up next season, but Jared, Jensen, Misha and Mark were really funny.  It was definitely a panel to watch, even if you don't care for Supernatural.
Most Disappointing Panel:
Warner Brothers Panel – I really do not like being negative about Comic-Con, and generally there isn't a whole lot to be negative about.  Having said that, I was really disappointed in the Warner Brothers panel.  The reason I was mostly disappointed was the Batman V. Superman "mini" panel.  Firstly, we weren't seated in Hall H until after that panel had already ended.  I would understand if this was because the room had filled, but much of the back rows of seating were still completely empty.  Why would they start with the most anticipated portion of their panel, when there is a larger percentage of people not even seated yet?  I really wasn't happy about that.  I understand that Comic-Con was trying to keep on schedule, and I also sort of understand that they didn't want to put Batman V. Superman at the end to overshadow The Hobbit, but I felt like they could have done something better.
Having said all of that, from what I have seen and read, the Batman V. Superman panel really only showed off Wonder Woman's costume, a brief teaser and photo ops.  No substance was given for the movie.  I guess that is a relief and a disappointment all rolled into one.
On the bright side of the Warner Brothers panel:  Mad Max: Fury Road looks very interesting, and I am glad I was able to see the last Lord of the Rings/Hobbit panel that will be at Comic-Con for a while.  So far as we know, no other Tolkien movies are in the works, so this could be it for a very long time.
Final Thoughts:
Comic-Con was a lot of fun, as usual.  Unfortunately, since I was only able to attend for two days, it felt really short, but next year, I hope to be back to the four days of craziness!  I also want to thank a friend who helped me out with Saturday.  I was about to have only a Sunday Comic-Con but I really appreciated the kind gesture this person did to help me out!
Violet's Top Three Panels
1. Paramount Pictures Panel – I have to confess that I wasn't even excited about this panel at all, and I almost didn't go to it. The schedule did not list what Paramount would be bringing to Comic-Con, nor did Paramount announce it in press releases like some other studios did who hadn't listed their movies on the schedule. With Teenage Mutant Ninja Turtles having a presence at the Petco Interactive Zone, we were sure that would be a part of the panel – however, from the previews I had seen of that movie, I hadn't really been excited about it. However, I felt obligated to go just in case Christopher Nolan showed up for Interstellar – which was a long shot, considering that he had never been to Comic-Con before.
So when Matthew McConaughey came out on stage for Interstellar for his first Comic-Con, we thought that would be it. But then a few minutes later, he introduced Christopher Nolan! It was pretty amazing, because we really did not think he would be there. Although they only talked about the movie for about 10 minutes, I have to say that this was the highlight of Comic-Con for me. It was also nice that we didn't have to camp out for this, and were able to walk right into Hall H earlier that day!
Aside from Interstellar, we got to see quite a bit of footage from Teenage Mutant Ninja Turtles, which actually made my attitude to the movie a bit more positive than the "meh" attitude I'd had before. They also offered some other surprises, such as Clark Duke briefly coming out to introduce Hot Tub Time Machine footage, and the Rock making a floor entrance to tell us he had rented out three theaters to screen his movie Hercules (even my dad in Texas heard about that and asked me if I went to see the movie!), so there were some pretty awesome moments in Hall H during that panel.
2. Game of Thrones Panel – This panel was so much fun! Several different cast members attended the panel than those who had attended last year, so it was interesting to see a different dynamic from last year's panel. I especially enjoyed the interaction between Gwendoline Christie (Brienne), Rory McCann (The Hound), and Maisie Williams (Arya), because they had playful attitudes toward each other which reflected what their characters' attitudes in the show were towards each other. Although we didn't really get any new information about next season (audience members were forbidden from asking any questions about next season or referencing upcoming storylines from the books) other than a video introducing the new cast members for next season, there was a lot of joking going on, and it was a lot of fun to watch the numerous cast members, plus author George R.R. Martin, interact with each other.
3. The Walking Dead Panel – This one is always a fun Comic-Con panel because first of all, you get Chris Hardwick moderating it, who already has a good relationship with several members of the cast and crew who have appeared on his show Talking Dead, plus you get essentially the entire cast up there together! Additionally, there were some fun references to the show, with Chris Hardwick giving Melissa McBride (Carol) some flowers and telling her to "look at the flowers," and Chandler Riggs (Carl), who was not listed on the schedule, made a surprise appearance and came out with – what else – a big can of chocolate pudding that he ate during the panel! It was also a lot of fun to experience the world premiere of the Season 5 trailer in a room filled with fellow Walking Dead fans, plus see the parody clip of the group years in the future, having never gotten out of that train car. Next season looks like it is going to be insane, and I'm glad we were there to get a first look, even though the trailer was released not long after. 

Most Surprisingly Enjoyable Panel:
The Giver – I had kind of wanted to see this panel, having read and loved the book when I was a child, and having read it again a few years ago and still loving it, but the panel wasn't exactly a priority for me. However, finding ourselves with no other pressing plans on Thursday, and seeing that you could just walk into Hall H, we ended up going to this panel. Lois Lowry, the author of The Giver, turned out to be a really awesome woman – feisty, sassy, intelligent, and humble. Almost all of the audience questions were directed at her, and she kept trying to redirect the questions to her fellow panelists so that she didn't hog the spotlight! The questions and concerns that I had about the adaptation from book to movie actually all ended up getting addressed. Although this was a one hour panel just for one movie, and the panel was small and had relatively unknown actors aside from Jeff Bridges, I was fascinated throughout that entire hour, as there was never a dull moment.
Most Disappointing Panel:
20th Century Fox – Although 20th Century Fox did not list on the Comic-Con schedule what they would be bringing to their panel, they did announce it in a press release: The Maze Runner, Book of Life, Hitman: Agent 47, Let's Be Cops, and Kingsman: The Secret Service. None of these really excited me ahead of time, plus I had already seen The Maze Runner and Kingsman: The Secret Service at WonderCon. Don't get me wrong, they had a pretty decent lineup of movies and cast members, but nothing really excited me all that much. Plus it seems like Let's Be Cops is kind of a random choice to bring to Comic-Con. I guess the real disappointment was that we were expecting Fantastic Four to make an appearance, but they didn't. The panel even wrapped up 10 minutes earlier than the scheduled end time, which was weird, because usually panels run late rather than early. Compared to last year's panel, where the entire X-Men: Days of Future Past made a surprise appearance and was my favorite panel of 2013, this year's panel was lackluster in comparison.
Final Thoughts:
Looking back over my list of panels, I realize that all of them were on Thursday and Friday! This is not to say that Saturday and Sunday did not have great panels as well, but it just goes to show you that you don't need to have a Saturday badge in order to have a great time and see awesome and memorable panels at Comic-Con.