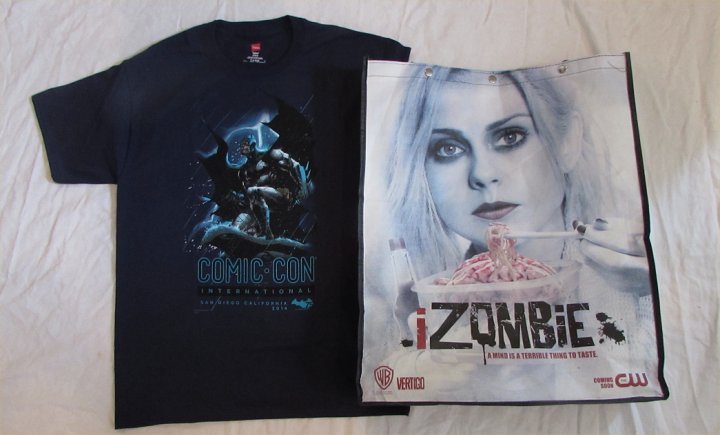 Not able to make to to San Diego Comic-Con this year but wish you could have? Or maybe you did go and want more swag to commemorate the event, or didn't get around to getting an official SDCC 2014 T-shirt? Well look no further, you've come to the right place – we are giving away some exclusive SDCC items! Read on for details on what's included and how to enter.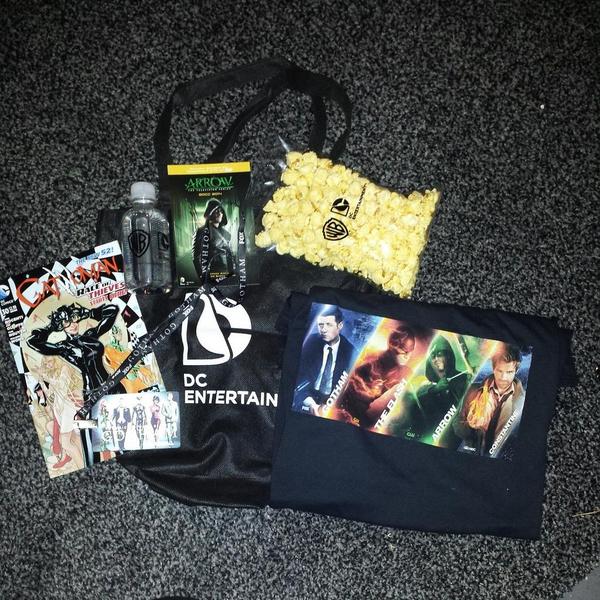 Official San Diego Comic-Con 2014 Batman T-Shirt, by Jim Lee (Size: Men's Medium)
Warner Bros. iZombie bag
WBTV/DC Entertainment swag bag, which includes Gotham/The Flash/Arrow/Constantine T-shirt (Size: Men's XL), Catwoman comic book, Gotham lanyard, popcorn, bottled water (see picture to the right – click to enlarge)
Exclusive Marvel Guardians of the Galaxy poster
Exclusive The Last of Us poster
Other miscellaneous swag that we may reveal soon, or might keep it a surprise!
Enter by using the Rafflecopter entry form below. You can earn one entry just by telling us how many times you have been to San Diego Comic-Con! There are also options to earn additional entries, such as following us on social media, tweeting about the giveaway, etc. Plus, there are ways to earn entries daily, so you can keep coming back and racking up those entries! The giveaway ends Monday, August 11 at 11:00pm PT.
To earn a quick and easy extra 5 entries, vote and comment on our poll about the Hall H wristbands!