The panel for The World's End took place at San Diego Comic-Con 2013 on Friday, July 19 from 10:00am-11:00am in Hall H, and featured the director and stars of the film, which is the final counterpart of the Cornetto Triology, the first two movies of which were Shaun of the Dead and Hot Fuzz. Keep reading for Violet's recap of this panel!
The World's End panel kicked off Friday of panels in Hall H, and started off with a screening of the film's trailer. In the trailer we see a reunion of friends who haven't seen each other in 20 years, who return to their hometown to finish the "Ultimate Bar Crawl": 12 pints, 12 bars, and this time they're going to make it to the last bar, The World's End. However, they discover that the townspeople have been taken over by aliens.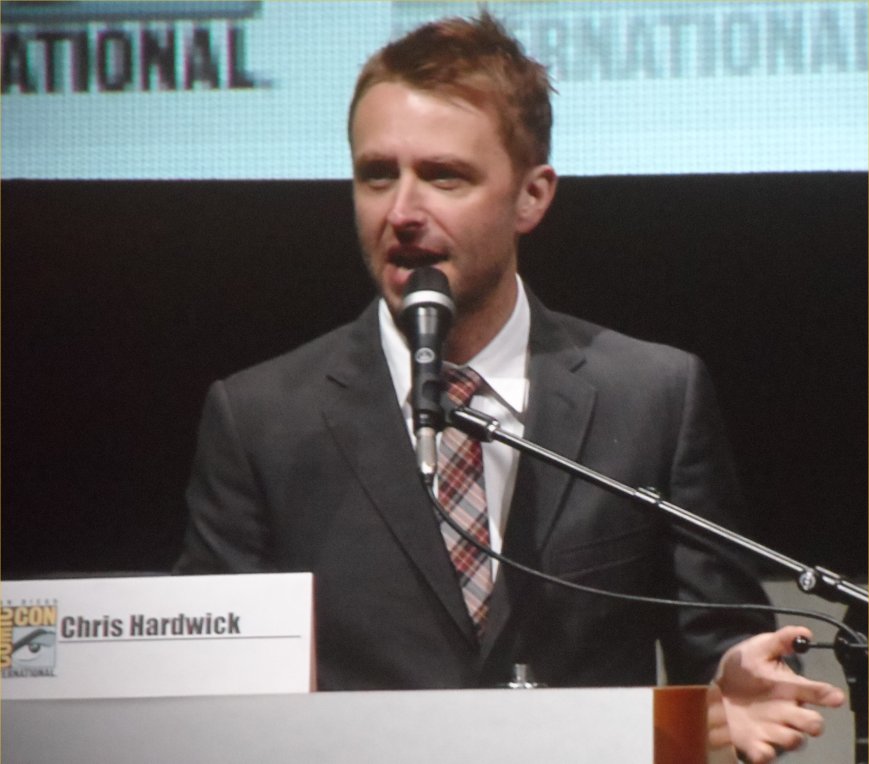 After the trailer, the moderator, Chris Hardwick came out and welcomed everyone to Hall H, after which we saw a clip in which the director and stars of the film talk about wrapping up the Cornetto Trilogy, saying that the film is "a new story and with new characters, but it does continue and resolve themes from the other movies." Director Edgar Wright described The World's End as a "quest movie with an extremely irresponsible King Arthur at the helm of it." He also talked about the innate chemistry between Simon Pegg and Nick Frost, which only can come out with lifelong friends.
Hardwick then introduced and brought out director Edgar Wright, and stars of the movie Simon Pegg and Nick Frost. Hardwick commented that he already had seen the movie, and felt like there was a Doctor Who element to the story. Wright then commented, "If you ever watched Doctor Who and thought it would be funny if the Doctor was really hammered, then this is the movie for you!" Hardwick then asked Simon about his character, Gary, who is "a little bit of a dick." Simon agreed that Gary is a bit of a dick, and that "he's kind of like the villain in the film almost as much as he is the hero." However, it was so much fun to play, as he's a "complete nutcase," and that there is a dark truth to him which he hopes the audience will understand "explains his dickish-ness somewhat." Simon explains that he "got stuck in 1990" and is trying to drag his friends back.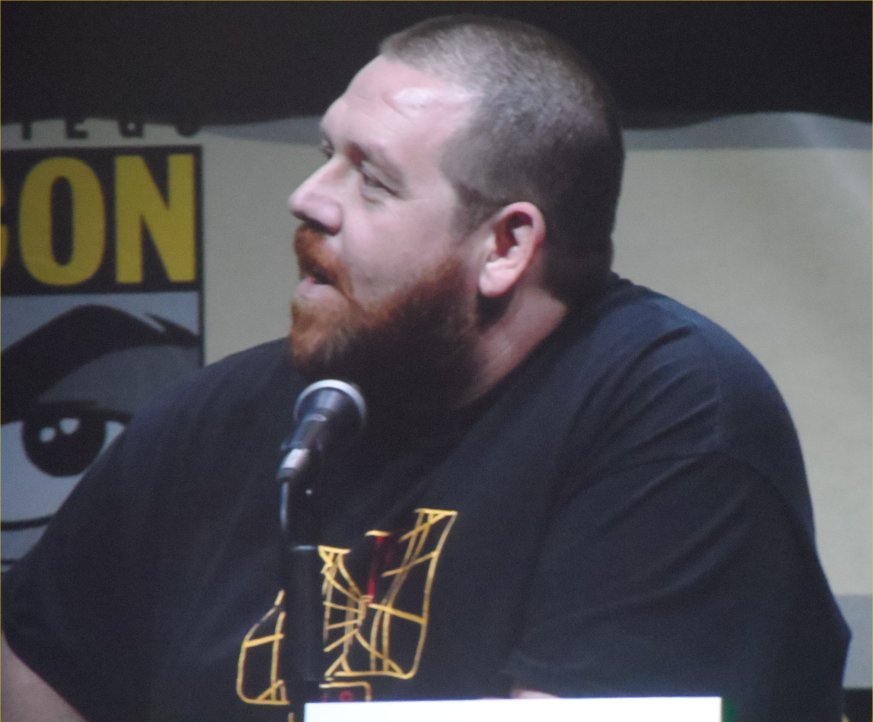 Next, Hardwick asked Nick about his character, Andy, who is a buttoned-up, very responsible lawyer. Nick talked about how he and Simon got to explore different characters throughout the trilogy, and that he's glad he got to be an "angry, buttoned-down hard-nut."
Hardwick wanted to make sure everyone understood the concept of the Cornetto Trilogy, and Edgar explained that in Shaun of the Dead Nick's character asked for a Cornetto ice cream on a Sunday morning. Edgar also talked about how when he had a hangover in college, a Cornetto ice cream made him feel better. Apparently the American equivalent of a Cornetto is a Drumstick. When they had Cornetto in the first film, they got free ice cream at the premiere, so they wrote it into the second film to get more. In the first film it was strawberry ice cream, which represented blood, in the second movie it was blue for the police, and in The World's End it is chocolate mint green for the aliens. Edgar joked about the next trilogy being called the Aston Martin Trilogy.
Hardwick asked if they ever envisioned this when they started with Shaun of the Dead nine years ago, to which Edgar said no, that when they made Shaun, they were just lucky to make a film, and you don't think beyond your own country. He spoke about seeing the audience here laughing at it when they did a panel for it at Comic-Con in 2004, which encouraged them to keep it British, even though a lot of British films try to increase the international appeal. However, he did point out that Scotty (Simon Pegg played Scotty in J.J. Abrams' Star Trek) and Bilbo (Martin Freeman) are in this one.
Upon Hardwick commenting about the friendship between Simon and Nick, and asking if it's weird to go work on sets with people that they don't really know after finishing up on the set of one of these movies, Nick replied, "Sometimes you forget breaking wind isn't funny to everybody." Simon said that sometimes it's nice to go away and do other stuff, like Scott Pilgrim vs. the World, but until this film, which is about friends reuniting, it had been six years since all three of them worked together, and when they got back together "it was like putting on a pair of comfortable slippers." However, Simon also mentioned that there were new cast members, such as Eddie Marzan and Rosamund Pike, as well as a few cameos. Nick added, "It's like having a brief love affair, and when you come back to your marriage, it just makes it stronger."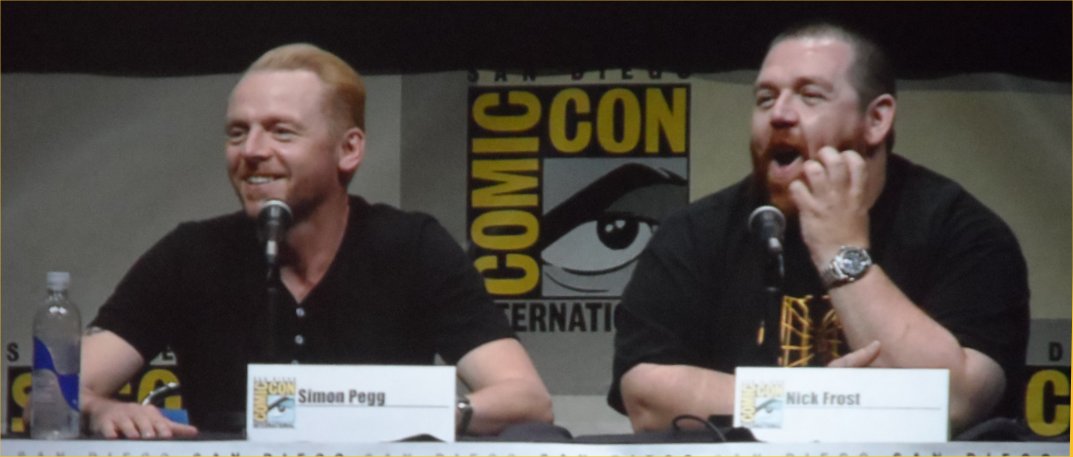 When asked about whether the three would continue to make movies together beyond the trilogy, Simon talked about how this trilogy involved a set of criteria they had set for themselves: all based in the U.K., set now, kind of about friendships and growing up, and a small group of people up against a big thing. The next thing they do, they won't have to abide by that criteria. Edgar joked that since his next project is Ant-Man, the following project would be a buddy comedy with two ant heroes: "Abdo-Man" and "The Mighty Thorax." Nick then said that they got the idea for The World's End while on the press tour for Hot Fuzz, "so we're not due to have another idea until four week's time." After speaking about how ideally they would have liked to keep the alien aspect a secret, but that's just not how marketing works, the panel was opened to audience questions.
The first person to ask a question was the guy from the day before who accidentally started to ask a question about Ender's Game during the Divergent panel, and Hardwick joked that he has to do that at every panel now. He then said that he loves their movies so much, could they please stop making him wait so long? The panelists answered that it's actually a long process, plus Simon had to work around shooting Star Trek: Into Darkness. The next question was about who the panelists find hilarious, and the answers ranged from The Lonely Island to Louis C.K. to Larry Saunders. Another audience member asked how much they stick to the script, or if they play off of each other, but the answer was that they usually just shoot the script, because they don't really have enough time to "hang around and improvise." Simon explained that he and Edgar would write the script, they'll bring in Nick and go through the script with him, "he'll sprinkle his fairy dust on it," which Nick jumped in and said, "it's actually dandruff." Edgar then said, "If Nick Frost stops you on the convention floor and tries to sprinkle you with fairy dust, run!"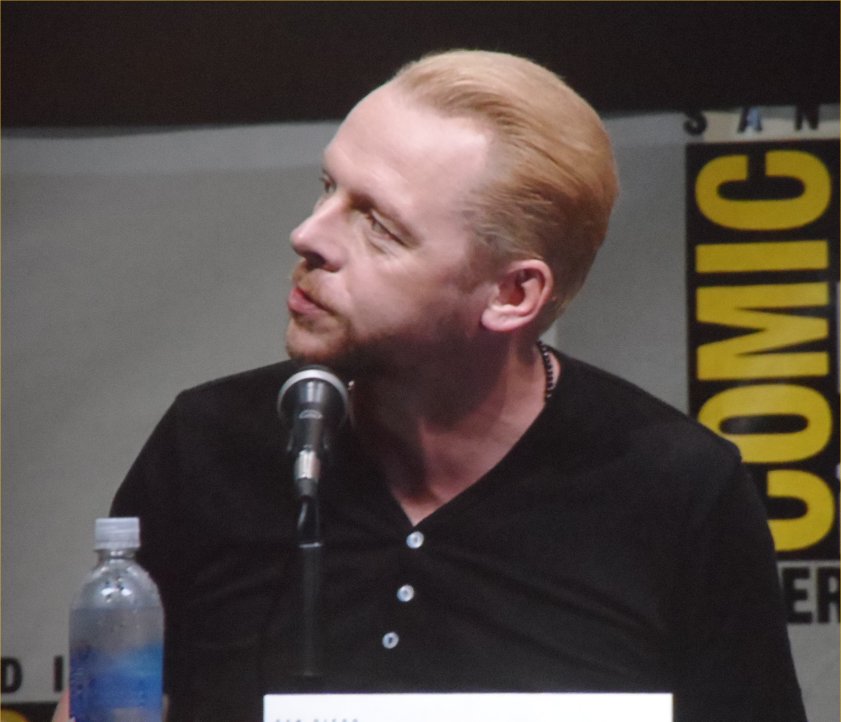 "Button Lady" then asked how they were able to fit their movie into Martin Freeman's schedule, to which Edgar answered that he shot with them for two months, then had to leave for New Zealand for a press tour, and came back the next day to finish his scene, "so he's a trooper." Another audience member asked if we could turn it into a drinking game, and Edgar replied, "If you want to die, yeah!" and explained if you want a great drinking game "take a drink every time one of the characters takes a drink." The next question was what was the most challenging scene for them. Edgar said it was challenging because there are a lot of action scenes. Simon talked about how he broke his hand – he jumped over a bar and it snapped. Edgar said he had seen Simon wincing and asked if he was okay, and Simon replied in a high pitched voice "Yeah!" and that Simon still wanted to keep going.
Hardwick questioned how long they had to shoot the movie, which was three months, about the same as Hot Fuzz. It was tough because they had to work around the premiere of The Hobbit. Back to audience questions, someone brought up how Simon had said Shaun of the Dead was about evolution, Hot Fuzz was about devolution, and The World's End is about revolution, and asked how these scenes play out. Simon commented, "I was feeling very pretentious that day." He then talked about how Shaun is about him having to grow up and become a man, Hot Fuzz is about how the main character has to devolve and become a "gun toting thug" to become a hero, and The World's End is about some guys standing up to something, and it's about revolution in that respect.  Then someone asked what their favorite movie roles were. Simon talked about how although he liked his Shaun and Hot Fuzz characters, he had "enormous fun" playing Gary in The World's End. Nick said he enjoyed his character in Shaun of the Dead, but "it wasn't a real stretch." He then spoke about his character on The World's End being an "angry man," and also that "it's nice to play a smart man for once." Additionally, he revealed that his character's nickname on the movie is "Pink Hulk."
Then an audience member asked if they would ever re-visit their series Spaced. Simon said he'd be worried that they would retroactively spoil what they did, and although he is very proud of the show, he doesn't think it's going to happen again.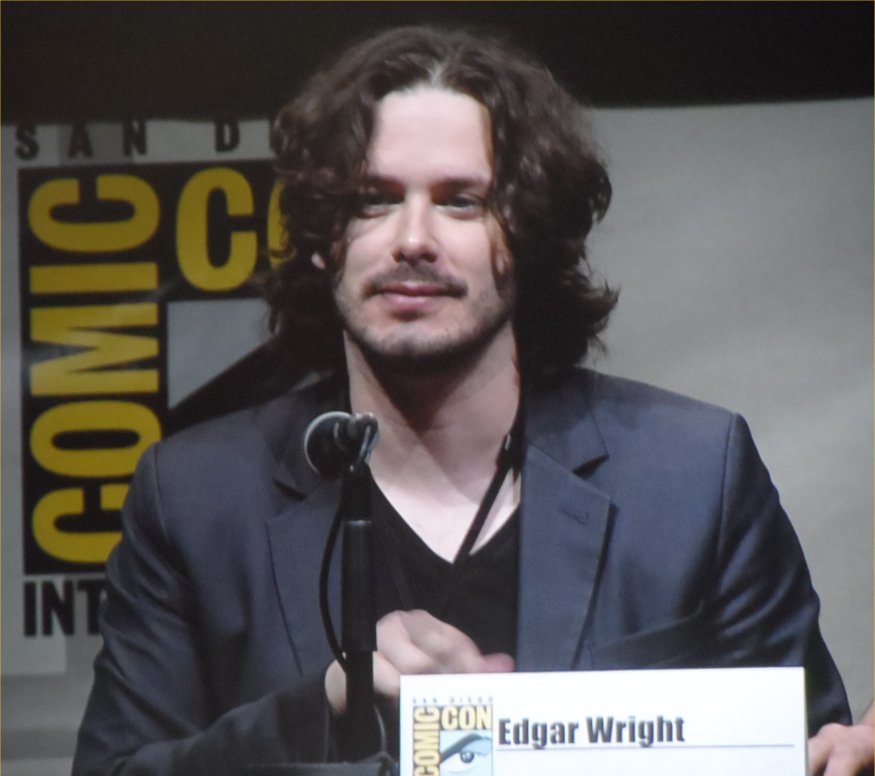 Next, rather than show a clip from the film, they showed a musical mashup of clips from all three Cornetto Trilogy films, made by Mike Relm. Edgar pointed out that the guy who played Lurch in Hot Fuzz is the same guy who plays the Hound in Game of Thrones, which gained much applause from the crowd, since the Game of Thrones panel was one of the reasons many of them were in Hall H that day!
It was then opened back up for audience questions, the first of which was whether they feel like people who aren't British are getting all the jokes. Edgar joked that they just liked to teach Americans new English swear words. The next person asked if they ever watch their movie after they finish it and it's a total surprise. Edgar said it's always great watching it back for the first time, then talked about how most of this film was actually shot in chronological order, which isn't always the case, so it wasn't too much of a surprise.
Another audience member brought up the Death of Superman short on YouTube that Simon and Chris were in. Then someone asked what kind of beers the panelists would indulge in at a pub crawl. Edgar admitted that after shooting the movie, "beer is a little off-putting."   The next person asked for advice for aspiring filmmakers, and Edgar said that the most important thing is to "keep experimenting and don't be afraid" and "don't give up." Then a lady wearing a Spaced t-shirt got up to the microphone, telling the panelists "I cried a little when you came out," and then quickly added "On the panel, I mean," as the audience laughed at the implication. She then asked a question about advice on writing, which Edgar answered by saying that you should write something that you are passionate about, and "don't write about what you think people will like, write about what you like." The final question was how many Cornettos they had eaten, to which Nick asked "This morning?" Edgar gave an arbitrary answer of "72" and with that the panel ended!
The World's End will be in theaters in the United States on August 23. It already opened in the U.K. on the day of this panel, July 19.