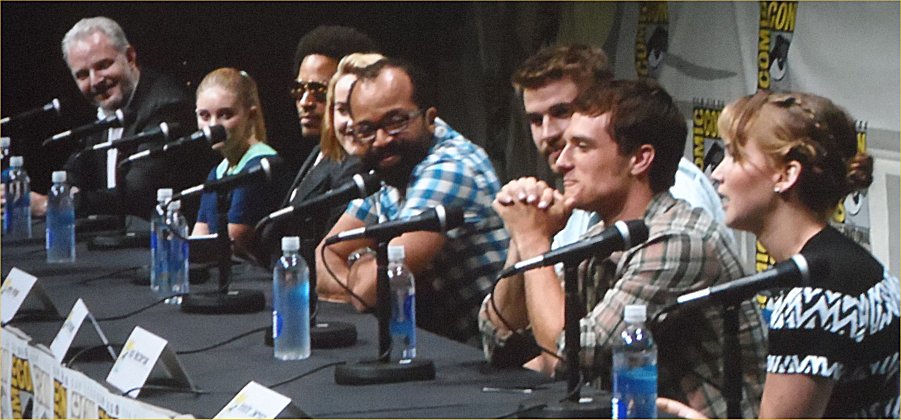 Following the 20 minute I, Frankenstein panel was Part 2 of the Lionsgate Panel, which took up the remaining 40 minutes of the time slot with The Hunger Games: Catching Fire. This panel took place on Saturday, July 20, in Hall H. Read on to see what the director and several cast members had to say about the making of the sequel to the blockbuster hit The Hunger Games!
Part 1 of the Lionsgate panel was about the film I, Frankenstein. Click here to go back to Part 1.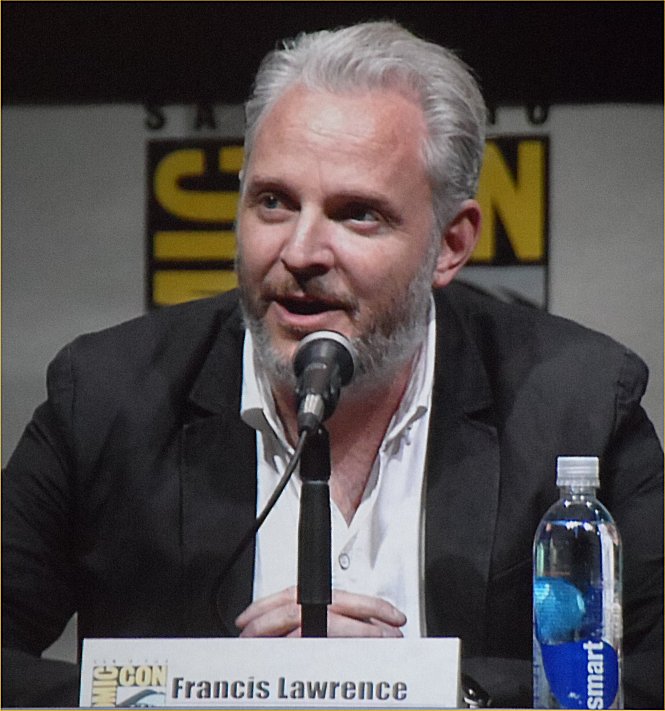 The second half of the Lionsgate panel featured the film Hunger Games: Catching Fire. This was the first time that the cast of The Hungers Games had appeared at San Diego Comic-Con. Dave continued moderating Part 2 of the panel, and he started off by introducing the director, Francis Lawrence. Dave then went on to introduce the cast, consisting of Willow Shields (Prim), Lenny Kravitz (Cinna), Jena Malone (Johanna Mason, the victor from District 7), Jeffrey Wright (Beattie, the victor from District 3), Liam Hemsworth (Gale), Josh Hutcherson (Peeta), and finally Katniss herself, Jennifer Lawrence.
Dave started by asking Francis, who replaced the director from the first film, and will be directing both of the upcoming Mockingjay films, what it was like his first day on set. He quipped, "Not quite as exciting as this!" He then said it was "incredible" and spoke about filming a scene with Phillip Seymour Hoffman on the first day, and throughout the rest of the week worked with pretty much everybody.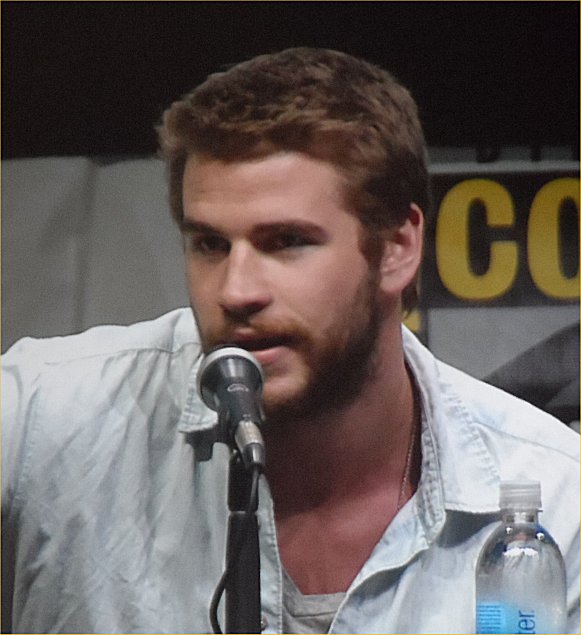 Dave then had Jennifer talk about the challenges Katniss is facing in the second film. She commented that Katniss is feeling "useless" since she doesn't have to worry about food anymore, and that she has now "experienced something with Peeta that they'll only understand each other in a strange way." Now Peeta understands a part of her that Gale will never understand.
Next, Dave asked Josh about the love triangle in the second film, and Josh explained that Peeta had all these feelings for Katniss and thought she felt the same way, but then finds out it was just an act, to which Jennifer argues "It was complicated" and he repeats "It was an act!" Then he talks about how this complicates things for Peeta.
Dave moved on to Liam and asked him about the torture scene. Liam said, "it's interesting going to work and getting whipped for three days straight," but then said "it was good fun."
We then found out that Francis interacted with Suzanne Collins, the writer of The Hunger Games trilogy "quite a bit." The two of them went through the book, and she was a big part of the process all the way through.
The audience in Hall H was then treated to the brand new The Hunger Games: Catching Fire trailer, which you can view here:

It was actually the cast's first time seeing that trailer as well.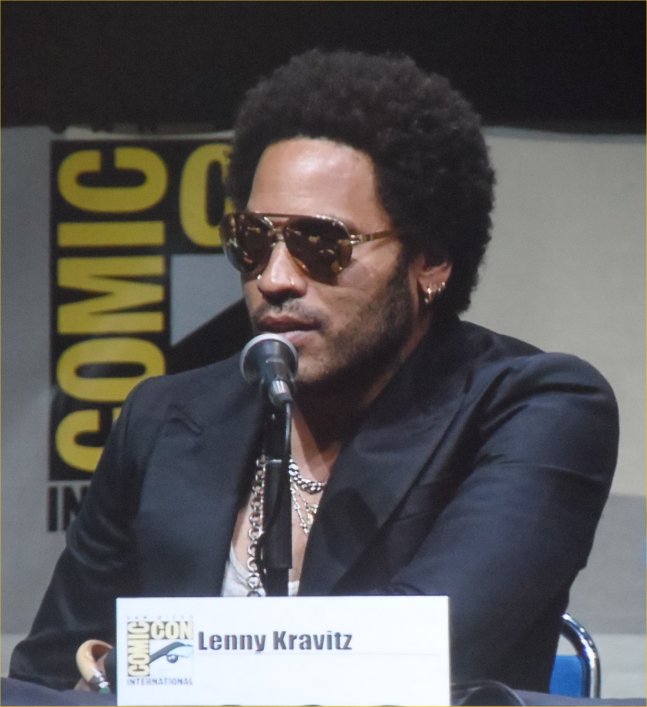 Dave asked Francis how making the film was different from what he expected it to be like. He answered that one of the best unexpected things was that this was "one of the best groups of people t be around," not just to work with, but to hang out with as well.
Then Dave asked Lenny Kravitz about the "calming presence" that Cinna brings to an often insane world. Lenny commented that Cinna is "a real cool cat," and that "he definitely has a lot of interest in Katniss." He must have realized how that sounded, so he quickly added, "No, but as a friend! As somebody who believes in her and cares for her."
One of the Facebook fans wanted to know what it was like for newcomers, Jena and Jeffrey, to join this already tight knit group. Jena admitted that it was intimidating, and that on set every day it was "really intense." Jeffrey commented that there was such a high level of expectations due to the success of the first film, so it could be considered intimidating, but you just have to "step in and step up." Jena also commented that getting to be in the film was like "opening a candy bar and getting a golden ticket." She also spoke about the newcomers having to be let in on a few inside jokes, which felt like a "big initiation." She said that she got pranked every day, and that Willow was the worst.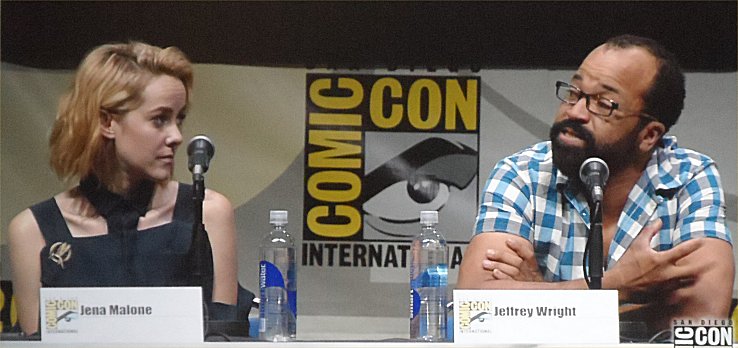 At that, Dave asked Willow who at the table she looked up to the most. After many expectant looks from the panelists, and Jennifer commenting, "We have a long day together, Willow, after this," she answered, "Probably Jen. Yeah, Jen. I mean, come on."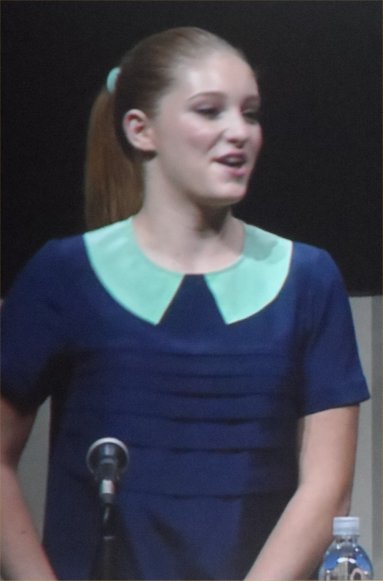 Dave brought up Jennifer winning the Oscar for Best Actress for her performance in Silver Linings Playbook, and asked if at any point the Victory Tour felt like Oscar season, or vice versa. She commented that "the stakes weren't as high," but she recalled that in conjunction with Winter's Bone was when she first experienced "kind of this new world" as she was wearing dresses in which she doesn't look or feel like herself, and having to go to hair and makeup, and just not really feeling a part of this new world, which is something she identified with in the first book. Then in the second book, it's something she's more familiar with, as it becomes "a part of you, even though it's so unlike you." Then she joked, "And at times you are afraid for your life. Not really."
Dave directed a Facebook question to Josh, which was "How hot are the kissing scenes going to be?" to which Josh replied, "So hot!" Then he and Jennifer talked about a resuscitation scene where there was also a kiss, with "a lot of slobber" and there was a huge string of snot which connected with Josh's mouth when she went to kiss him! Francis commented that he would put this into the DVD deleted scenes.
Sam Claflin, who plays Finnick, but unfortunately was unable to be on the panel, was worried that audiences wouldn't perceive him as enough of a "sex god," so Dave asked the panelists if he should be worried or if he's okay. Josh and Francis seem to express their approval, as Jennifer comments, "I love that Josh and Francis are the ones who answer that question." Jeffrey, who wears glasses, added, "I think he just needs glasses and then he'll be fully there."
There was one last Facebook question for Jennifer, which asked what her favorite costume was. She answered that her wedding dress was her favorite to look at, but that "wearing it was one of the hardest things I've ever done in my life." She explained that it was 5 feet in circumference, and that she's not good at walking in giant dresses. She added, "I loved it because it was understated. Sarcasm."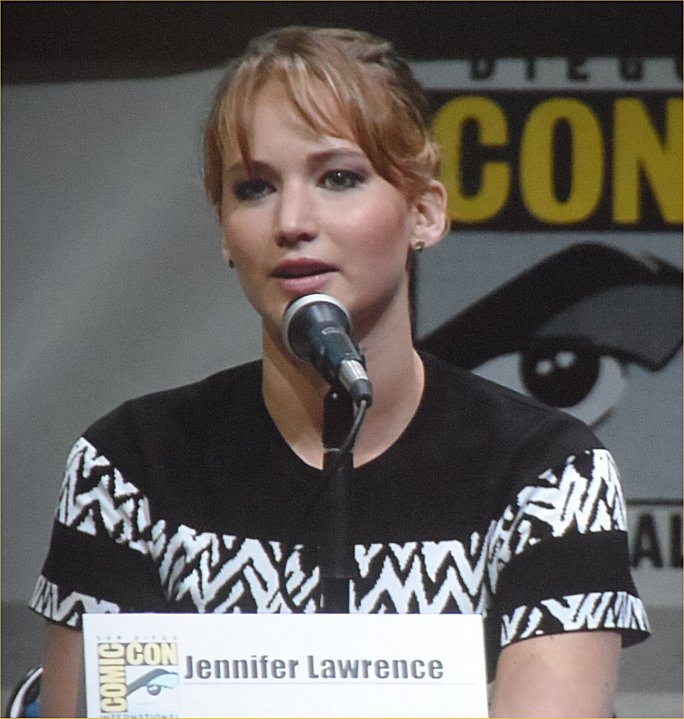 It was then opened up to audience questions, the first of which was it was like for Jennifer when she found out she was in The Hunger Games. She said it was really exciting, but scary and overwhelming as well, because it was one of her favorite characters that she's ever read. She mentioned how she had had a different, smaller life plan in mind, so it was "a mix of excitement and a little bit of fear, but now it's just excitement."
Next, a couple of young girls walked up to the microphone, one of which told Jennifer that she loved her in Silver Linings Playbook, to which Dave expressed his surprise that she was allowed to watch that, and he asked how old she was, which was 13.  The girls asked Jennifer what she did to train for the movie and what her hardest stunt was. Jennifer answered that she had to have archery training, and also running training because she "runs weird." Additionally, she had "free running," or parkour training. As for her hardest stunt, "it's probably still just basic running." Her other greatest challenge was "trying not to hit myself in the face with my bow."
The following audience member asked Jennifer what is the difference between acting in a big budget movie, like X-Men, versus a smaller movie, like Winter's Bone. She spoke about how when a movie doesn't have as much money "You HAVE to finish the day, you have no choice," where they're all on the same page, working to get things done. As for big studio movies, "their food is a lot better," and "you have a lot more money to make the movie better in a lot of ways."
The next audience question is about the relationships between the cast members considering the different age groups. Jeffrey commented that he gets along with the older guys really well. Josh then spoke about how the first Hunger Games felt like a summer camp for the younger tributes, and Jennifer joked that the new movie felt like a "retirement home." But Josh reiterated that everyone got along great, no one had any egos, and there were no divas on set, which is very rare when you have that many actors. Lenny commented that you know that they all like each other when they work together all day, and then they end up hanging out together all night.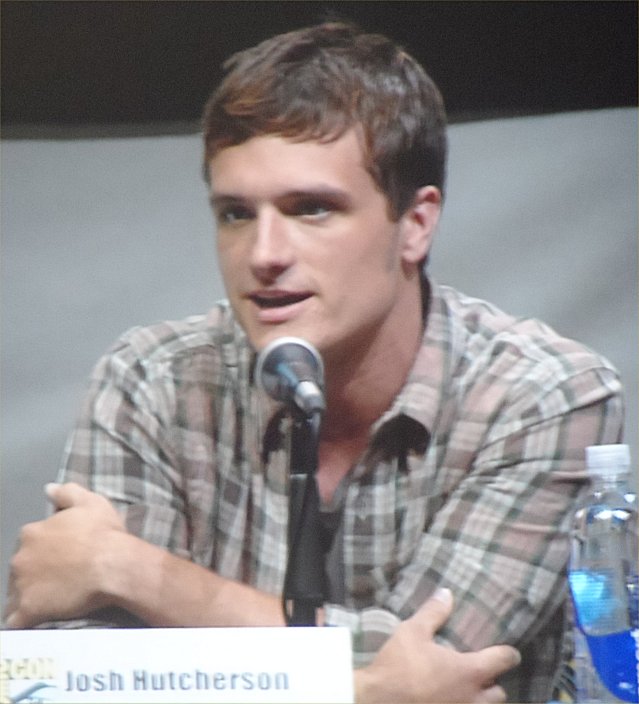 Jeffrey then shared some "behind the scenes" insight, saying that Jennifer and Josh are "the funniest pair and the biggest joy to work with." He went on to say that "they have a language all their own, and ideas, although you can't follow half of what they're saying, but it's all really funny." He commented how their chemistry on screen is a reflection of their friendship off screen, and that they made it a comfort for all the newcomers. Josh commented, "I always want to hang out with her, but she never wants to hang out with me." Dave brings up again how they exchanged snot, but Josh points out, "Not exchange! I took hers! She didn't take my snot."
Another audience question was whether Jennifer and Josh starved themselves in the first movie to get into character, and if they could talk about the food they got to eat on set. Josh replied, "Jennifer? Starve herself?" and then laughed. Jennifer and Josh admit that they didn't diet at all, although they did work out and were very physical. Jennifer said that she ran around a lot, although Josh corrected her that she "tried" to run around a lot.
Then an audience member asked the entire panel how they felt The Hunger Games changed their acting careers. The actors then went down the line, starting with Willow, who said she has great opportunities now that she didn't have before. Lenny then talked about how he is new to film, and how he has a "day job" of making music, but now little children come up to him wanting to meet Cinna and have no idea who he is, so it's opened up a whole new generation to him. Jena, who is just starting out, referenced being at Comic-Con, while Jeffrey is now among the "coolest parents" at his kids' school, and he learned to surf when the film shot in Hawaii. Liam spoke about how he enjoyed being able to work with Francis, who helped him grow as an actor. As for Josh, he talked about how doing a big movie like this allowed him to have relationships and opportunities to do smaller movies, and that he wants to direct and produce someday, so working on this film gave him the experience of working with the "absolute best people in the business." Finally, Jennifer answered that she felt the same way as Josh.
With that, the panel wrapped up, and we got to watch the trailer one more time.
The Hunger Games: Catching Fire will hit theaters November 22, 2013.
The next panel in Hall H that day was Entertainment Weekly's Women Who Kick Ass.