The Amazing Spider-Man 2 finally!  Comic-Con in Hall H on Friday wrapped up for us with our favorite wall crawling superhero.  The newest films have starred Andrew Garfield as Spiderman, and were directed by Marc Webb, best known for 500 Days of Summer prior to his jump into The Amazing Spider-Man.  This panel is very good, so lets get right into it!
The previous film of the Sony Pictures Panel was Robocop. You can check it out here.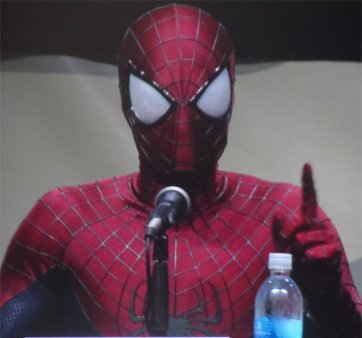 The Amazing Spider-Man 2 is moderated by Ralph Garman again, and immediately begins with the introduction of the cast and crew of The Amazing Spider-Man 2.  First brought out is Marc Webb, the director of The Amazing Spider-Man 2.  Next up are Matthew Tolmach, and Avi Arad, producers of the film.  Deane DeHaan is introduced next, playing Harry Osborn in the Spider-Man sequel.  Next up is the spidery hero himself, Spiderman.  Not Andrew Garfield, but Spiderman.  He apparently was running late, and we are shown a film of him frantically acrobatically trying to make it to his panel.  I had hoped to see him swing to the stage or something, but alas, he has to walk on stage.  Spiderman has a quick heart to heart with the Comic-Con, saying it is the only place he feels normal.  Curious to know if Andrew Garfield was walking around Comic-Con in costume like so many actors/famous people seem to do so they aren't mobbed.
Alas, Emma Stone could not make it, but she did send a message to Comic Con.  She talks about her excitement for the movie.  We then hear some electrical charge sounds, and our villain Electro is introduced, played by Jamie Foxx.    He and Spiderman have some witty banter back and forth.   The moderator asks Spiderman why his career choice is to help people when he could make a ton of money doing something else, but Spiderman reveals he has "an over sense of responsibility" and that he "doesn't like a–holes".  The moderator then asks Spiderman what he would like to do outside of his powers.  To this Spiderman responds, "a day off", and talks about his Spider senses being annoying, since they don't really tell him what he his sensing, and it could just be a cat in a tree.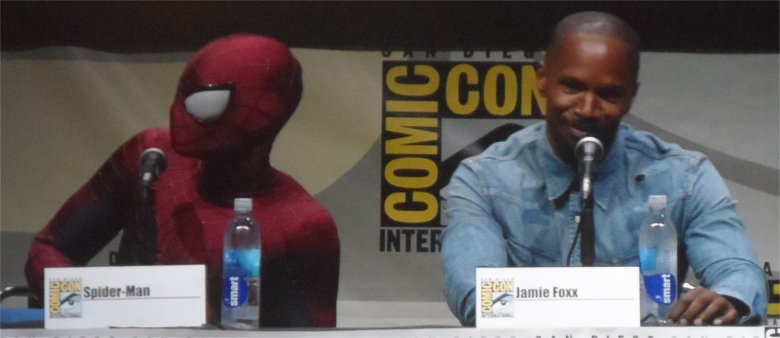 There is a little more banter back and forth, but unfortunately Spiderman has to use the restroom, and so he has to leave.
The moderator asks Jamie Foxx how fun it is to play Electro.  Jamie says it's fun to play the villain, as he doesn't have to "color inside the lines".  He talks about his daughter loving Spiderman, but he explains his daughter let him know that Spiderman will be "kicking his ass", but he hopes do to some "ass kicking" himself.  Jamie Foxx then gets into discussing his character Max Dillon (who eventually becomes Electro), and how easy he was to act .  Foxx talks about Dillon's loss of his father, which helps to give him something to draw from.  From Foxx's description, we learn that Max Dillon is a down and out guy.  It is so sad for Dillon, that his own mom doesn't remember his birthday.   Seems like Electro's motivations stem from being such a loner with not even family to talk to.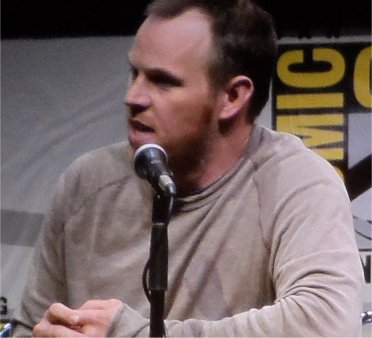 The moderator then moves to Marc Webb, and they discuss the moving on from the origin story.  Marc Webb talks about finishing the first film, and how "liberating" it felt.  He discusses the beginning of this film, as having a lot of fun.  But someone like Electro, "will teach him a lesson or two".
Marc Webb sets up a clip of footage from The Amazing Spider-Man 2, which we see next.  In the clip we see Dillon and Spiderman having an interaction, which based on what we know, might be the best interaction he has had with anyone in a while. We see that Electro has become a little obsessed with Spiderman, and wanting to be like him.  The end of the clip shows us some footage of Electro, and the potential havoc he will be causing.    
After the clip, Andrew Garfield has FINALLY shown up.  The moderator talks to him about his relationship with Emma Stone's character, Gwen Stacy, and its complicated nature.  Dane DeHaan then discusses his role and joining the cast.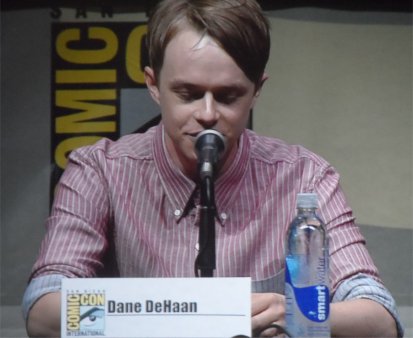 The panel then opens to audience questions, with the first one asking how Andrew Garfield, "tones down" his "awesomeness".  Garfield praises Tobey Maguire's work on the original Spider-Man. He doesn't  really know how to answer the question though.
The next question talks about some "wave making" Garfield did, regarding sexual orientations and racial statements with regards to Spiderman.    The questioner asks if he plans to become more politically active , using his fame.  Garfield's response is, "he wants to be an actor right now", so he clearly doesn't want to get too deep into this discussion, but he follows it up rather well, "Spiderman stands for everybody, Black, White, Asian, Gay, straight, lesbian, bisexual, transsexual.  I think it would be illogical, it just wouldn't make sense" referring to dividing people into  groups.  He continues on discussing Spiderman's costume as something that covers him head to toe, so people within his stories have no idea what type of person he is, he is just "a hero".  A very serious question for Comic-Con.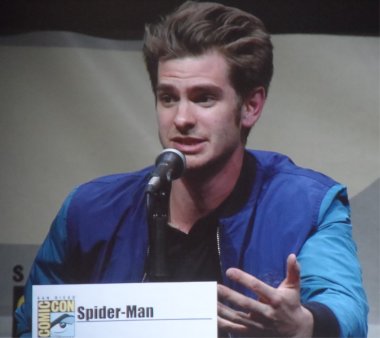 Up next, the questioner asks who Peter Parker and Spiderman are to Andrew Garfield.  Garfield reveals that he feels Spiderman and Peter Parker are almost two different people, with Spiderman almost being Peter's older brother.  He talks about his relationship with his real older brother, and how he feels Spiderman and Peter have a similar bond.
The next question, asked by Superman, asks Garfield how to deal with school, and getting into acting.  Garfield gives an answer that most parents would probably not want to hear.  The questioner talks about failing chemistry, and Garfield basically says, "screw chemistry".  Probably not the best answer for most high school students, but it was pretty funny.  He does give some advice though, which is to pursue your passion, whatever it is.
Harry Osborne is the topic for the next question, and how Peter and his relationship will affect the next film.  Webb fields this question, and discusses how their relationship will complicate Spiderman's life.  Of course he is limited to what he can  say, so he leaves it pretty open ended.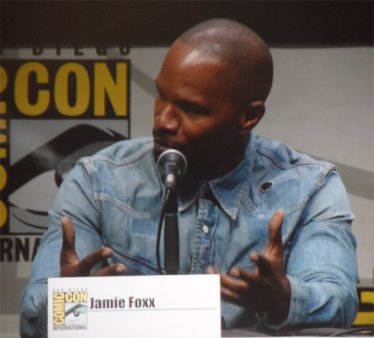 The moderator asks Jamie Foxx about the corruption of Electro, and they discuss how broken Electro is (and how he is the first black man with a comb over).  Foxx also discusses the conversation Electro has with Spiderman, and how the worshiping begins.  I am curious to find out how their relationship spins to where Electro wants to kill him.  Another comical moment in the panel though, has Jamie Foxx explaining terms such as "crib" and "homie".
The next question asks which comics were referred to the most in the movie.  Webb says that The Amazing Spider-Man 2 pulls from almost all comics, and tries to find precedent for a lot of what goes on in the films, but didn't delve too much into the Ultimate series.
Up next we have a demand for the villain Carnage, but his main question is asking how they are going to balance the movie, since they have so many characters, and doesn't want a problem like Spiderman 3.  Webb indicates that Electro is the main villain, and Rhino (played by Paul Giamatti) is mainly there for comedic elements.  Webb then goes on to discussing why he likes Electro as a villain.  He describes Electro as almost  "God-like", and discusses Spiderman's challenge, asking rhetorically, "When your main weapon is a web that conducts electricity, how do you fight that guy?"
The moderator then asks Foxx if he was worried about wearing the Electro costume.  Foxx talks about Dillon's mentality in the film, and that he doesn't really care about how he looks.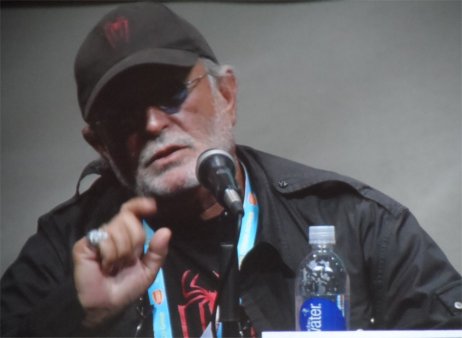 The next question is for Avi Arad, and how important fan input is for Spiderman.  He discusses the thousands of emails they get about Spiderman, but says that "loyalty to the character is loyalty to the fans".  He also says it is important, "what Stan Lee feels about it", meaning the film.
The next audience member asks Garfield what he would like to see for the next storyline.  Garfield and I share the same thoughts on this one: in the Avengers.
The last question asks how it was for Marc and Andrew their first time meeting with Stan Lee.  Garfield describes it as meeting, "Mickey Mouse", and not believing it as real.  Webb simply replies, "Ditto".  The panel wraps up with a question from the moderator to the producers.
This finishes up Friday's Comic-Con which I have to say what the most exhausting day at Comic-Con.  "Why Friday?" You might ask? Violet and I will probably be sharing the reason why in a later blog post.  Regardless, the Amazing Spider-Man 2 panel was very exciting, and I really enjoyed all of the footage seen.  Andrew Garfield is definitely a fun-loving, good-natured actor, who is very humble.  Jamie Foxx is too, and looks like he will do a great job as Electro.
The film is set to be released on May 2, 2014. Still another year for this movie to hit theaters, so long to wait!
Up next for Saturday morning, we begin the pinnacle of Comic-Con, Saturday Morning Hall H.  
The first Panel is Warner Brothers, starting with Seventh Son which you can read about here.