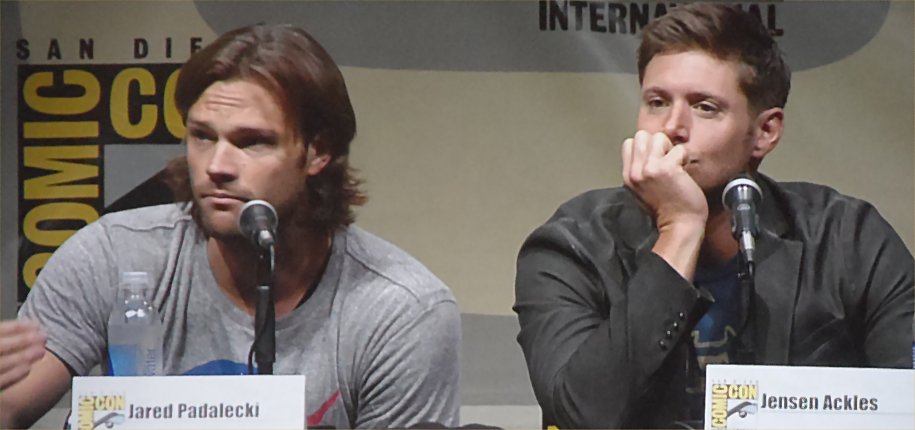 The first panel in Hall H on Sunday, July 21, the final day of Comic-Con, was for CW's hit show, Supernatural, which took place from 10:00am-11:00am. Showrunner Jeremy Carver and Executive Producer Robert Singer were on hand to talk about the show, as well as cast members Jared Padalecki, Jensen Ackles, Misha Collins, Mark Sheppard, and a surprise guest! Read on to find out what they had to say about the show and the upcoming season!
A woman with Warner Brothers came out on stage and announced that this fall Supernatural will be back to its "original" Tuesday night home, starting on October 15 at 9pm, following The Originals, the new spin-off of The Vampire Diaries. She also announced that Season 8 would be released on DVD and Blu-Ray on September 10. We then got to watch a "highlight reel" of the show from the beginning through now, which you can watch here: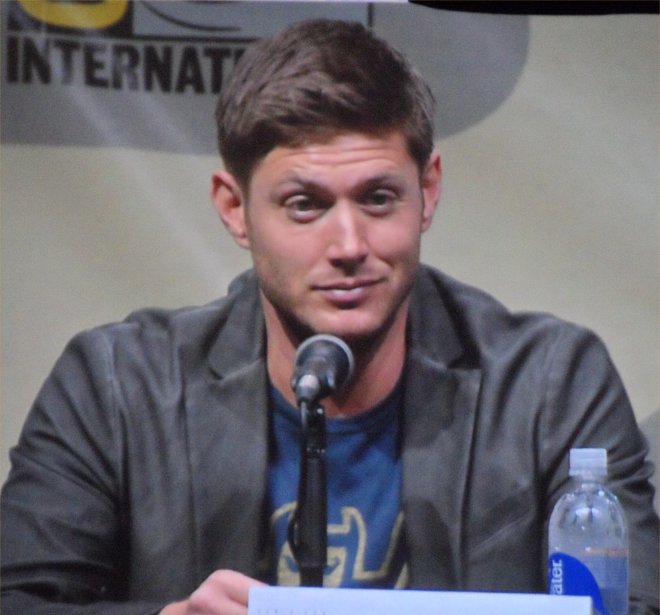 Then at the end of the highlight reel, we got to watch a scene from the beginning of Season 9. Here's what happened in that scene: Dean returns to headquarters to find someone shooting an arrow at him – it's Kevin. "Dean! You're alive," he says. Dean replies, "Yeah, 'cause you're a crappy shot — Katniss!" Kevin says it's been a bad couple of days, and that he hasn't slept or eaten, then whispers, "I'm pretty backed up." Dean comments, "Way to overshare." Kevin starts freaking out, telling Dean how the bunker locked down, he couldn't open the door, his cell phone wasn't working, and that he thought the world was ending. Dean replies, "Close. The angels fell." When Kevin asks what that means, Dean says, "Nothing good," then adds, "Listen, next time when the world's ending, grab a gun." Dean checks his phone, which has service, then tries the control panel and is able to open the doors. Kevin thinks that when Dean opened the door from the outside door, it reset the system. Dean replies, "Yeah, ok, let's go with that." Sam brings Crowley in, then he and Dean bring Crowley down into a dark room, and he is strapped to a chair. Dean punches Crowley, then comments, "I never get tired of doing that." Sam tells Crowley he's going to give them the name of every demon on Earth, and the people they're possessing. Crowley retorts, "Am I? Doesn't sound like me." Sam tells Crowley that he saw him break down, and that a part of him is human. Crowley tells them he's not giving them anything, they have no leverage. Dean says they have a few ideas, and Crowley thinks they mean torture, to which he says, "Can't wait to see Sam in stilettos" and "put the S-A-M into S&M." But then they tell Crowley they're just going to leave him alone until he gives them what they want. Sam comments, "Being stuck in solitary with no one to talk to? We figure that's pretty much your own personal hell." As Sam and Dean leave the room, Dean calls out "Have fun!" and they close the doors on him.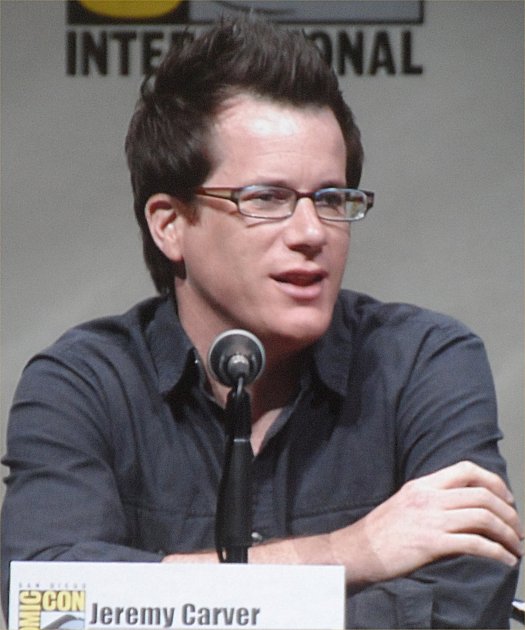 The moderator, Rich Sands, started out by introducing the Showrunner, Jeremy Carver, followed by cast members Jared Padalecki (Sam) and Jensen Ackles (Dean), then Executive Producer Robert "Bob" Singer.  Finally, cast members Misha Collins (Castiel) and Mark Sheppard (Crowley) were brought out.
Rich asked Jeremy what this world of fallen angels is like, and Jeremy explained that "it's pretty much  a free-for-all." Meanwhile, Misha had purposely knocked Mark's name card off the table, and Mark had to get up and go get it.  As soon as Mark replaced it and returned to his seat, Rich told Misha to knock it over again, which he did. Once again, Mark had to go retrieve it from in front of the table. But as he replaced his own name card, Mark knocked Misha's off!  Jared commented, "This is a day on set." I guess these kind of shenanigans are commonplace among the Supernatural cast! Jeremy continued speaking about the world of fallen angels, explaining that there's "lots of different angels out there with lots of different agendas," and described the world as "dirty, bloody, scary, and in some ways, very human world." He then knocked his own name card off the table.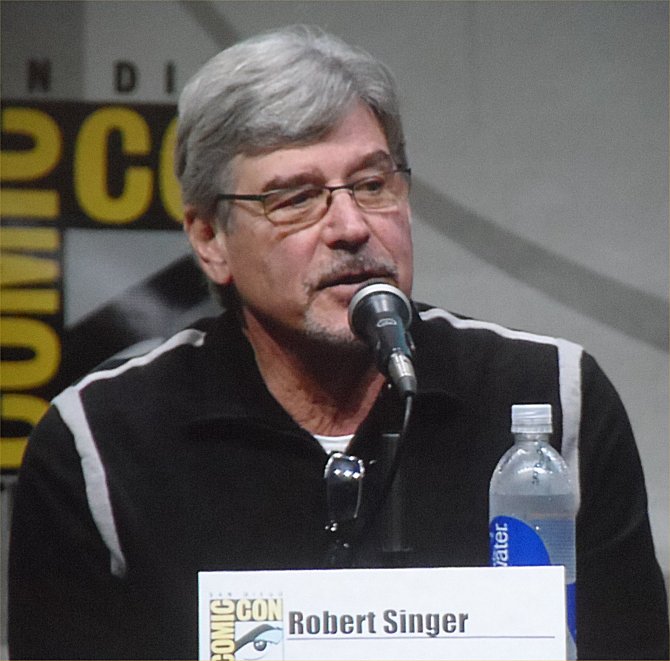 Rich asked Bob what his first Comic-Con has been like, and why it took him so long. He said it took a lot of cajoling, but that he was happy to here. Rich commented about Sam and Dean's "great brotherly bond" during Season 8, and asked what their relationship would be like in Season 9. Jeremy talked about how in last season, the brothers chose their love for each other over their season-long quest, choosing to "leave the gates of hell open in exchange for saving each other," which he said made them stronger than ever, but "has created a tremendous amount of fallout, particularly at the beginning of the season."  This is because the "normal constructs" of heaven and hell are no longer the same, and he again emphasized the term "free-for-all." Jared elaborated that "we did choose each other, and to keep fighting the fight together." He then thanked the fans for wanting them to keep fighting the fight, adding that this season Sam and Dean would "need each other more than ever."
Next, Rich asked Misha how Castiel will change being human now, and how that would affect his relationships with Dean and Sam. He spoke about how it would be "a big shift" for Castiel, because whereas before he could pop in whenever he wanted, "now he can pop in and basically fold laundry!" He added that there would be a shift in the dynamic of how Castiel could be utilized, and although the show has touched on the issue of Castiel losing his powers in past seasons, now he is "down in the dirt and filth of being a human" as he experiences what it's like to eat, "and then what happens to the food after you eat it." Misha talked about there being "a great bathroom scene" and "flushing the toilet for the first time, that's gotta be an epiphany!"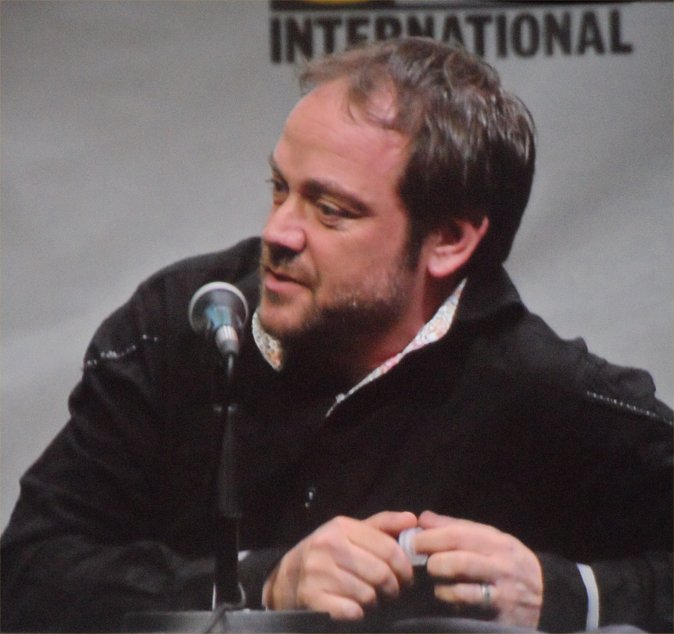 Rich asked Mark how sincere Crowley's breakdown at the end of Season 8 was, but Bob jumped in and told him not to answer that, saying, "He could tell you, but I'd have to kill him." Mark instead answered that he thought what happened to Crowley at the end of last season " has had a profound effect on him, whether he likes it or not" and that "we'll go on a journey to find out what kind of effect that it might have had on him."
Rich had asked for questions on Twitter, and one that kept coming up was whether we would find out more about the Men of Letters and their bunker in Season 9. Bob commented about it being the first permanent set they've had, and also spoke about it being a "treasure trove of information" and there being rooms we haven't even seen yet. He also talked about it being a home for Dean, and a workplace for Sam.
Rich brought up the fact that Jim Beaver, who played Bobby, had tweeted that he would be coming back. Jeremy commented that Jim had actually tweeted he was coming back "in a way you wouldn't expect," and Jeremy said he would leave it at that. Bob pointed out that "Jim tweets those things before we actually have plans to bring him back," which then obligates them to bring him back.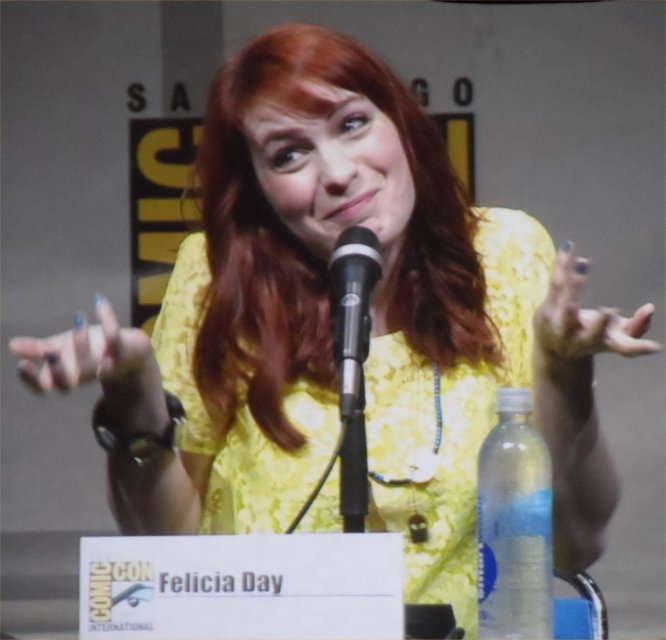 Rich asked about the possibility of Felicia Day's character, Charlie, returning to the show. After Bob facetiously bashed Felicia's work ethic, she made a "surprise" appearance and joined the panel, at which point Jared had to mock hold her back from beating up Bob! Bob then confirmed that Charlie would be back, which Felicia said she was "thrilled" about. She also commented that this was her first time in Hall H, and that it's always amazing when you have "a character that you just want to play all the time." Rich brought up the fact that Felicia's character is one of the few female characters that the fans have embraced, to which she replied, "I feel like this show needs a Teflon vagina." Jared quipped, "That's why we have Mark Sheppard." Felicia then spoke about why she thought the fans like Charlie so much, which is because Charlie just "happens to be a geek, but that's not who she is, she's not defined by being a geek," but that Charlie is a "real person" who "just happens to love the things she loves," and that her character is deeper than a cliché geek character.
Rich asked Jensen about his character, Dean, and the fact that he's been through so much. Jensen answered that what he thinks keep him motivated is his sense of duty to "fight the good fight" and his duty to his brother and his family. He then went on to say that he thought after Dean got back from Purgatory last season, it gave him a "sense of clarity" that his mission was to fight alongside his brother and "drive that beast of an automobile down the highway. And rockin' out to some true rock 'n' roll." Then added, "and pie."  As for Sam's motivation, Jared spoke about how Sam always tries to do what he thinks is right, but sometimes he errs, and someone picks him up.
Rich's favorite question he got on Twitter was, "Now that Cas is human, will he get to learn to drive the Impala?" Jensen quickly answered, "No!" to which Misha replied, "He's just kidding. Of course he is." Then they argued back and forth, with Misha getting the last word in, "It'll happen." Bob jumped in and spoke about Jensen's "sick, proprietary" obsession with the Impala, and Jensen commented "I don't even like when the Teamsters drive it to set!"
The panel was then opened up to audience questions, the first of which was whether we would ever find out where angels or demons go when they "officially die." Misha answered, "They go to Comic-Con." While Bob and Jeremy didn't know at this time, Jeremy said they would "hopefully" have an answer for us at some point, if that was something they could answer.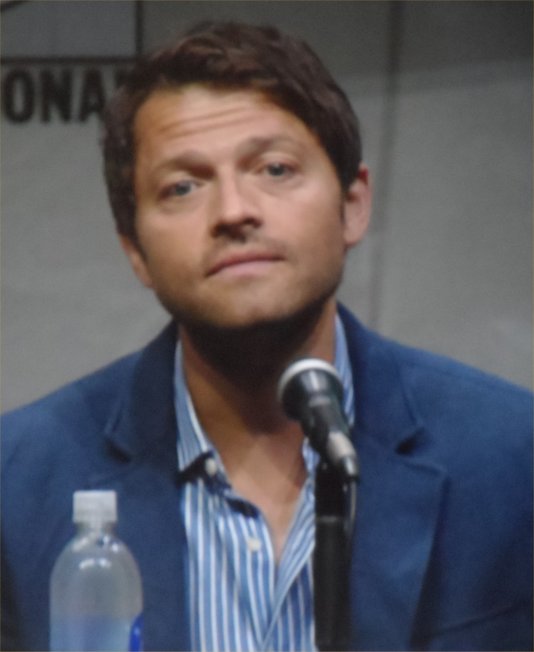 The next question was for "all of the actors except for Jensen," which was whether they had ever had thoughts about directing which was why Jensen was excluded because he had already done it. However, he seemed offended and said, "I still have thoughts about it!" so the audience member then included him in her question, but he said, "No, but I'll just shut up." Jared answered that he had thought about it, but didn't feel it was right for him at this point, "maybe in a couple seasons," because their breaks are so short that he wants to maximize any free time he has by spending it with his family. As for Misha, he is planning on directing Episode 17 this season, and said to Bob and Jeremy, "I apologize in advance for the product." Mark Sheppard answered, "They don't let me do anything," which produced a chorus of "Awww"s from the audience. Felicia said she thought the audience member was going to ask what Jensen smells like, because a lot of fans ask her that, and her answer would have been "coriander leather."
Another audience member asked if we were going to get to see the Winchesters help angels this year. Jeremy replied that the path of the fallen angels will intersect with the Winchesters in "some very big way" this season, and that we'll see "angels and demons up the wazoo."
Then an audience member asked a question in sign language, or at least tried to, as the interpreter wasn't really understanding what he was trying to ask. After some back and forth between the audience member and the interpreter, plus some help from the audience, it finally became clear that he was asking if we would see the half angel/half demon Anti-Christ again. Misha joked that they really need someone who knows the show well to interpret.  All Jeremy could say was that "no character goes forgotten for too long." Jared commented, "We'll bring it back just to kill it, and then bring it back again."
Next, an audience member asked where Jared pulled all the angst from in the "always letting Dean down" scene in the Season 8 finale, because Jared seems like a "pretty happy guy." Jared answered that he and Mark were shooting in the church for 3 days, and he's not a method actor, but it really took over him, and even Jensen came up to him and said, "Man, chill out!"  Jared joked, "I think some of the angst just came from having to be on set with Sheppard."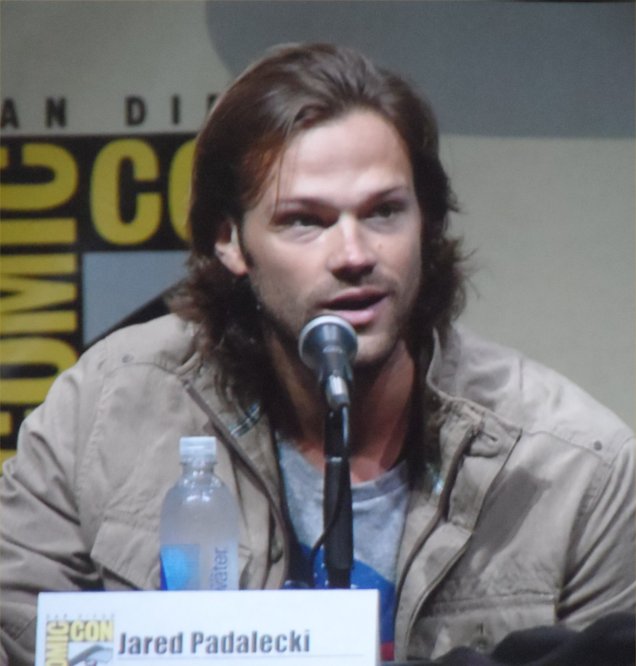 The next question was whether it was hard to get in a different mindset when their character changes, such as when Sam lost his soul, or when they're in alternate realities. Jared quickly answered, "Yes." Jensen commented, "Dean tends to stay Dean no matter what situation he's in. He generally is just… angry." Dean then mentioned the episode "The French Mistake" where Jared and Jensen played their real life selves, and that he had said, "As long as Dean never deviates from Dean, you can put us wherever you want." Jared elaborated that it's difficult, but a lot of fun, saying his favorite was "The French Mistake" episode, where it was "Jared and Jensen playing Sam and Dean playing Jared and Jensen playing Sam and Dean." Misha added that "what makes it fun to come to work is that there's always something new to deal with."
Then an audience member asked about Jared and Jensen's favorite guns they've shot in the show. Jared pointed out that they haven't used the grenade launcher that's in the trunk of the car, and that he wishes they would use it. Jensen's answer was his 1911, which he can take apart, clean, and put back together blindfolded. He then talked about a revolver they played with called the Judge which shoots shotgun shells, but it got nixed.
The final question was from a girl doing Crowley cosplay. First she praised Misha's charity, Random Acts, and he thanked the fans for their contributions. She then asked why Crowley is the only demon that can teleport. Bob answered, "He's the King. It's good to be the King" and that they gave him that ability because he had worked his way up to that position. Jared commented, "It's like when Voldemort learned to fly," to which Jensen incredulously replied, "Really??" Sheppard then praised the questioner's costume, saying that the blood pattern exactly matched what he was wearing.
With that, the panel wrapped up, and we got to watch the Gag Reel from Season 8, which was pretty hilarious. Unfortunately, it hasn't been released online, so you'll have to wait for the DVDs to come out to watch it in the Extras.
Click here to continue to the next panel in Hall H, Breaking Bad!