Chris Hardwick continues the Marvel panel with Guardians of the Galaxy.  This movie was announced last year at Comic-Con but it had not even begun yet.  Last year this movie seemed rather silly, but what Marvel brought this year has made Guardians of the Galaxy look a lot better.  Let's get into the second half of the panel!
If you missed part one of the Marvel panel discussing Thor: the Dark World and Captain America: The Winter Soldier, check it our here.
Guardians of the Galaxy Cast Joins Comic-Con from London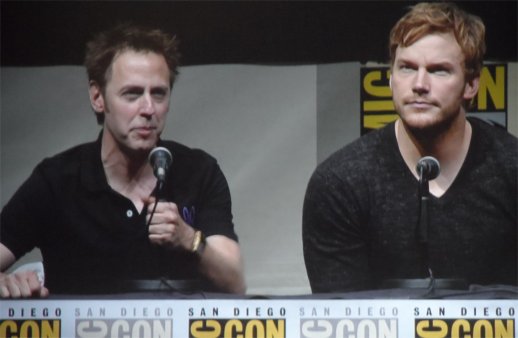 Chris Hardwick and Kevin Feige are alone on the stage after the Captain America: The Winter Soldier panel has left.  Kevin Feige reveals that they have, "Just started filming Guardians of the Galaxy  in London", and as of "Yesterday [the actual date for "yesterday" is July 29th, 2013]"  they were on, "Day 13 or 14", so they have barely begun this movie.   Kevin Feige says that the cast, "very much wanted to come say hi, so they decided to come here and say hi".
Kevin Feige introduces the cast, Director James Gunn, then Michael Rooker as Yondu, Karen Gillan as Nebula, Djimon Hounsou as Korath the Pursuer, Lee Pace as Ronan the Accuser, Benicio Del Toro as The Collector, Dave Bautista as Drax the Destroyer, Zoe Saldana as Gamora,  and Chris Pratt as the Star Lord/Peter Quill.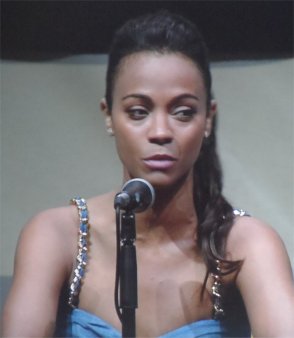 Chris Hardwick explains that the actors came in from London for this panel and will be flying back to London tonight.   It was pretty awesome of them to tire themselves out.  (I guess it makes me feel a little bit better about sleeping out on the concrete overnight to get into Hall H!)
James Gunn discusses how he approached working on this movie. He explains that he likes to work on a movie where he, "respects the talent" of the cast he is working with, and can "like them as people".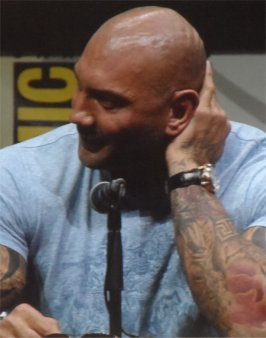 Chris Harwick moves on to Chris Pratt, and asks him about his "amazing body transformation".  For those not in-the-know, Chris Pratt is now a fairly fit, buff dude, from being a rather unfit person before.  Chris Hardwick asks about the reason for the fitness, "Was it to get ready for this movie?"  Chris Pratt matter-of-factly says, "Nope. Had nothing to do with it.  It just weird timing. I got a tape worm." This sounds a little sarcastic, but then he begins to tell the real story.  He explains that 6 months ago he was told he was, "Too fat", and "got me [Pratt] a personal trainer".  Pratt then gets into talking about his character, who is a "Fedex Executive who is now a plane crash survivor and has to sleep on an island." Chris Hardwick then brings up talking to a volleyball, and yeah, Chris Pratt was talking about the plot of Castaway if you haven't figured it out yet.  It seems like they are keeping the story a bit under wraps still.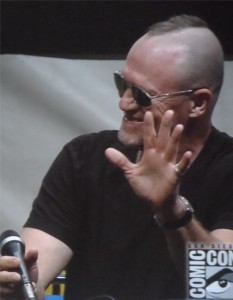 Chris Hardwick moves onto Zoe Saldana, asking how her character is.  Zoe is excited to, "Try green" after, "being blue once".  She talks about the fun and challenging character of  "playing an assassin in space". Chris Pratt does give a little information about his character, telling us he is a "guy who lives in space, and had a hard time as a kid" who then moves on to "making out with hot alien girls" and "being a rogue and a bit of a jerk" until, " through teaming up with these guys, finds a higher purpose for himself".
Moving down to Dave Bautista, he asks, "What do you think you're bringing to Drax besides your massive physical structure?"  Dave Bautista says he doesn't really know yet, but he "Can't freaking believe I [Dave] got this job."  James Gunn proceeds to compliment him, saying he "hired him based on his acting abilities that are tremendous."  Dave Bautista talks about "being the baby on the set" since he isn't as experienced, but has enjoyed working with everyone.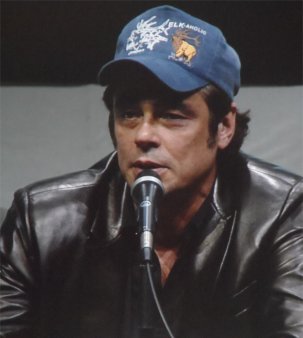 Next up is Benicio Del Toro.  Hardwick asks how he got into the movie, and Benecio says that James Gunn gave him a calling asking him to read the story, and he described it as "very cool".  He hasn't even begun filming yet, he reveals, and is meeting the cast for the first time, like the rest of us.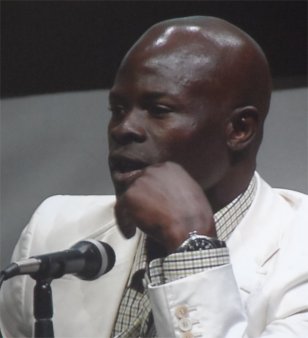 Chris Hardwick moves onto Lee Pace, asking, "who is Ronan the Accuser", to which Lee responds, "I don't know, it's early days.  He's very complicated" and a "beast", but he "doesn't want to say too much".
Djimon Housnou briefly talks about Korath the Pursuer, who he describes as "a humanoid" and "a great ally to Ronan and Thanos".  This actually draws a lot of reaction from the crowd.  I am not too familiar with Thanos, but I believe he is the character in the stinger for The Avengers, and possibly is supposed to be a villain for The Avengers as well.
And now onto Karen Gillan, my personal favorite companion in Doctor Who, so I was very excited to see her here.  However, be prepared for a shocker in the photo below: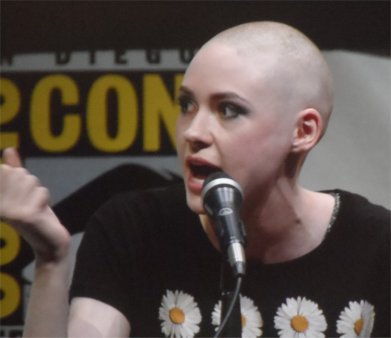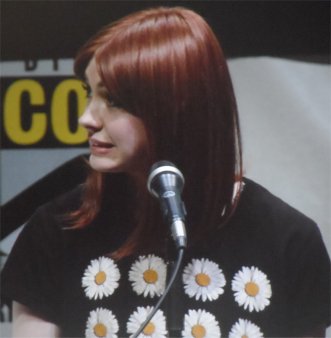 That's right, she has shaved her head for this role! How could she cut off that awesome red hair?!  That red wig did look a little off.  Chris Hardwick talks about her leaving Doctor Who, and her trip to Los Angeles to begin this role.  He then asks, "Isn't Nebula bald?"  Karen respond, "Yes, yes, and I might have done something a little bit crazy.  She then removes her red wig and throws it off stage.  Chris Hardwick is concerned for the health of the wig in the Comic-Con Hall H crowd.  It ends well for the wig though, as she does get it back in the end.  She does describe shaving her head as, "liberating" and says, "I think everyone should shave their heads!" I am not so sure that is the best idea though…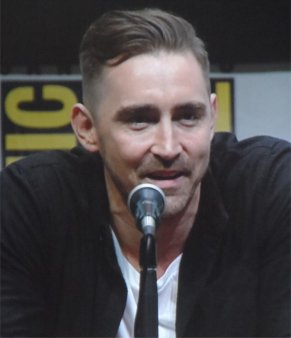 Moving on down the line, we get to Michael Rooker, famous for his role as the dirt-bag Merle on The Walking Dead.  Chris Hardwick compares the bald heads of Michael Rooker and Karen Gillan.  Sadly, Rooker has more hair than Karen Gillan right now.
Chris Hardwick and Kevin Feige then introduce the first footage ever seen for Guardians of the Galaxy.  The tone of the film seems to be a little more comedic than some of the other Marvel films.  The footage mimics a police booking scene set in space, which serves to introduce many of the characters.
Again, no audience questions for this movie, which I didn't mind as I was dog-tired. Guardians of the Galaxy is expected to have a release date of August 2014 in theaters.
The Avengers: Age of Ultron announcement in Hall H
It looks like we are wrapping up in Hall H for the night, as we are near the ending time.  The Guardians of the Galaxy panel does their photo shoot on the end, which Chris Hardwick photo bombs again.  We're getting ready to go, but then who moseys on out onto the stage?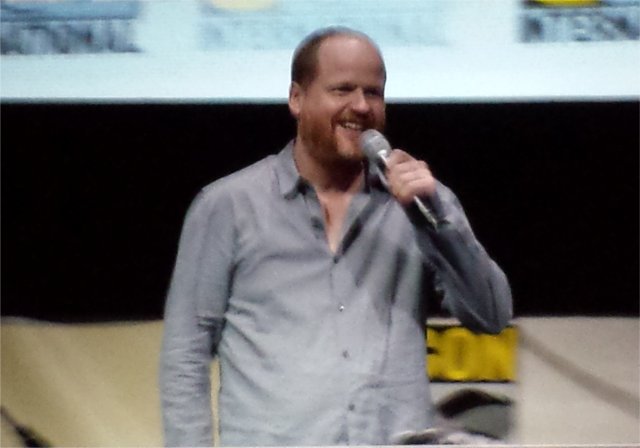 Everyone's favorite Avengers director, Joss Whedon!  Kevin Feige brings him out. He says, "I don't really have anything to say".  But he does show us something.  We see Iron Man's helmet being re-forged, it would appear.  There is some voiceover from The Avengers.  Iron Man, then Captain America, Maria Hill, Bruce Banner and then finishing with Samuel L. Jackson as Nick Fury saying, "They'll [The Avengers] will come back. They always do".  We are then given the title of the next Avengers, which seems to have hit the internet by now:
Of course, Hall H goes nuts at this reveal, and Joss Whedon just walks off the stage.  I personally cannot wait for this movie.  So far IMDB lists this movie with a May 1st, 2015 release date.