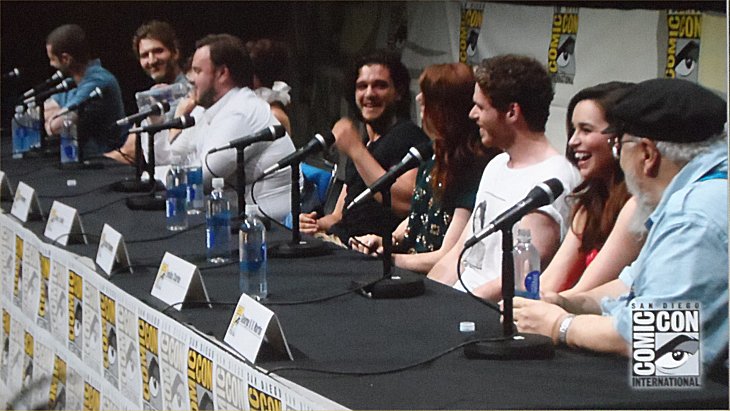 Following the panel for AMC's The Walking Dead was the Game of Thrones panel, which took place on Friday, July 19 from 2:50-3:45pm in Hall H. Several cast members and crew, as well as author George R. R. Martin, were there to discuss this past season of the show, especially the infamous "Red Wedding" episode, and we even got to see a couple of interesting clips! Read on as Violet recaps this panel!
Click here to go back to the previous panel of the day, AMC's The Walking Dead
The Game of Thrones panel started of with a heartfelt "In Memoriam" video set to Boyz II Men's "It's So Hard to Say Goodbye to Yesterday," which featured quick cuts of every death that took place on the show since the first episode of Season 1. If you haven't see it, it's really amazing, and you can watch that video here:
Then David Benioff and D.B. Weiss, who are the writers and executive producers of the show, came out and introduced the cast, consisting of Peter Dinklage (Tyrion Lannister), Michelle Fairley (Catelyn Stark), John Bradley (Samwell Tarley), Kit Harington (Jon Snow), Rose Leslie (Ygritte), Richard Madden (Robb Stark, who came out to chants of "King of the North!"), and Emilia Clarke (Daenerys Targaryen, who surprisingly had dark brown hair instead of white blond). Finally, the author of the Game of Thrones books, George R. R. Martin, was introduced.

The panel was moderated by Elvis Mitchell, whose first "question" was, "George, you heartless bastard." Elvis then brought up that he heard that whenever George's wife asks about her favorite character, he tells her that they're not going to die, but he doesn't really mean it. George comments that he "probably shouldn't talk about that," but that he has many characters, so there's always more, and he can create new ones, which will "offer more opportunities for actors." However, in his defense, he mentioned that the writers have killed off many characters in the show who are still alive in the books, so he'll "only take some of the bloodthirsty blame here." Apparently, Robb was given a different wife in the show than in the books, which made Elvis think that maybe Robb would get to live. However, the writers always knew that they were all going to die. The writers also talked about how on the day they wrapped the "Red Wedding" episode, many of the crew were crying. Elvis also asked if it was true that Richard was crying on the flight home the next day, but before he could reply someone shouted "The King of the North!" However, Richard then admitted that it was true.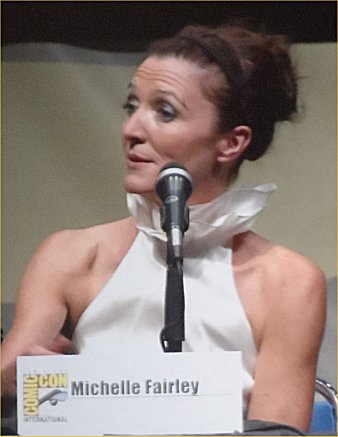 Elvis then asked Michelle if she read the books as they were shooting, or if she read ahead, which she answered that she read each book with its corresponding season, but that she knew how many years she had signed for, so she knew what was coming. Elvis asked David and D.B. if they encourage the cast to read the books, and they said they leave it up to the actors, because some want to read ahead and know where they're going, while others want to be surprised. Peter commented that he'll probably go back and read the books in a few years, because doesn't want to know what is coming, only what has happened.
Moving on, Elvis brought up Ygritte's "fond goodbye" to Jon Snow in the last episode. Rose commented "He deserved it!" Elvis pointed out that there's not much dialogue in this scene and asked how they got the emotion across. Kit said that the scene is "beautifully written," and Rose spoke about how she was wrapped up in the fact that Ygritte was so "incredibly devastated" by the fact that he had betrayed her, that she decided "he's not going to get away with this. I'm going to hunt him down and hurt him."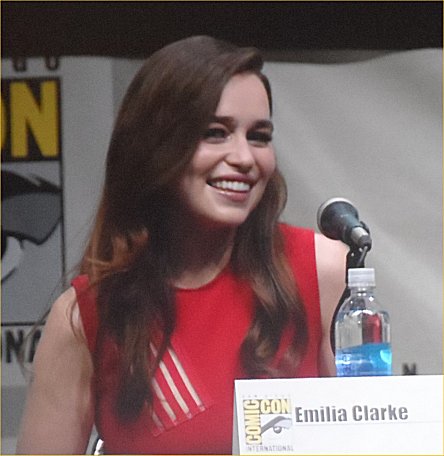 Next, Elvis congratulated Emilia on her Emmy nomination. She told us the story of how she got the news: she thought her alarm was going off at 6:00am when she hadn't set it, but then she saw she was getting a missed call from HBO, and it took them about 3 phone calls to get through to her. She then talked about her journey as Dany this season, leading up to the final episode, wherein she remembered being lifted up and just "naturally breaking into this grin." Just then, Jason Momoa (Kahl Drogo) made a surprise appearance on stage, kissed Emilia on the lips, said into the microphone "I'm not dead, George!" and walked off stage again. Emilia exclaimed "My Sun and Stars!" while Elvis commented "I see dead people. Everywhere."
Elvis got the panel back on track, and had David and D.B. talk about pulling off the "Red Wedding" episode. Apparently, when they first read the books back in 2006, they were always working toward that moment, with David saying that "if we could get people to throw their remote control the way that I threw my book, then we had done something right." D.B. mentioned that 4 years ago they were saying "If we could just get to the 'Red Wedding' episode, we can die happy." Michelle then spoke about her experience of filming the "Red Wedding" episode, and the key change in the music that was "literally like someone walked over your grave." David mentioned that one of the "unsung heroes" is the composer, Ramin Djawadi, and that back before Season 1 started, he and Dan had an argument over whether "The Rains of Castamere" (the ominous song played at the Red Wedding) should become the theme song of the series, but Dan wanted it to be something different, and thankfully Dan won that argument.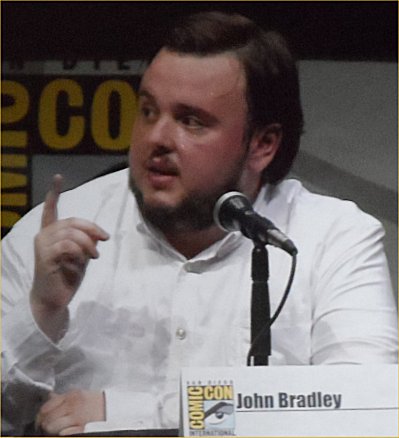 Then Elvis talked to John about how his character, Sam, is becoming more heroic, and John replied that he thought Sam has always been a hero, who "absorbs information" and has an "amazing curiosity about how things work." He commented that the moment that completely turned Sam's life around was a moment of "complete gut instinct." He also said that we find out that when Sam is placed under enormous pressure and responsibility, he is "a dude!" John went on to talk about conversations he had with Kit about the fact that Sam had been saved by Jon Snow, not only his life, but his spirit. Kit then spoke about how Jon Snow is often drawn to strong-willed men, who in turn nurture him, but what's interesting about what's coming up, is he "gets sick of that," and turns into that person.
Elvis pointed out to Rose that the scene where Ygritte is most vulnerable is when she's standing up for Jon Snow, an action which she explained was "going against her gut instinct" since the Wildling life was the only life she had ever known, but that Jon Snow had come in and "flipped all her values," so she suddenly found herself sticking up for someone she didn't really understand.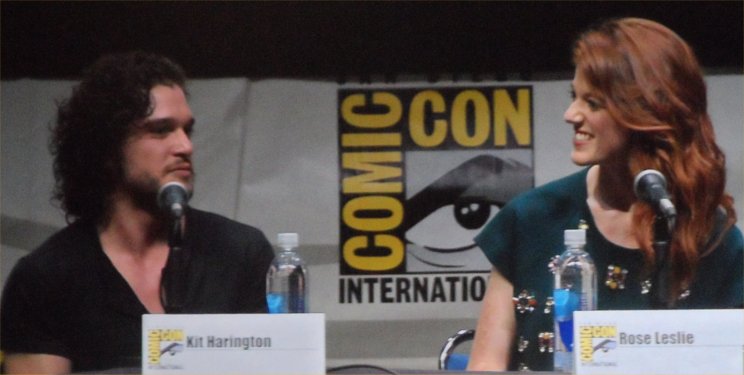 Elvis told Peter he enjoys watching his scenes with Charles Dance (Tywin), and Peter commented how he couldn't imagine anyone else playing that character. Peter also revealed that whenever they have those intense father-son scenes, Charles gives him a "nice little shoulder rub after each take to make sure we still love one another." He also talked about how Tyrion has a bit of freedom in terms of threatening Joffrey, because he knows that his father, who is the "true, let's face it, ruler," feels that same way that he does about Joffrey, he just doesn't say it.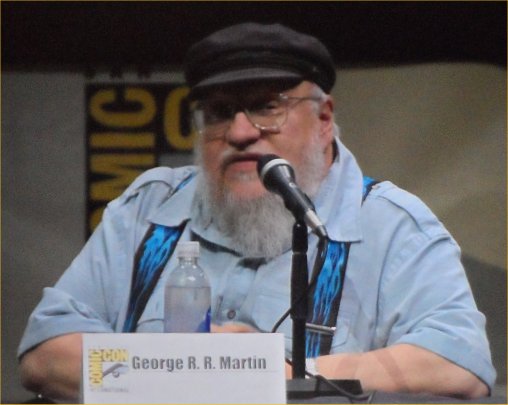 Upon Elvis asking George if it was true what he said last year, that he wouldn't be in a country with a television when the "Red Wedding" episode aired, but George said he discovered that "there are no countries without television." He then talked about all the various countries in which the books have now been made available, so he decided he would just "bunker down in Santa Fe and withstand the storm." He brought up how he already had some experience with this 13 years ago, when people were "throwing the books into the fireplace" and saying they would never read another of his books again, but then go out the next week and buy another copy. However, no one to his knowledge threw their television set into the fire.
Elvis then expressed his surprise to the writers about how fans of the books had kept quiet about the Red Wedding, and they praised the fan sites for their self-control and policing of any spoilers. They commented how it was amazing that millions of people already knew about the Red Wedding coming up, but kept quiet so that most people were in the dark about it. They talked about how the first season was a test case, with whether people were going to "spill the beans" about Ned Stark, and they were pleasantly surprised by how everyone kept quiet about such a monumental event. Everyone, that is, except for David's mother, who would walk up and down the lines at bookstores telling everybody, "Did you know Ned Stark dies?"
Next, Elvis asked Emilia to talk about how Dany overcame her fears and regained her confidence this season. Emilia spoke about how this season was the first time she did not consult with her advisors and instead placed her trust in her dragons, saying that she was "testing herself" as it was "the biggest risk she's ever taken."


Richard then talked about his experience in filming the "Red Wedding" episode, saying that he just had to play it as honestly as possible, with Robb Stark thinking that he's about to storm into King's Landing and cut off Joffrey's head, even though "that's definitely not what happened."
The audience was then shown a deleted scene between Charles Dance (Tywin) and Julian Glover (Grand Maester Pycelle) that the writers loved, but was only excluded because they were unable to fit it into an episode. It was supposed to take place before the first council meeting in which Tywin is the Hand of the King. In the clip, Tywin is fishing, when Pycelle comes to speak with him privately regarding council matters. However, Tywin reminds him that Pycelle is no longer on the council, by official decree of the Hand of the King (when Tyrion was Acting Hand). Pycelle argues that Tywin is now the Hand, but Tywin points out that he has not revoked the Acting Hand's decree. Pycelle begins stuttering and stumbling over his words, but Tywin stops him and tells him that he cannot believe he is the only one who sees through Pycelle's performance. At this point, to the audience's surprise, Pycelle stands up straight, and begins speaking eloquently, admitting that there are times when he has trouble believing it himself. Pycelle then talks his way back onto the council by complimenting the House of Lannister as the strongest, and giving evidence of his years of support to the Lannisters. Tywin tells him that in the future, Pycelle will serve him more actively, as befits a man of his vigor. Tywin then hands Pycelle a basket of fish and tells him to take them to the kitchen, at which point Pycelle hunches over and resumes his "bumbling old man" persona.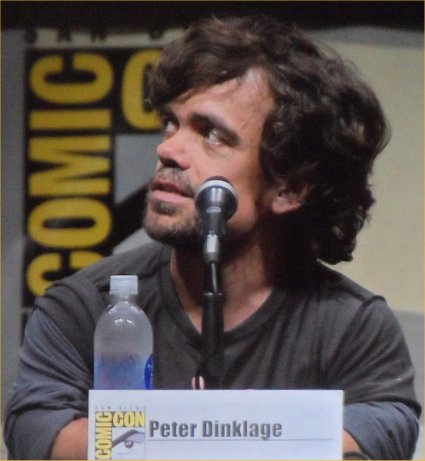 The panel was then opened up to audience questions, the first of which was directed to Peter about what it's like working on such diverse and beautiful sets with such brilliant writers. Peter answered, "It's amazing. I get to be on T-shirts," since the questioner was wearing a Tyrion shirt. He then commented about how they get to travel to the most beautiful places in the world because of the show.
The next question was whether George would ever do a prequel series illustrating the fall of the Targaryens and rise of Robert Borathian, mainly so that Ned Stark would be back, since Sean Bean always dies. George said he first has to finish the final two books, which will take him awhile, and commented how he has to write quickly because the show is starting to catch up with him. Although he said he "might" write other books that take place in Westeros, he doesn't think they will be prequels about Robert's rebellion, because by the time he's done with the present series, we'll already know everything there is to know about that. However, he said he might go back to earlier than that and write about Aegon and his sisters, or several other characters from earlier times, adding "No offense to Sean Bean. It's always sad to see Sean die. He's a brilliant actor, but he does die so well."
Another question was what it was like for Emilia to be such an icon of female power. She spoke about what an amazing experience it is for her to play Dany, how it empowers her as a woman, and the remotest possibility that she has helped other women feel empowered is the most wonderful feeling she can possibly imagine.
The final question was in reference to Harry Potter author, J.K. Rowling's relationship to actors, and asked if George had a similar relationship with actors on the show wherein he reveals to them the future of their character. The answer was simply,"No." However, George mentioned that some of the actors don't want to know, and some do, so when he's occasionally on set and someone asks him, he'll tell them. George also pointed out that things change, so sometimes what happened to the characters in the books is not necessarily what happens to them on the show.
Click here to move on to Part 1 of the final panel of the day, Sony Pictures, which started off with Cloudy with a Chance of Meatballs 2