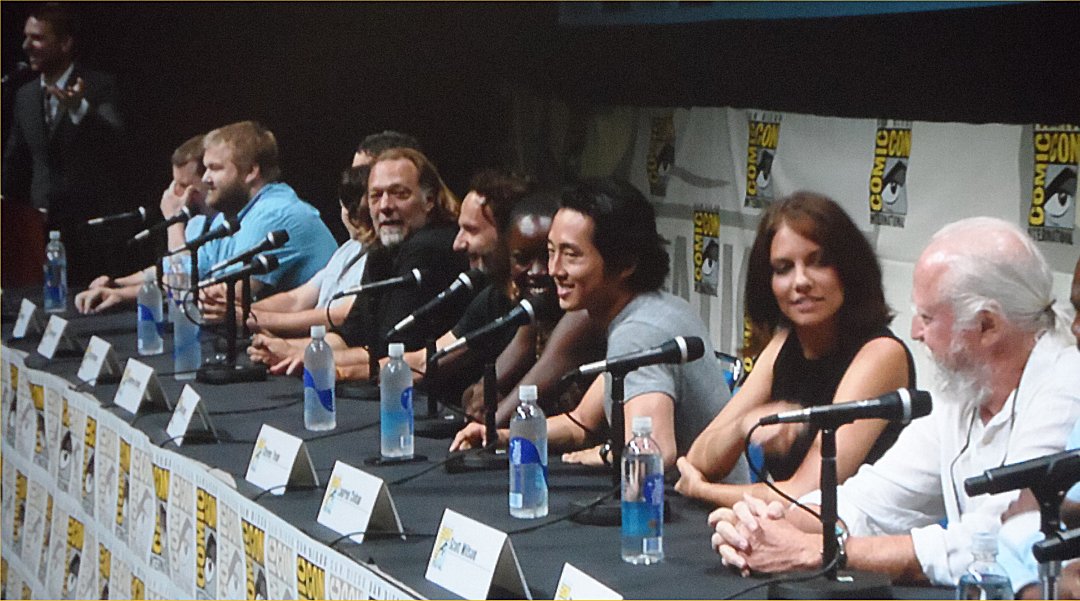 The Comic-Con panel for AMC's The Walking Dead  took place on Friday, July 19, from 1:35pm to 2:30pm in Hall H. The panel consisted of executive producers and cast members of the show, who gave us a sneak peek of the upcoming season, as well as answered several audience questions. Keep reading for Violet's recap of this panel!
Chris Hardwick returned to moderate The Walking Dead, of course, considering that he hosts Talking Dead, where he and guests discuss The Walking Dead.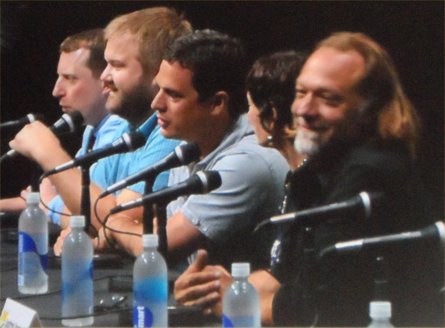 He first brought out the executive producers, starting with Scott Gimple, then the writer of The Walking Dead comic books, Robert Kirkman, followed by David Alpert, Gale Ann Herd, and Greg Nicotero. Hardwick asked about the upcoming season, to which the producers confirmed that things are going to be "way crazier" this season, and that "things are going to get insane very quickly." Hardwick addressed a question to Gale regarding killing off characters, to which she responded that even when a character dies, they never really leave the show, and spoke about how cast and crew took a field trip from the set to Washington, D.C., to attend opening night of a play that Sarah Wayne-Callies (Lori) was in. "Once you're part of the show, you can't get rid of us." Hardwick then brought up the descent of the Governor to "super villain" throughout the season, and the fact that he wasn't expecting the Governor to make it into next season. He then asked David Alpert about his philosophical assessment of what was going on in this post-apocalyptic world, which he answered that the most dangerous thing that can happen on this show is when you get comfortable, because the second that happens, something evolves or changes. Regarding the return of the Governor next season, the producers said "all bets are off," but that he's still out there.  However, how and when the Governor returns, and what he's doing when he returns, will be a big mystery this season.
We then got to watch the World Premiere of the trailer for Season 4, where we see the group go into a "Big Spot" store for supplies, and also see that more and more walkers are flocking to the prison, as Michonne rides past them on horse. Remember at the end of last season how the group let in members from Woodbury? Well, someone "attacks" the cell block, letting in a horde of walkers, and the group has to figure out who did it. It seems like this season the group will face the tough decision of whether to continue to defend the prison against the walkers (and people), or to find a new place to go. I have to admit, this season looks pretty awesome and really intense, with more walkers than ever, and a possible traitor in the group's midst. You can actually watch the Comic-Con trailer here: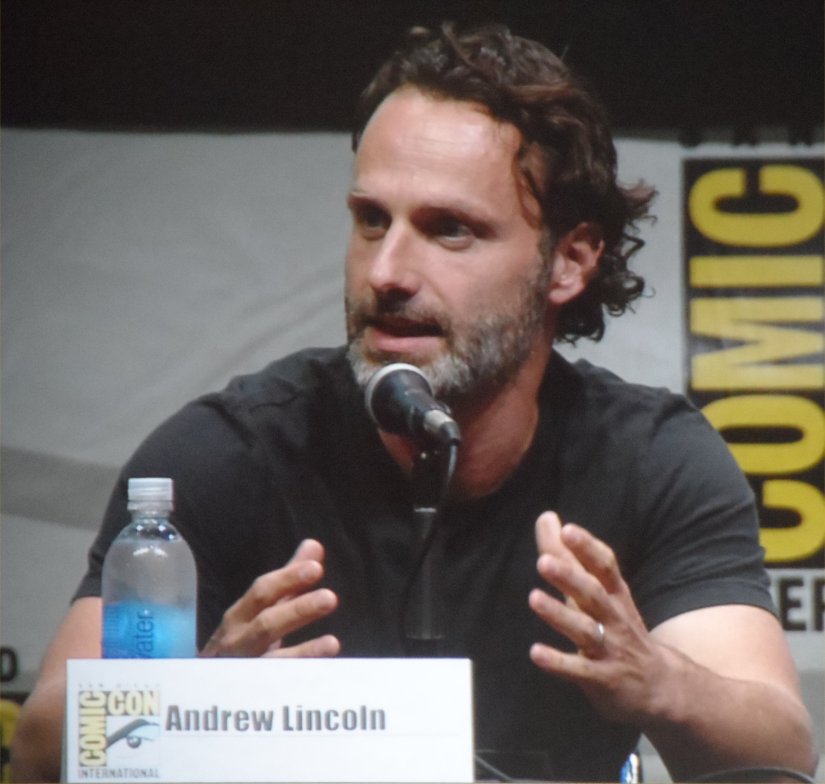 After that, the cast was brought out, including Andrew Lincoln (Rick), Danai Gurira (Michonne), Steven Yeun (Glenn), Lauren Cohan (Maggie), Scott Wilson (Hershel, who jokingly hopped on one leg to his seat), Chad Coleman (Tyreese), David Morrisey (The Governor, who came out to a combination of cheers and boos), and Norman Reedus (Daryl, who entered to surplus of female screams that took awhile to die down).
Hardwick started off by asking Andrew why Rick went back to the prison rather than stay at Woodbury, but he couldn't answer that question because it will be answered this season. Hardwick then asked about Rick's relationship with Carl, which Andrew commented that Carl becoming a "sociopath" at the end of last season "woke Rick up to his parenting duties," so we'll find Rick in a new place at the beginning of this season, having renounced the bulk of his leadership responsibilities for the sake of his children.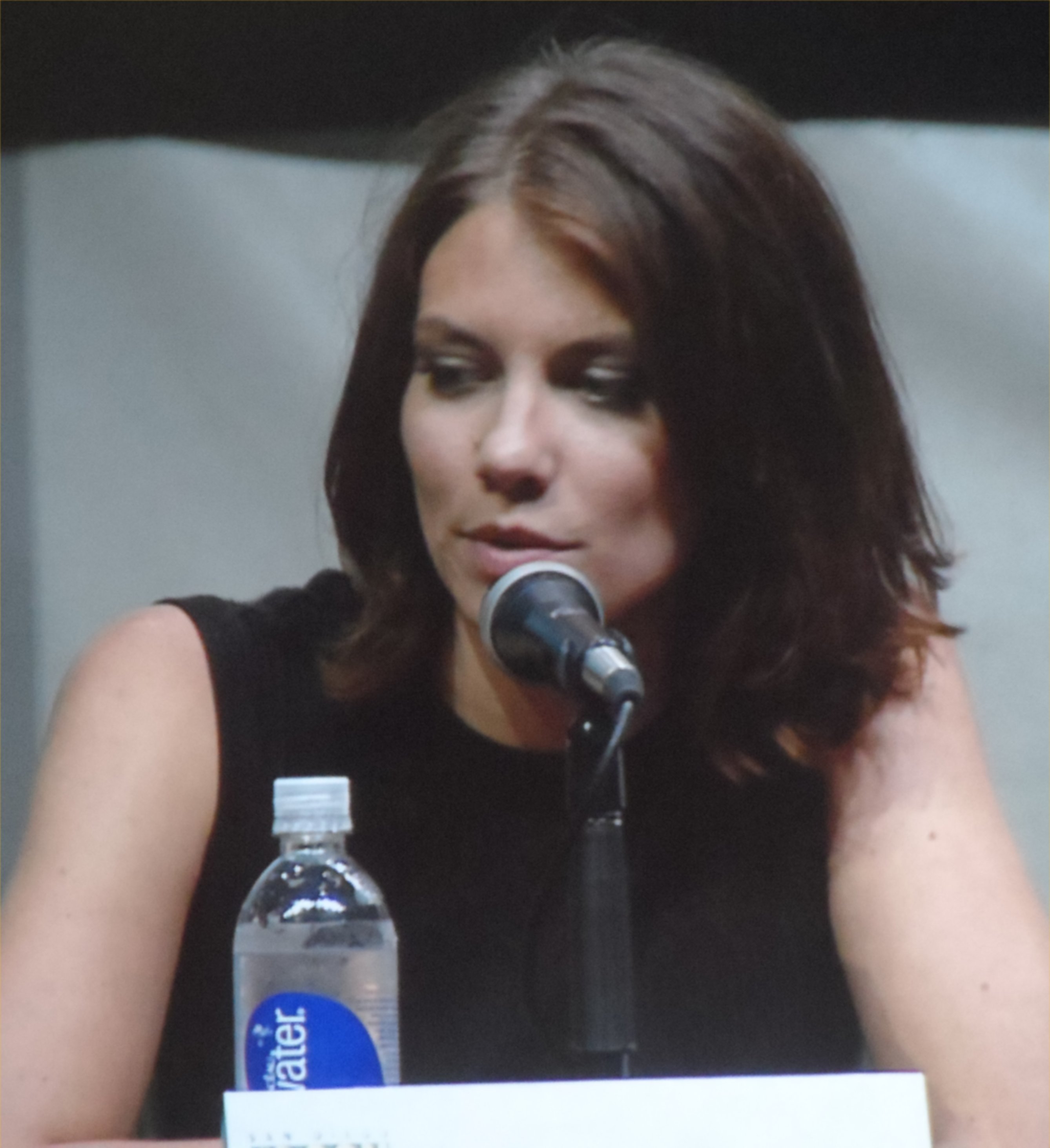 Hardwick then moved on to Danai, asking about how Andrea's death at the end of Season 3 affected Michonne, which she answered that Andrea's dying words to Michonne affirmed to her that she was in the right place, with the right group of people. Danai also admitted that the physical demands of the show don't get easier. For example, she had never ridden a horse before.
Next, Hardwick asked Steven about Glenn's emotional journey last season, and Steven talked about how he likes playing Glenn because he's constantly evolving, and just like in the regular world, Glenn is learning life lessons. Lauren (Maggie) commented that he is forgiven, though, to which Hardwick responded "Oh, we saw the scene where he is forgiven. If only everyone could be so forgiving!" Hardwick asked Lauren whether she thought the relationship between Glenn and Maggie is essential to survival or detrimental, which she said that she thinks it's a choice, and that at the beginning of the season we will see that what they went through is something that strengthened them.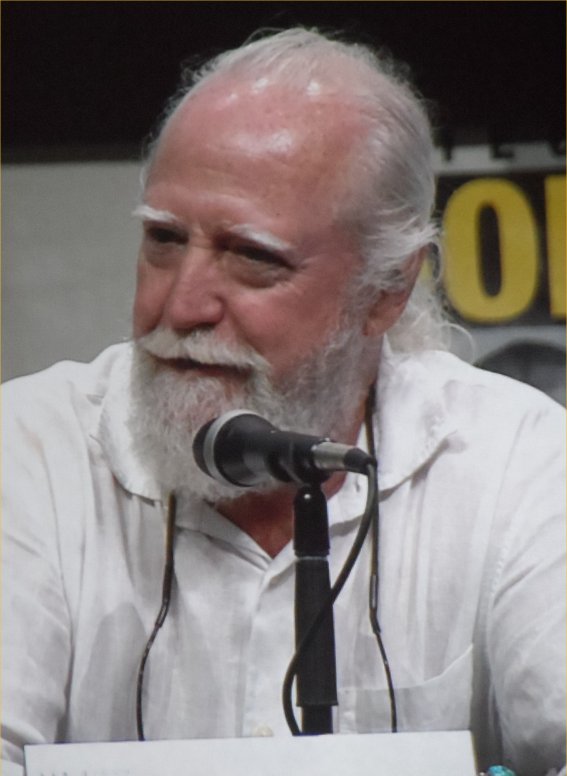 Moving on to Scott, Hardwick brought up how Hershel is the moral compass of the group, and asked if he thought that would change or stay the same next season. His answer was essentially that the group is very interconnected and that Hershel will continue to have a part in that.
Then Hardwick pointed out that this was Chad's first Comic-Con, and how his character Tyreese was very popular in the comics and has now finally been brought into the show, so he asked what it was like for Chad as an actor, as well as what he thought it was like for Tyreese, fitting into this group of people. As an actor, the group welcomed him with open arms, for which he is very grateful. As for Tyreese, the character is still trying to find out how he fits in, and seems to need a strong reasoning behind why he does what he does, but the world just won't let him operate that way, which eventually leads to "a can of whoop-ass."


Hardwick indicated that at past events, David Morissey has insisted that The Governor is not a a bad guy, so Hardwick asked what he has to say after what happened at the end of Season 3. David defended The Governor, saying that he was in a "dark place" and that "he feels like they betrayed him." He also pointed out that "he went off with two of them, he didn't kill all of them, so you've got to give him a break!" He then talked about how a "switch" went off in the The Governor, and that next season he will be dealing with what that switch is, and what makes that switch go off in him.
As for Norman, Hardwick asked about the tremendous amount of growth we saw with Daryl within the community, and what it was like for Daryl becoming an integral part of the group. Norman talked about how he thought Daryl was doomed to become "Mini-Merle," and that he wanted to play Daryl like he grew up embarrassed of being racist and taking drugs. But without Merle around, he is able to find his sense of self-worth. He also spoke about how Daryl doesn't actually need to be with the group, because he is capable of surviving on his own, but they're like a family to him, and his relationships with those people are keeping him there.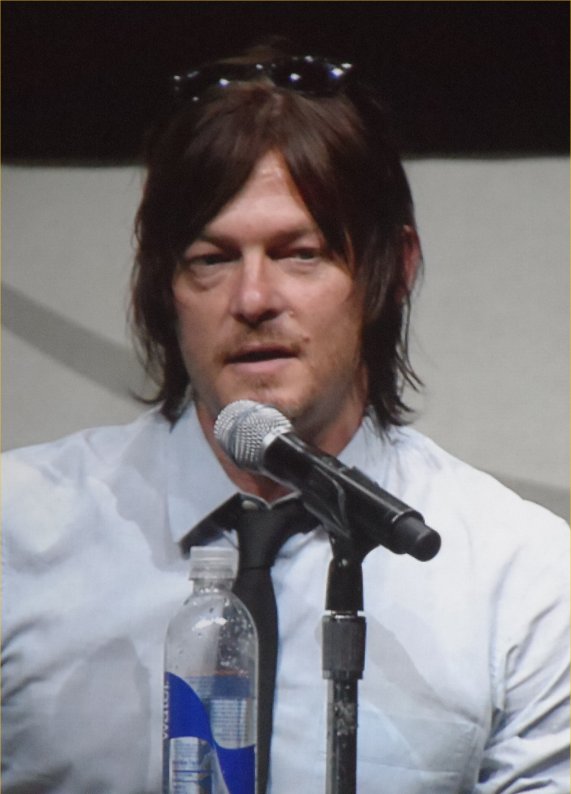 Hardwick brought up to Danai that his take on next season was that humans are the ones to fear, rather than walkers, and she said "Oh really? Oh okay," implying otherwise.
It was then opened up to audience questions. The first audience member asked if there was a possibility for Michonne and Rick to get together, an idea which the audience seemed to like, and to which the answer was "Anything is possible." The next question was how the deaths of Andrea and Merle would drive the characters Michonne and Daryl this season. Norman answered that they're both sort of "loner" characters that are still learning how to become part of a community, and it would bring them closer together, adding "and maybe Rick can join!" Then someone asked what place Andrew went to when he played the scene involving Lori's death. Andrew talked about the sadness that one feels after working with a group of people for so long, and knowing that someone is about to leave, and he also mentioned a look that Chandler (Carl) gave him that almost broke his heart.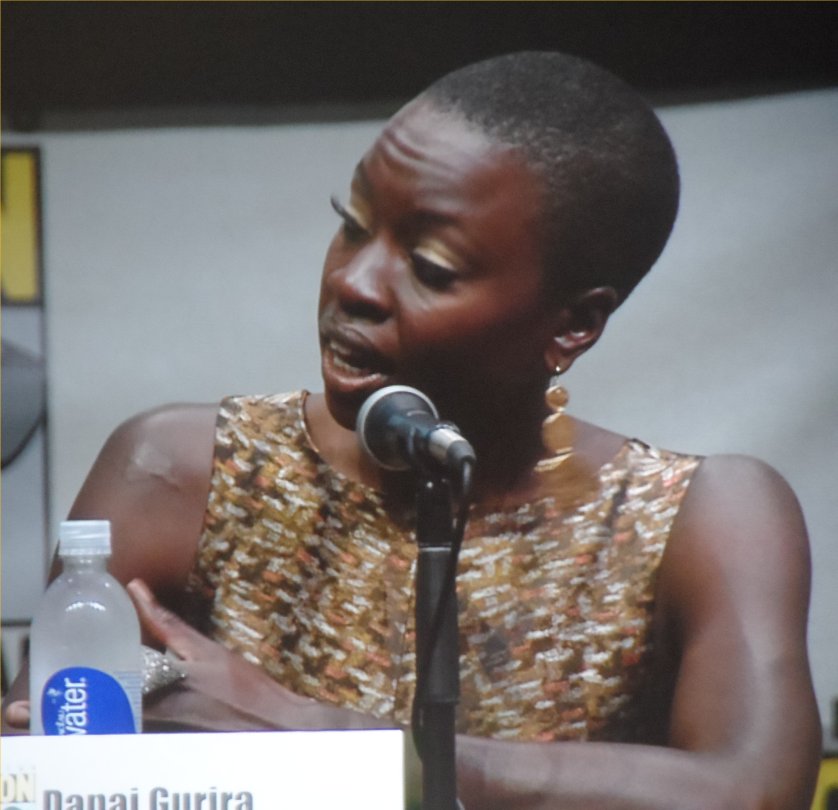 Another question was how the cast feels when one of the characters dies. Danai talked about how it was hard on her when Andrea died, because Laurie Holden was the one to indoctrinate her into the show. Greg Nicotero talked about how they have a screening room at the studio in Georgia where they have a wall which they call "The Grateful Dead" Wall, where they have the photo and cast number of every actor who has died on the show.
In response to a question about the emotional and physical changes that his character has to go through, Steven talked about how he wasn't sure how he was going to be able to conjure up the type of emotions required when Dale died, but thinking about all the time he and Jeff had spent together, it was just "Boom, like waterworks," and it was so easy because all he could do was play the moment: "Dale is gone. Jeff is gone." Hardwick commented on the transformation of Season 1 Glenn, who was a nerdy kid, to Season 3 Glenn, who is "ripped," and brought up the scene of Glenn strapped to a chair, trapped in a room with a walker. Steven responded that Jon Bernthal (Shane) had invited him to come box at his gym, saying "You gotta box, bro!" so he got into boxing that way.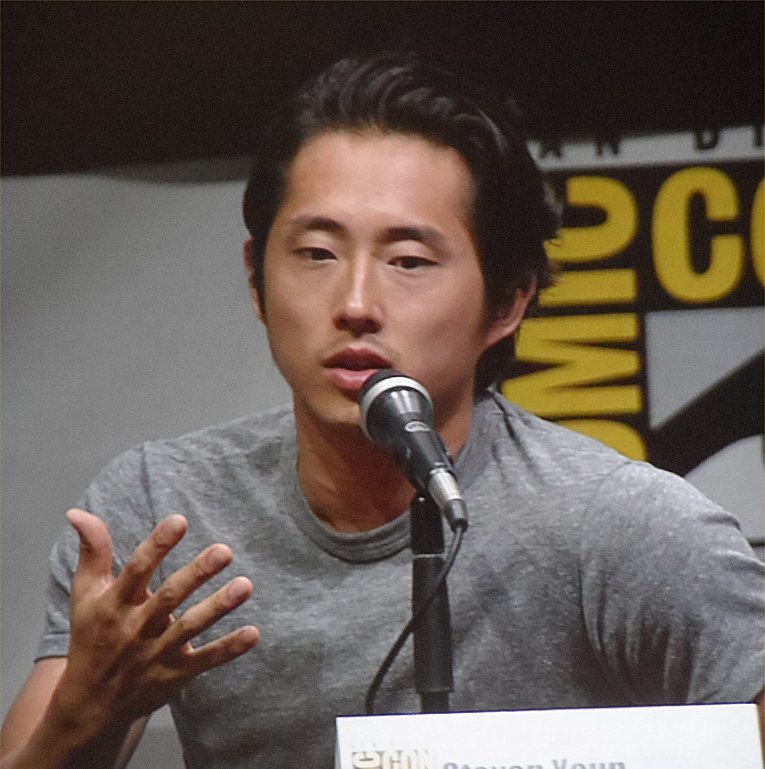 The next question was how they show the human side and message of each character in an ensemble cast. The answer was that they start with the basis of each character's story, but the hard part is where to go from there. What happens is that the characters affect each other, and this world makes them change each other.
Then a group dressed as the cast of The Walking Dead stepped up to the microphone to ask a question, which was how the panel will deal with the Zombie Apocalypse when it happens, and if they are prepared. Andrew said he would be useless, but he would "stand behind Chandler Riggs." However, Norman responded that he would "take over a hotel, spray paint myself silver, run around in circles naked, and watch South Park."
The next question was about how Andrew and David fed off of each other's intensity in the scene where Rick and The Governor met for their negotiation. David spoke about being excited when he got the script for that scene since he was finally going to get to work with Andrew, and because he had been a fan of Andrew's for so long. However, they didn't really get a chance to talk to each other outside of the scene. As for Andrew, he talked about how they each left themselves alone, and it was "kind of edgy that day," as many of the crew members were wearing shirts that said "Rick Grimes" on them. However, David protested that that wasn't true. Andrew also mentioned that he was "so angry about that gun" because he "could see it under the table."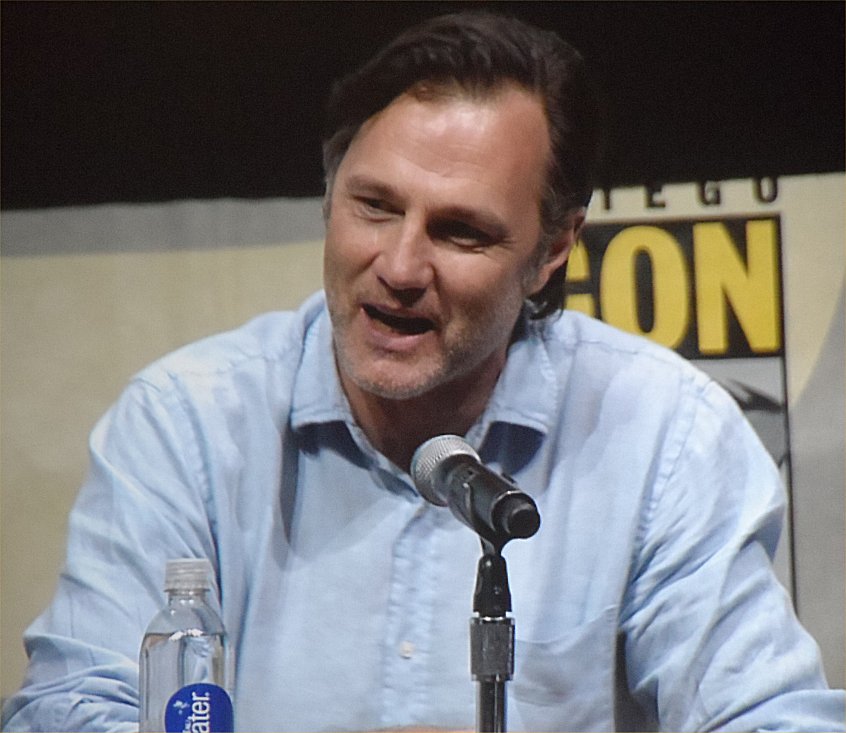 "Button Lady" returned to ask the final question of the panel, which was that she loves Blackpool (a British TV musical series starring David Morrisey), and if David could convince the writing staff to write in a scene where he could sing. However, David said he didn't think The Governor would burst into song anytime soon, and certainly would not be doing any dancing, but you never know.
AMC's The Walking Dead returns on Sunday, October 13 at 9/8c.
Click here to move on to the next panel of the day, Game of Thrones.