Following a screening of Much Ado About Nothing on June 7 at the Arclight theater in Hollywood, director Joss Whedon and cast members Alexis Denisof, Amy Acker, Clark Gregg, and Tom Lenk stopped by for a Q&A, moderated by Adam Vary of BuzzFeed. Violet gives a full report of the Much Ado Q&A after the jump!
Upon introducing the cast to the audience in the sold-out theater, Vary accidentally referred to Amy Acker as "Amy Adams," a slip up which the panel members, especially Clark Gregg, kept jokingly bringing up throughout the Q&A session. However, as Acker later pointed out, Adams actually preceded Gregg in the Whedonverse, having appeared in an episode of Buffy the Vampire Slayer. (Fun Fact: In Season 5, Episode 6, "Family," Amy Adams plays Tara's cousin, Beth.)
For those who aren't aware, this film was shot at Whedon's house in a 12 day time span, following the filming of Avengers. Rather go on a vacation before starting post-production on the Avengers, he decided to film Much Ado About Nothing instead. When asked why he would do that, Whedon replied, "I am crazy, yet awesome." He went on to tell us about how Acker and Denisof had read for the roles of Beatrice and Benedick years ago, and he knew he wanted them for those parts, and that his wife encouraged him to make the movie, telling him that he should stop saying he should make Much Ado and just make Much Ado, rather than take her to Venice for their 20th wedding anniversary. Once he realized it was a movie that he "needed" to make, it took exactly one month and two days to prepare it (while working on Avengers), then they shot it. His wife knew that what he needed was to make a movie that was small and intimate, with the people he loved most in the world.
Vary said he liked the multi-faceted way Whedon used his house, commenting that he loved the scene where Benedick walks into a girl's bedroom. Whedon replied that the only sadness about black and white is that the room is also pink. Whedon went on to tell us that his wife, who is an architect, designed their house, and that when he first set foot in it, he immediately wanted to film there.  He spoke about how he would prowl through the house, thinking about different things he could film there, and Much Ado was always foremost, considering the grandeur of the house, and all of the places where you could spy on people, which is a huge motif in the movie. Vary asked if Whedon had built the nook in the kitchen island so that Acker could hide there and eavesdrop, and Whedon explained that it was built as a breakfast nook so their children could sit there and converse while he and his wife cooked, and that everything about the house is for people to connect. But then he joked that he takes that and instantly thinks, "Well, I don't know how to connect with people, I just want to put a camera there!"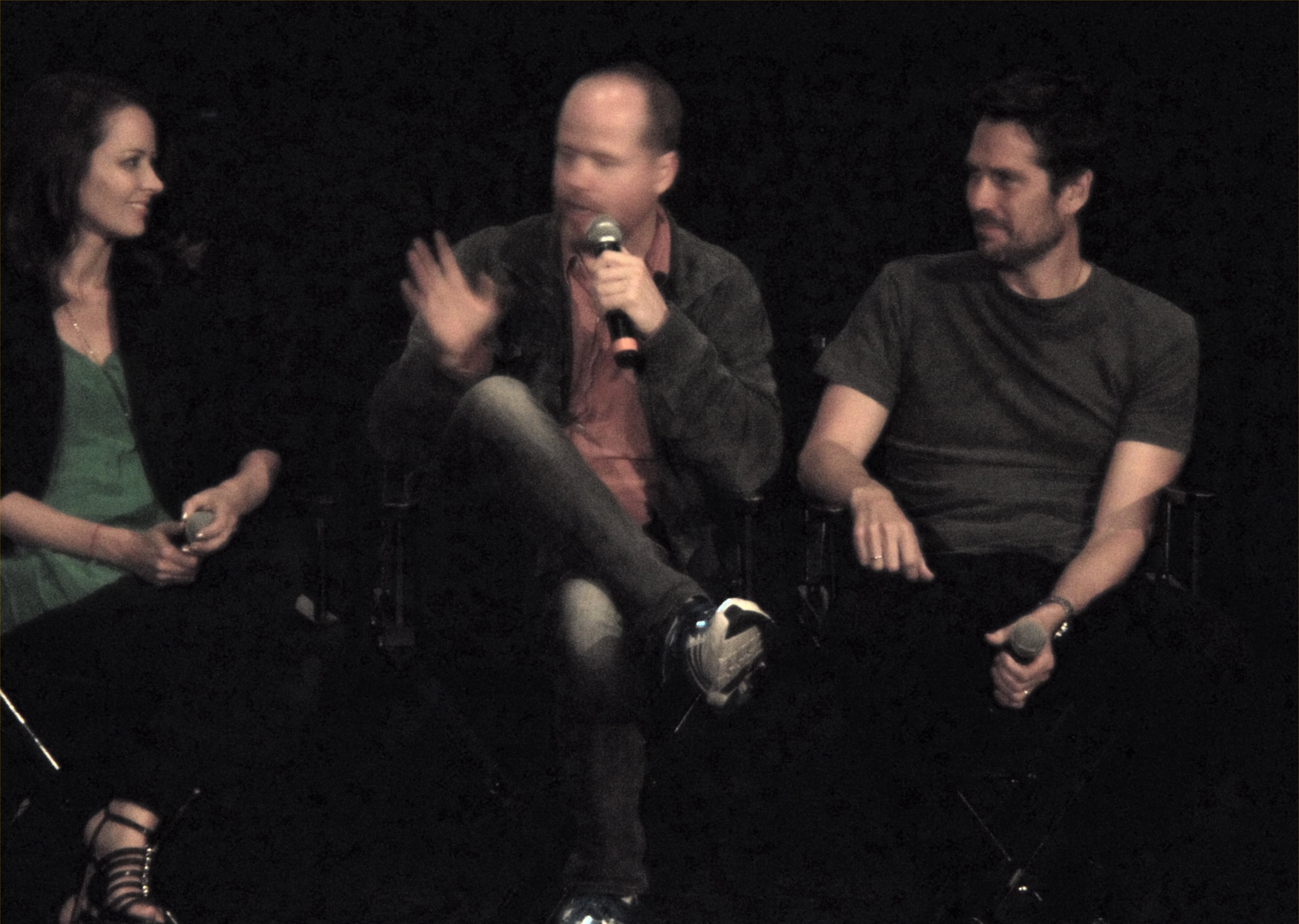 Vary then asked the actors about their experience of shooting at Whedon's house. Tom Lenk spoke about how he had performed at Whedon's house before, having rehearsed there for about a month for Golden Guys, produced by Jane Espenson (like Golden Girls, except with men), and they had been just hanging out at Whedon's house, practically living there, so it was comfortable for him. Whedon then commented that his house was always meant to have art in it, and that the living room was used as a performance space. He spoke about his children sitting on the couch, watching the rehearsals every other night being a motivating factor in deciding that he actually could film a movie at his house, and it wouldn't destroy their lives or their home.
When asked if he noticed a difference in how Whedon directed Much Ado versus any of the other projects he's worked with Whedon on, Denisof mentioned that usually Whedon has written the words, but he thinks that in this case Whedon was liberated by the fact that he hadn't, thus infusing himself into every moment of it, which Denisof thought  was partly because he didn't have to worry about rewrites. Whedon confirmed that this was true, then praised the acting ability of all the cast members, who he could trust to go off on their own path, that they were of one mind in their collaboration, and he didn't have to tell them where they were going since it was Shakespeare. Conversely, while filming Avengers, Whedon recalled that there was only one person on the crew, who was a grip, who had ever even read a comic, so it was a struggle to explain what he was trying to accomplish. However, in Much Ado, everyone not only already knew what he was trying to accomplish, but had already done it. Most of the cast members had already done Shakespeare or had done theater, and therefore had the work ethic, to the point where Whedon knew he only had to say "Go" and he could come back, and there it would be.
Lenk joked that it was nice to be able to work and not be living in fear of whether Whedon would kill him off in this episode, which garnered much laughter and applause from the audience, and to which Gregg said, "I know that's something you have to be concerned about," and Acker added, "I think we've all been there," since everyone on the panel had played characters who Whedon had killed off at one point or another. Whedon replied, "I would like to go on record that I've never killed Adam Vary… and that's all I got. I wish I was elsewhere."
Vary then praised Acker for her "If I Were a Man" speech in the movie, and asked what her character, Beatrice, meant to her. Acker revealed that her first job out of college was playing Hero in Much Ado at a Shakespeare theater in Wisconsin for six months, and that Beatrice was always her dream role, thinking "When I grow up I want to be her!" but adding that she is so not her in real life. Whedon replied that he thinks there is more of her in Acker than she will admit, to which the audience "aww"ed.
Next, Vary asked about the modernization of the movie, and how that affected how the panel members approached the text and what they wanted to bring to the text. Denisof spoke about how the play is in prose and not iambic pentameter, so they felt liberated to find the rhythms and patterns they wanted, which invited a natural approach. However, he believes that a lot of their style is rooted in the casual readings that took place at Whedon's house over the years, and that the lack of formality allowed them to play and have fun.  Acker commented how from the beginning, Whedon wanted the film to have a noir feeling, and how she thinks that the film being in black and white bridged the gap between the text and  the iPhones, to which Denisof immediately claimed that he said that earlier.
Whedon talked about the elegance of the clothing, which was the actors' own, so there was no feeling of artifice. In fact, there is a scene in the movie where Nathan Fillion attempts to put on the jacket of Tom Lenk's character, which is much too small for him. Lenk revealed that the jacket was actually his own, and that Fillion ripped it, so he owes Lenk a jacket!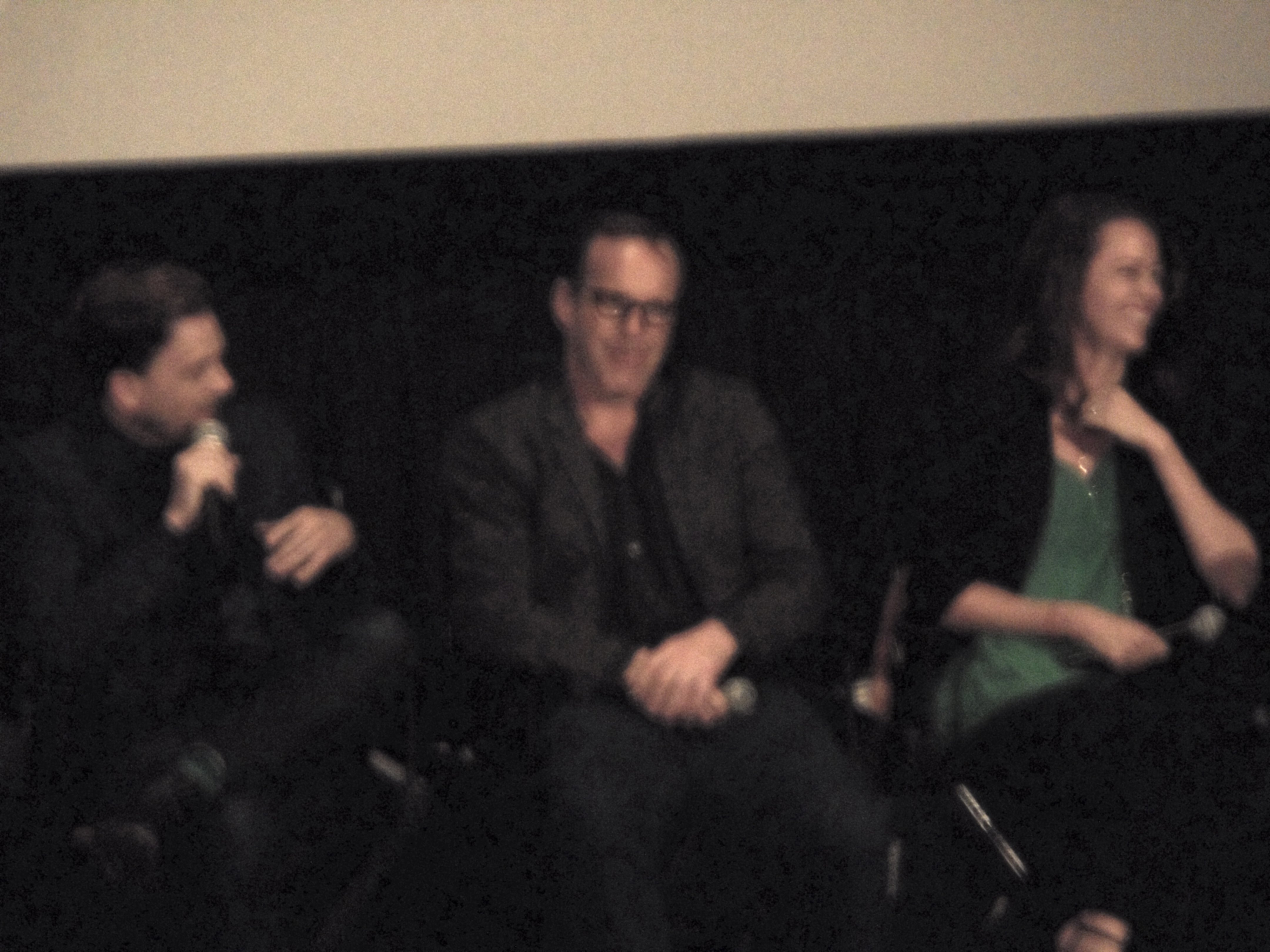 Gregg then shared his story of how he came onto the project, joking how he had just finished filming Avengers and suddenly found himself "out of work" (alluding to the fact that Whedon had killed off his character). He initially declined Whedon's invitation, due to his joining a play that would be starting production.  However, the play got pushed back two weeks, which then gave him enough time to be in the movie, something that would not be true of any other movie. He then called up Whedon to see if the part was still available, and the good news was that the answer was yes, but the bad news was that he immediately had to come there because rehearsals started the next day! Gregg started to talk about how he was terrified to do it, and mentioned how he was from New York and had seen Christopher Walken perform in the park, at which point Lenk, and then the audience, goaded Gregg into doing a Christopher Walken impression. He then went on to talk about how he didn't have the "Shakespeare license," so he was so thrilled to be asked to do it.  He said "it was the greatest thing I had ever said yes to, when every cell in my body was screaming not to," and went on to reminisce about the magic that took place during the making of the film, as the play "started to live around us." Gregg talked about how "the words of Shakespeare start to work on your body." He said that in a past production he had thought his character, Leonato, was an ineffectual guy, but then all of a sudden he was just "gangster" and wanted to kill everybody in the room, including his daughter, and then thought, "This can't be right."
At this point there was time for one audience question, where a makeup artist asked if she could give Whedon her business card, to which he said "Yes, but that's not a question." So they took a real question, wherein an audience member asked if they were all drinking real alcohol throughout the whole production, to which Whedon replied no, that it was acting, and these people are amazing actors, but the director on the other hand might have had a little something in his glass… Whedon then admitted that there was an infectious party spirit, but they still had an enormous amount of work to do, so they all had to be on their toes. But he alluded to if it they weren't shooting the next day, after wrap there might have been some "insane awesome dancing." He then went on to say, "We were drunk on something else. It was art, and it was each other, it was love, and that's sappy as hell, but it's totally true." They were all thrilled to be doing this thing that they all cared so much about. He was apologizing for two days into the shoot before he realized he could stop, because they were having as much fun as he was.
With that, the 25 minute Q&A session ended.  Much Ado About Nothing began its limited release on June 7 in Los Angeles, San Francisco, and New York, will expand within those cities on June 14, and will begin its nationwide release on June 21 on 200-300 screens.