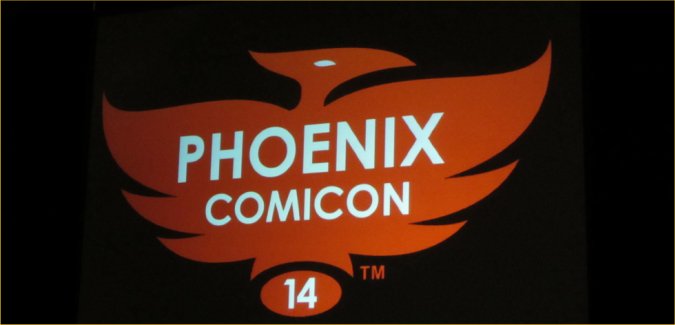 We'll have a recap and pictures for each of the panels we attended once Phoenix Comicon is over, but for now we wanted to get a few pictures up for your viewing pleasure!
We arrived at the Phoenix Convention Center probably around 8:20am. We had a little trouble finding where to go for Media registration. We knew it was supposed to be in the North Hall, but couldn't figure out where, and when we tried to ask the Security guy checking weapons, he tried to direct us to the South Hall, and had no idea where to go for Media registration. Finally, an official looking person saw us wandering around looking confused, and directed us where to go. Turns out we just had to go down the escalators right behind the Security guy! Anyway, so we get to the registration booth, and no one is in line. At that point, it's 8:45am and there's nothing to do since the Exhibit Hall doesn't open until 10:00am and the first panel is at 10:30am, so we just decided to go get in line for the Batman panel, featuring Adam West, Burt Ward, and Julie Newmar.
They started letting us into the Ballroom around 9:15am, and we scored seats in the second row of the left middle section! We stayed there the entire day for all of the panels in the Ballroom. After the Batman panel was John Barrowman, followed by Bruce Campbell, then Stephen Amell, and finally Nathan Fillion closed out the day. After that, we wandered around the Exhibit Hall until it closed at 7:00pm.
Here are a few pictures from today. More to come later, along with recaps of each of the panels.