Following Alan Tudyk's panel, Karen Gillan was up next, coming out to a big crowd in Phoenix Comicon on Sunday, May 28. Karen Gillan is best known for her roles as Amy Pond on Doctor Who and Nebula on Guardians of the Galaxy.  After taking her obligatory picture on stage with the audience in the background, the panel got right into questions, as Phoenix Comicon and smaller cons tend to do.
The first questioner asked Karen via sign language, how she approaches her characters, Nebula and Amy. Karen talked about how Amy is similar to herself, but Nebula is completely different, with a lower voice, describing Nebula as having a "Marilyn Monroe"-like voice.
Karen was then asked when she started liking Matt Smith, and she said right from the first audition, she wanted to be a part of this character.
She was then asked about what makeup she likes to wear, but she said she would prefer no makeup so she could get to work later. She said that Nebula takes about 4 hours, and she has to have Nebula's "skin" glued to her face. She said that the process gets her ready to play a super villain. Karen was also asked about her role in The Avengers: Infinity War, but she said that Marvel keeps that pretty tight lipped, and she has no idea yet. But she did say she hopes Nebula gets some revenge on Thanos.
More questions also came up for Guardians of the Galaxy. For example, Karen was asked about fight choreography in the Guardians of the Galaxy movies. Karen admitted that she does a version of the actions, but her stunt double does a lot of the work, and she is happy with that arrangement, as she prefers to stick with the dramatic parts, while her stunt double handles the physical parts. A pretty funny question that also came up asked Karen Gillan if she would want to spend 24 hours with Baby Groot if she would be responsible for all of his actions. She says of course she would, because of how cute Groot is. Gillan was also asked which Guardians of the Galaxy was more fun to film, and she answered the second because she had character development for Nebula, and more importantly she got to keep her hair, as she was tired of being mistaken for a man. She was also asked about shaving her head for Guardians of the Galaxy, and she said she felt liberated for about two weeks, but then didn't like being mistaken for a man. She also said Darvill and Smith gave her a real hard time for it.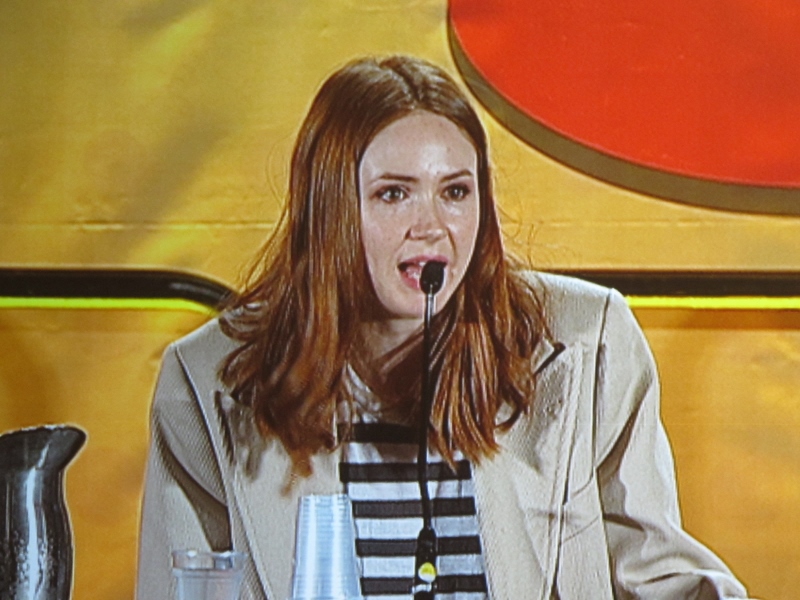 Karen was also asked her favorite character from Guardians of the Galaxy and she said Draxx due to his dry humor, which is very reminiscent of British humor to her. Additionally, she was asked about her most embarrassing thing that has happened while filming, and she said it probably is the way she would freak out on the acrobatic cables she would have to use filming action scenes in Guardians of the Galaxy, then when the camera started rolling, she would have to shift to the serious mode that Nebula would have.
As for Doctor Who, there were a lot of questions about that as well. For example, she was asked what she thought of having both Amy and Donna appearing on the TARDIS together with the Doctor. Karen admitted it would not go "very well", which I think she means for the Doctor. Being ginger, Karen was also asked if the Doctor will ever be a ginger, and Karen answered with, "hopefully one day". Also regarding Doctor Who, Karen was asked what brought her to tears on the show, and she said that her episode that was her exit from the show did, and the episode Vincent and the Doctor. On that note, Gillan was also asked if she would change the way her character left the show, and she said she wouldn't, explaining that she thought it was the perfect way for her character to go out.
Karen was also asked what advice would Karen not take from a Doctor, and Karen said she really can't think of anything specific, but did say that Matt Smith is extremely clumsy, and wouldn't want Amy to take after that. Another questioner asked about funny stories about filming, and Karen said that there were plenty of times where Matt Smith's clumsiness had him falling over. Speaking of Doctors, Karen was also asked how Amy would be with other iterations of the Doctor, but she wasn't quite sure. She did say that working with Tennant and especially Capaldi's versions of the Doctor would be great. Capaldi specifically because it would be two Scottish accents on the show.
Getting a bit morbid about the Doctors, Karen was asked how she thinks the Doctor should be taken out. She sticks with the Weeping Angels, as that means they could possibly send him back to Amy's time, and they could continue their antics from there. On the more brighter side though, Karen was asked what her favorite episode to film was, and she says it was The Eleventh Hour, because her cousin played her younger self, and she was happy that everyone already liked Amy before she even was seen on screen since this young character did well. She also liked it because it was filmed by Steven Moffat himself.
Flipping to the other side of the coin, Karen was asked what her least favorite episode to film was. She didn't have a specific one to name, but said that any episode where they had to be in the cold was not fun. But back to the funny side of things, Karen was asked what evil character Amy would like to befriend, and it is apparently the Daleks, primarily because it seems like the most fun job for the people who operate the Daleks. Back to Matt Smith, apparently in the episode Dinosaurs on a Spaceship the Doctor kisses Rory, and a questioner asks if that was scripted. Karen said she didn't know, but "feels like it wasn't". Of course, Karen was also asked what her favorite character she has played has been, and she said it had to be Amy Pond because she is the most like that character. As for Karen's favorite time period of Doctor Who, Karen said she most enjoyed Tennant and Billie Piper's era. As for what Karen would steal from the Doctor Who set? Matt Smith's sonic screwdriver.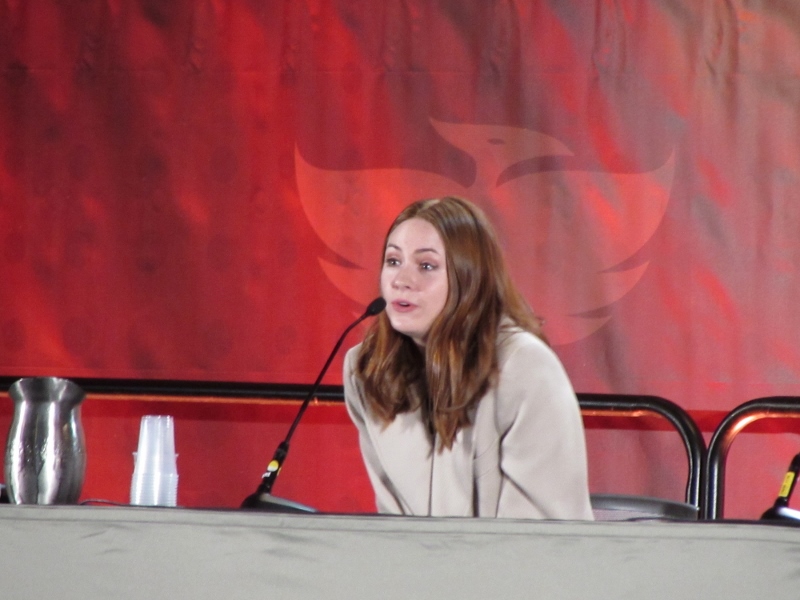 Karen got a whole spectrum of other questions too. For example, Karen was asked when she started acting, which was 18, and she thinks that is a good age to start. She said she started with amateur theater, and loves disappearing into other characters. She was also asked about filming a few different movies and shows she has been in besides the big two people know her for. She was asked about moving to American type movies, such as Oculus, and said that the transition wasn't bad for her, and she didn't think it was a drastic change. She also said that she really enjoys American horror movies–and for filming, prefers the American craft service, because of how much more food Americans give during filming compared to the BBC.
Karen was also asked what Disney character she would want to play, and she says the girl from Brave, Merida. Gillan was also asked about filming the short-lived show Selfie, and how that was changing from Amy to Eliza. Karen said she tried to connect with Eliza's insecurities to relate to her as a character.
Karen was then asked what was the funniest thing she has been involved in with a fan, and she said marriage proposals, because she feels like the third wheel on her own stage, because the two people are invested in each other, and she feels awkward.
Karen was then asked what movie she would like to see rebooted, and she said Jumanji. She really loved the first one, along with Robin Williams. She said she was very excited to do the new one, and feels it is different, but a lot of fun still.
Karen was then asked about if she is ever to fully embrace a role to where she feels that she is the character rather than she is playing a character. She said she could get very close with Amy in Doctor Who, but can't get fully there.
Karen was asked what role she would ever want to play, and she says she would love to play Jack Nicholson's character in The Shining.
Karen was also asked what actor she still fawns over, and she answered Gillian Anderson, and admitted she has often tried to stare at her at cons, and is pretty certain that Anderson thinks she is a weirdo.
Karen was asked about shifting to an American accent, and she said she took dialect lessons, but also mentioned how she used to play Barbies as a child with an American accent. She also said that Gunn's advice to talk like Marilyn Monroe for Nebula was the best advice she might have gotten as an actress. We then got to see her do a Britney Spears impression, singing a Frank Sinatra song, That's Life.
Karen was also asked a few more personal questions like how it was working with Emma Watson, and working on more realistic movies, which was on the movie The Circle. Karen talked about how great Emma Watson is, and how she liked working with her. She also said that she enjoyed working on a more grounded project. When asked about her favorite superhero, she answered Spider-Man, because she has really enjoyed all of the films.
Favorite cartoons of Gillan's? Rugrats, Hey Arnold, and the more adult Family Guy.
Oh, and of course Gillan was asked if Nebula faced off with Amy and the Doctor, who would win, and Amy answered the Doctor and Amy of course, since they outnumber Nebula.
That about wrapped it up for Karen Gillan's panel! Jenna Coleman's panel had originally been scheduled next, but she had to cancel, and there was no replacement. After heading out for some lunch, we came back to West 301BCD for our final panel of Phoenix Comicon 2017: the Daredevil panel with Elden Henson and Jon Bernthal. Stay tuned for our recap and photos of that panel!
View more photos of Karen Gillan's Phoenix Comicon panel below: