Following Bonnie Wright's panel in West 301BCD at Phoenix Comicon on Saturday, May 27, 2017, was Gabriel Luna's panel, scheduled for 4:30pm to 5:30pm. Gabriel is best known for his role as Robbie Reyes, aka Ghost Rider, on Marvel's Agents of SHIELD.
Gabriel Luna seemed to already know some of the audience members who came up to the microphone to ask questions, calling them by name, and for those he didn't know, he asked their name. He even brought a young boy named Dominic up on stage to show the audience their secret handshake!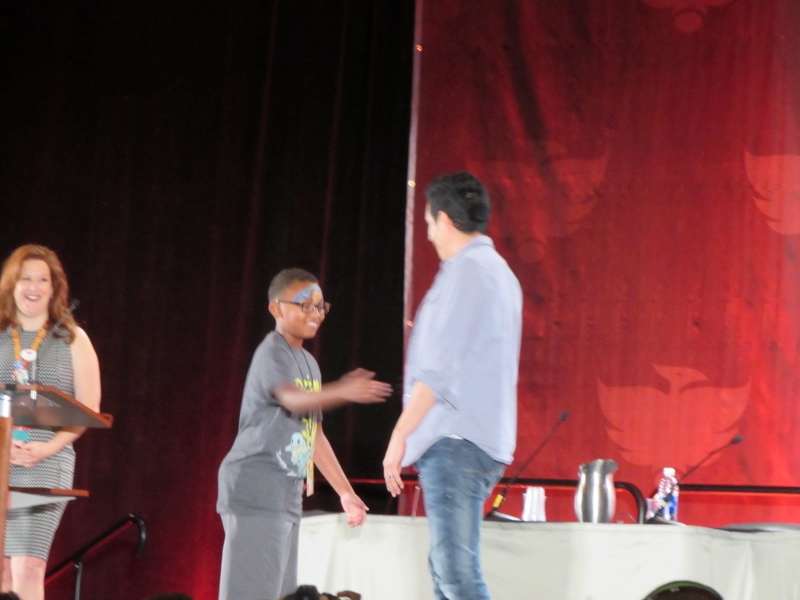 Although Gabriel plays the Robbie Reyes version of Ghost Rider, there is another Ghost Rider, Johnny Blaze, which is the version that Nicolas Cage played in the movies. Gabriel said that he would cast Norman Reedus as Johnny Blaze.
An audience member asked for Gabriel to tell us a funny story about Agents of SHIELD. He told us that Iain De Caestecker (who plays Fitz) is always prepared, and is very hard on himself. Whenever Iain messes up, he exclaims, "Oh suck a bag of dicks!" (which Gabriel imitates in a Scottish accent for us, so it's barely understandable). In the season finale, there was a scene on the Zephyr where Ming-Na Wen (who plays Agent May) is going through pictures of the bad guys. On one, a quote pops up saying "Paper bag, chock full…" (and Gabriel doesn't finish the sentence, now that he is speaking clearly). He said they couldn't get anything done for the next 5 or 10 minutes, they were laughing so hard! Iain wasn't actually working that day, so they had to text it to him. Gabriel apologized to the parents of children in the audience for the vulgarity.
Ming-Na Wen was originally scheduled to appear with Gabriel Luna on this panel, but had to cancel due to knee surgery. Gabriel explained, "You start flooding submarines… it's just a bad combo, fighting and kicking." Apparently she slipped.
Gabriel said he has always loved Ghost Rider. Wolverine and Silver Surfer were his main books. However, he didn't know Robbie ever existed. Marvel kept calling him to play a character, but Gabriel kept saying no, because he didn't want to play a minor character and never be able to be anything else in the Marvel Universe again. But his agent told him he should go look up Robbie Reyes online. He was surprised to see that it was a Mexican-American version of Ghost Rider that looked like him. Then he had a Skype call with Jeph Loeb and Jed Whedon. The whole time none of them could say "Ghost Rider" because it hadn't been announced yet. They knew that he knew, and he knew that they knew he knew. His code name on the call sheet was "Matchstick." He flew out to Los Angeles the next day and met with the producers. After he got home, he got the call from Jeph Loeb, who told him "You earned it." Jeph Loeb left him with the three words he tells everyone who's ever worked for Marvel: "Welcome to Marvel."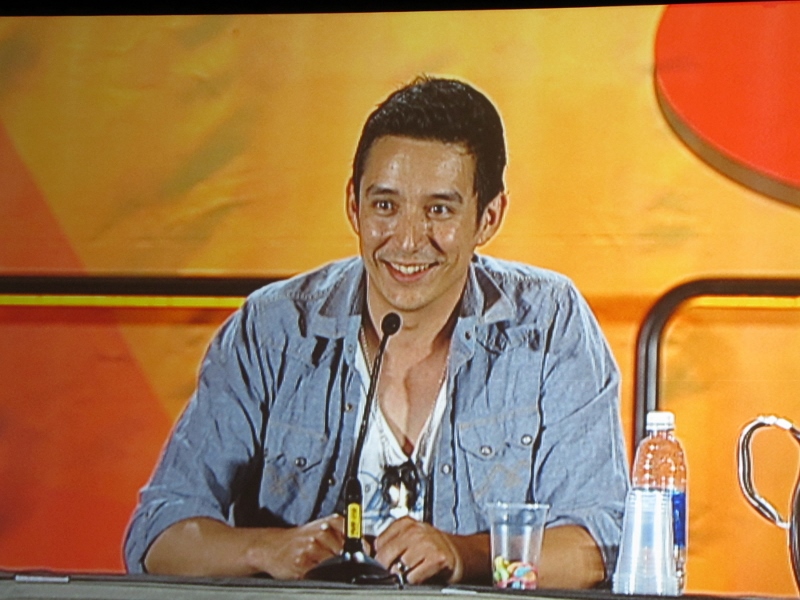 How likely is it that he'll return to the show? "No comment." As for how likely it is that Robbie would have a relationship with Daisy, Gabriel said that it makes sense that he would latch on to Daisy, since she was the first girl that knew his secret. He also pointed out a moment in the last episode when the two were together, and the Ghost Rider wasn't actually in Robbie's body for a brief window, so he was able to just be Robbie.
When an audience member asked what it was like to be the first Mexican-American Marvel superhero, Gabriel said he tried to put too much on it. In life, he just wants to be a good man, and that the first thing he said when he got the job was that he was going to bust his tail.
Regarding whether he does anything different with his acting in terms of body language when he's in the Ghost Rider skull versus not, Gabriel said that they do a lot to preserve his performance in the skull. He said that he does a lot of "neck cracking" and drawing attention to his skeleton, things like popping his knuckles. Gabriel explained that he was told to play it as if he had a raging beast inside of him, just clawing at his face at all times. He went on to say that it's a cool feeling to walk into a room and the producers, writers, and everyone sees him as the most dangerous guy there when he walks into a room.
Although Gabriel couldn't comment about anything happening on Agents of SHIELD in the future, when an audience member asked about Robbie's relationship with his brother, Gabe, he said that, "If I'm there, he's going to be there," because "there is no Robbie Reyes without Gabe." The audience member also asked if he agrees with the theory that the portal Robbie opened at the end of the season finale was related to Doctor Strange. To this, Gabriel replied that he totally agrees with it, saying "I mean look at it, it's the exact same portal!" He then went on to share a story with us about that portal. Gabriel had read the script and was very excited about the portal when he got to work — however, he was told that it might have to be cut. So Gabriel went to Jeff Bell, the Executive Producer and Head Writer, and tried to convince him to keep the portal scene, telling him how important it would be. A couple hours later, he was pulled aside and told that they were going to do the portal scene — even though it would cost $50,000! He also told us that originally, they wanted him to do a Harry Potter thing for the portal.
As for what obstacles he had to overcome as a Latino and what advice he would give to someone trying to get into the business, Gabriel's responded "the obvious ones." Then he offered this advice: in the very beginning, take every shot you can. But in regards to how Latinos are represented, he turned down several roles in very popular shows, because "you have to stand by what you believe you represent." He then went on to say that he is very proud to be Mexican-American, and that you have say no to the things that you feel don't represent you. He stays as close as he can to who he is with the characters he plays. Gabriel also advised that when you're given an opportunity, work as hard as you can to deliver excellence — whilst showing respect to everyone around you, and getting to know everyone, including the crew.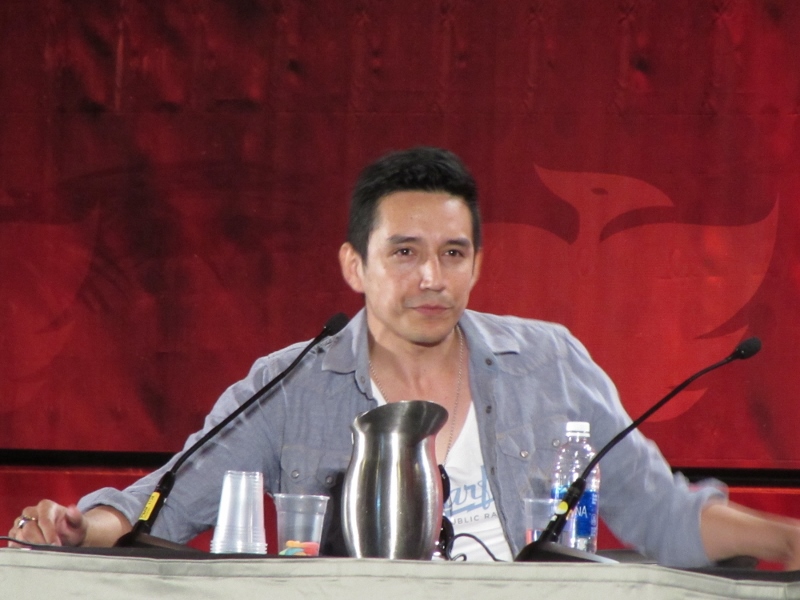 An audience member asked what was the most difficult part of working on a series like Agents of SHIELD. Gabriel started out by responding that each episode you see takes 8 days to make, and that they're a "well-oiled machine" by now. The hardest part is physical, in that they wake up very early each day and every day is a long day. He recalled the scene when he was in a fight with the kids who tried to steal his brother's wheelchair — where he was wearing a leather jacket and a cotton hoodie underneath — and he had to throw guys around and pick up his brother. He was exhausted just after one take, but had to do it 15 times in a row!
Gabriel liked the audience question of what Marvel superhero he would like to team up with, because he always gets the question of who he would want to fight. He answered that he would like to see Johnny and Robbie working together. He also said that one of his favorite characters is Moon Girl. Additionally, he mentioned Kamala Khan, Ms. Marvel, working together with Robbie in the comics. He recalled one particular story where the two were coming closer and closer together after working together in a fight, and it looked like the two of them were about to kiss, but then they high fived each other, to the relief of their significant others who were watching. However, Gabriel ended by saying that Ghost Rider is more of a "lone wolf," and he kind of likes it that way.
Gabriel said that if he were to ever have his character do his own thing, it's all skulls and goblins, and he would want it to be "a monster movie where you root for the monster."
When asked who would win in a fight, Robbie Reyes or Johnny Blaze, Gabriel immediately answered Robbie.
A young girl asked if Ghost Rider is ever going to get his own show, but Gabriel said he would "have to be strong and say 'No comment.' "
Gabriel's hardest scene to film was when Robbie was telling his brother Gabe that he's the Ghost Rider. He felt it was very important for people to know and follow the story, and that it was the only day that he felt nervous.
Closing out the panel, we learned how Gabriel prepared himself for the role of Ghost Rider: he "read all the comics, exercised, and burned stuff."
That wrapped up our panels for Saturday at Phoenix Comicon! But before heading back to the hotel, we decided to check out what was going on outside the convention center at the Con on Third. Stay tuned for those photos!
Check out more photos from Gabriel Luna's Phoenix Comicon panel below: